The Mystery of Rudy Giuliani's Vienna Trip
President Trump's personal lawyer told me he was planning to fly to Vienna roughly 24 hours after his business associates were arrested as they prepared to do the same.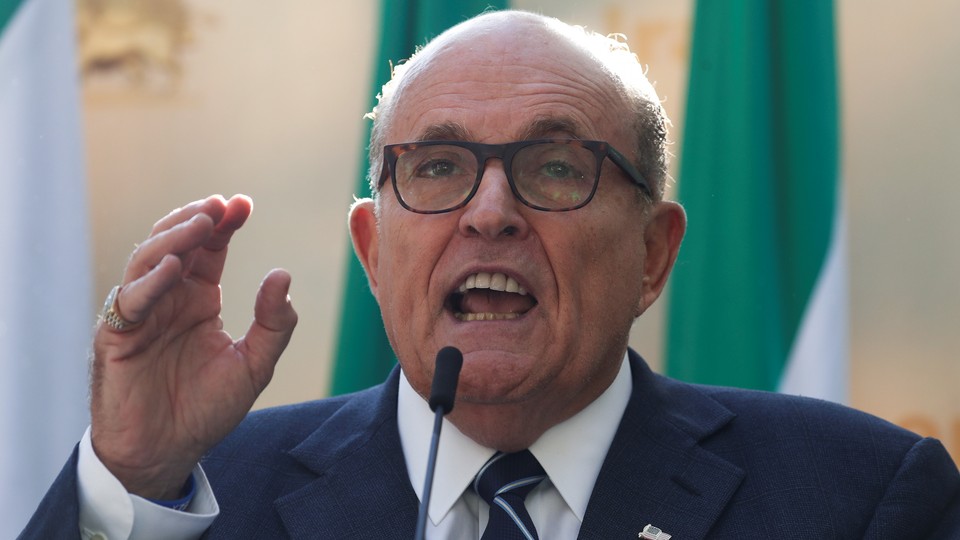 Last night, when Rudy Giuliani told me he couldn't get together for an interview, his reason made sense: As with many nights of late, he was due to appear on Hannity. When I suggested this evening instead, his response was a bit more curious. We would have to aim for lunch, Giuliani told me, because he was planning to fly to Vienna, Austria, at night. He didn't offer any details beyond that.
Giuliani called me at 6:22 p.m. last night—around the same time that two of his associates, Lev Parnas and Igor Fruman, were arrested at Dulles Airport while waiting to board an international flight with one-way tickets. As The Wall Street Journal reported this afternoon, the two men were bound for Vienna. The Florida businessmen, who are reported to have assisted Giuliani in his alleged efforts to investigate Joe Biden and his family ahead of the 2020 election, were charged with campaign-finance violations, with prosecutors alleging that they had conspired to funnel money from a Russian donor into Donald Trump's presidential campaign.
But Giuliani, when confirming today that Parnas and Fruman were heading to Vienna on matters "related to their business," told the Journal that he himself only had plans to meet with them when they returned to Washington. By this logic, Giuliani was also planning to fly to Vienna within roughly 24 hours of his business associates, but do no business with them while all three were there.
This morning, Giuliani told me he'd have to reschedule our lunch. I've tried to reach him since then, to discuss Parnas's and Fruman's arrests, among other things, to no avail. When I called at 3 p.m. ET to ask about his Vienna trip, a woman claiming to be his communications director answered the phone. I have called him more than 100 times over the past year, and this is the first time that has ever happened. She said she'd have to get back to me. As we spoke, I could hear a voice that resembled Giuliani's shout "asshole" in the background. "Oh, sorry," the woman told me. "He was talking to the TV."
Why were Parnas and Fruman bound for Vienna? Why was Giuliani—if what he told me was true—planning to be in the same city a day later?
Giuliani finally sent me a text message at 4:18 p.m. ET: "I can't comment on it at this time."
Parnas and Fruman, both Soviet-born, have been instrumental in helping Giuliani develop Ukrainian contacts in his quest to prove that Biden, while vice president, tried to curtail an investigation into a Ukrainian gas company for which his son Hunter Biden served on the board. Parnas told NPR, for example, that he was the one who had arranged a Skype call between Giuliani and former Ukrainian Prosecutor General Viktor Shokin to discuss their corruption theory. Parnas was also present at meetings in New York and Warsaw earlier this year with Giuliani and Yuriy Lutsenko, another former prosecutor general for Ukraine.
I met Parnas and Fruman in March, when I joined Giuliani at Shelly's Back Room, a cigar bar in D.C., to discuss Special Counsel Robert Mueller's soon-to-be-released report on Russian interference in the 2016 election. Sipping back-to-back glasses of Macallan—double, one large ice cube—and smoking a Nicaraguan cigar, Giuliani told me he'd known Parnas for two years. Parnas laughed and said he'd grown up "idolizing" Giuliani. They bantered about how the Mueller probe would likely amount to nothing, with Parnas adding that it was Trump's "constitutional right" to fire former FBI Director James Comey. Save for introducing himself when I arrived, Fruman was quiet. Parnas told me they were all "great friends" and all "work together."
Along with allegedly using a shell company to donate hundreds of thousands of dollars to Republican candidates and a pro-Trump super PAC, Parnas and Fruman were also accused by federal prosectors of meddling in American political activities on behalf of one or more Ukrainian officials. In the 21-page indictment, prosecutors allege that Parnas and Fruman lobbied for the removal of the U.S. ambassador in Kiev, Marie Yovanovitch—something Giuliani sought as well, arguing that she was biased against the president. In May, Trump ordered Yovanovitch's removal.
The White House has kept mum about the arrests. Jay Sekulow, Trump's personal lawyer alongside Giuliani, told reporters that neither Trump nor his campaign has "anything to do with the scheme these guys were involved in."
It's difficult to know, however, precisely what Trump may or may not know about Parnas and Fruman, given that Giuliani and Trump are in constant contact and that Giuliani, at least broadly, has frequently kept Trump updated on his maneuverings in Ukraine. Presumably these are the kinds of questions that House Democrats had in mind when they subpoenaed Giuliani last month, and Parnas and Fruman today. Giuliani has said he refuses to testify or provide documents to the House Intelligence Committee. Parnas and Fruman, for their part, are being held in a Virginia jail on a $1 million bond each.
Trump is already seeking to distance himself from the controversy. "I don't know those gentlemen," the president told reporters before departing for a rally in Minnesota. "Now, it's possible I have a picture with them, because I have a picture with everybody." (He does, in fact, have a picture with Parnas.)
"Maybe they were clients of Rudy," Trump added. "You'd have to ask Rudy."