Where Did Rudy Go?
He once consoled a shaken nation. Now he's screaming about conspiracies on cable news.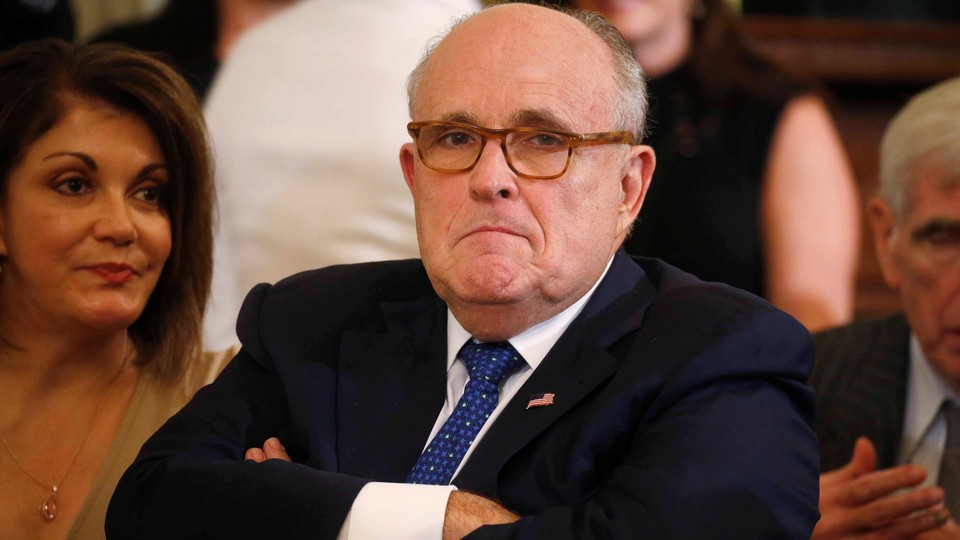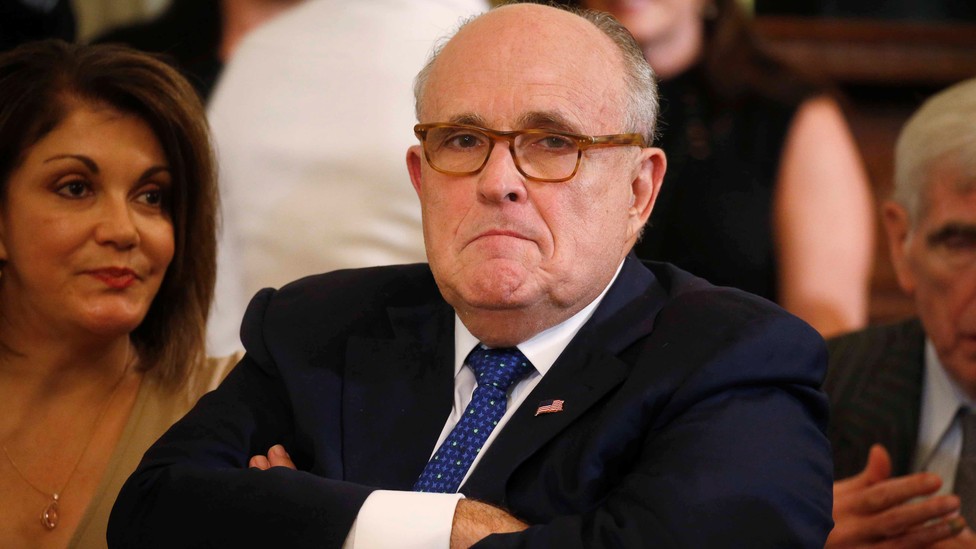 On September 22, 2001, 11 days after the worst terrorist attack on American soil, then–New York City Mayor Rudy Giuliani looked squarely into the Saturday Night Live camera and told a shaken nation, "We will not let our decisions be made out of fear." Flanked by a somber phalanx of uniformed police officers and firefighters, Giuliani offered stirring and patriotic words: "We choose to live our lives in freedom."
Paul Simon performed a searing rendition of "The Boxer," his folkie ode to a battered fighter's gritty resilience. It was a total tonal shift for television's longest-running comedy show, in line with the total tonal shift taking place across the country at the time. And then, Lorne Michaels, SNL's creator and showrunner, appeared and asked Giuliani a sober question: "Can we be funny?" With a Borscht Belt comic's perfect deadpan timing, "America's Mayor" replied, "Why start now?"—and in one small, quiet, moving way, life reverted to normal.
Fast-forward 18 years. On September 28, 2019, Giuliani again appeared in an SNL cold open—only this time impersonated by Kate McKinnon as a googly-eyed, unhinged henchman to Alec Baldwin's Donald Trump. "You gotta relax," McKinnon's Rudy assured his nervous client in the thickest Brooklynese. "We got nothin' to worry about. Nobody's gonna find out about our illegal side dealings with the Ukraine. Or how we tried to cover up those side dealings. Or how we plan to cover up the cover-up."
America now had permission not to laugh with Rudy, but at him.
To anyone who lived through the tumultuous 1980s-and-'90s era of New York City politics, Rudolph William Giuliani's fall from grace seems beyond surreal. A man once seen as the personification of incorruptibility is the subject of a criminal and counterintelligence investigation by the same Manhattan federal prosecutor's office he once headed. He's also persona non grata at the Department of Justice, where he was once the No. 3 man in charge.
Giuliani was the Torquemada whose self-righteous pursuit of municipal corruption, the Mafia, and misconduct in the financial world propelled him into global prominence. He once ordered a Wall Street trader paraded out of his firm in handcuffs. In those days, he wouldn't have been caught dead with—much less genially photographed with or taken payments from—characters such as Lev Parnas and Igor Fruman, the Giuliani associates who were arrested as they were about to leave the country, on charges of laundering foreign campaign contributions in the 2016 election.
Over the weekend, the Justice Department took the unusual step of issuing a statement saying that department officials would not have met with Giuliani to discuss a legal client of his in a bribery case if they had known that Parnas and Fruman were under investigation in New York. The statement could amount to a virtual blackball against Giuliani's ability to represent clients before the department.
Of course, Giuliani is only the latest in a long line of once reputable public figures to be sullied by association with Trump, another larger-than-life character from New York's outer boroughs. But the rosy glow that suffused him in the aftermath of 9/11 obscures a harsher reality: Both before and after the eight years of his mayoralty, Giuliani showed astonishing lapses in judgment and probity. And in the nearly 18 years since he left City Hall, he has worked "for what seemed like every rich bad guy and tinpot dictator who called," as his onetime campaign press secretary Ken Frydman recently put it in a New York Times op-ed.
When he lost his first race for mayor to David Dinkins in 1989 and his supporters' uncontrolled booing swept the room, Giuliani repeatedly screamed, "Shut up!"—afraid, he later said, that the display would be seen as racist. He publicly announced the end of his second marriage without so much as a heads-up to his long-suffering wife. He was, at least for a time, estranged from his only son and skipped his high-school graduation—apparently to make a paid speech the next morning. (They have since reconciled, partly with Trump's help.) In October 2016, after the public learned of Trump's Access Hollywood crudities, Giuliani was his most prominent defender, appearing on every Sunday-morning talk show on Trump's behalf.
So it's an understatement to note that the onetime crusading prosecutor's halo has long since acquired plenty of tarnish. A man who once aspired to be Trump's secretary of state has been roundly denounced by a raft of professional diplomats. He has become a figure of unremitting ridicule in McKinnon's deft hands.
The precise nature of the inquiry into Giuliani by the U.S. Attorney's office in Manhattan remains unclear, but published reports suggest it could involve a breach of foreign lobbying laws, campaign-finance violations, or some combination of both. Giuliani himself has acknowledged taking $500,000 from Parnas for legal and business advice, while insisting to Reuters that "beyond any doubt, the source of the money is not any questionable source."
Indeed, Giuliani seems desperate to revive his former reputation. "It's impossible that the whistle-blower is a hero and I'm not," he told my Atlantic colleague Elaina Plott. "And I will be the hero! These morons—when this is over, I will be the hero."
More than a decade ago, when Giuliani was contemplating his 2008 presidential run, an analysis by Forbes magazine found that he and his firm, Giuliani Partners, had "repeatedly become entangled in petty deals that seem unworthy of someone with national aspirations," exhibiting "the sort of carelessness that reflects either poor judgment or inattention."
Since news first broke of Giuliani's involvement in lobbying Ukrainian officials to investigate former Vice President Joe Biden and his family, and to pursue discredited conspiracy theories about Ukrainian efforts to influence the 2016 election, the former mayor has struck a defiant posture in rambling television appearances and heated tweets, and he has declined congressional demands to cooperate in the ongoing impeachment inquiry.
"I will not participate in an illegitimate, unconstitutional, and baseless 'impeachment inquiry,''' Giuliani wrote last week on Twitter. "Jon Sale, who is a lifelong friend, has represented me for the sole purpose of analyzing the request and responding. At this time, I do not need a lawyer."
But the circumstances suggest he might well be advised to hire one. Trump's former Russia adviser Fiona Hill testified this week that former National Security Adviser John Bolton had grave concerns about Giuliani's Ukraine efforts, referring to him as "a hand grenade who's going to blow everybody up."
Trump and Giuliani have known each other for three decades, and in Giuliani's heyday as U.S. Attorney in the mid-1980s and Trump's as a flamboyant developer, they were both tabloid staples, regular boldface names, though, as I recall it, seldom in the same paragraph, much less the same sentence.
In New York's media world then, Trump was a punch line, the person to call for a pithy quote on the passing parade, while Giuliani was a figure of fearsome rectitude, tireless in his pursuit of the Mafia and of the municipal corruption scandals that unraveled in Ed Koch's third term as mayor.
"In his U.S. attorney days Giuliani had been a good guy in the eyes of New York City's reporters," the journalist Andrew Kirtzman wrote in Rudy Giuliani: Emperor of the City in 2000. "It wasn't just that he was accessible; he was also fighting the same battles they were, looking for wrongdoing in high levels of government. As a result, the prosecutor formed bonds with many of the city's journalists. It was thus perplexing to watch him turn on the press when the '93 mayoral campaign commenced."
When he ran that year to unseat Dinkins, the city's first black mayor, Giuliani adopted the combative stance with the media that he has largely maintained since. His administration won points for cleaning up the city and cutting crime, but his take-no-prisoners style and racially charged rhetoric also deeply alienated minority constituents and even some prominent onetime supporters, such as Koch. In the fall of 1995, when Giuliani ordered the Palestinian leader Yasser Arafat ejected from Avery Fisher Hall at a concert commemorating the 50th anniversary of the founding of the United Nations, Koch and Dinkins joined in a rare joint appearance to condemn him. "Mayor Giuliani has behavioral problems dealing with other people," Koch observed.
By 2000, near the end of his second term, Giuliani was comfortable enough with Trump to videotape a skit for the annual Inner Circle political roast by City Hall reporters, in which the mayor appeared in Marilyn Monroe–esque drag and Trump greeted him at a department-store counter and nuzzled his perfumed fake bosom. "Oh, you dirty boy!" Giuliani exclaimed in a warbling falsetto. Trump replied, "Can't say I didn't try." Of course, the send-up plays differently today than it did at the time.
Whatever the outcome of the current investigation, it seems safe to say that Giuliani's reputation will never again be quite the same. That must count as a special blow for a man who has long been the curator of his own myth.
"Maybe I had been made too much of a hero as U.S. Attorney," he told me more than 25 years ago when I profiled him for The New York Times Magazine, speaking as if he'd had nothing to do with fostering that image. Pressed, he acknowledged, "I've created a lot of my own stereotype."
All these years later, the same thing holds true of Rudy Giuliani, but oh what a different stereotype it is.