Trump Finally Has His Lawyer
Pat Cipollone is making the president happy. But his job is bigger than the president.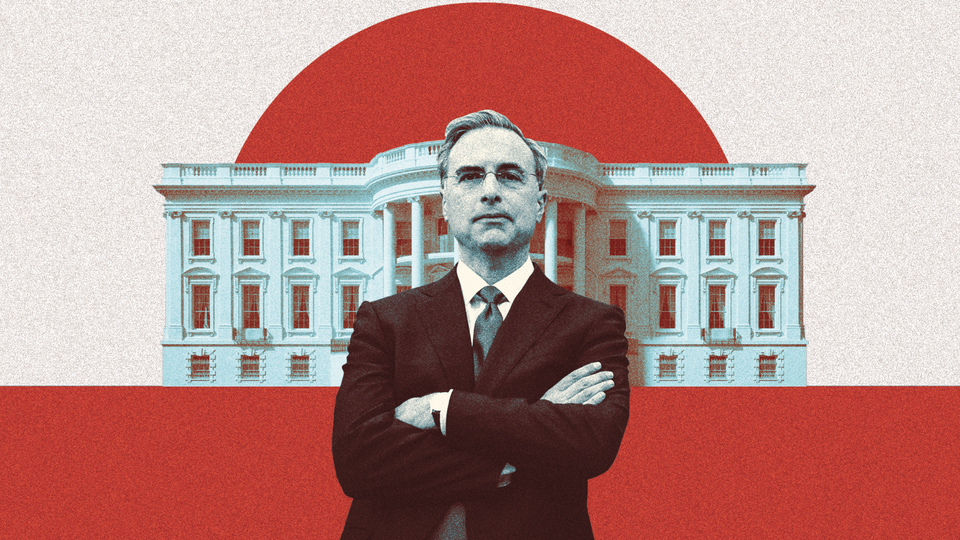 Pat Cipollone had been working as White House counsel for just two months when his boss issued his first performance review. During a private ceremony in the Oval Office, Donald Trump was walking around the room, shaking hands, when he stopped and greeted Cipollone and his former law partner Tom Yannucci. Cipollone introduced his old friend and told the president that the two had once worked together. "So far, Pat's doing a great job," Trump said. "But we'll know for sure after six years."
That Trump would brashly predict his own victory in 2020 is no great surprise. What is unusual is that a president who fires top advisers by tweet would signal that Cipollone is here to stay. Perhaps it's because Trump needs Cipollone more than he needs almost anyone else. The counsel heads a White House legal team that is enmeshed in perhaps the greatest constitutional standoff since Watergate, and he's now at the center of the administration's response to a grave new threat to Trump's chaotic presidency.
According to multiple current and former senior administration officials and Cipollone associates we spoke with for this story, Cipollone is eager to see the White House through this moment, and Trump, at least so far, appears ready to heed his guidance. In his 10 months in the administration, the 53-year-old Cipollone seems to have earned the president's trust in a way that few aides have done. He is both discreet, and more to the point, clear in his admiration for the president. He is not the sort of lawyer who will refer to the president as "King Kong," as his predecessor, Don McGahn, once did. Trump has long been tough on his lawyers, demanding loyalists and brawlers in the mold of Roy Cohn, his personal attorney from his time as a real-estate magnate and a former aide to red-baiting Senator Joseph McCarthy. Trump didn't believe that McGahn would fight for him with the tenacity of a Cohn, and McGahn himself appeared to be more of a guardrail for Trump than a defender. "I don't have a lawyer," Trump complained to McGahn and other aides in the Oval Office two months into his tenure, according to a passage in Special Counsel Robert Mueller's report.
There's an almost unbearable tension inherent in Cipollone's job. Trump apparently believes that government lawyers exist to do his bidding, making clear with his cries of "Harassment!" and "Witch hunt!" that he despises the congressional investigations aimed at his presidency. Cipollone—aggressive, dedicated, and at times controlling, according to his colleagues—has helped to frustrate Democratic attempts at oversight, challenging subpoenas and crafting legal arguments to block aides' testimony before Congress. But while Cipollone's title may suggest that he's the president's lawyer, he's not: The counsel's job is to protect the presidency and its enduring institutional interests, not Trump the man. "You can't say, 'Whatever [the president] does, I will represent him to the hilt,'" Bernard Nussbaum, the former White House counsel under Bill Clinton, said in a 2002 oral-history interview. How Cipollone views his role in this fraught moment will shape not only his relationship with a president who demands complete loyalty, but what the public is able to learn about Trump's conduct in office.
House Democrats were already taking steps toward impeachment—pursuing a broad inquiry into Trump's dealings—when press reports last month opened up a new front in the oversight war and pushed Speaker Nancy Pelosi to endorse an impeachment inquiry. The reports showed that in a private phone call, Trump repeatedly pressed his Ukrainian counterpart, Volodymyr Zelensky, to investigate one of his 2020 Democratic rivals, former Vice President Joe Biden.
A series of revelations since the reports came out has drawn House Democrats' scrutiny to Cipollone's office. In a complaint made public one week ago, a whistle-blower alleged that White House lawyers had "directed" officials to move a transcript of the Ukraine call into a special classified system reserved for particularly sensitive material. The White House later said that the attorneys involved were from the National Security Council, a statement that both read as an attempt to shift focus from the White House legal team and obscured the fact that NSC lawyers fall under the authority of the counsel's office. According to an administration official, who like others we talked with for this story spoke on the condition of anonymity to discuss internal dynamics, the counsel's office dictated the statement that was released. (White House Press Secretary Stephanie Grisham denied Cipollone's involvement.) Cipollone also advocated for the White House to publicly release its rough notes from the call, despite Trump's initial opposition, the administration official told us. Cipollone declined to comment for this story.
But the NSC distinction may be without a difference. One former White House lawyer from a different administration told us that the White House counsel would likely have known in advance how the transcript was going to be handled. "If they're suggesting [NSC lawyers] made the decision, that's ridiculous," this person said.
Alleging that a cover-up took place for Trump's political protection, some House Democrats want Cipollone or other White House lawyers to answer questions about how the transcript was dealt with. "Clearly, we need to learn more about why it is they would do that, after first confirming that they have," Representative Denny Heck of Washington, a Democrat on the House Intelligence Committee, told us.
Trump's conduct during the Ukraine call has touched off "a defining moment for the counsel's office post-Watergate," John Dean, the White House counsel under Richard Nixon and himself a whistle-blower in the Watergate scandal, told us.
With the prospect of six more years in office looking more uncertain than ever, Trump finally seems to feel like he has a lawyer. The question now, as the impeachment inquiry deepens, is the degree to which Cipollone thinks of Trump, not the presidency, as his client.
If Cipollone has shown he's up to the task of defending the president, even in such high stakes as impeachment, it may be because he's personally advised Trump and his inner circle for years.
A low-key figure in Washington's private legal establishment, Cipollone discreetly offered advice to Trump and his aides as early as the campaign, when the pro-Trump Fox News host Laura Ingraham introduced him to Trump's team. Cipollone helped Trump prepare for the general-election debates with Hillary Clinton in 2016.
The president's allies called on Cipollone again less than a year later, when Mueller opened his investigation into Russian interference in the election. Cipollone became a sounding board for Trump's outside legal team, members of which told us that he had advised them on questions such as whether the president should give a sit-down interview to Mueller. (Cipollone didn't think he should; Trump agreed.) "I called him counsel to the counsel," Jay Sekulow, one of the president's outside lawyers, told us.
Cipollone's advisory role brought him close to another figure now at the center of the ongoing impeachment inquiry: Rudy Giuliani, whose months-long communication with Ukrainian officials has become a crucial element of Democrats' investigation into whether Trump attempted to solicit dirt on Biden from a foreign government. Along with Sekulow, Giuliani represented Trump during the Mueller probe, and he told us in an interview last month, before the impeachment inquiry took off, that they "spent a lot of time with Pat." Beyond the question of whether Trump should testify, they also asked for Cipollone's advice on their chances of winning in court should Trump refuse to comply with a Democratic subpoena. "It was helpful to have an outside lawyer," Giuliani said, "because sometimes when you represent someone, you lose a little objectivity." Of all the lawyers they talked with about the probe, Giuliani added, Cipollone was "the most impressive."
Sekulow and Giuliani both "strongly urged" the president to have Cipollone succeed McGahn when he stepped down last fall, said Giuliani, who thought that Cipollone's ability to "explain things well" in "normal language" would be beneficial for Trump.
Cipollone began his career in Washington in the early 1990s with a brief stint as an aide to William Barr, then the attorney general under President George H. W. Bush. His move afterward into private practice was a lucrative one: His latest financial-disclosure form shows that he earned a total of about $6.7 million as a commercial litigator for his former law firm Stein Mitchell Beato & Missner in 2017 and 2018. A devout Catholic, he is also a social conservative who helped found the National Catholic Prayer Breakfast, served as general counsel to the Knights of Columbus, and in 2012 petitioned to overturn the law allowing same-sex marriages in Maryland. Ingraham, who's been close friends with Cipollone for decades, has referred to him as her "godfather," and credits him with inspiring her conversion to Catholicism.
When Cipollone took over as White House counsel last year, he found an office bordering on skeletal. The staff was down to fewer than 20 lawyers, the collateral damage of the dysfunction between McGahn and Trump. When McGahn decided to leave the White House in October 2018, a lot of his allies did too. McGahn had never been shy about his feelings toward the president, and he channeled his energy toward deregulation and judicial appointments. Nevertheless, according to the special counsel's report, McGahn tried to save Trump from himself; in one dramatic episode, he refused Trump's demand to fire Mueller. That act of defiance surely spared Trump even more legal and political peril. The president in turn, according to the Mueller report, said that McGahn leaked to the media "to make himself look good."
"It made people very uncomfortable," a former White House official told us, referring to the Trump-McGahn relationship.
Cipollone has been leading a reset, doubling the size of the office to about 40 lawyers. He's a regular visitor to the Oval Office, as well as to Trump's private study off the Oval. "Pat is in the back office with the president a lot, which is a sign of closeness with the president, who trusts and values him," Alex Azar, the secretary of health and human services and a longtime friend of Cipollone, told us.
Whereas McGahn seemed to reflexively say no to the president's orders, current and former senior officials said, Cipollone has been eager to bring Trump's vision to life—he is, as one former official put it, willing to "play ball." The officials rooted his willingness to cooperate in another quality that sets Cipollone apart from his predecessor: Cipollone, they said, came into office with no personal agenda in mind. "The one thing with Pat is, it's not about him," Jared Kushner, the president's senior adviser and son-in-law, told us. "Things that go well are the president's accomplishments," not Cipollone's. None of the current and former officials we spoke with could name a single issue about which he was particularly passionate.
And Cipollone has broadened the office's scope by building what is effectively a mini law firm inside the White House and advising on a wide range of policy matters, whether it's the government shutdown earlier this year or funding of a wall at the U.S.-Mexico border. "In other things, he's just more involved," the former official explained. "But he doesn't have a policy angle. He just says yes more."
If Democrats are to make a convincing case that Trump needs to be impeached, they'll require the documents and testimony that the administration handles. A dress rehearsal of sorts has been playing out for months since control of the House flipped, with Democrats trying to obtain information on Trump's tax returns, the profits he makes from his hotel and other properties, and how the White House awards security clearances, among other matters. With many requests, they've come out on the losing end.
Now, as Democrats plunge into an impeachment drive centered on the Ukraine call, they are demanding information about how Trump tried to pry loose dirt on Biden, and they're pressing Cipollone for answers. Yesterday, Representative Elijah Cummings of Maryland, the chairman of the House Oversight Committee, released a letter describing his plan to issue a fresh subpoena for White House documents, writing that committee chairs had gotten no response to earlier requests. Among other materials he is seeking, Cummings wrote, he wants any communications about Trump's Ukraine call from a range of administration officials, including those inside the counsel's office.
When we spoke with Barr, now Trump's attorney general, before the whistle-blower story broke, like the president he described Congress's oversight requests as a form of harassment, making Cipollone's job that much tougher. He insisted that Trump's statement from April about "fighting all the subpoenas" was just "colloquial" phrasing—that the administration is "not automatically resisting all requests for information."
Barr himself figures into the Ukraine drama. In his phone call with the Ukrainian president, Trump said that Barr would get in touch to talk more about jump-starting an investigation into Biden. (The attorney general's office issued a statement last week saying that Barr hasn't spoken with anyone from Ukraine or discussed the matter with Trump.) And new reporting shows that Barr has also been talking with foreign officials as part of a Justice Department investigation of the FBI's early inquiry into the 2016 Trump campaign's contacts with Russia.
"This is probably the highest degree of difficulty for counsel in this administration because of the intensity of the oversight and the demands and the pressure that's brought on the administration," Barr told us, reflecting on Cipollone's role. "Things are more partisan. The degree of animosity is much higher in many respects than the last time I was in government."
Not that Trump has done anything to lower the temperature; much of the time, he's raising it. In recent days, for example, he's demanded to know the whistle-blower's identity—a move that could put the person at risk of harm—and tweeted part of a quote from a Dallas pastor who warned that Trump's removal from office through impeachment would cause a "Civil War–like fracture" in the country. He's warned that he's the target of a coup, or, as he tweeted the other day, a "COUP." (Impeachment, a legislative prerogative spelled out in the Constitution, is not a coup.)
Working in tandem with Barr's Justice Department, Cipollone and his team have advanced a series of legal arguments in recent months that has hamstrung Democratic oversight: They've said that past and present White House officials are "absolutely immune" from testifying lest they divulge confidential conversations with the president. And they've put forward the legal rationale that congressional oversight needs to be tied to a "legislative purpose," even though, for example, lawmakers aggressively investigated wrongdoing in the Nixon and Clinton White Houses.
Democrats have appealed to the courts in some cases to compel compliance. Should they try to subpoena Cipollone himself about the Ukraine episode, the White House seems likely to strongly resist. "If they say they want to break the [lawyer-client] privilege—and good luck with that—we'll litigate it for the next year," Sekulow told us.
Even when the White House hasn't been able to prevent witnesses from testifying, officials have worked to muzzle them. In one memorable example, from June, the former White House senior aide Hope Hicks spoke to the Judiciary Committee behind closed doors. Cipollone had sent the committee's chairman, Representative Jerry Nadler of New York, a letter permitting her to testify but not about anything dealing with her stint in the White House. Bound by those terms, and with Cipollone's deputies hanging on every word, Hicks revealed very little about the White House:
"On your first day of work at the White House, was it a sunny day or a cloudy day?" Democratic Representative Ted Lieu of California asked Hicks.

Michael Purpura, a counsel's-office lawyer: "You can answer."

Hicks: "It was a cloudy day."

Lieu: "And in the White House, where is your office located?"

Pat Philbin, another Cipollone deputy: "We'll object to that."

Lieu: "Okay. During your tenure at the White House, where would you normally have lunch?"

Purpura: "You can answer."

Hicks: "At my desk."

Lieu: "And would the president ever come in while you're having lunch?"

Philbin: "Objection."
The legal principles governing what White House officials reveal about private discussions with the president are complex. Hauling White House officials before Congress could potentially chill the candid internal deliberations a president has a right to expect. Even some Democratic lawyers say that some of the arguments Cipollone and the Justice Department have put forward are legitimate. Under President Barack Obama, the counsel's office also sought to shield sitting White House officials from testifying before Congress, cautioning that these sorts of requests could trample on constitutional separation of powers.
Still, congressional Democrats argue that the resistance has reached intolerable levels. "It's patently obvious that our ability under Article I of the Constitution to pursue oversight of the executive branch has been violated over and over again by this administration, and the tools that we have commonly used are ineffective," Representative Jackie Speier of California, a member of the House Intelligence Committee, told us. To Trump, of course, that sort of complaint is a ringing validation that Cipollone is doing his job just right.
Anyone within Trump's line of sight has a chance to rise fast. Trump cares little about titles and hierarchies. If he likes you, he'll rely on you—right up until the time when he decides he doesn't like you, in which case you might as well check Twitter to see if you've been canned.
Trump so far has treated Cipollone as a senior adviser with a broad portfolio, past and present White House aides told us. He is discreet almost to a fault, his friend Tom Yannucci told us. "You could hardly talk to him even in an elevator," Yannucci said, recalling when he and Cipollone were colleagues. "And there'd be no one else on the elevator." Chuckling, he added: "I'd say it's endearing, but it's not. It can also be annoying."
Few White House officials would deny that Cipollone is showing results, and not just on the oversight front. McGahn was widely credited for helping Trump appoint a significant number of federal judges, and there's been no slippage under Cipollone. In the first two years of Trump's presidency, the Senate confirmed 85 federal judges, according to a White House official. So far this year, the Senate has confirmed 67. With more than 50 more nominees in the pipeline—and with no signs that Senate Majority Leader Mitch McConnell will temper his pace in bringing them up for a vote—the White House is on track this year to surpass the combined total in 2017 and 2018.
In another administration, reshaping the federal judiciary would be a substantial legacy. Here, though, compared with the raging impeachment battle, it may be a footnote. As Trump follows the drama obsessively, a key part of Cipollone's job is supposed to be protecting the presidency and ensuring that Trump doesn't misuse his powers as he fights for survival. Cipollone has broken into Trump's inner circle in part because he's been more willing than his predecessor to find legal paths for carrying out Trump's agenda. In the coming months, he may need to say no to the president when Trump is accustomed to hearing yes. Is he up to it? Azar, at least, believes so.
"I would hire Pat to be my lawyer," Azar told us. "And there's a reason for that. Pat would tell me if I was doing something I shouldn't be doing or going in the wrong direction. He wouldn't hesitate to tell me that, and I know he wouldn't hesitate to tell the president that either."
It is then up to Trump to dispassionately accept the advice without ostracizing Cipollone—the ultimate test for a president uninterested in dissent. Cipollone's allies believe that he wants to stay with Trump not just through the current crisis, but through the president's reelection and the end of a second term.
When we spoke with Barr, we asked him about Cipollone's future. So many aides come and go. What about Cipollone? Would he be around through the end?
"You mean five years?" Barr said with a chuckle, banking on a reelection victory. "Yes, I think he will."