Wherever Obama Turns, There Trump Is
Nearly everything the 44th president has said since leaving office has been interpreted as a condemnation of his successor.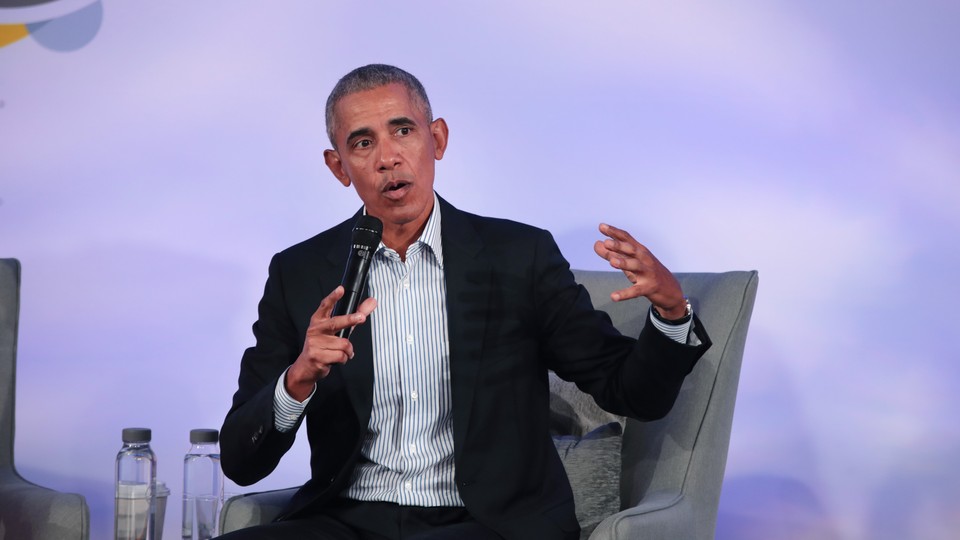 CHICAGO—America already knows what Barack Obama thinks about Donald Trump (the man) and Donald Trump (the president). For the past four years, nearly everything in politics has seemed to be about just the two of them—and in a way, everything is.
Each is an archetype: the man who grew up without a father versus the man who inherited his father's wealth. The brain versus the gut. Abstract versus direct. Bun cha in Hanoi with Anthony Bourdain versus well-done steak with ketchup on his own turf.
They both landed here Monday. Trump was in town for a law-enforcement event where he trashed the city—"Trump Comes to Chicago to Insult Us in Person," read Tuesday's front-page headline in the Chicago Sun-Times—and then went downtown to have lunch at his massive tower. Obama attended a community dinner on the South Side, celebrating people who'd spent the day doing service projects ahead of the third annual Obama Foundation summit.
By Tuesday, Trump was back at the White House, with aides promoting talking points that demeaned an army officer who had a Purple Heart, insisting that his testimony in the impeachment inquiry couldn't be trusted because he'd been born in Ukraine. Obama was still here in Chicago, hosting a gathering of people from around the world to discuss what they were doing to connect and invest in their communities. There was, among other speakers, a Peruvian woman telling a story about her mother making hundreds of pupusas.
Since leaving office nearly three years ago, Obama has tried to avoid giving Trump any fresh attack material to work with, and his foundation is rigidly nonpolitical. Here at the Illinois Institute of Technology, the third annual summit kicked off with a modern-dance performance highlighting black and immigrant experiences. It included the trailer for Ava DuVernay's 2019 Netflix series, When They See Us, about the Central Park Five, a group of young men of color who were wrongly convicted and imprisoned on charges that they had raped a white female jogger in the park in 1989. At the time, Trump ramped up racial tensions around that case, taking out a full-page ad in The New York Times calling for the men to be executed.
The two men had never spoken before Obama called to congratulate Trump on Election Night 2016. They met a few times during the transition, and except for a brief handshake at George H. W. Bush's funeral last year, they haven't spoken since Inauguration Day 2017. For almost three years, virtually everything Obama has said and done has been seen through the prism of attacking Trump.
Sometimes it's unmistakable, as on Friday, when Obama spoke at the funeral for Representative Elijah Cummings of Maryland. "There's nothing weak about being honorable," Obama said. "You're not a sucker to have integrity and treat others with respect."
That statement was clearly about Trump—but Obama's remarks are not always about Trump, at least not definitively. "Make sure you have a team with a diversity of opinion sitting around you," Obama said at a paid appearance in San Francisco last month. Also: "The other thing that's helpful is not watching TV or reading social media. Those are two things I would advise, if you're our president, not to do. It creates a lot of noise and clouds your judgment." Are statements like that Trump-focused, or merely the same generic advice Obama would offer to whoever took his place?
"We are not naive to today's political environment," Eric Schultz, a senior adviser to Obama who was traveling with him yesterday, told me. "That said, the themes President Obama raises are points he's been making his entire public life—and will continue to raise for many years to come."
Obama warned yesterday against running for office just to run: "Then, when you get there, you have no idea what to do; you have no moral compass; you have no issue or cause that you're willing to sacrifice everything for or lose your seat for. All that's important to you is to stay that thing you wanted to be."
In that instance, was he talking about what he himself stood for, or hinting about what Trump doesn't? Perhaps both.
Obama also appeared to possibly issue a warning to his own party when he said, "This idea of purity, and you're never compromised, and you're politically woke, and all that stuff—you should get over that pretty quickly. The world is messy. There are ambiguities. People who do really good stuff have flaws," and he made fun of people thinking they'd done something by retweeting a tweet. "That's not activism. That's not bringing about change. If all you're doing is casting stones, you're probably not going to get that far."
Trump, for his part, seems to always be thinking and talking about Obama. Almost three years into his first term, Trump's legislative agenda still looks as if he's trying to undo, or outdo, the Obama agenda. Trump went so far as to make the point Sunday that killing the Islamic State leader Abu Bakr al-Baghdadi was a bigger deal than the Obama-era killing of Osama bin Laden. Trump tried for the second time so far to net his own version of the famous photo of Obama and his team watching the bin Laden mission.
In the fall of 2017, the first Obama Foundation summit was a two-day group-therapy session about the Trump presidency. Former administration officials wandered among breakout discussions, yoga classes, a meal catered by the chef José Andrés, and a concert featuring Chance the Rapper. Back then, everyone appeared to be looking for a lifesaver. Two years later, the event has been pared down to one day and a few sessions. Most of the hangers-on have stopped making pilgrimages. Programs are beginning to take real shape: The My Brother's Keeper program for young African American leaders is now in its fifth year, and the young global-leaders program has expanded from Africa to Asia. (The Obamas head to Kuala Lumpur in December to kick it off.) Even though things have changed, the summit is still the kind of event where you can spot Charles Barkley and Dikembe Mutombo (walking around with name tags, no less). The musicians Jeff Tweedy and Mavis Staples started the afternoon session yesterday with a duet. There was a "Yes we can!" chant led by the labor activist Dolores Huerta.
David Simas, who is now the CEO of the Obama Foundation but before that worked as the White House political director through the end of Obama's second term, told me this year's summit is "proof of concept" for what the foundation was grasping at back then. He described watching an architect from Durban, South Africa, connect with another architect from Chicago. One is focused on replacing apartheid structures with more open plans; the other is focused on rethinking a once-segregated city. "Now you begin to see these opportunities for collaboration," Simas said.
For all the foundation's separation from politics, I said to Simas, it can't pretend to ignore what's going on in the country and the world. He pointed to leadership training that the foundation held last year for youths in Oklahoma City, deliberately picked because Obama had lost the state's electoral votes.
"What we heard in Oklahoma City was the same thing, essentially, that we heard in Chicago and other places: Our civic fabric is ripping apart, and the sense that people have, whether they are Republican or Democrat, of having some kind of—not return, because that's overly nostalgic—but some kind of cohesion, especially at a community level, allows some people to transcend not just that he was the 44th president of the United States, but a Democratic president," Simas said. What Obama is looking to be, and what Simas kept saying there's a "hunger" for, is bigger than politics—it's about a way of being that Obama represents, a way that, though he took care to avoid saying it, Trump does not represent.
Pause for a moment and imagine what a Trump Foundation summit would entail. Except it doesn't take much imagination. There was a Trump Foundation, until the New York attorney general's office forced it to shutter after accusations arose that Trump was basically treating it as a bank account to take donations from other rich people and use them for his own self-promotion.