The Search for the Next AOC
Justice Democrats, the organization that brought you Alexandria Ocasio-Cortez, is hoping 26-year-old Jessica Cisneros will carry the torch in 2020.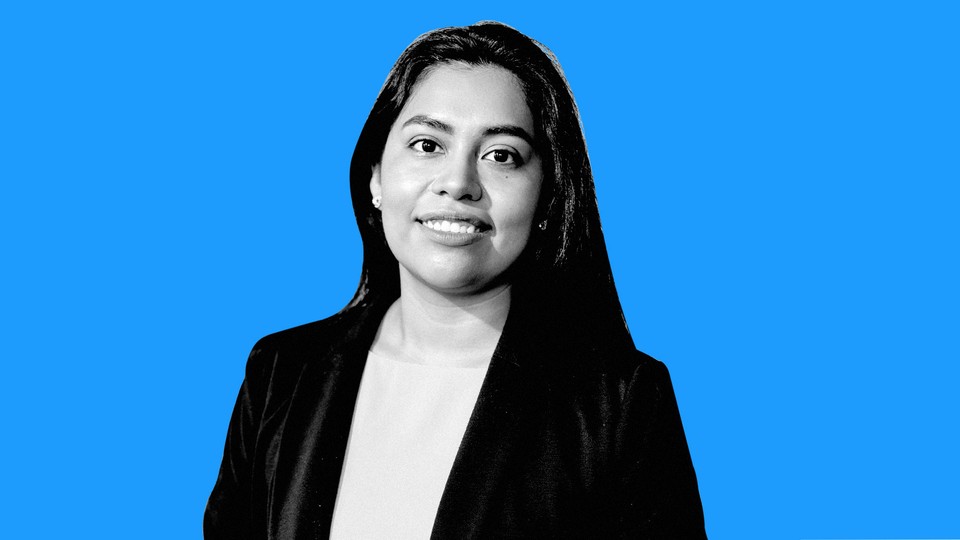 The moment was immortalized in a one-minute clip on CNN: 28-year-old Alexandria Ocasio-Cortez arrived at her campaign's Election Night watch party, caught a glimpse of the results on a nearby TV screen, and clasped her hand over her Stila-painted lips. "Oh my God."
Ocasio-Cortez had just learned she'd defeated incumbent Representative Joe Crowley of New York—the "Queens Machine" and possible future Speaker of the House—in a 2018 primary election. In the span of a few hours, a bartender at a taco restaurant had become a household name—and the spokesperson for the progressive movement.
But Ocasio-Cortez's astonishing upset was also a crucial triumph for Justice Democrats, a fledgling progressive organization that, along with the group Brand New Congress, had recruited Ocasio-Cortez and helped shepherd her campaign to victory. Justice Democrats was founded in 2017 by veterans of Bernie Sanders's 2016 presidential campaign with the goal of supporting candidates up and down the ballot who follow a set of progressive principles, including refusing corporate PAC money and supporting Medicare for All. While Justice Democrats had endorsed 79 candidates in the 2018 cycle, only 26 of them were successful, including other now well-known progressive members of Congress, such as Ayanna Pressley of Massachusetts and Ilhan Omar of Minnesota. But no victory registered like Ocasio-Cortez's upset, turning her into a three-letter political phenom: AOC.
For months after Ocasio-Cortez's win, Justice Democrats was riding high off of that accomplishment. In November, the organization's 24-year-old executive director, Alexandra Rojas, pledged to "repeat the playbook" in 2020. The group touted plans to expand its ambitions in pushing Congress to the left, announcing a campaign to recruit more working-class candidates to challenge establishment Democrats it viewed as insufficiently progressive.
With 2020 congressional primaries just months away, that playbook is about to be put to the test. Justice Democrats has so far endorsed a slate of eight candidates, including Jamaal Bowman, a school principal challenging Representative Eliot Engel of New York, and Morgan Harper, a former Consumer Financial Protection Bureau adviser who is taking on Representative Joyce Beatty of Ohio.
But it's Jessica Cisneros's primary bid against Representative Henry Cuellar of Texas that will serve as a kind of marquee race for the Justice Democrats next year. The primary election, on March 3, will be among the first elections with a Justice Democrats candidate on the ballot, and could set the tone and trajectory for the rest of its primary challenges. Since her campaign launched in June, Cisneros has secured the endorsement of Senator Elizabeth Warren of Massachusetts and raised almost $460,000. For context, Ocasio-Cortez raised less than $60,000 in all of 2017 for her own race against Crowley.
Progressives have long been itching to oust Cuellar, who—even though Hillary Clinton won the district by nearly 20 points in 2016—has voted with Donald Trump nearly 70 percent of the time. That's led Cisneros, a 26-year-old immigration attorney, to label him "Trump's favorite Democrat," and separate herself by advocating for a slew of progressive policies, including Medicare for All, a $15 minimum wage, and the Green New Deal.
Immigration and border security are also massively important issues in Texas's Twenty-Eighth Congressional District, which spans nearly 300 miles along the U.S.-Mexico border. While Cuellar has spoken out against the construction of President Trump's proposed border wall, he has supported building sections of the wall in his own district. Cisneros has criticized Cuellar's position as inconsistent, but when I talked to her in an interview last month, her own vision for border security didn't seem totally coherent: "I'm only one person," she told me when I asked about it. "Obviously, the [system] that we have right now is broken."
Cisneros believes that the voters in her solid-blue district—even moderate ones—would vote for progressive policies like Medicare for All if they were given the opportunity. It's exactly the theory that Justice Democrats is hoping to prove nationwide, and Cisneros's candidacy will be one of the first in 2020 to test it. I talked to Cisneros about the importance of primary challenges, her thoughts on border security, and how she feels about being compared to Ocasio-Cortez. Our conversation has been edited for length and clarity.
---
Elaine Godfrey: You've said that Cuellar and his political positions don't represent Democratic values. What do you mean by that? What are values that Democrats should have?
Jessica Cisneros: There are so many positions and votes that he has made over the past 14 to 15 years that he's been in Congress that aren't reflective of the people down here. I think that that's because he's perpetuating this myth that Texas is super conservative, but we truly aren't. And I can say that because in the past three months that we have been knocking on doors, I haven't had a single person disagree with me on the progressive platform that we are running on. And we're having conversations about Medicare for All and what that means for our community here. We're having conversations about raising the local wage and getting the money out of politics. And those are all things that Cuellar isn't for.
Godfrey: The Democratic Congressional Campaign Committee has instituted a new policy to help protect incumbents from primary challenges like yours.
Cisneros: Obviously, that's not going to deter us, right? I think this campaign and the energy behind it, and the progressive values that we're standing for, is attracting the right kind of people to work on our team. And we're really excited. Our team might be small, but we're definitely mighty. But I do think that policies like those are detrimental to Democrats everywhere. And the fact is that Cuellar is someone who really isn't aligned with our Democratic values. Democrats everywhere recognize that he's one less vote on their health care, one less vote on raising the minimum wage, one less vote on so many issues that Democrats hold dear.
So I think that the reason why we have had an overwhelming outpouring of support when we launched—not just from inside the district, but also from outside of the district—is because people recognize that if Jessica Cisneros wins, that's one more vote for Democrats everywhere.
Godfrey: Justice Democrats has gotten a lot of criticism for what it's doing. Some Democrats have argued that it's an eat-your-own approach to politics that could ultimately threaten the Democratic majority in Congress. Are you worried about that?
Cisneros: I think that primaries are a basic function of our democratic system and electoral system that we have. And I think primaries keep our democracy healthy. As a public servant, someone who's elected to hold office, people shouldn't take the responsibility lightly. They shouldn't feel entitled to that position, because ultimately, the voters are the people who hire our congresspeople. If we don't like the way that they're working, then we should have an avenue to be able to change that person and actually elect somebody who will represent us accurately.
Godfrey: You're in a district that runs along a huge chunk of the U.S.-Mexico border, so let's talk about immigration. Cuellar has called for tightened border security, but he has criticized Trump's idea of building a wall (while supporting it locally). Where should that increased funding go?
Cisneros: People I've met with in Starr County, which is part of the district, are very frustrated and betrayed. They feel betrayed, because the congressman wasn't fighting for their property [from being usurped for the wall]. I spoke to two women who are leading the fight down there, and they feel very frustrated because the land that their family has been living on for six generations, literally the border crosses it. They're about to lose it. And Cuellar might be saying one thing, that he doesn't support the wall and that he's standing up to Trump, but his votes really do say a different story.
If you were to actually come down here and visit those areas where the wall is going to be built, it's definitely some of the most peaceful and serene places I've seen in my entire life. It's not necessary to be investing all these millions of dollars, or tens of millions of dollars, into something that's not necessary. The border area really does need an increase in funding, but not to build a hateful symbol such as the wall.
Godfrey: What do you think that increased funding should go toward?
Cisneros: I think it should go toward our health care or investing in the infrastructure down here that we truly need. There are places in South Texas and along the border called colonias, areas of the United States where there are no paved roads, no streetlights, sometimes no drainage, no plumbing. That's where we should be investing our money—into our people. Helping small businesses start and, again, health care, because unfortunately Texas has some of the highest rates of uninsured people. And South Texas has some of the highest rates of poverty. For us to access our health care, we have to go into Mexico. People who have diabetes have to go get their insulin over there. So many of us go over there to go get dental work done, or to check up with the doctor, because we can't afford it here. So to me, that's where money should be going, to make sure that our communities have what they need to succeed.
Godfrey: Republicans have said that Democrats want open borders. What do you think about that criticism? How do you think about border security?
Cisneros: That's obviously a Republican talking point. I think that there's something definitely between open borders and the blatant human-rights violations that we see today under the Trump administration. In the system that we have right now, people are being turned away [at the border] when they're properly seeking asylum under the laws that Congress has passed; they've been doing it the right way. The most frustrating thing, especially as an immigration attorney, and knowing exactly how these laws interact, is that the only person in this who's circumventing the law is our president, Donald Trump. He's the one who is basically not paying attention to the laws that Congress has passed before. Instead, he's unilaterally denying these people humanitarian relief. So I think that's what we should be looking to and not use the open-borders argument as a distraction to actually not pay attention to the violations of law that this administration is doing.
Godfrey: You said there's something between open borders and the human-rights violations going on at the border. What is the something that's in between?
Cisneros: I'm only one person. I can't come up with an entire legal scheme for a very complex system. I think a lot of people don't know that immigration law is like the second-most complex area of the law, right behind tax law. So I think we definitely would need a group of people who are immigration experts to come up with an efficient system, because obviously, the one that we have right now is broken. And even before the Trump administration unilaterally curtailed asylum law, there were still so many things that we needed to fix.
Godfrey: Your district is blue, but does that mean that voters will support Medicare for All and a lot of these other progressive ideas that you're running on?
Cisneros: I definitely think so. Because, again, in those three months that we've been knocking on doors, I have not had a single person disagree with me on policy. I think that once you start laying out what these plans mean, and the benefits that it will have on our community, people understand that. And I think that Henry Cuellar has been doing a disservice to our community by not even giving us access or talking about these ideas with us.
Again, that's why primaries are so important, because it is a debate of ideas. It's not just one set person in there, it's more people, and that way people have options, and we can choose for ourselves what we believe is best for us.
Godfrey: Alexandria Ocasio-Cortez recently endorsed Marie Newman, a Justice Democrat–endorsed candidate challenging Representative Dan Lipinski of Illinois. And some people are publicly musing about whether she'll endorse you in the primary, too. What do you think of the comparisons between you two—and what might an endorsement mean coming from her?
Cisneros: We would welcome an endorsement from the congresswoman, but we're not anticipating one at this time. We both are in the position of being underdogs. But we're trying to do our best to help the Democratic Party in our own way and provide true representation to our people here, in our respective communities. Obviously, the Bronx and Queens are very different from South Texas. But I think there are so many issues that unite us all throughout America, those things being access to health care and making sure that people have decent wages and addressing the climate crisis. There are so many things that we're in the same fight for, and I obviously admire her a lot.
I do think that a lot of people tend to draw comparisons as well because we're both young Latinas. But we are our own person, and I'm trying to be the best version of Jessica Cisneros that I can be for Texas 28.