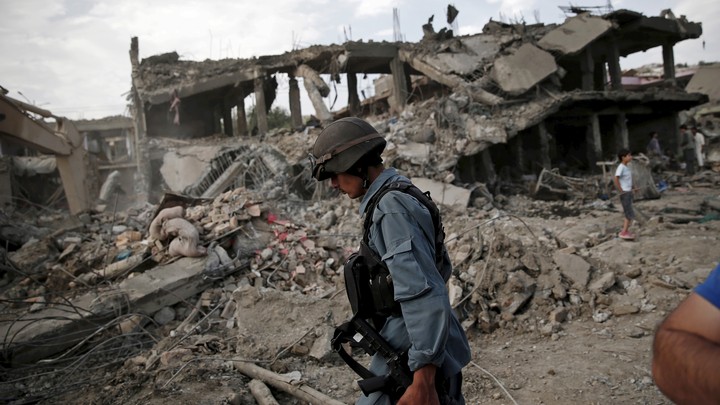 "Peace is our common objective, and terrorists are our common enemy," Afghan National Security Adviser Hamdullah Mohib told the United Nations yesterday. "We must not rush the former at the risk of empowering the latter."
Mohib, who has in the past made headlines with his blunt critique of American policies in his country, came to New York with an explicit message for the Taliban and a subtler one for the United States government. To the Taliban, he said: "Join us in peace, or we will continue to fight." To the United States, which until talks collapsed in September seemed on the verge of concluding its own deal with the Taliban that did not include the Afghan government: "The next step belongs to us Afghans."
Mohib spoke with me shortly after the speech, and a few weeks after President Donald Trump announced on Twitter that he was calling off a roughly yearlong negotiation with the Taliban following the death of a U.S. soldier and 11 others in Kabul. (The soldier was the 16th U.S. service member to die in Afghanistan in 2019, while negotiations went on; a 17th died a little over a week later.) Mohib was a figure in that drama, although not one as central as he might have liked—the Afghan national security adviser in March accused U.S. Special Representative Zalmay Khalilzad of "delegitimizing" the Afghan government by conducting separate negotiations with the Taliban, which still refuses to recognize the Kabul government. As if to prove the point, Mohib himself was sidelined when U.S. officials refused to meet with him following those remarks.
Read: What really prompted Trump to call off Afghan peace talks
Khalilzad's efforts came at the behest of a president who entered office wanting to leave Afghanistan, but was persuaded by advisers to send thousands more troops there in 2017. Khalilzad opted to talk directly to the Taliban, and speak separately with the Afghan government, in hopes of creating the conditions for direct talks between the two parties later. Right before the talks collapsed, he said he had reached an agreement "in principle" with the Taliban—whereby the U.S. would gradually draw down the roughly 14,000 troops it has in the country in exchange for guarantees that the Taliban would not provide a haven for terrorist groups.  
"I think from Ambassador Khalilzad's perspective, he kept us in the loop enough, whereas we thought we weren't," Mohib told me. "Of course, our future is tied to it—any deal that would have been signed or agreed to would have altered our future. So we naturally wanted to know all the details." The State Department has said that Khalilzad kept leaders in Kabul briefed on the discussions; most recently, a State Department spokesperson wrote to me on background in an email, Afghan President Ashraf Ghani and his team "extensively reviewed the most recent draft agreement [with the Taliban] in three languages," though it's unclear whether he was able to suggest changes. "We have consulted regularly with the Afghan government and other key stakeholders on all matters involving peace in Afghanistan," the spokesperson wrote, "and will continue to do so."
In fact, Mohib couldn't even explain why Trump called the whole thing off. The president also revealed at that point that he had invited both Ghani and Taliban leaders to meet with him at the U.S. presidential retreat Camp David, before canceling at the last minute after the Kabul attack. "Why it fell apart is really a mystery to all of us—we don't know exactly," Mohib said.
"We accepted to attend the meetings at Camp David because we felt that this was an opportunity for us to talk at the highest level with our major partner, the United States, on the way forward," he said. But he noted that the Afghan government did not have a say in whether the Taliban would be there.
Afghan civilians and security forces were killed regularly over nearly a year of Taliban negotiations with the U.S.—during which Taliban leaders continued to claim that the government was an illegitimate puppet of the United States. The Taliban's position was a key reason the U.S., keen to end a nearly two-decade presence in the country that has cost close to $1 trillion by one estimate, pursued a separate deal with the insurgents. But it wasn't one that would have led to real peace, in Mohib's view.
Read: A jabberwocky peace in Afghanistan
"We shouldn't be buying the Taliban's excuse that they do not recognize the Afghan government, and hence they don't want to talk to us," he said. "Previously we have negotiated with the Taliban. So this excuse that they don't recognize is just an excuse, and if they feel that they're getting away with it, then of course they will never talk to the government."
For that to happen, though, the government has conditions: that the Taliban negotiate only with them, and commit to a cease-fire ahead of time. The aborted U.S.-Taliban deal did not satisfy either of these conditions.
It's unclear, however, whether the government is in a position to force this if the U.S. restarts its own negotiations with the Taliban. (The State Department could not immediately comment on what the U.S.'s next steps will be in the peace process, if any.)
Still, Mohib said, "There can't be any peace without the United States. They're a party to the conflict."
Read: Trump might make a big mistake in Afghanistan
Afghans, meanwhile, are in a kind of double limbo as its citizens await the results of this past weekend's presidential election—which aren't expected to be final until November—and whatever steps the next government will pursue to make peace. The election was Afghanistan's fourth for president since the overthrow of the Taliban government in 2001, and even some candidates didn't believe it would take place, given the uncertainty over the peace process. In the end, though, 3 million people voted despite the threat of Taliban violence, a low turnout compared with past years but still one that, Mohib said, demonstrated resolve. He told the UN that some people came out despite having had their fingers cut off by the Taliban in previous votes.
Prior votes have also been marred by fraud, abuse, and disputed results—Afghanistan's 2014 election went to a runoff between Ghani and his nearest rival, Abdullah Abdullah; then a recount after allegations of fraud; then finally a power-sharing agreement between Abdullah and Ghani, all of which took months to play out. Abdullah and Ghani are once again rivals for the presidency, and as of yesterday, each had declared victory.
With the votes in and being counted, Mohib said, "we are in a good position to have closed one uncertainty and now fully focus on the peace process." Though perhaps another chapter of uncertainty is just beginning.
We want to hear what you think about this article. Submit a letter to the editor or write to letters@theatlantic.com.