Democrats Are Already Arguing Over Trump's Impeachment Articles
Lawmakers haven't decided yet whether they should focus solely on Ukraine—or write a broader indictment of the president.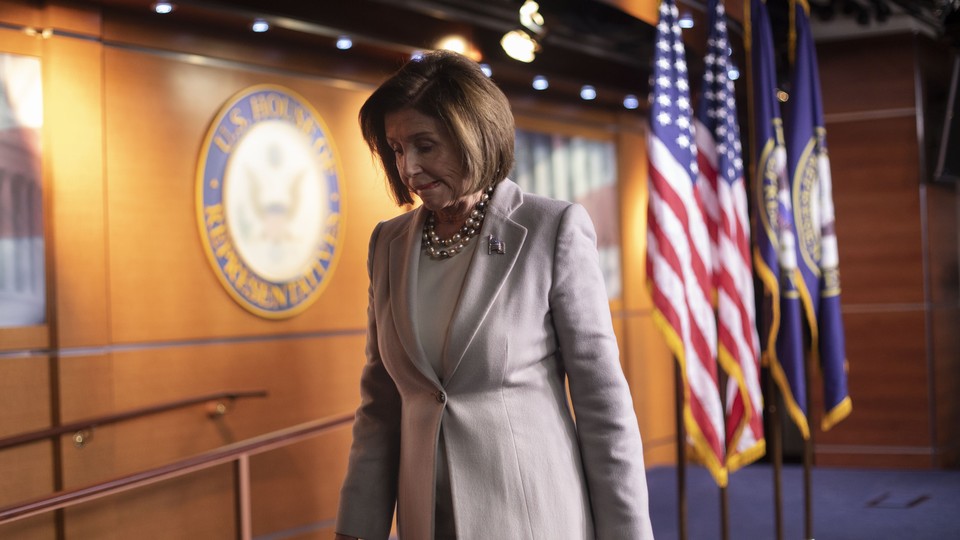 When House Speaker Nancy Pelosi gave her blessing to an impeachment inquiry three weeks ago, she also laid down a marker: The investigation wouldn't center on any of the issues that Democrats have obsessed over for the past three years. Not Russian interference, or emoluments, or security clearances, or family separation. Impeachment would be about Ukraine—and only about Ukraine.
But while that decision helped quell years of frantic debate over whether and why and how Democrats might seek to remove the president, it also foreshadowed the coming battle among House Democrats about what the actual articles of impeachment should look like. Democrats seem to have made strides in their investigation in recent weeks, but they still have this major hurdle to resolve—a hurdle that could have significant implications not just for the success of the inquiry, but for Democrats' ability to keep control of the House in 2020.
Some moderate lawmakers and rank-and-file Democrats—many of whom were reluctant to support impeachment to begin with—are intent on keeping the focus of the inquiry as narrow as possible, as it is now under Pelosi's direction. They're worried that straying from Donald Trump's Ukraine-related offenses could create the appearance of a partisan fishing expedition. Others, though, including many progressives and members of the House Judiciary Committee, want to paint a broader portrait of the president and his alleged wrongdoing.
Through their debate over the articles, Democrats might have to decide what's more important: pursuing a matter that they believe has the most obvious political utility—or making a more comprehensive statement about how an American president is allowed to act.
All of Trump's offenses "have a legal and a literary dimension to them," in that they tell a story to the American people, Representative Jamie Raskin of Maryland told me in a recent interview, comparing the articles of impeachment to the Declaration of Independence, in which Thomas Jefferson listed 27 grievances against King George III. "The story needs to come through as well," said Raskin, a member of the Judiciary Committee. "It's not just this random, one-off thing."
For the most part, House Democrats agree that the Ukraine scandal is the most pressing of the allegations against the president: Trump asked a foreign leader, Ukrainian President Volodymyr Zelensky, to investigate former Vice President Joe Biden, and has subsequently tried to stonewall Congress's attempts to investigate. Pelosi and others argue it's the most straightforward example of Trump's abuse of power; it's more easily digestible than anything Special Counsel Robert Mueller dug up; and because it involves a Democratic presidential front-runner, it's also much more relevant to the upcoming election. Plus: The president's ask to Ukraine is what persuaded so many moderates to endorse an impeachment inquiry in the first place. That combination of clarity and urgency, many Democrats believe, should be enough to rustle up much more public support than before for the impeachment inquiry, which the latest national polls show a slim majority of Americans support.
"For me, it was a really discrete and comprehensive bite-size example of something we should be concerned about," Representative Chrissy Houlahan of Pennsylvania told me. She was one of seven freshman lawmakers to endorse the inquiry for national-security reasons in an op-ed in late September. When it comes time to spell out the articles, her "personal preference," she said, would be "to keep the focus narrow."
The current plan is for Democrats, led by the House Intelligence Committee, to continue gathering information about Trump's request of Ukraine through witness testimony and subpoenaed documents; today, Democrats plan to question the acting ambassador to Ukraine, Bill Taylor. Then, after reviewing the evidence, the Judiciary Committee will decide whether there are grounds for impeachment. If so, committee members will write the articles—a list of reasons that they think the president should be removed from office—and present them to the full House for a vote. President Andrew Johnson, for example, faced a total of 11 articles, spanning from his violation of the Tenure of Office Act to bringing "contempt, ridicule and disgrace" to the presidency. By contrast, former President Bill Clinton faced two: for lying under oath and obstruction of justice. If the House votes to approve any of the individual articles, Trump will be formally impeached, and his case will go to the Senate for trial.
The intra-caucus disagreement—with House leadership and moderates on one end and progressives and some Judiciary Committee members on the other—is likely to complicate this plan. In recent interviews, several lawmakers in the latter camp told me they would want to lead the articles with Ukraine-related allegations, but they would not rule out listing other offenses, including potential emoluments violations and the 10 possible instances of obstruction of justice noted in the special counsel's report. Each lawmaker I spoke with had a slightly different take on what the articles should contain.
"Mueller all but said [Trump] committed a crime," Representative Gerry Connolly of Virginia told me. "I don't think we can afford to ignore that. That sets a precedent."
Representative Pramila Jayapal of Washington told me the articles should address Ukraine; Trump's "obstruction of Congress," related to both the Ukraine scandal and Mueller's investigation; and emoluments. "Those are the top three," said Jayapal, who is on the Judiciary Committee.
If there are 10 articles, "one or two might deal with Ukraine," said Representative Ro Khanna of California. But "any articles that are referred should be broad and inclusive."
Some progressive activists I spoke with are pushing lawmakers to go even broader. "The bigotry and racism of Trump's administration are impeachable offenses," said Anthony Torres, the communications and political director for By the People, a progressive organization advocating for impeachment. The group is lobbying House Democrats to develop a more wide-ranging set of articles that would include the Trump-administration policy change that led to family separations at the border.
"The underlying principle behind going bigger is that we cannot normalize what this very not-normal president has done," said Adam Green, the co-founder of the Progressive Change Campaign Committee, a political-action committee. "Everything before Ukraine was not okay."
But tacking on more grievances against Trump—grievances that some members never considered impeachable to begin with—could appear to voters as though Democrats are engaged in a purely partisan project. That's precisely what many lawmakers want to avoid, especially those representing red or swing districts where impeachment is likely less popular. They think they can sell their constituents on the discrete idea that Trump's ask to Ukraine was wrong, or at least avoid alienating them. While caucus leadership expects the impeachment process to be settled by the end of the year, these lawmakers—some of whom are the so-called majority makers who won Democrats the House last year—are worried about the inquiry's effects not only on their own reelection chances, but also on the balance of power in Washington.
"The problem Democrats have with this is convincing these voters that this crazy thing [Trump] did is different from all the other crazy things he did," said one senior Democratic aide associated with the moderate wing of the caucus, who requested anonymity in order to speak more candidly. "How you do that is by actually communicating that there is bipartisan concern here." Some GOP senators have already expressed worry about the president potentially engaging in a quid pro quo with Ukraine. And given some of their recent comments, it's possible, if still unlikely, that a few House Republicans could support an impeachment vote involving just the Ukraine allegations. To add other, more wide-ranging articles would be to "give Republicans an off-ramp," the aide said.
Ultimately, it could be the short time frame that determines Democrats' approach: They've said that they want to vote on articles of impeachment by Thanksgiving, which gives them only six weeks to hear testimony, compile evidence, and determine which, if any, offenses move forward for a full House vote. In other words, House Democrats simply might not have enough time to make a broad case against the president. But however they decide to narrow down the articles, they see making an effective case as crucial. "If Democrats execute this poorly, the worst-case scenario could happen," said the aide. "The worst-case scenario is Trump gets reelected, we lose the House, and there's no check on this guy."