The False Alarms That Get Kids Arrested
Teens are paying the price for school-shooting threats—whether they're real or not.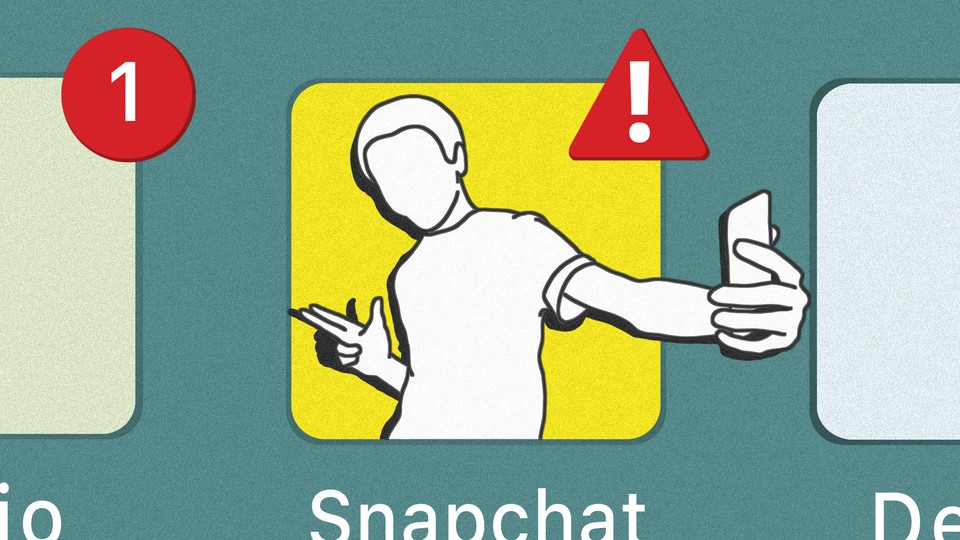 On August 15, Keegan Jarrett was sitting in the back seat of his friend's car, feeling excited about an outfit he was planning to wear to school the next day. So he posted a selfie to Snapchat with the caption "You arent even prepared for tomorrow" followed by a smiling emoji with sunglasses. Within an hour, Jarrett says, friends started texting him to warn that people might take his post the wrong way and think he was threatening to do something to the school.
The previous school year, Jarrett had been forced to attend an alternative off-campus education program and serve three months on probation after being arrested in May 2018 for sharing a screenshot of a text message he had sent stating that he would "shoot the fucking school up." Jarrett, now 16, says he was being sarcastic, though he and his parents admit that it was a dumb thing to say, and understand that it scared people. This time, Jarrett said nothing about hurting anyone, not even as a joke—he was discussing his outfit. Afterward, he sent messages to the principal and the principal's daughter, who happened to be a classmate, insisting that his post wasn't a threat and that he didn't want people "freaking out." Kids already treated him like an outcast due to the earlier incident, Jarrett would later tell police. Jarrett says he deleted the selfie from his Snapchat Story.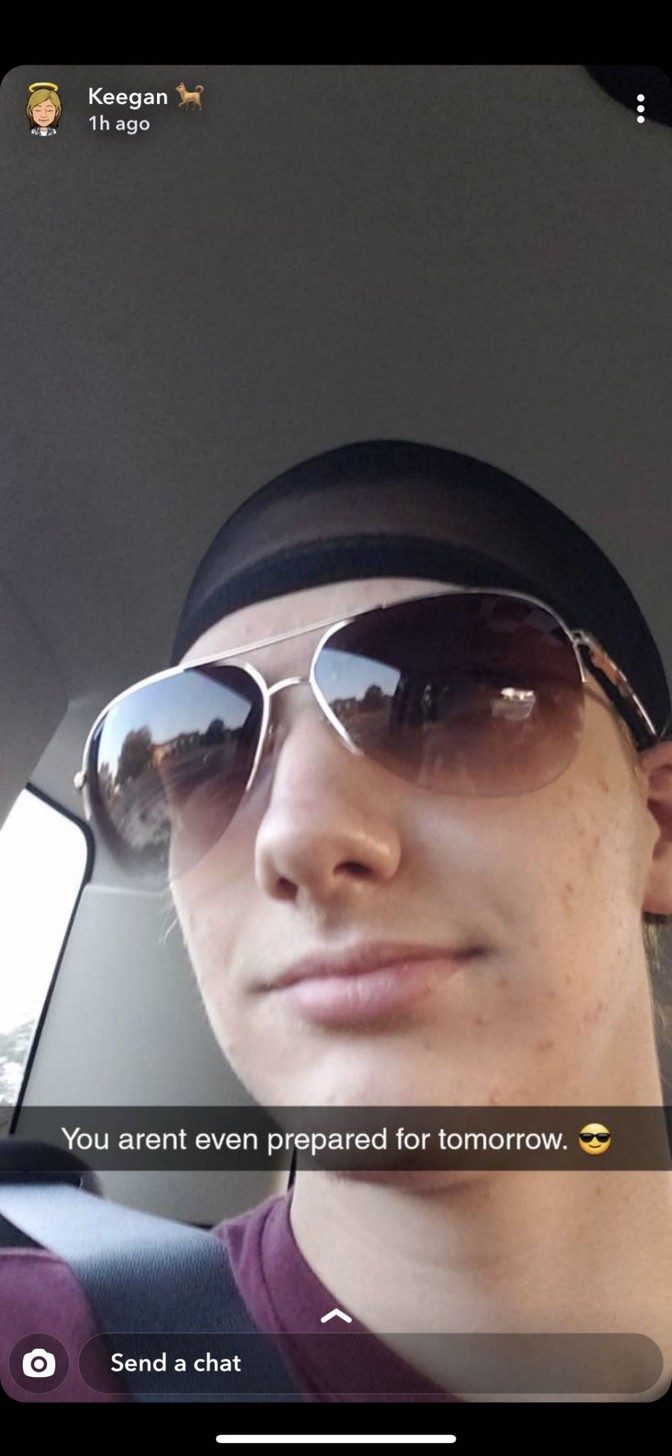 A couple of hours after he posted the Snap, sometime after 9 p.m., police officers arrived at Jarrett's house in Oakwood, Ohio, a suburb of Dayton. Someone had called 911, worried that Jarrett was making a threat against the school. "It could mean nothing and it could mean a lot," the caller had said. The cops left his home shortly after arriving, once they'd spoken with Jarrett and his parents, who said they didn't have any weapons in the house. A police report noted that Jarrett had appeared upset, but had been "friendly, respectful and cooperative." Meanwhile, Oakwood City School District administrators sent a message to parents saying that they "don't believe there is an existing threat," but that the student who made the social-media post—Jarrett—wouldn't be on campus the next day. Jarrett hasn't been allowed in class since.
The incident took place on only the third day of the fall semester, and Jarrett says he was looking forward to having a normal school year and joining the wrestling team. Those plans are canceled. "Everyone is on edge more; everything is taken out of proportion now," Jarrett told me. "Teenagers haven't changed. It's just with social media, they see it now—schools and everyone—and it changes everything."
I counted news reports and police statements from across the United States that referred to at least 269 separate shooting threats against K–12 schools in August and September alone—57 percent of which appeared on social media. In some cases, such as Jarrett's, the students accused of making threats were thrown off campus, while in others the consequences were even more severe. These perceived threats resulted in the arrests of at least 178 people. Most of those arrested were minors, several as young as 11. (Students of color are disproportionately suspended or charged for all sorts of offenses, and advocates for those students are concerned that could be happening in these cases.) My tally included only those cases that were publicized and covered in local media. Because most involved juveniles, in many cases schools and police declined to provide additional details such as the name, age, or other characteristics of the people accused of making threats.
The reported threats include cases such as that of a Las Vegas teen who allegedly planned a school shooting and started building an explosive device, and that of a Broward County, Florida, teen who said on the messaging app Discord, "I want to shoot up a school. This is a genuine feeling. I want people to suffer."
Yet students have also faced charges in more ambiguous cases. They include a 16-year-old in Miami who tried to emulate a TikTok meme by using his fingers to mimic shooting a handgun at the names of schools, and a middle schooler in Perryville, Missouri, whose picture of a rubber-band gun on Instagram—captioned with the text "Gonna shoot up the school dont come on monday" and a winking emoji—was investigated as a possible terrorist threat.
Multiple teenagers have been punished for posting images of themselves legally holding guns outside of school hours, including a pair of boys from Lanoka Harbor, New Jersey, who were given in-school suspensions because they posted images on Snapchat showing themselves at a shooting range on a Saturday, and who are now suing the school district. (The Broward County and Perryville teens were not named. A lawyer for the Las Vegas teen and the father of the Miami teen didn't immediately respond to requests for comment. A lawyer for the New Jersey boys compared the school's response to punishing students over posters in their bedroom.)
"It is this very wide overreaction to everything that is school and guns, school and weapons," says Megan Eaton, a public defender in Palm Beach, Florida. "Kids are being told, 'See something, say something,' without being told the consequences."
America has witnessed years of horrifying mass shootings, some of the worst taking place at schools. While gun-control proposals to prevent these tragedies have been stymied by politics, communities are trying tactics that risk chipping away at First Amendment rights. Many experts see striking similarities between the way schools are trying to avoid the next Parkland and the way law-enforcement officials reacted to 9/11 by monitoring what people said online; they worry about a generation growing up accustomed to constant surveillance.
School leaders and law-enforcement officials say that they can't take any chances, and that they won't know what's a genuine threat until they investigate. If someone is going to commit a mass shooting, research has found, there is a good chance that they'll say something about it before carrying out the violence, which is why the Secret Service advised in a July report that people should tell school administrators or police if they're concerned about a student. Still, administrators concede that they, too, are frustrated with the false alarms that always seem to pop up on social media.
"There's an overreporting of these instances at schools because the administrators are afraid of something happening and they didn't report it," says Ken Baker, the head of the Ohio Association of Secondary School Administrators, a trade group for high-school officials.
Of the nearly 20 people I spoke with for this story—including school officials, campus-safety experts, advocates for students, law-enforcement officials, and public defenders, as well as Jarrett and his family—everyone agreed that if someone reports a threat against a school, it should be taken seriously. However, there is a growing concern that in an effort to show how serious schools and police are, officials are imposing heavy sanctions on too many kids, potentially derailing their education and casting them away from their peers.
"We have students who feel like they're being treated like potential criminals instead of students," says Amy Klinger, a co-founder of the Educator's School Safety Network, a nonprofit that trains administrators on stopping school violence. Communities have approached school-shooting prevention by locking down campuses and surveilling kids, which Klinger considers counterproductive in many ways. "We've kind of gone overboard. Not all threats are created equal."
While local prosecutors declined to charge Jarrett over the Snapchat post, Oakwood High School's principal accused him of violating the student code of conduct by causing a disruption, and recommended expulsion. The superintendent put Jarrett's expulsion on hold, allowing him to enroll in an alternative school program like the one he had previously attended, but on the condition that Jarrett undergo a mental-health assessment. While Jarrett's family felt that the mental-health assessment was unnecessary, they say they reluctantly agreed to it to maintain options for Jarrett.
"I was pretty devastated," Jarrett said. "I didn't know what I did wrong, honestly."
Jarrett is currently being homeschooled, but hopes to get back into a regular school. He feels depressed, and his parents say he sleeps a lot and keeps to himself. "When the school year first started, he was gung ho about doing it," his dad told me. "Now even just talking about it, he just rolls his eyes and wants to walk away."
Oakwood school officials declined to comment on Jarrett's case, but shared an email that was sent to community members saying that due to "the current climate, we must take all threats and potential threats seriously to ease the concerns of our community."
Sean Small went through a similar situation in Scottsburg, Indiana. The town's public high school expelled him over a seven-second clip from a Walking Dead video game that Small, then 18, posted to Facebook in August 2018. The game uses augmented reality and allows players to project what their phone's camera sees into the app. Small's video showed a character shooting zombies in his school's hallway. Small added the caption "Finally something better than pokemon go." A student reported the video to the principal and a sheriff's deputy on campus, according to an affidavit submitted by the sheriff's deputy in court.
The sheriff's deputy and the principal quickly pulled Small out of class. They searched him and found that he had no weapons, and that the video was from a game. However, Small was still arrested, charged with felony intimidation, and held in solitary confinement for two days; after an initial hearing, he was released. The state dropped the charges against him in April, after Small underwent a pretrial diversion program, but Small was not allowed back in class after that day. (A lawyer told me that Small and his family were unavailable for an interview. The school-district superintendent and high-school principal declined to comment, and the Scott County Sheriff's Department didn't respond to a request for comment.)
Kids shouldn't lose their rights because adults aren't willing to deal with the causes of mass shootings, says Jane Henegar, the head of the American Civil Liberties Union's Indiana chapter, which is suing Small's school district and the Scott County sheriff on Small's behalf. Besides what Small had to deal with, Henegar worries about the message that has been sent to his classmates. "If they believe the First Amendment and rights to free expression are expendable and an easy thing to let go for the sake of safety," Henegar told me, "then that's how they're going to act when they become the leaders of our country."
The Educator's School Safety Network counted 3,058 threats of violence directed at schools in the 2018–19 academic year, up from 2,085 just two years earlier. Although less than 3 percent of youth homicides happen at a school, those threats—combined with high-profile school shootings—have seeped into the American adolescent mind-set. A majority of U.S. teens worry that a shooting will take place at their school; surveys show that more students are skipping school because they feel unsafe.
But little if any research shows that severe consequences for threats—real or not—will deter teens from making them. "We're so focused on, Is it a threat? Is it not a threat? Is this a kid we should be scared of?, and we refuse to confront the thing that makes that most scary, and that is the ready access to guns," says Hailly Korman, a lawyer at Bellwether Education Partners who works with kids in the justice system. "If it was a kid that was going to come to school and start punching people, our response would be much different."
Even when a threat isn't genuine, it can still create panic. In early September, Edmond Santa Fe High School, in Oklahoma, received approximately 130 frantic phone calls from people worried about a Snapchat account posting things such as, "Time to shoot up edmond Santa fe and this time I'm not joking it's for real." It turned out to be a fake: An 18-year-old named Bryson Burnett had made a Snapchat account impersonating a classmate he didn't get along with to frame him for shooting threats, according to police records. Burnett was arrested on three charges, including creating a terrorism hoax, which is punishable by up to 10 years in prison. (Burnett didn't respond to a voicemail requesting comment left at a number listed on a police report.)
There have been so many false alarms in some cities that schools are deploying public-service announcements pleading with kids to stop making threats and joking about shootings on social media. California's Fresno Unified School District placed two TV spots making this point. Hillsborough County Public Schools, headquartered in Tampa, Florida, averaged one report of a false threat a day in the first month of the school year, a district official told me. This prompted the district to hold a press conference with police and FBI officials in August begging kids to stop. Less than three weeks later, the Florida Department of Juvenile Justice launched a statewide "It's No Joke" campaign to try to raise awareness of the consequences for making a threat, whether or not a student ever intended to carry it out. In Florida, 779 minors were charged with making school-related threats in the 2018–19 school year, up from 629 two years earlier.
"Kids need to understand that their behavior does have consequences," Simone Marstiller, Florida's secretary of juvenile justice, told me. Even if teens insist that they meant something as only a joke, "what about all of the consequences that have flowed from that joke, now that everybody has to be worried about what's going to happen the next day?"
Under the Marjory Stoneman Douglas High School Public Safety Act, which Florida enacted in 2018, making a written school-shooting threat is now a second-degree felony. A state commission noted that students had seen Nikolas Cruz post photos on social media of an arsenal of guns, knives, and tactical vests prior to his attack at Marjory Stoneman Douglas High School in Parkland. A neighbor also reported Cruz to the sheriff's office for threatening Snapchat posts, but the sheriff who responded never followed up. Several people said that Cruz had joked about shooting up the school, but most didn't report his statements until after the massacre.
The Florida law clarified what counts as a criminal threat; while this has presumably helped hold people accountable for legitimate threats, it has also resulted in the arrests of teens who never intended to shoot anyone.
For instance, a 16-year-old girl in Altamonte Springs, Florida, became annoyed by her younger sister's phone constantly ringing while she tried to do homework one night in August. According to police records, the girl grabbed her sister's phone and messaged the group her sister was texting, "Next person to say something is the first person I will shoot on the school shooting that will take place this Friday." To one particular friend, she wrote, "You're getting shot for fun I can't stand that fish face." Parents of her sister's friends were spooked and called the cops, who charged the 16-year-old, under the Marjory Stoneman Douglas Act, with making a written threat to kill or conduct a mass shooting. (She could not be reached for comment.)
Florida defense attorneys told me about cases they've handled that were about someone's misinterpretation of emoji. Eaton, the Palm Beach public defender, said that in the majority of cases regarding school-shooting threats that her office has handled, the children never had access to a gun.
"A lot of times it's something we're just very shocked and surprised to see was considered a threat," she said. "It's like, Really? This is what was reported? There needs to be some common sense."