Elijah Cummings, Reluctant Partisan Warrior
The story of the veteran lawmaker is one more example of how, in Washington, appearances deceive, and public performances and private relationships often diverge.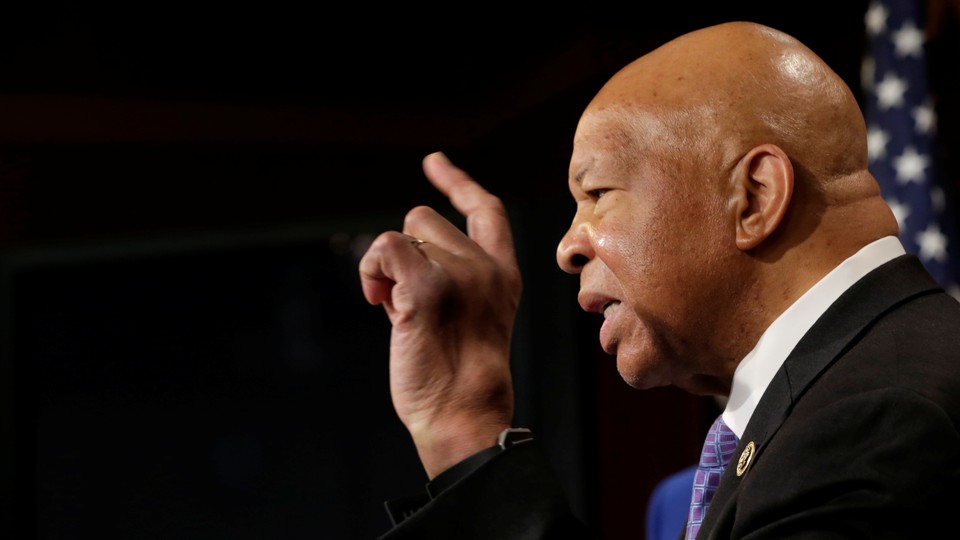 The image many Americans likely had of Representative Elijah Cummings, who died this morning at the age of 68, was of a Democrat perpetually sparring with his Republican counterparts at high-profile congressional hearings.
There was Cummings in 2015, going at it with Representative Trey Gowdy of South Carolina while a bemused Hillary Clinton sat waiting to testify about the Benghazi attack. Two years later, the lawmaker from Maryland was clashing with Representative Jason Chaffetz of Utah, who would not countenance Cummings trying to inject the investigation into Russian interference into an unrelated Oversight Committee hearing. "You're not listening!" the Democrat shouted at one point. And then this February, Cummings found himself bickering with Representative Jim Jordan of Ohio, who accused Cummings of orchestrating "a charade" by calling President Donald Trump's former lawyer Michael Cohen as one of his first witnesses when he became chairman of the panel.
Yet the story of Cummings, at his death the chairman of the House Oversight Committee and a key figure in the impeachment inquiry against Trump, is one more example of how, in Washington, appearances deceive, and public performances and private relationships often diverge. In the hours after Cummings's death was announced, heartfelt tributes streamed in from the very Republicans he had criticized so passionately. The contrast in tone with these memories of bitter public battles was jarring, even perplexing.
"I am heartbroken. Truly heartbroken," Representative Mark Meadows of North Carolina, the founding chairman of the conservative House Freedom Caucus, told CNN. Chaffetz called Cummings "an exceptional man." "He loved our country," tweeted the former Oversight Committee chairman, who jousted with Cummings when the Democrat was the panel's ranking member. "I will miss him and always cherish our friendship." The House Republican leader, Representative Kevin McCarthy of California, hailed Cummings as "a leader for both parties to emulate."
It's easy, of course, to find a kind word for the deceased—even Trump, who just a few months ago called Cummings's Baltimore congressional district a "disgusting rat and rodent infested mess," lauded him as a "highly respected political leader" in a tweet this morning.
Yet by all accounts, the reactions from Republicans on Capitol Hill were no crocodile tears, and Cummings had genuine personal relationships with several of them. Cummings himself described Meadows as "one of my best friends," and came to his defense after Representative Rashida Tlaib of Michigan accused the Trump ally of pulling a "racist" stunt at the Cohen hearing.
Perhaps no tribute—from a Democrat or a Republican—was as reverential as that of Gowdy, who said Cummings was "one of the most powerful, beautiful, and compelling voices in American politics.
"We never had a cross word outside of a committee room," Gowdy, another former GOP chairman of the Oversight Committee, said in a lengthy Twitter thread this morning. "He had a unique ability to separate the personal from the work." He recalled a story Cummings often told of a school employee who urged him to abandon his dream of becoming a lawyer and opt for a job "with his hands not his mind." That employee would later become Cummings's first client, Gowdy wrote.
"We live in an age where we see people on television a couple of times and we think we know them and what they are about," the Republican said.
Cummings died at a Maryland hospice center from what his office said were "complications concerning longstanding health challenges." He had spent months in the hospital after heart and knee surgeries in 2017 and got around in a wheelchair, but there was little public indication of how serious his condition was in the weeks before his death.
In Baltimore, Cummings's legacy will extend far beyond his work on the House's chief investigatory committee. He was first elected to Congress in 1996, after 13 years in the Maryland state legislature. After the death of Freddie Gray in the back of a police van in 2015, Cummings walked through West Baltimore with a bullhorn in an attempt to quell the unrest from angry and distraught black citizens. In March 2017, at a time when most Democrats were denouncing the Trump administration on an hourly basis, Cummings met with the new president at the White House in a bid to work with him on a bill to lower drug prices. As my colleague Peter Nicholas recounted earlier this year, the two men fell into a candid talk about race, but little came of the effort on prescription drugs.
Democrats tapped Cummings to be their leader on the Oversight and Government Reform Committee in 2010, after Republicans retook the House majority. He was not the next in line, but the party pushed out the veteran Representative Edolphus Towns of New York over concerns that he'd be too laid-back at a time when Republicans were preparing an onslaught of investigations into Barack Obama's administration.
The oversight panel is a highly partisan committee in a highly partisan Congress, and Cummings had no illusions about his role. Still, he tried to forge relationships with each of his Republican counterparts, and some of those attempts were successful. As the combative Representative Darrell Issa of California was ending his run as chairman in 2014, Cummings traveled to Utah to bond with Chaffetz, Issa's likely successor. "I want a relationship which will allow us to get things done," Cummings said during a joint appearance the two made on MSNBC's Morning Joe. After Chaffetz left, Cummings got along well—at least in private—with Gowdy and Meadows.
Yet time and again, the cordiality behind closed doors succumbed to rancor in front of the cameras. The relationships Cummings and his Republican counterparts had were no match for these deeply divided times; they yielded few legislative breakthroughs or bipartisan alliances in the midst of highly polarized investigations.
By early 2019, any hope that Cummings may have had of working with conservatives in Congress, or with the Trump administration, seemed to have given way to frustration, and occasionally anger. At the end of Cohen's testimony, he delivered an emotional plea to his colleagues. "When we're dancing with the angels, the question will be asked: In 2019, what did we do to make sure we kept our democracy intact?" he said, his voice booming. "C'mon now, we can do two things at once. We have to get back to normal!"
As for Trump, two years after their candid talk on race, the president was viciously attacking Cummings as a "brutal bully" and blaming him for Baltimore's long-running struggle with poverty and crime.
Two months later, Cummings joined the growing chorus of Democrats calling for Trump's impeachment. "When the history books are written about this tumultuous era," he said at the time, "I want them to show that I was among those in the House of Representatives who stood up to lawlessness and tyranny."
In truth, he had long since realized that the effort to work with the president had been futile. "Now that I watch his actions," Cummings told Nicholas, "I don't think it made any difference."