The Blue Wave Faces Its First Test After 2018
Eight months after scandals rocked their party, Democrats are on the cusp of turning Virginia into an all-blue state.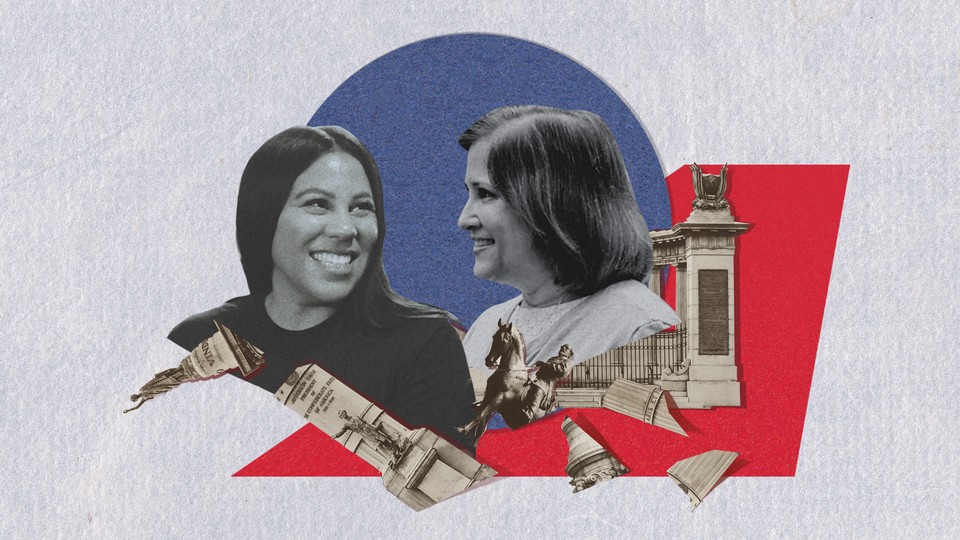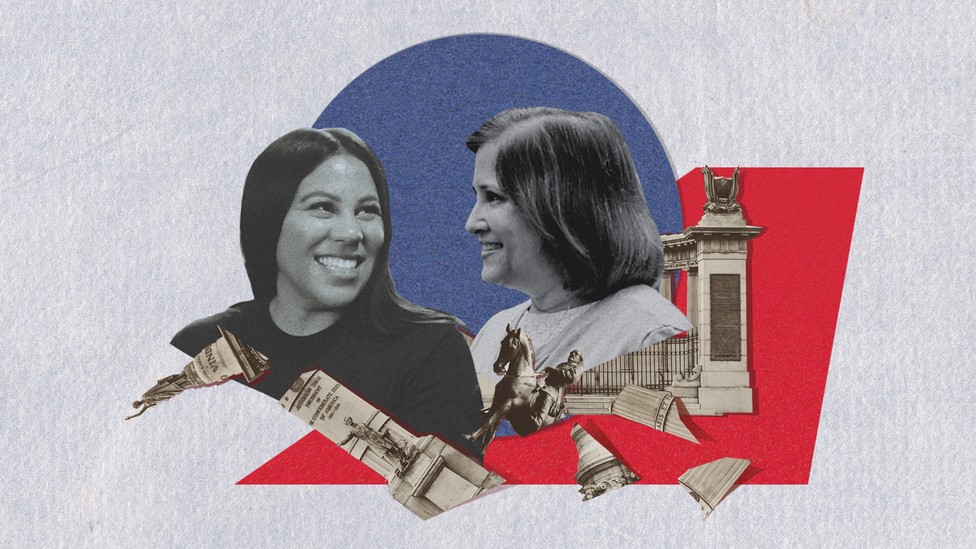 RICHMOND, Va.—It's a bit too on the nose: The prettiest street in Virginia's capital city happens to be the one with all the monuments to men who fought for slavery, a boulevard lined with mansions on either side and, in the middle, towering tributes to the likes of Confederate leaders Robert E. Lee, Jefferson Davis, and Stonewall Jackson.
The Lee statue is centered in a traffic circle, which means drivers literally have to go around this reminder of a disgraced era to get where they're going. That is also an apt metaphor for the Democratic Party in Virginia, which is on the cusp of capturing full control of the state's government for the first time in more than a quarter century. Democrats already occupy Virginia's three most powerful statewide offices and both U.S. Senate seats, and in elections across the state next month, they need to flip just two seats in each chamber of the General Assembly to gain outright majorities.
Virginia has become a key battleground in the concerted Democratic bid to refocus energy and resources to flipping statehouses in the aftermath of Trump's election in 2016, when Republicans controlled two-thirds of state governorships and Democrats were locked completely out of power in nearly half the country. A Democratic trifecta here—the governor's office plus majorities in the bicameral legislature—would give the party the power to enact new restrictions on guns, safeguard the state's expansion of Medicaid, and perhaps most consequentially, reverse Republican gerrymandering and redraw electoral districts for the legislature and Congress for the next decade. It would also cement Virginia's relatively swift transformation from red to purple to blue in under two decades: At the beginning of George W. Bush's presidency in 2001, Republicans held the governorship, the legislature, and both U.S. Senate seats; in 2020, the GOP might control none of the above.
Hanging over the Democrats' bid, however, is an issue none of its candidates want to talk about: The Scandals (yes, plural). Within the span of a few days in February, both Democratic Governor Ralph Northam and Lieutenant Governor Justin Fairfax became embroiled in controversies that reopened the state's wounds and prompted virtually the entire Democratic Party in Virginia and beyond to demand their resignations.
After a photo emerged from Northam's 1984 medical-school yearbook page that depicted a person in blackface and another in a KKK robe, the governor initially apologized for appearing in the photo but then reversed himself and has since denied that he was pictured. While Northam was fighting to save his job, two women accused Fairfax, his would-be successor, of sexually assaulting them in 2000 and 2004, respectively. Fairfax, who is just the second African American to be elected statewide in Virginia, has denied the allegations, comparing the rapid calls for his ouster to a "political lynching." Around the same time, the man third in line for the governorship, Virginia Attorney General Mark Herring, acknowledged that he, too, appeared in blackface during a college party decades ago.
The cascade of revelations made for a head-spinning week in Virginia and turned its Democratic Party into an object of national derision. Northam, Fairfax, and Herring, meanwhile, found an odd safety in numbers: While each man was damaged, all three survived—and Democrats will have to work with them to pass legislation should they take control of the statehouse.
Eight months later, however, the scandals may not be the threat they once portended—less an obstacle in the Democrats' path than an ugly spectacle they've managed to drive around.
Republicans have predictably tried to use the scandals to preserve their slim majorities and a share of power, accusing Democratic candidates of hypocrisy for accepting campaign contributions from a governor they called on to quit. On the window of the entrance to the GOP's headquarters in downtown Richmond hangs a Wanted poster with Herring's face on it; the party is offering $1,000 to the first person to find and submit a photo of the Democratic attorney general in blackface.
"The media wants us to move on. The Democrat Party wants us to move on. They think that voters won't care at all when it's brought up," says John Findlay, the executive director of the Virginia Republican Party. "The issue plays," Findlay told me. "For a party that is self-professed to being obsessed with social justice and equality, their answer to these scandals is that the public has forgotten about them. That's the most cynical, nihilistic answer you could possibly have."
So far, the Democrats seem to be right: In a Washington Post–Schar School poll released in early October, Northam's approval rating stood at 47 percent, with just 29 percent disapproving of his performance in office. That was a marked improvement from his standing in February. More people also approved than disapproved of the jobs Fairfax and Herring were doing. The same survey found that Democrats had a seven-point edge on the generic ballot among registered voters statewide in the House of Delegates and that gun policy was the most important issue on their minds.
"The most unpopular person in Virginia right now is Donald Trump," says Jessica Post, the president of the Democratic Legislative Campaign Committee, which has spent more than $1 million in Virginia this year.
As I followed Democratic candidates canvassing voters across the Richmond suburbs a couple weeks ago, the scandals involving the party's leadership never came up. When candidates asked them about their concerns and priorities, most mentioned education, health care, the environment, or guns.
Because Republicans are typically more reliable voters in off-year elections, Democrats rely on top-of-the-ticket campaigns to drive turnout to down-ballot races for the legislature and local offices. But this year they may be fortunate that none of Virginia's top leaders are up for election.
Sheila Bynum-Coleman is a 47-year-old businesswoman and a mother of five who is running against the most powerful Republican in the state, House Speaker Kirk Cox. If Bynum-Coleman wins, her campaign is quick to assert, she would be the first black woman to defeat a sitting House speaker in any state legislature in U.S. history. Her achievement would be all the more significant coming in a state whose Democratic governor was engulfed in a blackface scandal just this year.
"People's lives are dependent on me winning," Bynum-Coleman told me recently as we sat in the campaign headquarters that a group of Democratic candidates for state and local offices share on the outskirts of Richmond, about eight miles south of the state capitol. She took a deep breath. "It's a lot of pressure."
The November 5 elections in Virginia are what political insiders in the state call an "off-off-year"—the kind that all but the most committed voters usually skip. The 2020 presidential election is still a year away; there are no statewide races for governor or Senate, nor any for Congress on next month's ballot. "It is normally kind of a sleepy time," admits Susan Swecker, the chairwoman of the Virginia Democratic Party.
Not this year.
National state-focused groups like Swing Left, Future Now, and Forward Majority have joined campaign groups like the DLCC to spend money on ads and canvassing efforts. The Michael Bloomberg–backed Everytown for Gun Safety is spending $2.5 million in a bid to defeat the Virginia-headquartered National Rifle Association in its backyard. (In July, Northam called a special session of the legislature to take up gun-control measures after a mass shooting left a dozen dead in Virginia Beach; Republican leaders in the House and Senate voted to adjourn the session after just 90 minutes.)
As we sat in her campaign office, Bynum-Coleman wore her canvassing uniform—a navy-blue T-shirt emblazoned with her campaign logo in green and white. She knocks doors every night, she told me. It's a routine she's had, off and on, for four years.
This is not Bynum-Coleman's first campaign—she initially ran for the House of Delegates in 2015 in the next district over. One of her sons has a learning disability and she discovered his public school was ill-equipped to help him, which motivated her to run. "It was a funding issue," she said. "It wasn't a teacher issue." She first tried to lobby the school board but was referred to her local state delegate, a Republican who refused to meet with her to discuss the issue.
She raised barely $20,000 and lost the race handily. The next year, one of her daughters was shot just below her head while leaving a party in south Richmond. A man and a woman had gotten into an argument and both pulled out guns, Bynum-Coleman said. Her daughter narrowly survived. "If she had just turned this way," she said, swiveling her head, "Boom, it would have taken off her face."
Bynum-Coleman added gun control to her list of priorities when she ran again in 2017. This time, she raised $132,000 and came within 819 votes of victory. Still, she said she had little party support in a race that wasn't expected to be that close. "I was still on an island by myself," she said.
In 2019, a new legislative map redrawn by the courts put Bynum-Coleman in the same district as Cox, who now has to defend new and unfamiliar terrain with a significant population of African American voters. The chance to topple the House speaker on the way to a majority has turned Bynum-Coleman's third bid for office into one of the most high-profile races in the state.
But to her, Cox was just "a different dragon."
"It just so happened I was in a district with the speaker of the House," Bynum-Coleman said. "It didn't change how I viewed the district. It didn't change how I viewed our state legislator. It was just like, Oh, I'll run against him. This has got to change."
Republicans and Democrats alike describe Cox, 62, as a savvy politician, and while there are now more Democrats than Republicans in the district, few would be surprised if he edged out Bynum-Coleman. Unlike other Republican candidates, he's not running ads on the Northam or Fairfax scandals and is instead touting himself as an apolitical fixture of the community—not the conservative House speaker but the baseball coach and schoolteacher who has long supported education funding.
He and the state party hammered Bynum-Coleman after she was forced to correct a TV ad that referenced a vote on school funding made by a different Republican legislator with the last name Cox. "Sheila's going to lose," Findlay predicted. "She needed to run a perfect race against a really popular incumbent in that district, despite the redraw." (Cox's campaign did not respond to multiple requests for an interview.)
As I watched her knock on doors, Bynum-Coleman interacted easily with the residents she hopes will soon be her constituents. But in our interview, like other Democrats I spoke with in Richmond, she grew tentative when the topic turned to the scandals surrounding the party's leadership. "He's the governor, and he's not going to step down. And he's not on the ballot," Bynum-Coleman said of Northam. "And I'm not going to allow anyone to prevent me from helping to move Virginia forward and help to impact the lives of millions of people."
When I asked if Northam had made amends for the photo, Bynum-Coleman answered carefully: "I think that the governor has been working diligently to make amends for the things that he did in the past," she said. "I am eager to work with the governor and anyone else in the state legislature to help move Virginia forward."
Then I asked about Fairfax. "No comment on the lieutenant governor," she replied.
When I met Terry McAuliffe in the lobby of the downtown Richmond Marriott earlier this month, it took all of a few seconds for the once—and perhaps future—governor of Virginia to remind me that he very nearly ran for president this year. In his voice was an unmistakable tinge of regret, as he complained about the tenor of the early Democratic presidential debates and openly worried about the party's lurch left on issues like health care.
"I thought I had a good message—southern Democrat, record amount of jobs, most progressive governor ever, most jobs," McAuliffe said. He had waited to see whether former Vice President Joe Biden was going to run—"Biden's always sort of been my space"—and he was unsure whether he wanted to join a crowded field with nearly two dozen other candidates.
But it was the Democratic scandals in his state that ultimately kept McAuliffe, Northam's predecessor, home. Just as party leaders have urged former Representative Beto O'Rourke of Texas and Governor Steve Bullock of Montana, respectively, to run for Senate instead of the White House, top Democrats begged McAuliffe to set aside his presidential dreams and fill their leadership void in Virginia. Unlike O'Rourke and Bullock, he said yes.
Democrats here have greeted McAuliffe like a savior hauling a sackful of cash. "When he announced it, I started to play 'Return of the Mack' on repeat," Post said. "I was over the moon."
McAuliffe's energetic fundraising throughout the state—he sometimes holds two or three events a day for Democratic candidates—has fed speculation that he might run for governor again in 2021. (Virginia law prohibits governors from serving two terms consecutively, so he couldn't run for reelection in 2017, and Northam won't be on the ballot when his term ends.) McAuliffe doesn't dismiss the chatter; he's told people repeatedly that he loved the job. "I say to everybody, you focus on '19, we'll see what happens after November 5."
Democrats outperformed expectations in 2017, when they captured not only the top three statewide offices but nearly swept the GOP out of power in the House of Delegates. (Republicans held a majority only by a stroke of luck: Their candidate won a tiebreaker in a decisive election when his name was drawn out of a bowl.) The looming 2020 census makes this year's elections arguably even more important, however, because along with Northam, the legislators elected next month will decide how to redraw the maps in both state and congressional elections.
"This is a generational election," Tram Nguyen, the co-executive of the progressive group New Virginia Majority, told me. "What happens in November will determine the direction of the commonwealth for the next 10 to 12 years."
Virginia's odd-year state elections and battleground status have meant there's been a critical campaign here every year. "We haven't had time to dismantle our organizational efforts. We haven't had time to become complacent," says Ghazala Hashmi, a first-time candidate for the state Senate in a district that includes part of Richmond and suburbs to the south and west.
Hashmi, 55, is running against a Republican incumbent, Glen Sturtevant, who narrowly won a Democratic-leaning district four years ago. A longtime community-college professor, Hashmi's bidding to be the first Muslim woman ever elected to the Virginia state legislature. Like many first-time Democratic candidates in the past two years, Hashmi was motivated to run for office by Trump's election. When we met earlier this month, Hashmi told me how, in response to  the administration's Muslim travel ban directed at majority-Muslim countries in early 2017, she and her husband told their daughter to carry her passport with her at all times in case she had to prove she was a U.S. citizen. She remembered "feeling the sense of not belonging in this country anymore and wondering if my family actually had a home."
The flood of money into Virginia this year has resulted in wall-to-wall TV ads for contested legislative races, turning even inexperienced contenders like Hashmi into recognizable faces in the community. When I watched her canvass through a neighborhood filled with voters that her campaign identified as persuadable but not definite Democratic supporters, most of the people who answered the door were already familiar with her. A few even approached her unbidden on the street.
Hashmi volunteered for a state House candidate in 2017 and then Abigail Spanberger, now a freshman Democratic congresswoman, last year before deciding to run herself. Even after the Democrats' success across the state in 2017, which included the election of the state's first transgender lawmaker, Danica Roem, Hashmi faced doubts. "I was told I was not electable," she said. She won a competitive three-way primary, defeating a candidate who had Spanberger's backing. "Five years ago I didn't think a Muslim American could run and win in this region," she told me. "This past August, I said, well why not?"
Two years ago, Virginia gave Democrats their first hard-fought general election victory after Trump's win, and the surge of resistance-fueled progressive enthusiasm became a harbinger of the "blue wave" in 2018 that led Democrats to win 40 seats and claim a majority in the U.S House of Representatives. Next month's elections will offer a similar test of the party's energy heading into 2020, particularly in the suburbs that have swung toward the Democrats in the Trump era. They're hoping that a long-sought blue trifecta in once-red Richmond will presage next year's bid for Democratic dominance 100 miles north in Washington.