A Texas Prosecutor Fights for Reform
As a progressive district attorney in one of the reddest states, Dallas County's John Creuzot is a controversial figure.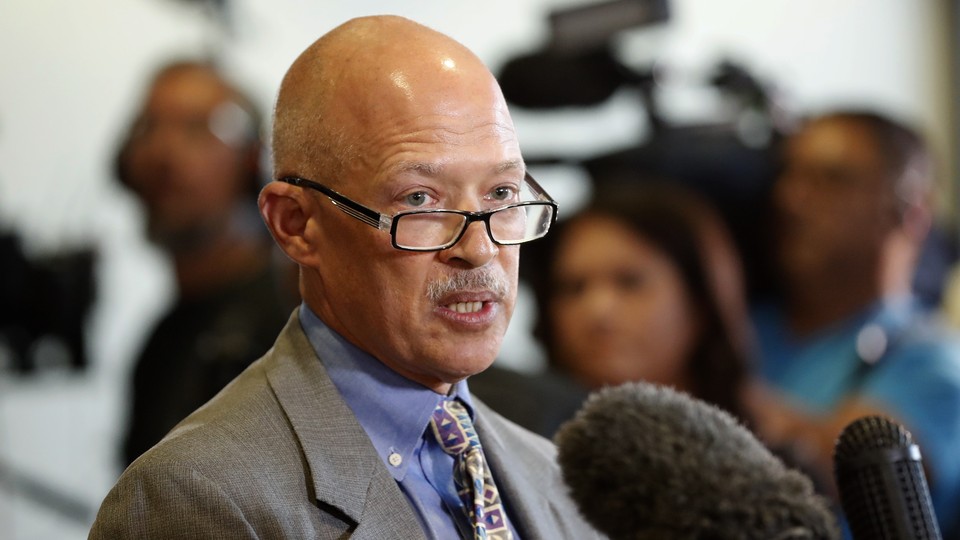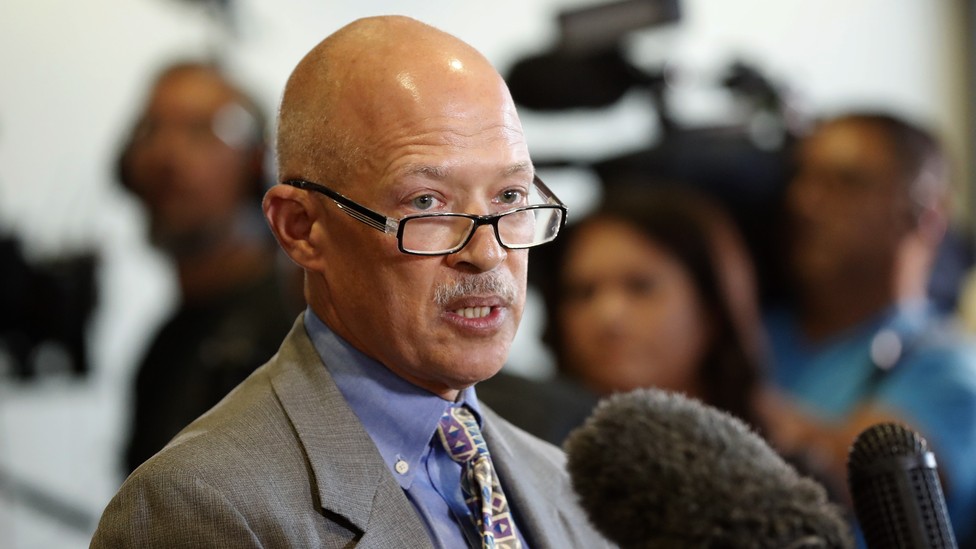 In April 2019, John Creuzot, the district attorney of Dallas County, Texas, announced that his office would not prosecute theft of "necessary items," such as diapers or baby formula, with a value less than $750. Part of a package of sentencing reforms, including a mass dismissal of more than 1,000 marijuana-possession cases, this fulfilled a major campaign promise and cheered his supporters: Four months after starting the job, he was enacting the progressive agenda they had hoped for. "It was a good first set of policies," David Villalobos, a criminal-justice organizer for the progressive grassroots political group Texas Organizing Project, told me. But local newspapers were publishing op-eds questioning whether he had overstepped his boundaries and worrying about lawlessness. The governor of Texas, Greg Abbott, even got involved, tweeting that Creuzot's petty-theft policy "stokes crime." The fight was just beginning.
The position of the district attorney in American politics has changed rapidly in the past few years, as progressive DAs have swept offices across the country with plans to reform the criminal-justice system from within. While most of the prominent DAs are in Democratic states, Creuzot, a former judge who has been registered as both a Democrat and a Republican, has emerged as one of the highest-profile DAs trying to enact progressive policies in a red state.
Texas is Republican-leaning, and although its five most populous cities are blue—or at least purple—Republican state politicians view intervention in blue cities as "political catnip," as the Texas Monthly writer Christopher Hooks put it. At the same time, Texas has more inmates in state prisons than nearly any other state, and ranks sixth in incarceration rates. It might need more Creuzots. Whether he can succeed will reveal a lot about the appetite for reformers outside their traditional strongholds.
Michael Mata, the president of the Dallas Police Association and one of Creuzot's outspoken critics, told me the DA's public comments about his policy change on petty theft struck him as as an irresponsible, opportunistic bid for attention. "You just hear about the DAs in these cities saying the big, bad cops are out there arresting people who are just trying to survive," Mata said. "It only furthers the disconnect between the community and the police officers who serve it." He said local shop owners have told him they are now struggling with shoplifting.
Creuzot told me he has talked with representatives of retail associations, who have not mentioned a shoplifting spike, and any allegations of an uptick in crime as a result of his policies have not been substantiated. The DA, who has worked with Republicans in the past, also said he wasn't bothered by Abbott's tweet about him. "I got a big chuckle out of that," he said. "He probably wasn't serious when he said it."
Taking controversial positions isn't new to Creuzot. From 1982 to '89, he worked as an assistant prosecutor in the Dallas DA's office, where he was tasked with reexamining the case of Randall Dale Adams, who was convicted of killing a police officer and made famous as the subject of Errol Morris's documentary The Thin Blue Line. Creuzot believed that Adams was innocent. The DA, John Vance, decided to retry Adams—and assigned the case to one of the prosecutors who had initially mistried him. The conviction was later thrown out, and the case was dismissed based on evidence from the film. Creuzot, alongside another prosecutor, was uneasy with Vance's handling of the case and resigned from the office shortly after.
In 1991, he was appointed by then–Governor Ann Richards to be a state district judge. Richards assigned him to the Texas Punishment Standards Commission, which was tasked with reviewing the Texas penal code in order to keep offenders from recommitting crimes. The commission came up with the idea of opening rehabilitative centers to treat people instead of incarcerating them.
In 1998, Creuzot started a program called the Dallas Initiative for Diversion and Expedited Rehabilitation and Treatment (DIVERT Court). It offered substance-abuse treatment in lieu of long sentences and helped to bring about a 68 percent reduction in recidivism. "It was the first time anyone had seen anything like that in the state of Texas," he told me. Later he was able to persuade the Texas legislature to fund it and other programs based on the savings it provided. While on the bench, though, he clashed with other judges who he felt were making decisions outside their legal authority. He retired in 2012, in part because he was tired of fighting with them.
When he ran for DA in 2018, Creuzot viewed it as a way to continue the work he had already been doing: keeping people who were not dangerous criminals out of jail and prison. The philanthropist and Democratic donor George Soros supported Creuzot along with the Texas Organizing Project, which had volunteers knock on some 250,000 doors on his behalf, according to Villalobos. They felt that this particular DA race was "pivotal in contributing to our mission of ending mass incarceration," Villalobos said. Creuzot won 60 percent of the vote.
Amid the early backlash over his petty-theft policy change, Creuzot worked to control the narrative as best he could. He has framed his theft policy, as well as a more recent reduction in charges for low-level drug offenses, in a practical, numbers-focused way that has served him well in the past: It is cheaper and allows for a better allocation of resources. But Creuzot, who is African American, also shares a philosophical stance with many reformer DAs in more liberal states. "There's no question that people of color are targeted by law-enforcement strategies," he said. "The way I look at it is, if that's going to happen, I have no control over it, but I can exercise my discretion and put balance back in the system."
In June, in response to a spike in violent crime, the governor sent troopers from the Texas Department of Public Safety to Dallas to assist with policing. Creuzot, preferring to address the problem through community-police partnerships, publicly opposed the decision. Over the summer DPS issued more than 11,000 warnings. "Eleven thousand citations means you have pulled over at least 11,000 people," Creuzot said. "What's the cause and effect between citations and tickets and arresting people for traffic violations, and the murder rate?" By August, the warnings had reached nearly 12,000. The homicides had slowed, but not stopped, and were still on pace to set a 10-year record.
When I interviewed Creuzot, he most wanted to talk about how he might address social crises outside the usual realm of his office, such as mental-health issues and homelessness. For example, he has campaigned to increase the number of shelters in Dallas to keep up with a rising homeless population. "We'll want to put up a homeless shelter in one councilman's district, and the immediate response will result in the withdrawal of the plan and apologizing for the plan," he said. He contrasted this with the experience of members of the African American community, whose concerns about aggressive policing are met with limited response. "There's a stark contrast in who you are, and where you are, and how you are dealt with," he said.
While some police feel alienated by Creuzot, critics of the police feel that he hasn't gone far enough—perhaps because he doesn't want to upset them more than he already has. In three recent high-profile incidents of police violence in Dallas County, Creuzot has dismissed charges, or declined to bring them in the first place. "These three cases to me would indicate that Creuzot is not going to be aggressive on police brutality," says John Fullinwider, a co-founder of the organization Mothers Against Police Brutality. But Creuzot said his office couldn't bring charges in these cases, because there simply wasn't enough evidence.
Creuzot is glad about the new focus on DAs, given the power the office holds, but all the scrutiny can be trying. When we spoke the Tuesday after Labor Day, I was surprised he could take the call. Over the weekend, an assistant DA, Justin Lord, had been found dead at home. Police had released body-cam footage from earlier that night in which Lord appeared disoriented after a car accident—officers suspected he'd been driving under the influence—and Fox News was already raising questions about the circumstances of his death. (A medical examiner ruled the death a suicide. Creuzot noted that his office doesn't have any further information, because it is referred only criminal cases. Police investigations are ongoing.)
Creuzot has also been in the news for his role in another high-profile case. Amber Guyger, an off-duty white police officer, shot a black accountant in his apartment, whom she claimed she had mistakenly believed was trespassing in her own apartment in the same building. The previous DA had charged Guyger with manslaughter, leading to a public outcry that she was not being charged with murder, including from Creuzot, who called it "a deviation from the norm."
A grand jury later indicted her for murder, and Creuzot's office prosecuted a murder trial, which began at the end of September. The defense argued that it was impossible for Guyger to get a fair trial in Dallas because there were almost 300 media clips about the case, while the Dallas Morning News speculated that Creuzot was putting the prosecution's case in jeopardy because the charge went too far and wouldn't be able to pass a jury. When I asked Creuzot about it, he said he had learned from years as a judge that one can't control a jury.
A few weeks after I interviewed Creuzot, Guyger was convicted of murder and sentenced by a jury to 10 years in prison. Creuzot told the press his office was pleased with the verdict. It was a win for him and, some would say, for the city. But any celebration would prove to be short-lived. Creuzot has been ordered to appear before the judge to explain why he discussed details of the case on the news before sentencing took place, potentially in violation of a gag order for the attorneys involved. (Creuzot has said that he was asked to do an interview on Justin Lord's suicide, and was told the material aired would relate only to that subject.) The judge herself, Tammy Kemp, has come under fire for giving Guyger a hug and a Bible; Kemp said she was only showing compassion, but critics argued it demonstrated racial bias and blurred the line of separation between Church and state. Most disturbingly, right after the trial ended, a key witness who had testified against Guyger, Joshua Brown, was murdered, raising speculation about whether his death was linked to his testimony. (Dallas police have denied any connection between the two, saying he was killed in an argument over a drug deal, but Brown's family is pushing for an independent investigation.)
Weeks earlier, when Creuzot and I spoke before the Guyger trial, he was candid about the limits of his office, in a jurisdiction plagued with mistrust between the community and criminal-justice authorities. He added a lesson perhaps learned more recently, amid all the attention being paid to the trial: "As far as how the press chooses to spin it, I don't have any control over that."