The Return of Bernie Sanders Is Bigger Than Bernie Sanders
To the senator's superfans watching last night's debate, the promise of a political revolution is well worth supporting a 78-year-old who just had a heart attack.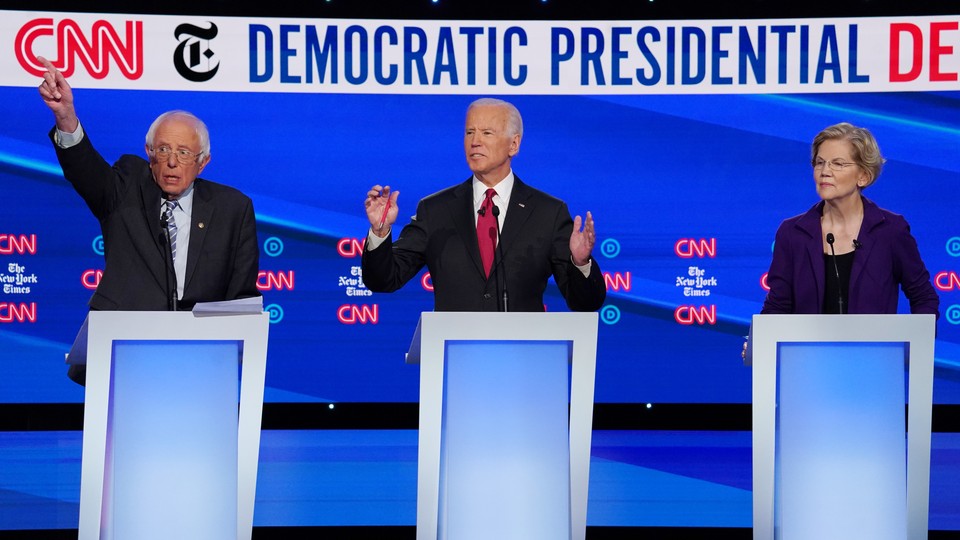 ARLINGTON, Va.—They were eager to see how he looked, how he sounded.
Two dozen Bernie Sanders supporters, wearing royal-blue Sanders T-shirts and small turquoise "Birdie" buttons, spent last night at a local sports bar watching the fourth Democratic primary debate—the Vermont senator's first public appearance since his heart attack two weeks ago. Some of them were anxious: Would he seem sluggish? Would he stumble? But as the night wore on, they grew more and more encouraged by his performance: When Sanders shot his hand in the air for the first time to get the moderators' attention, they cheered and raised their hands too. They laughed at a joke he made about Vladimir Putin. And they hooted in celebration when Sanders said, point-blank, that he'd increase taxes to pay for Medicare for All.
"He is really demolishing Warren!" Stephen Spitz, a 72-year-old retired lawyer, shouted at me over the sound of the bar's multiple TVs, referring to Senator Elizabeth Warren of Massachusetts. "He has to show that he's vigorous after his heart attack, and I think he's doing that very well," said David Stenner, a 35-year-old educator, near the end of the three-hour CNN event. "He still has the energy of a 35-year-old—actually, more than most 35-year-olds do." The consensus of the group seemed to be, in the words of the great Kelly Clarkson, what doesn't kill you makes you stronger.
For this group of Sanders supporters, all members of a local chapter of the progressive organization Our Revolution, assessing his performance was important. But abandoning him was never actually an option: The promise of a political revolution is worth supporting a 78-year-old who just suffered a myocardial infarction. Even if the worst were to happen—Sanders getting sick or even dying in office, a possibility with any president—America would still have elected him, some supporters argued. His appointees would be in place. The revolution would live on. "Not me, us," as Sanders's campaign mantra goes.
News of Sanders's heart attack came on October 4—three days after the campaign announced that the senator had experienced chest pain during a stop in Las Vegas and had had two stents inserted to fix a blocked coronary artery. That it took three days for his team to confirm the heart attack brought on questions about the seriousness of his condition, as well as more scrutiny of an already highly scrutinized aspect of Sanders's candidacy: his age. If elected, Sanders would be the oldest president in history; he'd be 82 years old by the end of his first term.
But the Sanders supporters I spoke with at the watch party, hunched over heaping plates of chicken wings and mozzarella sticks, were unruffled. His age didn't disqualify him before, they said, and it doesn't now.
"A lot of [candidates] are in their 70s," Spitz said with a shrug, referring to Warren and former Vice President Joe Biden, who are 70 and 76 years old, respectively. Plus, he explained, low voter turnout was a major factor in Hillary Clinton's loss to Donald Trump in 2016. "You want to have a candidate that's attractive to young people," Spitz said, "and that's Bernie."
Andrew Parr, the organizer of last night's event, who lives in Arlington and works in export control, told me he was worried about Sanders's long-term health "for about three seconds" before learning that the senator had undergone a relatively common procedure. "It's not a showstopper," Parr said. He added that he simply doesn't trust any other Democratic candidate to follow through on an ambitious progressive agenda. "He's an original," Parr said, noting that he's "not willing to risk" supporting another Democrat.
Onstage last night, Sanders tried to relieve any doubts among viewers about his condition. "I'm healthy. I'm feeling great," Sanders told the audience at the beginning of the debate. "We are going to be mounting a vigorous campaign all over this country. That is how I think I can reassure the American people."
Other attendees justified their continued support for the rumpled septuagenarian by emphasizing the larger implications of a Sanders 2020 win—from filling judicial seats to appointing progressives to Cabinet posts. "It's not only a president that you're electing. You're electing everyone who's in positions of power," Alison Acker, a 39-year-old speech therapist, told me. "If [Sanders] were to die in office … he would have people that we can trust in all the positions doing all the rest of the work."
The heart attack is "clearly a warning signal," acknowledged Stenner, a German immigrant who will vote as an American citizen for the first time in 2020. But he expects that Sanders will take the appropriate precautions in selecting a running mate. "For obvious reasons, he will choose a much younger, female vice president," Stenner told me, chuckling at the morbidity of the subject.
Sanders's heart attack came at a complicated time politically for the senator: Warren had been gaining ground in recent national polls, even before his health problems, and a Quinnipiac poll released Monday showed Sanders double-digits behind both Warren and Biden. Sanders now faces the tough task of convincing voters not only that a political revolution is necessary, but that he is physically capable of leading it.
However, Sanders could soon have an assist from some of the most influential voices in progressive politics: The Washington Post reported last night that Representative Alexandria Ocasio-Cortez of New York is planning to endorse him at a rally in Queens, New York, on Saturday. Two other prominent progressive freshmen, Representatives Ilhan Omar of Minnesota and Rashida Tlaib of Michigan, reportedly plan to do the same. It's possible that support from these three high-profile congresswomen could help Sanders make up some of the ground he's lost to Warren.
Whatever happens, his supporters argued, Sanders is in it for the long haul. "He's very strong," Spitz told me, watching as the senator forcefully condemned the existence of a billionaire class. "He doesn't look done."