James Foley's Mother Is Grateful Baghdadi Is Dead
The journalist wanted to understand Syrians who had no voice. ISIS murdered him.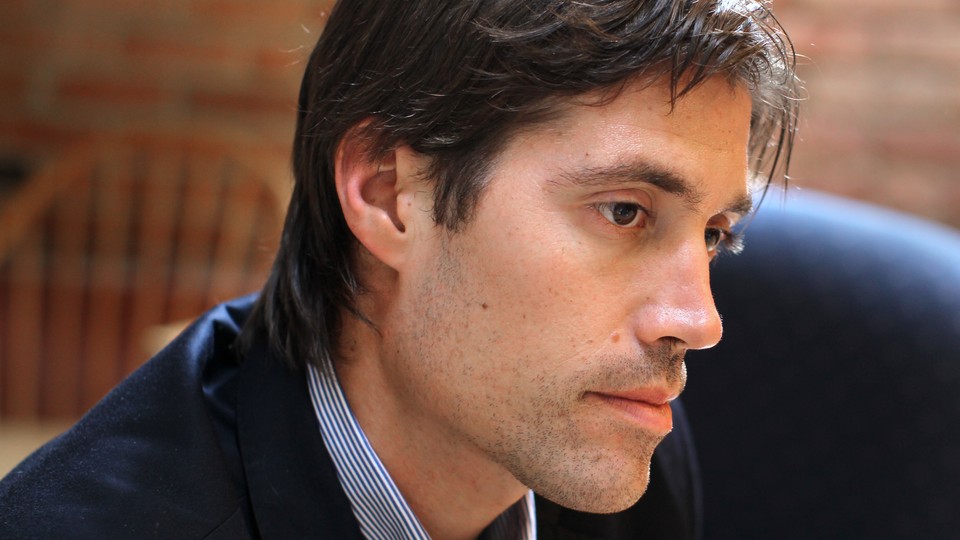 Americans are prone to apathy. Attention is a finite resource; empathy can be, too. But there are still moments that shock and galvanize—news events that can serve as strong antidotes to moral lethargy. This ethos is what drove the journalist James Foley toward conflict zones—first in Libya, and then in Syria, where he was kidnapped and eventually killed.
James's mother, Diane Foley, spent nearly two years fighting for her son's release, through distance and false hopes and failed attempts at rescue. In August 2014, however, ISIS released the video that depicted Foley's gruesome murder: An ISIS fighter stood in front of a camera and decapitated the 40-year-old journalist. The video of Foley's death was, for many in the American public, an early introduction to ISIS as an agent of terror and unspeakable brutality.
The man who killed Foley was known as Jihadi John. He was himself killed in November 2015. But the death this weekend of Abu Bakr al-Baghdadi, the longtime leader of the Islamic State, resurfaced trauma for Foley's family. "Whenever anything like this happens, it brings back all of the horror," Diane Foley told me yesterday. We spoke hours after President Donald Trump confirmed Baghdadi's death, saying in a nationally televised address that the terrorist "died like a dog" during a U.S. raid in Syria.
There is a certain small justice in the idea that Baghdadi's death has brought renewed public attention to ISIS as a continued threat. ("Trump Declares ISIS '100%' Defeated in Syria. '100% Not True,' Ground Reports Say," a New York Times headline read in February.) The ISIS leader's demise has been, in its own way, a catalyst. And the attention itself helps, in its way, to carry on Foley's work: He went to Syria in the first place because of the stories that he believed needed to be told.
In his murder, ISIS tried to turn James Foley, the person, into James Foley, the symbol. The group tried to treat Foley as a stand-in for America itself. (The video of Foley's death—ISIS titled it "A Message to America"—included the group's declaration that Foley's execution was intended as retaliation for U.S. military actions in Iraq.) In the years since his death, however, Foley's family and colleagues—including many of the people with whom he was held captive, who were freed—have worked to effect another kind of justice: to ensure that Foley, despite all his tragic symbolism, would be remembered in his full and individual complexity.
In the aftermath of her son's capture, Diane Foley, as those touched by tragedy sometimes will, became an accidental activist: She advocated on behalf of James, first fighting for his release and then, after his death, speaking on behalf of the many other people who are still held hostage by ISIS and other groups. She founded and leads the James W. Foley Legacy Foundation, which advocates for the safe return of those hostages and works to help protect freelance journalists working in conflict zones. Because of that work, Foley was one of the small group of people who learned that Baghdadi had died before President Trump announced the news yesterday morning: On Saturday night, Foley told me, she and her family received a phone call from the FBI's Hostage Recovery Fusion Cell informing them only that, as Foley put it, "one valuable target had been located."
Diane Foley learned the extent of the news before most other Americans—this time in a call from Robert O'Brien, the Trump administration's special presidential envoy for hostage affairs (and, as of September, its national security adviser). O'Brien confirmed to Foley what would soon be widely reported: Baghdadi was dead. He had killed himself, reportedly detonating a suicide vest while being pursued by American forces in northwest Syria.
And so came, for Foley, that repeated horror—the reopening of wounds that can never be fully healed. But the pain was accompanied by something else as well: a sense of relief. "I'm grateful, I'm very grateful, that we still had U.S. troops in the country," she said of Syria, "and that our intelligence and our president chose to pursue Baghdadi and find him." Foley has been vocal about her conviction that ISIS members should stand trial rather than be killed in theaters of war; she has said as well that, when it comes to justice for convicted ISIS fighters, she prefers life imprisonment to the death penalty. In this case, though, she told me, "Baghdadi would not allow himself to be captured." Her years of advocacy have given her an expertise in ISIS's inner workings; tragedy's education has led her to see Baghdadi's suicide in broad, and historical, terms. "I'm very grateful," she said of his death, "that it's a blow to ISIS." The rest of what she sees and feels in this moment is deeply, unavoidably personal.
James Foley was known, and beloved, for his compassion, his dedication, his quirkiness. The 2016 documentary Jim: The James Foley Story—a film that tells Foley's story from the perspective of the people who knew him best—includes details that show how wonderfully unusual he was. Daniel, a fellow hostage from Denmark, notes in the film that Foley "managed to make the room bigger in a way by being small himself, and that is a very, very difficult thing to be." Other detainees share stories of how they managed to humanize even their captivity: To pass the time, they created a version of the board game Risk using a piece of cardboard (and, for their "armies," date stones and olive pits). They marked Christmas by sharing the only gifts they had to give: Sitting in a circle, they'd go around and say nice things about one another. (Foley, Daniel would say, was the most honest person he knew.)
It was Daniel who delivered Foley's final letter—the message he wanted sent to his family should he not return home. (The hostages' captors did not allow them to write; Foley dictated the letter to Daniel, who memorized it in full, just before he was released.) The letter included Foley's notes about how happy the simple thought of his family had made him during his captivity. The letter also included his exhortation to them—to stay strong, to keep believing. And it included a note to Foley's grandmother: "Grammy, please take your medicine, take walks and keep dancing," Foley had said. The letter mentioned his plan to "take you out to Margarita's when I get home."
James was, Diane Foley told me, an extremely good listener. He was deeply curious. And he was "very interested in other people and why they did what they did." That drive is what drew him to journalism, she said, and what led him to conflict reporting in particular. A desire to understand others is what she continues to pursue in her own advocacy work. During our conversation, she pointed repeatedly to the many Americans who are still being held as hostages—in Syria, in Iran, in Venezuela, in other countries around the world: people whose families wait, and agonize, and hope. "I'm appalled, myself, at how many innocent Americans are taken hostage or unjustly detained every year," she said.
News stories come and go; attention, however, is a different matter. Truly caring is a different matter. Acute empathy is what James Foley fought for. "I think he was very drawn to the people's fight for freedom in Libya and Syria," Diane Foley said. "He could feel the yearning for many of the things we take for granted. So I think the more he witnessed the fact that they were willing to sacrifice all for that freedom, the more passionate he became about giving them a voice and making sure we could hear that. That is why he kept going back. He felt no one was listening."