Can Democrats Make 2020 About Guns?
Gun violence has become personal for many people in a way that it wasn't before—a shift the party can try to capitalize on.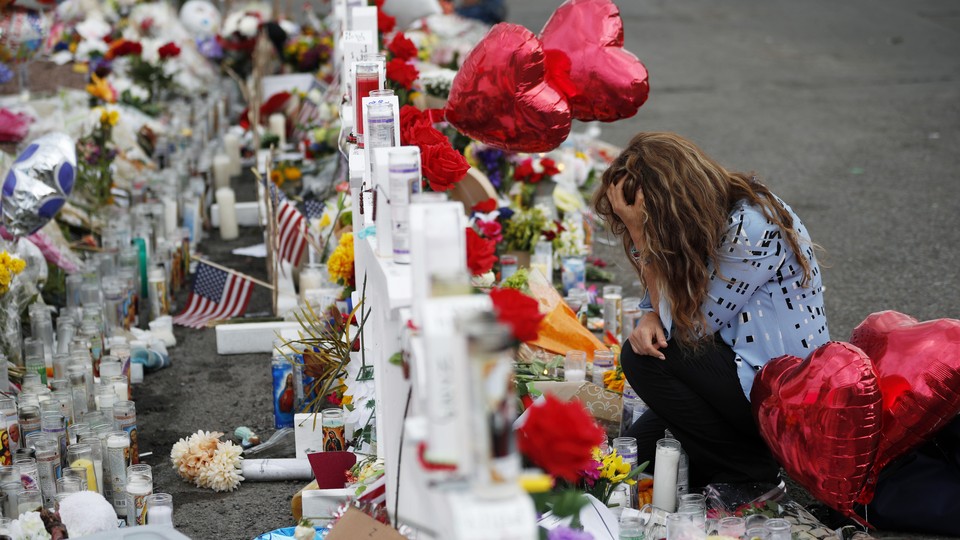 Gun violence isn't a new phenomenon in the United States. But a string of mass shootings in recent years—at churches, entertainment venues, schools—have transformed what may have once felt like a distant concern into a daily consideration for many Americans.
Those fears have only been amplified this summer after shootings in Odessa and El Paso, Texas, and in Dayton, Ohio. That has led Democrats in Congress, back in session this week after the summer recess, to push Republican lawmakers and President Donald Trump for serious consideration of gun-control bills this fall. Trump is expected to be presented with legislative options during a meeting with Republican leadership later today. Previous mass shootings haven't moved the needle much on enacting such legislation. But, some strategists and gun-control advocates told me, Democrats could make it a winning issue by replicating what they did in 2018: They could encourage voters to think about guns the same way they think about health care.
Guns have "to be on par with health care and with quality-of-life issues," Dan Sena, a Democratic strategist who was the executive director of the Democratic Congressional Campaign Committee during last year's midterms, told me in an interview. And the growing intrusion of mass gun violence into daily life could be what upgrades the issue to a top concern for voters—a shift that Democrats could try to capitalize on in the same way they seized on voters' worries about the fate of Obamacare and their own creeping health-care costs last year. The 2020 election, Sena said, "could be the first time you actually see" gun violence take center stage as the party's go-to election message.
The political power of health care was made clear in 2018, when Democratic candidates for Congress and governor ran and won by placing the issue at the center of their campaigns. Ahead of the midterm elections, Americans rated health care, in a poll from the Public Religion Research Institute, as the issue they were most concerned about. That came as Trump and the GOP were pushing to roll back the Affordable Care Act, nearly 30 million mostly lower-income people were still without coverage, and out-of-pocket costs kept adding up. Democrats used those factors to their ultimate advantage, pitching themselves as the defenders of health care and promising to shore up the ACA: Between September and October 2018, Democratic candidates mentioned health care in more than 50 percent of their campaign ads, according to the Wesleyan Media Project. On Election Day, Democrats won back the House, flipping 40 seats.
The strategists and advocates see gun violence as an analogous issue. Health care hits close to home for nearly everyone, whether it's rising premiums, random ailments, or the rhinovirus going around the office. Despite its prevalence overall in the United States, gun violence has felt like a more muted, distant threat for many Americans. But, the strategists suggested, that feeling is changing rapidly among voters.
In the same way that Americans are dealing with anxiety over the dizzying costs of health care or the prospect that they might be one illness away from bankruptcy, they're now also anxious about sending their children to school, said Peter Ambler, the executive director at Giffords, an advocacy organization focused on preventing gun violence, in an interview. Americans "know our children are being traumatized on a daily, weekly, monthly basis by these active-shooter drills. They receive texts from their kids saying, 'We're piling into a supply closet, hope it's just a drill!' This is a trauma that's striking deep at the heart of our psyche as a country."
During the 2015–2016 school year, 92 percent of American schools had a plan in place in the event of a shooting, up from 79 percent a decade earlier. Children go to school wearing bulletproof backpacks and learn how to construct barricades from chairs and desks. In Dave Chappelle's new comedy special, Sticks and Stones, the comedian describes the surreal feeling of listening to his son describe the active-shooter drills at his school: "If you're a parent, this shit is terrifying."
The majority of American adults experience some stress related to mass shootings, according to an August survey from the American Psychological Association and the Harris Poll, and about one-third say those fears are so great that they avoid attending certain events.
As more and more people feel the threat of gun violence looming over their daily routines, Americans of all political persuasions are looking for answers, said Angela Kuefler, the senior vice president of research at the Global Strategy Group, who advises Democratic candidates on issues related to guns and gun violence. "It used to be you asked people what caused gun violence, people would say bad parenting and violent video games," Kuefler told me. "They don't say that anymore—they say it's too easy for anyone to get a gun."
According to a Quinnipiac University poll from late August, some 93 percent of Americans now support requiring background checks for every gun purchase; 82 percent support requiring a license to purchase a firearm; and 80 percent are in favor of so-called red-flag laws, which would allow family members or law enforcement to ask a judge to temporarily remove guns from people who are seen to be a risk to themselves or others.
The House has already passed legislation requiring background checks for all gun purchasers, and this week, House Democrats plan to advance a bill that would urge states to pass red-flag laws and other gun-control measures. So far this year, Senate Majority Leader Mitch McConnell has declined to take up any House-passed bills related to gun control. And the president, who at first said he supported the implementation of universal background checks following the shootings in El Paso and Dayton last month, sidelined the idea after a phone call with Wayne LaPierre, the chief executive of the National Rifle Association.
That inaction isn't new: Gun-control advocates have long struggled to shift the cultural and political dynamics that have historically made gun control so divisive. Gun ownership, for many Americans, is an essential facet of their identity. But "when things begin to shift to [the point where] your children come home and talk about it," Sena said, "that has the potential to be a real tipping point."
Democratic strategists say that congressional inertia and the influence of the NRA underscore another way health care and gun violence are analogous political issues: They give Democratic candidates clear antagonists.
In 2018, the party line was that "Republicans weren't doing anything on health care because they were bought by prescription-drug companies," Kuefler said. "You had an enemy," she added—someone to villainize, to rally against. Amid the fear and frustration that many Americans feel about gun violence, Democrats can try to point to real political actors they argue are most responsible. The party has long railed against the NRA, but it may be unusually well positioned next year to convince voters to listen.
"Democrats have answers. I don't necessarily buy all of them, but the Democrats have answers on this issue," Dan Eberhart, a major Republican donor who had previously raised concerns about the GOP's ties to the NRA, told me. "The whole crux of this election is who wins suburban, educated women," he added. And by not endorsing gun-control policies that are broadly popular, "the Republican Party runs the risk of becoming a fringe party in the suburbs like it is in some urban areas."
Advocates and activists have an incentive to say that gun violence can and should be a major issue next year. They tried to focus voter attention on gun control in 2018 too. After the shooting that year at Marjory Stoneman Douglas High School in Parkland, Florida, left 17 people dead, activists pledged to put gun policy front and center in the midterm elections. They joined with students to organize high-profile rallies and classroom walkouts across the country. But the results were mixed: For the first time in history, gun-control groups outraised the NRA, and several prominent Democratic candidates who made gun-violence prevention a key part of their campaigns were elected. Yet for most voters, according to CBS exit polls, gun policy still wasn't their top priority. And federal legislation to reduce gun violence since the Parkland shooting has been limited.
But the Parkland shooting, at least, took the gun-policy discussion to "new heights," helping to set the table for 2020, Al Hoffman Jr., a top GOP donor who leads the gun-control advocacy group Americans for Gun Safety Now, told me in an email. "Until we finally put into effect common-sense gun reform, gun control policy will remain as one of the most, if not the most important political issue heading into 2020."
Gun-control advocates have help in their effort to center gun violence in the next election. Former Representative Beto O'Rourke of Texas, for example, in the aftermath of the El Paso massacre, has tried to set himself apart in the Democratic primary by pushing for aggressive gun-control measures, including mandatory assault-weapon buybacks. Eight Democratic presidential candidates are appearing in a new series of gun-safety videos produced by Giffords. In Congress, Democrats are doubling down on gun reform as the party's top priority this fall.
"I write to acknowledge the vital role Congressional Democrats played in protecting the Affordable Care Act and exposing the GOP's monstrous health care agenda," then–House Minority Leader Nancy Pelosi wrote in a letter to the Democratic caucus the day before the midterm elections in 2018. "While Republicans have worked relentlessly to divide and distract, Democrats have kept the focus on the health and economic security of the American people."
Kuefler said that framing the issue of gun violence in the same way—as something that personally affects all Americans—"is a lane and a tone that I don't think people have fully explored yet."