The Quickest Path to Irrelevance in the Trump White House
John Bolton's days were numbered from the start.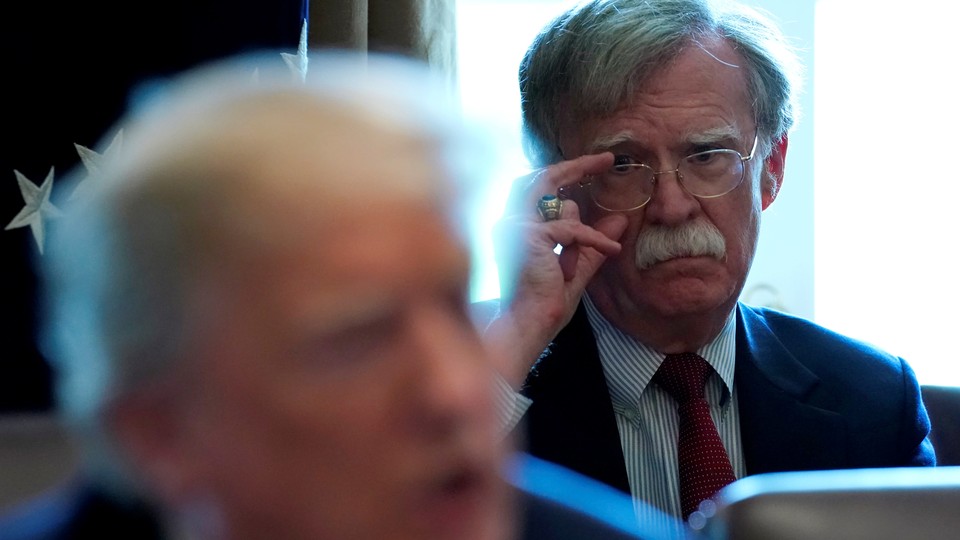 Those who work for President Donald Trump understand the basic bargain. They stay in the job only so long as Trump wants them around, and when he doesn't, they're liable to be booted in humiliating fashion. Which is to say, by tweet.
Often Trump shows the ousted aide some initial flicker of respect. When Defense Secretary James Mattis resigned in December, Trump tweeted that he had served "with distinction." Pushing out Chief of Staff Reince Priebus in 2017, Trump tweeted that the two had "accomplished a lot together."
For John Bolton, Trump mostly dripped disdain in a pair of tweets yesterday that illustrated that the quickest path toward irrelevance in the Trump White House is telling the boss no. "I informed John Bolton last night that his services are no longer needed at the White House," Trump wrote. "I disagreed strongly with many of his suggestions, as did others in the Administration …"
With Bolton gone, Trump loses a rare dissenting voice within his inner circle. Ascendant is Bolton's chief bureaucratic rival, Secretary of State Mike Pompeo, who mastered a practice that's necessary for long-term survival in the Trump White House: saying yes to the president.
Pompeo is now unchallenged when it comes to shaping foreign policy. Trump doesn't have the same rapport with either his defense secretary, Mark Esper, who was confirmed by the Senate just two months ago, or his CIA director, Gina Haspel, who replaced Pompeo in the job. One by one, Trump has shed aides determined to push back when he follows his gut instincts.
"The lesson is the Pompeo model is the only one that you need if you want to survive," Thomas Wright, a senior fellow at the Brookings Institution, told me. "That model is to be sycophantic toward Trump and never publicly or even internally disagree. Pompeo will gently make his point that he has a different view, but if Trump indicates he's going in a different direction, he'll get on board. Bolton did not."
Bolton is an old-fashioned hawk when it comes to the Iranian nuclear threat. Defanging the Middle East adversary comes down to steady pressure and, ultimately, regime change, Bolton believes. For all his bellicose rhetoric, Trump remains wary of military action. He worried that Bolton would draw him into unnecessary wars, while Bolton seemed dubious about Trump's quixotic push to reach a diplomatic breakthrough with the North Korean dictator Kim Jong Un. The marriage had long ago unraveled; the only question was when Trump would tweet the divorce.
Bolton's unceremonious exit came with another first: The victim fought back. Rather than stick to tradition when dumped and keep quiet, Bolton tweeted that Trump's version of events was wrong and that he had in fact "offered to resign" last night, but that Trump had told him: "Let's talk about it tomorrow."
Inside the White House, aides seemed confused about whether Bolton was staying or going. About an hour before Trump's announcement, the White House sent out a notice saying that Bolton would appear with Pompeo and Treasury Secretary Steven Mnuchin at a rare press briefing at the White House. Mnuchin and Pompeo showed up; Bolton, newly fired, did not. Is the president's national-security team "a mess?," a reporter asked the pair. "Absolutely not," Mnuchin said. "That's the most ridiculous question I've ever heard of."
Both were quick to showcase Bolton's isolation. "There were definitely places Ambassador Bolton and I had different views about where we should proceed," Pompeo said. Mnuchin noted that the president and Bolton differed on the Iraq War.
Bolton's ouster was hardly a surprise. Indeed, the most bewildering aspect of his tenure may have been why it lasted as long as it did. Trump tapped him for the job in March 2018 as a replacement for H. R. McMaster, who had developed little personal chemistry with Trump. The president would grow impatient with McMaster's briefings laying out detailed national-security options, former White House aides have told me. Meanwhile, Trump had seen Bolton's regular appearances on Fox News and relished the way he validated the administration's policies. Always on the prowl for appointees who look like they're from what he calls "Central Casting," Trump was at first put off by Bolton's push-broom mustache.
But he warmed to Bolton and ultimately offered him the job in an abrupt sequence of events that even Bolton found head-spinning. Discussing his hiring on Fox News, Bolton said at the time: "I really didn't expect the announcement this afternoon. I think I am still a Fox News contributor."
The relationship would sour soon enough. Trump has been eager for a marquee foreign-policy achievement that would shore up his legacy. But he and Bolton clashed on how to go about it. Bolton has taken a hard-line position toward North Korea, writing in a Wall Street Journal op-ed before coming to the White House that a preemptive strike by the United States would be "perfectly legitimate."
Trump favors a different route. Confident in his own dealmaking skills, he has sought to woo Kim Jong Un through personal diplomacy, meeting him three times in what so far has been a futile bid to roll back North Korea's nuclear-weapons program. When Trump met Kim at the demilitarized zone and crossed over into North Korea in June, Bolton was out of sight. Way out of sight. The national security adviser was in Mongolia on a prescheduled visit when Trump made history by becoming the first sitting president to set foot inside North Korea. Trump's strategy, though, is arguably taking the U.S. backwards. While Trump downplays North Korean missile tests ("He likes testing missiles," Trump said of Kim last month ), Kim has made technological advances that have made his weapons more threatening.
A similar dynamic has played out in Iran. At first, it seemed like Trump and Bolton were aligned. Bolton cheered the administration's withdrawal from the Iran nuclear deal. However, after months of deploying a "maximum pressure campaign" of tightening sanctions on the Islamic Republic, Trump says he is open to talking to Iranian leaders and has specifically said he is not looking to install a new regime. In his remarks to reporters today, Pompeo said that "the president has made very clear he's prepared to meet [with Iranian leaders] with no preconditions," a position that Bolton wouldn't have favored. After Iran downed an unmanned U.S. drone in June, Trump considered a retaliatory military strike, a reprisal heavily favored by Bolton, but Trump scuttled the mission shortly before it was to begin.
The abrupt announcement by Trump that he was canceling a meeting he had secretly planned with Taliban leaders at Camp David may have strained relations beyond repair. Trump, in preparing to hold such a meeting, reportedly did so against the advice of Bolton and other senior advisers.
Bolton's "priorities and policies just don't line up with the president," a White House spokesman, Hogan Gidley, told reporters. The deeper he gets into his presidency, the more Trump seems unmoored from staff. Gone are the three-and four-star generals who once dominated Trump's West Wing and Cabinet. Pompeo makes clear that it's the staff's job to execute Trump's wishes, not second-guess them.
"I watched his campaign," Pompeo said at the press briefing. "I've now worked with him first as CIA director and now as secretary of state. Someone asked, 'Would the policy be different absent any individual being here?' These have been the president's policies."
Public firings have become a ritual inside a White House that has seen record-setting turnover. Trump plans to appoint a new national security adviser next week. Whoever he picks will become the fourth national security adviser since he took office in January 2017. No other president has seen so much churn in the national-security-adviser position since it was created in the early 1950s, Kathryn Dunn Tenpas, a nonresident senior fellow at the Brookings Institution, told me.
Names that have been floating as potential successors to Bolton include Stephen Biegun, the State Department's special representative for North Korea; and Richard Grenell, the U.S. ambassador to Germany and a favorite of the Trump family. Whoever it is will need to give an emboldened president considerable deference—or face another firing by tweet.
Wright told me: "The long-term trajectory on the Trump presidency's foreign policy is very clear. He's trying to get rid of any constraints or checks on power in his decision making. Right now what he wants to do is work with the Taliban, Iran, and North Korea. These are all things that Bolton is steadfastly opposed to, and Trump doesn't want obstacles thrown in his way."