In Prison, and Fighting to Vote
A campaign for suffrage is growing inside prisons. Is anyone listening?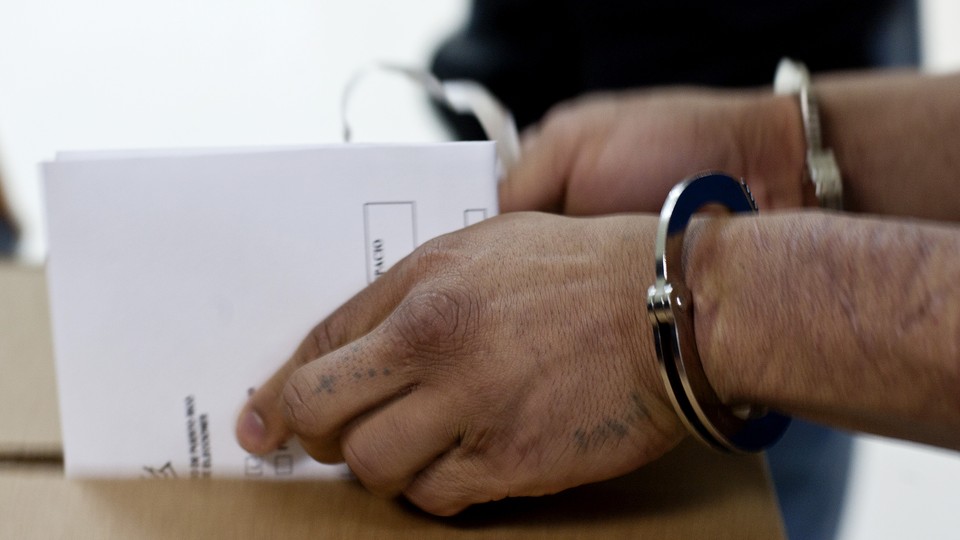 When Derrick Washington, a 34-year-old incarcerated in Massachusetts, found a pocket legal dictionary in prison, he decided to memorize every amendment to the United States Constitution. He was particularly struck by the Thirteenth Amendment, which states that slavery and involuntary servitude, except as punishment for a crime, shall not exist; to him, it codified his status as a "slave of the state of Massachusetts." Around that time, he said, his prison was not allowing phone calls, and showers were restricted as part of a lockdown. He said he did not understand how administrators were allowed to "treat us how they were treating us." He was moved to do something about his situation. In 2012, he founded the Emancipation Initiative, an advocacy group that, as one of its priorities, wants all prisoners in the U.S. to be able to vote.
Washington began trying to educate others in his prison about the civic process by walking up to them and asking, "Who represents you?" At first, he said, "they'd be puzzled and say something like, 'My mom.'" But then he would explain how not being able to vote affects them—for example, when it comes to the high price of prison phone calls. The way Washington saw it, if people in prison had the right to participate in the political process, legislators would view them as a real voting bloc, he told me in a letter from Souza-Baranowski Correctional Center, a maximum-security prison in Shirley, Massachusetts. He felt that conditions of confinement would then improve, the justice system would change, and prisons might even begin to close. Voting would also help people in prison feel connected to society and value community.
For people who are disenfranchised as a result of felony convictions, however, getting through to their representatives has presented a significant challenge. Lawmakers represent this group, including those still in prison. But they may not feel the need to prioritize the interests of prisoners, because they can't vote. (The U.S. census counts prisoners where they are incarcerated, though some states have decided to tally prisoners in their pre-incarceration districts for the purpose of drawing political maps.) So Washington wrote templates for letters that people in prison could send to family members and supporters, who in turn could send them to their local representatives. The family members wouldn't vote for the lawmakers, the letters said, if they didn't back universal prisoner suffrage and other issues important to their incarcerated loved ones.
The U.S. is a long way from embracing universal prisoner suffrage. Vermont and Maine are the only U.S. states that allow all people with felony convictions, including those incarcerated, to vote. (People incarcerated in Puerto Rico also vote.) Massachusetts permitted almost everyone to vote while incarcerated until around 2000. Now it and most other states, as well as Washington, D.C., ban people with felony convictions from voting from prison. (Alabama, Mississippi, and Alaska allow some prisoners to vote, depending on their felony convictions.) Many of those places also impose voting restrictions once people are out—in some cases, permanently barring them from voting. Pretrial detainees can vote, and most people serving time for a misdemeanor can as well, though difficult logistics and a lack of education sometimes prevent them from doing so. Officials and lawmakers have, however, recently backed efforts to make it easier to vote from jail, including in New York and Illinois.
As of 2016, state laws collectively disenfranchised more than 6 million Americans with felony convictions, according to the Sentencing Project, a group that advocates against mass incarceration. In four southern states, more than one in five African Americans were barred from voting for that reason, the group found.
Some argue that disenfranchisement should be part of the punitive process, or say individuals should get their rights back on a case-by-case basis. Those who favor enfranchising all people with felony convictions, on the other hand, argue that voting is a right of citizenship and shouldn't be connected to punishment. Disenfranchising a specific group of people undermines democracy, advocates contend, with a disproportionate impact on people of color because of racial disparities in the criminal-justice system. Some state disenfranchisement laws have explicitly racist origins, advocates argue. And just because many people in prison can't vote doesn't mean they disappear: They have ties to their communities, and most of them come back.
In fact, the vast majority of those with felony convictions who can't vote aren't currently in prison. The idea of restoring voting rights to those people once they have completed their entire sentence has bipartisan support. More than half of Democrats and a quarter of Republicans also back restoring rights to people out on parole or probation, according to a HuffPost/YouGov poll from 2018. But only 38 percent of Democrats and 14 percent of Republicans support letting people with felony convictions vote from prison.
In Massachusetts, people with felony convictions can already vote once they are released from prison. But Washington wanted to take this further, restoring the lost voting rights to people imprisoned on felony convictions. In 2016, he and other members of the Emancipation Initiative started a program in Massachusetts called #DonateYourVote, through which people on the outside vote on behalf of people disenfranchised in prison.
Washington can't vote because he is incarcerated on a felony conviction for first-degree homicide and armed robbery, for which he was sentenced to life in prison without parole. Rachel Corey, an organizer with the group, voted on his behalf in the 2018 midterm election, and more than 140 others in Massachusetts agreed to cast a ballot on behalf of an incarcerated person not eligible to vote, she said. In their sign-up sheets, many of those in prison wrote heartfelt explanations of what the right to vote meant to them. Alexander Bolling, who is incarcerated in Massachusetts, wrote that for him, as a black American, voting means "making the most of an opportunity that past generations have fought and died for."
Alysé Bigger, who works as a program manager for a nonprofit in Boston, has twice "donated" her entire ballot to a man who is incarcerated on a felony conviction. She pointed out in an interview that the man is directly affected by the criminal-justice system. As a result, she felt he should be responsible for choosing officials "more than I should right now."
In Massachusetts, a Democratic state senator introduced a proposal this year to place a constitutional amendment on the state ballot that would have restored the right to vote to people incarcerated on felony convictions. But a committee recommended in April that it not proceed. Washington and other activists are now hoping to gather signatures this fall to place a proposed amendment on the 2022 ballot through a citizen-initiated process.
Washington's campaign comes as the public has recently become more aware of the consequences of decades of mass incarceration, and more lawmakers nationwide have shifted their focus from punishment to rehabilitation. Efforts to push for full enfranchisement, as Washington has done, have been initiated in other states too. During last year's U.S. prison strike, organizers posted social-media posts that were widely shared, and made universal prisoner suffrage a key demand. Initially, this was viewed as one of the more radical asks, said Amani Sawari, who served as the spokesperson for the strike. Eventually, it became a separate movement, as prisoners saw voting rights as the first step to having "political power over getting all the other demands"—including improved prison conditions—"met."
Still, it's taken a while for even post-incarceration enfranchisement to get on liberal legislators' agendas, Marc Mauer, the executive director of the Sentencing Project, told me. That's gradually changing. In 2019 alone, state lawmakers introduced proposals in at least 16 states and Washington, D.C., to expand, study, or facilitate voting for people with felony convictions. In some places, this would apply to people still in prison. So far, though, the most significant action has been on proposals to expand voting for people who have been released from prison: Within the last year, Nevada, Colorado, and Florida have expanded voting rights for this group in some capacity. In 2018, New York Governor Andrew Cuomo signed an executive order restoring voting rights to people on parole, though the change hasn't been codified.
But even some states with Democratic governors and legislatures haven't yet restored voting rights to people on parole or probation, while proposals allowing incarcerated people to vote have stalled. Last year, in California, a group called Initiate Justice that claims 19,000 incarcerated members launched an effort to gather signatures for a ballot initiative that would have restored voting rights to California residents who are in prison or on parole for felony convictions. They collected about 25,000 signatures, but needed almost 600,000. "We tried to mobilize families of incarcerated people, but with no money to reach everyone through media campaigns, we fell short," said Rahsaan Thomas, who proposed the idea for that initiative from San Quentin State Prison, where he is incarcerated. This year, activists are hoping to get a measure on the 2020 ballot that would restore voting rights only to those on parole, according to Taina Vargas-Edmond, a co-founder of Initiate Justice.
In New Mexico, lawmakers introduced legislation this year that would have restored the vote to all people with felony convictions, including those still incarcerated, but the bill died. "I just don't think the public is ready for something like that," said state Representative Daymon Ely, a Democrat. Ely expects a more limited bill focusing on people on parole and probation to come up within the next two years.
On the national level, while campaigning for president as a Democrat, Senator Bernie Sanders of Vermont has come out in support of restoring voting rights to all people with felony convictions, including those incarcerated. But other Democrats have taken more conservative positions, and Donald Trump has derided Sanders's stance as enfranchising "terrorists."
In Florida, Republican Governor Ron DeSantis signed into law restrictions on the state's new voting-rights amendment, which are now being challenged in court. (Some people perceive that enfranchising those with felony convictions will dramatically help Democrats, though one analysis of a group granted voting rights in Florida found that isn't necessarily the case.) Still, among other conservatives, there appears to be some appetite for restoring voting rights to people with felony convictions after they have finished their sentences. "When people have paid their debt to society and come back into society, they should get their rights back, including voting rights," barring a compelling public-safety reason, said Mark Holden, the senior vice president of Stand Together, a philanthropic organization founded by Charles Koch and funded by conservative donors.
It remains to be seen whether lawmakers—or the public—will eventually be open to going well beyond that, letting people with felony convictions vote even if they are still in prison. Some advocates argue that carving people into different groups, based on whether or not they're behind bars, doesn't reflect the realities of the criminal-justice system. "By virtue of being able to afford a good attorney, there are people currently on probation for the same exact crime that other people are in prison for," said Henal Patel, an associate counsel with the nonprofit New Jersey Institute for Social Justice, which backs pending legislation in the state that would restore voting rights to all people with criminal convictions, including those currently incarcerated. "It matters if a parent can vote for their child's school board, even when incarcerated," she pointed out.
Some of the opposition to letting people with serious convictions vote is based on the fear that dangerous offenders could influence laws, and that law-abiding citizens could be harmed. But in the two states that already allow everyone to vote, such worst-case scenarios do not appear to have come to pass. In Vermont, voting from prison is "no big deal," according to Seth Lipschutz, the supervising attorney at the Vermont Prisoners' Rights Office. Vermonters who are incarcerated, even those held in a CoreCivic facility in Mississippi, may vote by absentee ballot. Prisons sometimes host voter-registration drives. People register and vote at their last address before they were sent to prison, so they don't hypothetically register in a bloc and "take over the town" where their prison is located, Lipschutz said.
In May, Tyler Orvis, a 36-year-old man from Hinesburg, Vermont, got out of prison with more than a year to go before Americans will vote for president. He plans to cast his ballot for Bernie Sanders in 2020 if the Vermont senator secures the Democratic nomination. Otherwise, he will vote to reelect President Donald Trump. He stayed up on politics while he was incarcerated, not only watching the news on TV, but also voting in 2018 from prison. "We messed up. We're paying our debt to society by being in prison … but we're still human," says Orvis, who has been convicted of felonies for aggravated assault, burglary, and lewd and lascivious conduct. "We still should have the right to vote."