What Pelosi's Pivot on Impeachment Really Means
Is this a defining moment in the Trump presidency, or merely some creative packaging?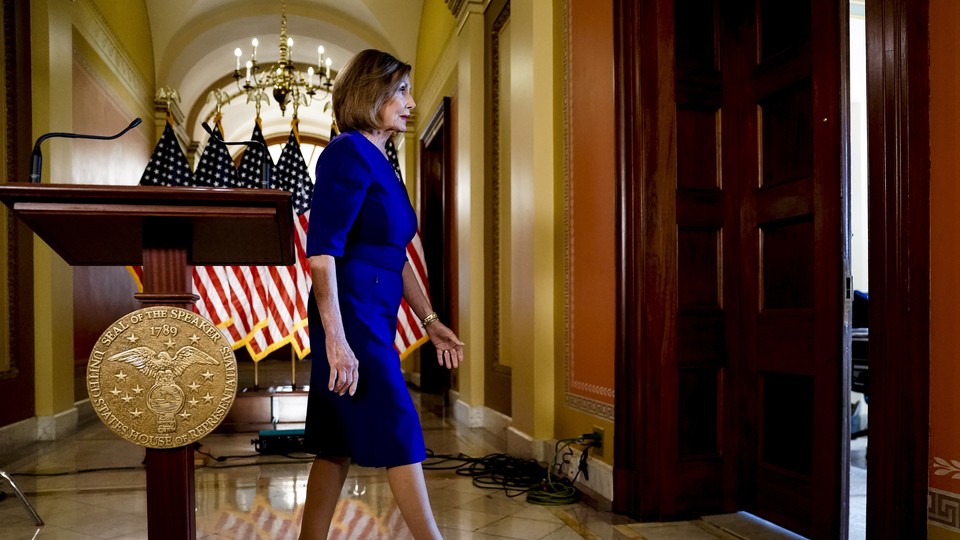 When Speaker Nancy Pelosi solemnly announced that the House of Representatives would open an impeachment inquiry against President Donald Trump shortly after 5 p.m. on Tuesday, everything changed. Or maybe nothing changed at all.
On the one hand, the most powerful woman in America had just unequivocally thrown her support behind an official effort to remove the president from office, abandoning her long-standing opposition to such a drastic move. On the other, Pelosi had merely offered her endorsement of a process—an investigation to determine whether to recommend articles of impeachment—that was already under way in the House.
Pelosi announced no new select committee to handle Trump's impeachment. She provided no timetable for its consideration. She gave no guarantee that the House would even vote to charge the president, much less adopt articles that would prompt a trial in the Senate.
Six congressional committees that have been investigating Trump for months would continue their probes, Pelosi said. But those inquiries would now fall under the "umbrella" of—and carry the formal stamp of—impeachment.
"I'm not sure it changes a lot in terms of what was [already] going on," Representative Jim Himes, a Connecticut Democrat who had come out for impeachment weeks ago, acknowledged in an interview Wednesday.
Republicans immediately crowed that the speaker's move constituted nothing more than window dressing, a fake impeachment that lacked the imprimatur of a full vote in the House, which had taken place in the case of President Andrew Johnson in the 19th century and President Bill Clinton in the 20th. "Today the speaker of the House issued a false and feeble decree," declared Representative Doug Collins of Georgia, the top Republican on the House Judiciary Committee. "Today isn't what impeachment looks like, and [Pelosi's] press conference changes nothing legally."
In response, Pelosi's spokeswoman Ashley Etienne pointed out that the Constitution imposes no procedural requirements on how impeachment begins. On the question of what, exactly, Pelosi's proclamation had changed, however, Etienne was more vague. She argued that the speaker's announcement would bolster the Democrats in federal court, where they have been fighting the Trump administration's refusal to cooperate with their investigations. "This ups the ante and further signals to the court that the House, across six committees, is investigating to determine whether to refer articles of impeachment," Etienne said.
Yet to some of the Democrats who had been pushing Pelosi to sign off on impeachment for weeks or even months, the significance of her announcement was immediately clear. "It transforms the politics of the situation because now Nancy Pelosi is essentially the captain of the impeachment effort," Representative Jamie Raskin of Maryland, a member of the House Judiciary Committee, said in an interview.
Representative Ro Khanna of California added, "It has made it far more likely that we'll have a vote in the House on articles of impeachment."
In a private meeting yesterday afternoon, Pelosi told House Democrats she wanted the investigation to be "expeditious," and she impressed upon them the urgency of seizing on the allegations that Trump tried to enlist the president of Ukraine to launch an investigation that could implicate one of his challengers for the White House, former Vice President Joe Biden. "We have to strike while the iron is hot," the speaker told the members of her caucus, according to a Democrat in the room.
In the Ukraine scandal, Pelosi sees a fresh and straightforward case of abuse of power that the public can easily understand, in contrast to the lengthy and complicated allegations of election interference and subsequent obstruction of justice by Trump that unfolded over many months and led to a 448-page report by Special Counsel Robert Mueller, which few Americans read in full. The latest case "concerns the behavior of the president as president, not a candidate," Khanna said, "and it concerns an upcoming election. It's not relitigating the past."
Democrats want to quickly build public support for the charge that Trump brazenly tried to solicit a foreign leader in his reelection effort. To that end, they seemed to get another gift today with the White House's release of a reconstruction of a call between Trump and Ukrainian President Volodymyr Zelensky. According to the text, Trump clearly asked Zelensky to work with his lawyer Rudy Giuliani and Attorney General William Barr to investigate the Biden family's activities in Ukraine. Trump's request for "a favor" comes right after the two men discuss aid to Ukraine and Zelensky's mention that his government was almost ready to buy weapons from the U.S.
"What these notes reveal is a classic Mafia-like shakedown of a foreign leader," Representative Adam Schiff, the chairman of the House Intelligence Committee, told reporters. "This is how a Mafia boss talks." Schiff will hold a hearing on Thursday for which Democrats have demanded that the acting director of national intelligence, Joseph Maguire, turn over a report from a whistle-blower that allegedly involves the president's actions regarding the Bidens and Ukraine. He said the transcribed notes were "far more damning than I or many others had imagined."
Yet neither Pelosi's top lieutenants nor her office would offer any specificity on how fast the impeachment investigation might move, or when it would be done. The House is scheduled to depart for a two-week recess on Friday. "I don't know what the timeline will look like except that we all feel a sense of urgency here," Schiff said. Before the Ukraine revelations, Judiciary Committee Chairman Jerry Nadler had said he hoped the panel could reach a decision by the end of the year, and Raskin predicted, perhaps wishfully, that goal was well within reach. "I have no clairvoyant powers," he said, "but if I had to bet, I would guess that we'd certainly act before the end of the year." Khanna hoped for an even faster resolution, saying "before Thanksgiving would be ideal."
"We can't drag this out to an election year," he added.
Still, not everyone is on board with the caucus's sudden lurch toward impeachment.
Some of the more moderate House Democrats still want to obtain both an actual transcript of the call and the whistle-blower complaint, and see what evidence the various committees can put together before vocally supporting the effort. A groundswell of support from House Democrats this week has put the majority of the caucus on record backing an impeachment investigation, but the party has work left to do in order to get a majority of the House.  "There's not going to be a vote for a while. We'll see what the Judiciary Committee comes up with," said an aide to a Democratic member who has yet to come out in favor of the inquiry. The aide was granted anonymity in order to speak candidly.
Already, even among members who are fully supportive of an impeachment inquiry, there are concerns that Democrats, in their eagerness to hold the president accountable, will botch the process. "Members of Congress have a tendency to run off in their own directions, so I think it's really important that we stay focused," Himes said. Impeachment, he said, should be focused on "clear abuses of power," rather than "some of the more salacious things," such as Trump's alleged affair with and hush-money payments to the adult-film star Stormy Daniels.
Perhaps more than anyone, Pelosi is sensitive to the risks of a rushed or poorly executed impeachment push—she endured months of criticism within her own party just to get to this point. And while her impeachment announcement doesn't set an entirely new course, the speaker well knows that politically, she has brought the Democratic House majority to a point from which there may be no turning back.