Venezuela's Struggle for Legitimacy Comes to New York
"It's a do-or-die moment for every Venezuelan."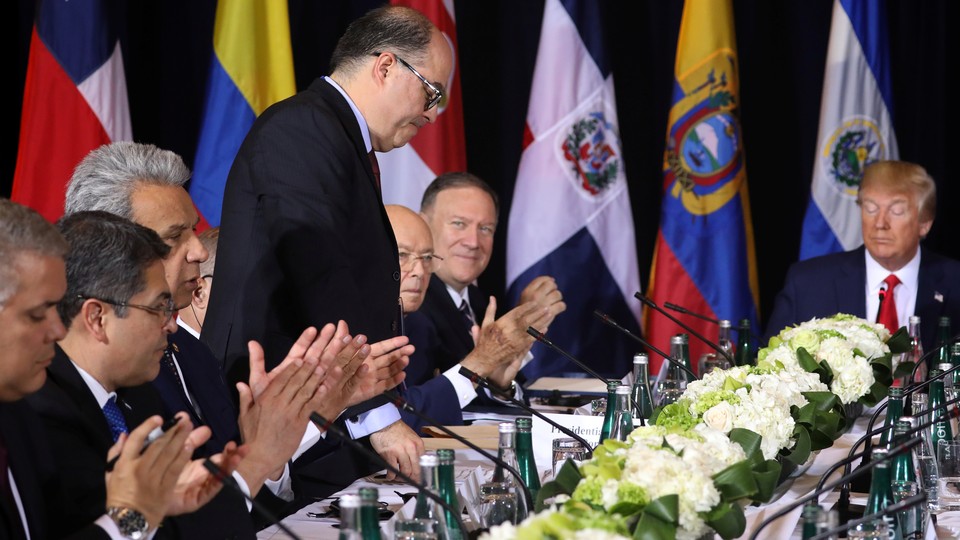 The question came at the very end of a press conference dominated by fevered talk of Ukraine, Joe Biden, and impeachment. You'd be forgiven if you missed it entirely. President Donald Trump encouraged reporters assembled for the United Nations General Assembly to ask him about the booming U.S. economy. He didn't get his wish. Trump called on a woman who identified herself as a Venezuelan journalist: "How are you doing over there?" Trump inquired.
"Our situation is pretty bad," she responded.
"Yeah. I would say 'pretty bad,'" the president agreed. "Sad."
"But we are fighting," she said. She wondered what Trump made of the fact that Venezuela's authoritarian leader, Nicolás Maduro, remains in power—nine months after the United States and more than 50 other countries recognized Juan Guaidó, the head of the opposition-controlled and democratically elected National Assembly, as the nation's legitimate leader. Since then, the Trump administration has imposed ever more severe sanctions on Venezuela and welcomed Guaidó's representatives in Washington, D.C. Yet Guaidó's bid to unseat Maduro, who still controls the security forces and is supported by Cuba and Russia, has stalled since a failed uprising in April. Negotiations between the Maduro and Guaidó camps on a potential political transition, mediated by Norway, broke down earlier this month. In the meantime, one of the world's worst humanitarian crises has only deepened amid the diplomatic impasse and economic pressure from the U.S. and its allies.
Venezuelans "have no food. They have no water. They have no nothing. They're dying. No medicine. Their hospitals are closed or don't even have electricity," Trump observed. Then came a note of reassurance. "Just put this in the back of your mind," he told the journalist. "It's all going to be fine."
It was a stark reminder that the political turmoil over a whistle-blower complaint concerning Trump's dealings with Ukraine risks leaving a number of his urgent foreign-policy initiatives—very serious unfinished business, such as curbing North Korea's nuclear-weapons program, preventing Iran's provocations, and striking a trade agreement with China—in limbo.
This was especially evident with Venezuela as world leaders convened this past week. The struggle for legitimacy that has been playing out so fiercely in Caracas, where Maduro and Guaidó lead a bizarre and extremely volatile coexistence, arrived in New York City.
Maduro skipped the gathering and instead visited with Vladimir Putin in Moscow, while Guaidó flirted with the idea of attending but ultimately decided against it, instead beaming in by video to panels around New York on the situation in Venezuela.
Inside the United Nations, where it retains Venezuela's seat, the Maduro government racked up victories. Foreign Minister Jorge Arreaza strutted through the halls, embracing friendly dignitaries while bashing Trump's hypocritical approach to sovereignty and the "parallel government" that "nobody invited" circling the UN like "ghosts." One of Maduro's delegates ostentatiously read a book about the national hero Simón Bolívar in protest as Trump delivered remarks from the dais of the General Assembly hall, pledging to help Venezuelans "trapped" in a "nightmare" of Maduro's making.
Outside the United Nations, the Guaidó government held sway. French President Emmanuel Macron, whose government recognizes Guaidó, greeted anti-Maduro protesters demonstrating just around the corner from the Maduro-controlled Venezuelan mission to the United Nations. A meeting of the Organization of American States, which has turned Venezuela's seat over to the Guaidó government, concluded with an agreement to harmonize a system of escalating sanctions against the Maduro government. The United States pledged more humanitarian aid for Venezuela and Trump chaired a meeting on the way forward there, though it ended off-message with the U.S. president declaring to reporters that he was the victim of "the single greatest witch hunt in American history," as Guaidó officials and Latin American leaders looked on.
Julio Borges, a Colombia-based Venezuelan opposition leader who led Guaidó's UN delegation and oversees the foreign-relations portfolio, told me that one of his main goals in New York was to stress that it was Maduro who walked away from the Norway-sponsored dialogue.
I met Borges at the Venezuelan consulate in New York, a rundown building with a closed: please call again sign out front, which the Guaidó government took control of with U.S. assistance last spring. He was preparing to consult with U.S. officials such as Secretary of State Mike Pompeo and U.S. Envoy for Venezuela Elliott Abrams, along with other regional officials and UN authorities. Isadora Zubillaga, another top foreign-affairs official in Guaidó's delegation, told me that while her team and Maduro's representatives were meeting with some of the same people in New York—the foreign ministers of Spain and Portugal, for example—they weren't crossing paths or staying in the same places. "We don't have the same budget," she told me. "We don't have a budget."
U.S. officials insisted that the Trump administration's many Venezuela-focused activities during the General Assembly made clear that it is committed to resolving the crisis no matter the political fervor in Washington. "We're trying to demonstrate through words, through meetings, and then through action that here we have the Venezuelan people and most democracies in the world" arrayed against Maduro, a senior State Department official speaking on condition of anonymity told reporters.
The Republican Senator Marco Rubio, an influential voice on Venezuela with Trump, told me by email that the administration's ongoing pressure campaign against Maduro shows its "unequivocal support for democracy and human rights in our hemisphere." Carrie Filipetti, the deputy assistant secretary in the State Department's Bureau of Western Hemisphere Affairs, said it would take a while for sanctions to exact their full punishment on the Maduro regime, and argued that the fact that Guaidó's delegation was co-hosting events at the General Assembly and was recognized by so many countries exhibited its staying power. "A few months ago there were countries saying, 'We don't know how long this is going to last. How much support could they really retain?'" she said. "It's been shown true that they can continue that support for quite some time."
Asked about whether she thought the impeachment inquiry would weaken Trump or diminish his engagement on Venezuela, Zubillaga said that she appreciated the "bipartisan support" in the United States and did not expect the situation in her country to fall off Washington's radar, because it's "no longer a problem" only for Venezuela.
Venezuelans, however, can only be told by Trump that it's "all going to be fine" for so long. When I asked Zubillaga whether we were meeting at a do-or-die moment for Guaidó, she responded, "It's a do-or-die moment for every Venezuelan. He is just one of 30 million people. And we are dying. We're here in New York … and people are actually dying in Venezuela."