The Enduring Mystery of Tulsi Gabbard
The 38-year-old presidential contender does not fit any "conventional" political profile.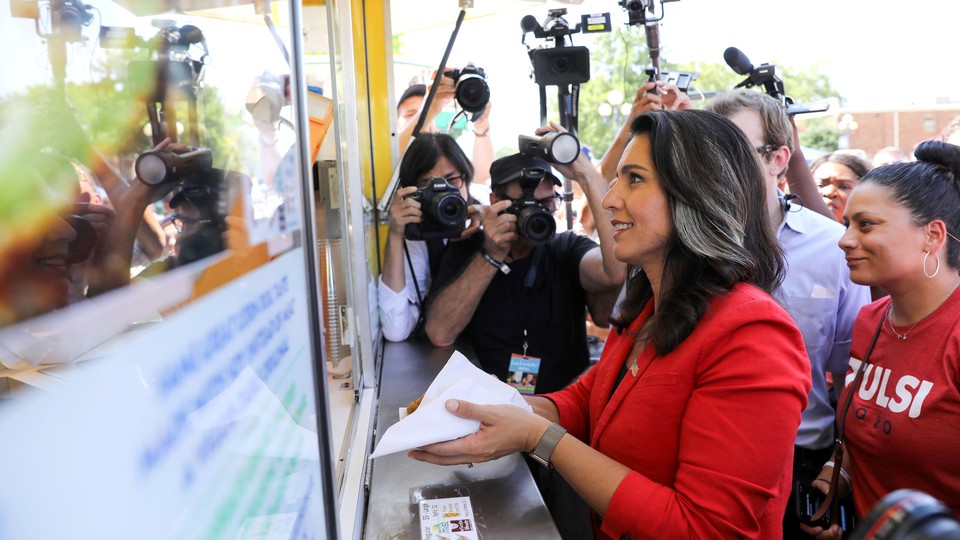 Tulsi Gabbard was relieved to have escaped out the back door of the Surf Ballroom and across the parking lot. It was getting dark on a Friday night in August, and she had just finished her five-minute speech at the annual Wing Ding fundraising dinner in Clear Lake, Iowa. As her 2020 presidential rivals ticked through theirs, one of Gabbard's aides found us a spot in the park next to the jukebox-style memorial to Buddy Holly, Ritchie Valens, and the Big Bopper, who played the Surf just before the plane crash that killed them in 1959.
Gabbard, the 38-year-old representative from Hawaii, seems to have an instinct for getting people to pay attention to her, I noted.
"Really?" she replied.
I pointed out that her sister, Vrindavan, the main decision maker of Tulsi's 2020 presidential campaign, who is rarely more than a few feet away from the candidate, was laughing. Tulsi didn't seem to register the reaction.
"If you think this was all some grand strategy, it wasn't, I promise," Gabbard said.
Good politicians are smooth. Gabbard is beyond smooth. She's unflappable to the point of being confounding, even to the many people I spoke with who have worked with her for years in Washington, D.C., and at home in Hawaii. She may be the most elusive candidate running for president, with a campaign that has followed none of the rules of conventional or contemporary politics, and a small but committed group of supporters.
During the first Democratic debate, in June, Gabbard took Representative Tim Ryan's legs out from under him over his support for the war in Afghanistan; in the days after, she defended former Vice President Joe Biden against Senator Kamala Harris's attack on his views about busing. At the second debate, in July, Gabbard clotheslined Harris with details about her record as California attorney general. That night, according to Google, Gabbard was the most-searched candidate.
Some of Gabbard's appeal is straightforward: People are drawn to her when she talks about "the cost of war" and when she says she'd commit America to peaceful noninterventionism. "I don't see anyone who has the depth and conviction and commitment that I bring to stand up to the foreign-policy establishment, the military-industrial complex, and have the courage to bring about an end to these wasteful wars that have plagued both Democratic and Republican administrations," Gabbard told me.
She has a biography fit for the race: After being elected to the state legislature at the age of 21, she enlisted in the Army National Guard after the September 11 attacks instead of running for reelection, then deployed to Iraq in 2004, at the height of the war. She is a decorated soldier, and was promoted to major in 2015. By then she had gone back home, had been elected to the Honolulu city council for a term, and had blown out the favorite for an open House seat in 2012. Democratic leader Nancy Pelosi invited her to speak at President Barack Obama's reelection convention when she was just 31. She is the first Hindu elected to Congress, a young woman of color in a party that sees its future in Millennials, women, and people of color. She has strident, Bernie Sanders–style progressive politics, but she tops them off with a call to end wars that has clearly resonated in a country exhausted by having to clean up the world's problems. In August, while some of her competitors were vacationing, Gabbard spent two weeks off the campaign trail in Indonesia for National Guard training.
"It's not that she's not incredibly skilled and talented," says Mark Longabaugh, a Democratic strategist who worked with Gabbard when she was campaigning for Sanders in 2016. "But her run just seems quixotic."
Many high-level Democrats I spoke with for this story, who insisted on anonymity to share their true feelings about her, suspect that Gabbard is up to something other than actually trying to win the party's nomination—even if they can't quite identify what her goal is. These are people who have been wary since Gabbard became a Fox News favorite for criticizing Obama's foreign policy. They believed that their distrust was vindicated when Steve Bannon brought her in for a meeting with then-president-elect Donald Trump just two weeks after the 2016 election, which was one of Trump's first meetings with a Democrat. To this group, Gabbard looks like Jill Stein, who also talked about progressive politics and peace, but whose 2016 Green Party run was, to them, a self-centered campaign that blew a crucial hole in Hillary Clinton's chances, eating up money and getting Russian support along the way.
RT, the Kremlin-backed news agency, often highlights Gabbard's campaign. The Russian embassy in South Africa has tweeted defensively about her, Russian bots have boosted her, and neo-Nazis bragged about helping her small-donor count so she could qualify for the first two debates. (She fell just a few polls short of qualifying for the September debate, but might make the stage once again in October.)
Theories I've heard from top Democrats include that Gabbard is trying to get a TV show—"I already know which network: Fox," one senior Democrat not affiliated with any campaign said, speaking anonymously to remain publicly neutral—and that she's gearing up for a Trump-benefiting third-party run. "Green Party. Willing to take bets on this," Center for American Progress President Neera Tanden tweeted last week after Gabbard appeared on Tucker Carlson's Fox News show to trash the Democratic National Committee because she hadn't qualified for the September debate. Gabbard later tweeted the clip with the banner "No transparency = no trust." (Gabbard has said publicly, and confirmed to me, that she will run only as a Democrat, but when I repeated that to Tanden, she remained skeptical.)
"I think it's unfortunate," Gabbard said of the suspicions about her motivations. "Because it means they're not listening or paying attention to anything that I'm saying, or anything that I'm doing. If they were, they would see how nonsensical all of that is."
Some Democrats say that everything they find curious about Gabbard tracks back to her particular religious upbringing, which she does not like to discuss but involves an offshoot Hindu group and a revered religious leader with a very committed group of followers, and a father who raised his family in this environment and is currently a Hawaii state senator himself. "Is she doing it for ego? No. The ego is subordinate to the mission laid out for her in life by her guru," one longtime Democratic observer in Hawaii who has watched her career told me. This person is convinced of their assertion despite never having discussed the topic with Gabbard.
In a race that has already seen two two-term governors and a two-term senator quit, Gabbard is consistently drawing bigger crowds than all but the most covered candidates in the early-voting states and beyond. People are intrigued by Gabbard, and not because they have read the media coverage of her trip to visit President Bashar al-Assad in Syria two years ago and her subsequent refusal to call him a war criminal. Her face is on billboards along highways in Iowa and South Carolina, and her supporters are already out in force elsewhere—including at a farmers' market in Washington, where I saw them passing out flyers one Sunday in August, 10 months ahead of the District's primary. Small clusters of devoted fans wait for her for hours at multi-candidate events, decked out in Tulsi hats and T-shirts, talking only to one another. One woman at a packed town hall in a coffee shop on a Saturday evening in Ames, Iowa, handed out colorful plastic leis she'd bought on her way over.
Many of Gabbard's current supporters are former Sanders supporters, who first came to know her when she quit as a DNC vice chair in 2016, saying that the process was rigged and she would endorse Sanders over Clinton. "I don't know if [Sanders] has enough fight in him to go against the powers that be," Dean Mincer, a 2016 Sanders delegate from Glidden, Iowa, told me at that coffee shop in Ames, worrying about how people would respond to the senator's socialist views. "Tulsi's more of a realist."
Gabbard's supporters are a mix of old hippie peaceniks, cryptocurrency enthusiasts, people who obsess over American imperialism, and former Trump voters. They are also people who just love that she's a young woman of color who always talks about "what we in Hawaii call that spirit of Aloha," as she'd said at the Wing Ding. "Aloha means so much more than 'hello' and 'goodbye,' as some of you may be familiar. What it really means is love and respect and a recognition that we are all connected, that we are all children of God, we are all brothers and sisters, regardless of the color of our skin, or where we come from, or who we love, or how we worship or if we worship." At a recent event in Los Angeles, a woman told Gabbard she had cancer, and attributed it to a wire on her roof. "I'm now electrosensitive," the woman said. She told Gabbard that she lived in her car and wanted to know what the candidate would do about Federal Communications Commission standards. "This is something I'm looking more into as I'm hearing from people like you who are raising these concerns," Gabbard replied. A 16-year-old at the event told Gabbard he is frustrated that no one seems to care about the concerns of young people. "I'm smiling," she told him, "because I've lost track of how many times I've been told that."
She's a presidential candidate and a member of Congress, but tracking down Gabbard wasn't easy. In July, when she was in Milwaukee to speak at a veterans' breakfast during a League of United Latin American Citizens conference—where I'd heard she'd been well received, talking about her own service—I ran into her while she was waiting in line for a vegan sandwich at the Milwaukee Public Market. She was serious about this race, she told me, and she wouldn't be in it if she thought anyone else running could be commander in chief. I said we should do an interview, and she told me to get in touch with her new press secretary, but she couldn't remember his last name, and neither could any of the staffers standing nearby whom she asked.
Contrast that with how her sister and a small circle of aides wear earpieces and cluster around her like a security detail. Gabbard's husband, Abraham Williams, a trained videographer, uses a special camera stabilizer that gives a cinematic feel to the live-streams of her events. Her website features coding that isn't quite sophisticated, but is slightly more than meets the eye: In the final days of trying to qualify for the September debate, it would generate random numbers just short of 130,000—the donor number she needed to hit—every time the page was refreshed, and then for weeks after had a one-minute countdown urging: "If you contribute in the next minute, we can hit our weekly goal." The countdown reset with every refresh. (These tactics aren't typical for candidates' websites.) Her campaign now claims to have well over 130,000 donors. A spokesman wouldn't say how many people are currently on staff, though her second-quarter Federal Elections Commission report showed salaries going to just six employees, for a total of $50,000 over three months, in addition to a few consulting fees.
"We have a small team of very committed people who really believe in this mission," Gabbard said, "and the kind of leadership that I bring."
If it's a leadership question, to many people, Gabbard's refusal to disavow Assad is disqualifying on its own. In August, the Syria-focused blogger Eliot Higgins wrote a long dissection of her official statements on Assad, which he called an "error filled mess." In an email to me, he summarized: "The claims she's using are pretty much classic positions used by chemical weapon truthers and pro-Assad war crime denialist, and are littered with errors and contradictory information, so even apart from the political dimension of criticism of her claims there's basic factual criticisms that she should address." The response on Twitter from the Russian embassy in Washington was forceful: "Higgins is spam-attacking US presidential candidate @TulsiGabbard for posing questions to the MSM-propelled narrative on the alleged #Douma incident. #ThoughtPolice & #ElectionMeddling irony aside, Ms Gabbard visited #Syria herself, unlike certain bloggers ..."
Gabbard told me that when others bring up the Assad issue, as Harris tried to do in the second debate, they're using "smear tactics" and creating "noise that exists to detract away from what matters most, and what matters most are the people of this country, who are asking for a champion who will fight for them."
The apparent Russian support is perhaps the most curious aspect of Gabbard's 2020 bid. Another candidate might have gotten flustered when I asked why the Russians seem so interested in her. Not Gabbard. Her voice stayed even, and she moved right past the question, saying, "I don't have any explanation for these things, other than the fact that the world and other countries, including Russia, are in agreeance that we are in a better place in the world when we're not on the brink of nuclear war."
President Vladimir Putin's interests in American elections, at least in 2016, seemed less about a world without nuclear war and more about creating chaos in Western democracy, I told her.
"I hear things here and there, but I'm not paying attention to it," she replied. "Because what I know for sure is that there are families and people all across this country who are really struggling, who are really suffering, and who were anxious for their voices to be heard by our government and to have someone in the White House who has their back and who will fight for them."
Imagine, I said, that Putin was sitting with us. What would she say to him? "Look," she replied. "Within the first week in office, I would call for a summit with Russia and with China, to understand and to begin the conversation to de-escalate tensions that have brought us to the point of being closer to nuclear catastrophe than ever before."
This answer goes to the core of Gabbard's candidacy, and what sets her apart from every other Democrat running. She won't condemn Assad, because she thinks doing so will lead to more war (though what piqued Fox News's and Bannon's interest in her was her eagerness to say that Obama was failing to identify the "enemy" by not using the term Islamic fundamentalist terrorism). She won't say bad things about Putin, because she thinks we need to find a way to live together.
"Do you see what happened in 2016 as an attack?" I asked her.
The word attack, "as a soldier, means certain things to me," she said. "They're very real issues that we need to address with Russia. I believe that we need to address them in a diplomatic fashion, and not carelessly escalate tensions with the country where we and they still have thousands of nuclear missiles pointed at each other."
"Maybe that's where people think there's a little bit of openness" in her posture toward Russia, I suggested.
"Because I don't want to go to war with Russia?" she replied.
Gabbard thinks a more aggressive stance will lead to nuclear war. Take Trump and his trade war with China, she said. He's not just hurting farmers, small-business owners, and manufacturers, she said, but "he's playing with fire with a country that has nuclear weapons, a lot of them. That has potentially very dangerous consequences that we've got to be cognizant of."
"I'm the candidate of the American people and for the American people. Any insinuation otherwise is an offense to somebody who wears the uniform of this country. I will give my life for this country," she said. "I don't want to hear anybody saying anything insinuating that my loyalties lie anywhere but to our country."
Weeks later, Solomon Moore, a Gabbard campaign adviser, responded via text message to questions I asked him about Russian bots' support for Gabbard by demanding evidence of "a bot takeover of primary 2020." Later still, I received an official statement from the campaign: "We have no knowledge of any foreign entities supporting Tulsi Gabbard's campaign for president. Accepting donations from foreign entities is a violation of campaign laws. Our campaign follows all campaign laws. If anyone were to bring to our attention evidence of foreign donations or non-monetary contributions made to our campaign from foreign entities we would immediately return them and report violations of FEC rules to the authorities."
Gabbard's talk of an unspecified "they" coming after her, her views on international affairs, and her eagerness to rattle others might paint a picture of someone who's pretty lonely in Washington. She's not. Gabbard has a number of friends in the House, and a wider circle of colleagues who say she's not hard to deal with, just a little standoffish. She's part of a regular workout group that includes both Markwayne Mullin, a conservative Oklahoma Republican who was a former MMA fighter, and Joe Kennedy III.
But even some friends and others who have nice things to say about Gabbard don't want their names officially connected with her, given concerns about how the politics of that might look.
"To understand her, you have to understand what she went through and she saw. It's formed from a place of experience, which many people don't have," one member of the House told me, referring to her foreign-policy views. Her personality, this person added, is pure Hawaii: "She is warm, and she doesn't carry a big attitude. She carries a surfboard—not a big stick. She goes for attention when it's necessary, not just for the sake of having it."
Taking on Obama, her fights with Democratic leadership, the trip to Syria, the refusal to commit to a position on Assad—"She's savvy enough" to know these wouldn't be advisable moves to make for political purposes, another House member told me. "If it was politically calculated, she wouldn't have done some of this stuff. For better or worse, she believes in the positions she takes."
To Gabbard, it's not complicated at all. On Monday night at a town hall in Davenport, Iowa, she told the crowd to think about the $4 billion a month that the country is spending in Afghanistan—money that has been approved for years by Republicans and Democrats—what the effect has been on the soldiers fighting, and what could be done with that amount of money back home.
"That gives you a little context about how screwed up our country's priorities are and how they need to change. This is not about being an isolationist or turning our back on the world. This is about making the right decisions and making sure our country is a force for good in the world," she said. "A lot of people feel threatened by this message and this change that we're talking about because they've profited from it for so long."