Trump's New Mexico Rally Teased His 2020 Strategy
Speaking to thousands on the outskirts of Albuquerque last night, the president made a pitch to win over a voter bloc that once seemed a pipe dream.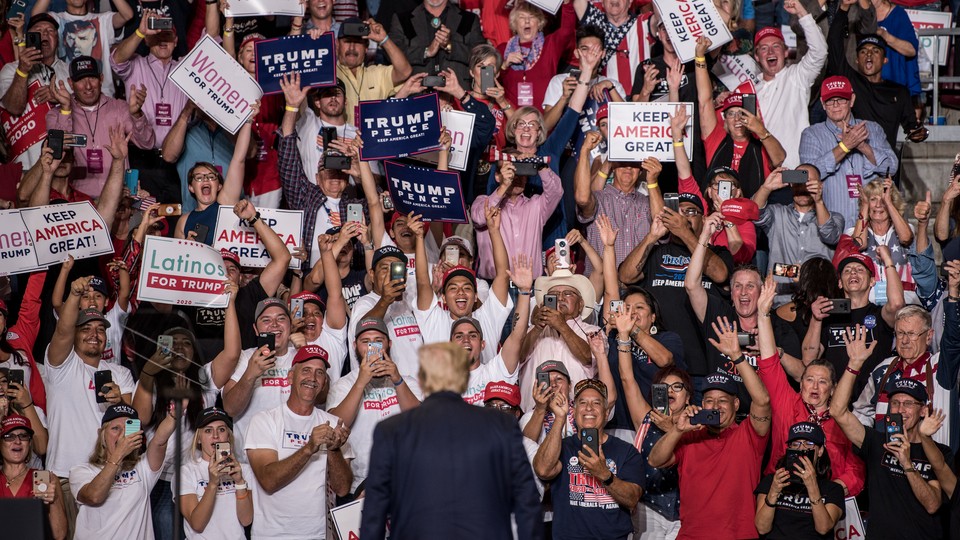 RIO RANCHO, N.M.—Long before Air Force One even touched down here, the line of Donald Trump supporters snaked around the suburban Santa Ana Star Center, with thousands of red-capped fans happy and impatient to see the president live and in person.
Traffic in the vicinity of the venue had been snarled for miles and hours. And while many of the president's signature promises—namely a proposed border wall along the U.S.-Mexico border—are at best works in progress, the rally-goers I spoke with last night weren't just supportive, but, whatever their walk of life, seemed to see Trump in themselves.
"He's just like me," said Richard Tuttle, an attendee in a Make America Great Again hat who moved to New Mexico from Southern California several years ago. "He's a working man."
"He's in our town and so we've got to support him," said Richard's wife, Frances, who was in a matching red cap. "I will be voting for him again."
On its face, the president's visit to Rio Rancho, a suburb of New Mexico's largest city, strung along the sage-covered mesas west of the Rio Grande, was quixotic. The Trump campaign is reportedly targeting New Mexico as a backstop in case it loses a state or two in the Midwest in 2020, sensing that it can flip the state and its five electoral votes. But the campaign's case is slim. Trump lost the state by eight points in 2016, and Democrats wiped out Republicans in 2018. Democrats now control every statewide office and each congressional seat.
Axios has reported that the Trump team became interested in America's 47th state after a recent rally in El Paso, Texas, lured numerous people with New Mexico addresses. Yet the El Paso metropolitan area includes much of southern New Mexico, including 100,000 people in the Las Cruces area who work, shop, and visit the Texas city, just 40 minutes away, daily.
Nevertheless, what makes Trump supporters here tick, based on my interviews, isn't the president's electoral strategy, or his policies and promises. It's the identification that voters like Tuttle feel with the president himself. Even if Trump's signature promises are unfulfilled—or barely started—he gets points for his pugilism, and any blame is deflected at others.
"I love that he is standing up to China," one woman said, "even if it takes five years." Said one man: "We need that border wall, and Congress has slowed it down." (Both declined to give their name for this story.)
I worked as a reporter for the Albuquerque Journal, the statewide newspaper, for many years, beginning in the 1990s. Back then, Republicans in Northeast New Mexico were interested in fiscal prudence and healthy defense spending. In the southeast corner of the state, abutting Texas, were oil barons, workers, and ranchers. The state has voted only once for a Republican president in this century, George W. Bush in 2004. In other words, New Mexico Republicans have never been monolithic.
Today's Trump supporters in the region are similarly dissimilar to one another: They are libertarians; disaffected Democrats; Latinos; evangelicals; suburbanites new to the state; and those from the southeast quadrant of the state, nicknamed "Little Texas."
Standing patiently in line to get into the arena last night was a blonde woman in a black dress with bright turquoise jewelry: Susie Galea, the former mayor of Alamogordo, New Mexico. A conservative Republican, Galea crossed the aisle last year to support the Democrat Xochitl Torres Small over the Republican Yvette Herrell in the race for the state's Third Congressional District. Galea went so far as to appear in a television advertisement for the Democrat, arguing that Herrell was corrupt. A long shot, Torres Small won.
"I think the president has strengthened our families," Galea told me. "And I think, when you strengthen our families, that strengthens our nation and our society."
How has Trump done that? I asked. His opposition to abortion, for one, she answered. Galea said that Trump has helped women. And she believes that he supports a pathway to citizenship for immigrants—though, of course, he has led a historic crackdown on undocumented immigrants since assuming office. Her hope for Trump in a second term? That he places more emphasis on education, namely putting more technology in classrooms.
Inside the arena, the atmosphere was that of a festival or concert: The rally-goers I saw were friendly, approachable, and often busy buying Trump-campaign T-shirts and buttons—including one for the proposed Space Force. People lined up for hot dogs, popcorn, and pretzels. A campaign worker distributed Latinos for Trump signs. Just after 6:30 p.m. local time inside the fairly small arena—just about 7,000 seats—the warm-up acts whipped up the arriving crowd. Tony Mace, the firebrand sheriff of rural Cibola County, to the west, generated chants of "U.S.A.!" when he said he was tired of liberals, the news media, and efforts to impose new controls on gun ownership.
Steve Pearce, the state's Republican chairman, claimed that he's tried to persuade the Trump campaign to target the state for 2020 since early this year—contradicting the Axios report—and touted Trump's 2017 tax cut as beneficial to locals.
One attendee, Ralph Sain of Albuquerque, told me that the economy was the single most important issue to him.
"The better the economy, the more jobs there are," said Sain, who was holding a Latinos for Trump sign. A longtime Republican, Sain denied that Trump was unpopular with Latinos nationally, as polls have shown, or even nearby, as in El Paso, where the president received the cold shoulder after the August massacre at a Walmart that killed 22 and wounded nearly as many. Locals had lined Trump's motorcade route with signs reading You are not welcome.
"That's all Beto O'Rourke down there," Sain said, referring to the influence of the Democratic former House member who's now running for president. How? I asked. "O'Rourke started those riots down there when Trump was visiting in February," Sain said. When I told him that I was at both Trump's rally that month and O'Rourke's counterrally, and that there was no rioting, Sain only smiled.
"Hispanics have been against Trump till they were educated," said the man next to Sain, who declined to give his name. He wore a matching T-shirt and ball cap that read Trump 2020: Keep liberals crying.
When the president finally took the stage after 7:30 p.m., he delivered a barrage of claims about how his achievements were helping New Mexico in general—which was slow to recover from the Great Recession and a bust in oil prices—and Latinos in particular. Trump boasted that thousands of supporters were still outside, unable to get into the Star Center. (A peek outside suggested that this was an exaggeration.)
Trump made an economic pitch aimed at the state's oil and gas industry—even though the industry is centered some 200 miles away from here. He claimed that he had engineered the United States' rise to No. 1 in oil and gas production, though this happened under former President Barack Obama, as the CNN fact-checker Daniel Dale noted. Trump claimed that the United States is a net energy exporter—though it won't be until next year, Dale also pointed out. The president accurately described record-low Latino unemployment, but also made the unsubstantiated claim that Latinos support his proposed border wall.
Nonetheless, the crowd loved it all.
Many people I spoke with last night said that the news media and liberals were unrelentingly arrayed against Trump. They cited various causes—from the Second Amendment to support for nationalism—but what united them was an unfailing belief in Trump.
And yet, more than one Trump supporter I spoke with sincerely doubted that he could flip New Mexico into the Republican column in 2020. "Maybe they can flip Bernalillo County," said Galea, the former mayor.
Outside on the steps, Gene Martinez, a former television-news journalist, lingered after having been turned away from the arena because it was full. In his T-shirt and MAGA cap, Martinez said he had no hard feelings. He, too, has his doubts about turning New Mexico red in 2020, he said: "The Democrats have just had such control over the state for the better part of 75 years."
Overhead, the sun had set and the sky had turned gray, threatening rain. But Martinez was upbeat.
"It makes my heart feel good that we have a president who thinks on his feet," he said. "And he's not afraid to do what he has to do."