Trump Is Discovering New Powers
He's finding ever more risky ways to advance his personal agenda.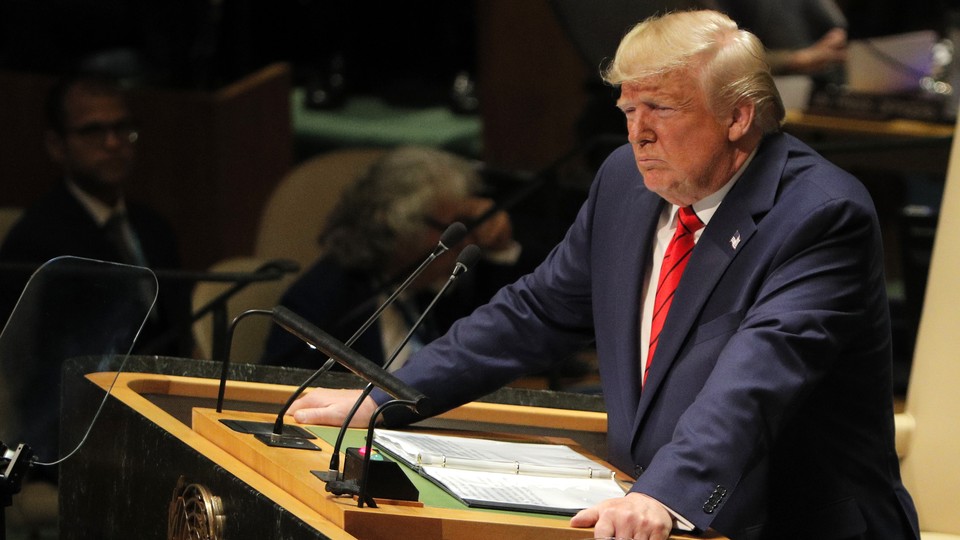 Updated on September 24, 2019 at 5:20 p.m. ET
Knowing he was new to all this, White House aides took pains early in President Donald Trump's term to chaperone him when he got on the phone with world leaders. Former National Security Adviser H. R. McMaster, the economic adviser Gary Cohn, and others would sit around the Resolute Desk in the Oval Office and listen to both ends of the conversation. Pens in hand, they'd slip notes to Trump on White House stationery advising him "Don't answer," or cautioning him to avoid a particular conversational detour that might prove embarrassing were it to get out. If Trump made a call on short notice, then–Chief of Staff John Kelly might tell the senior aides Robert Porter, Cohn, and others to "get your ass" down to the Oval Office right away so that the president would have backup during the call, multiple people close to the administration told me, speaking on the condition of anonymity to talk more freely about sensitive discussions.
Nearly three years in, Trump is acting more like a president unchained. He's relying on his own judgment and, one by one, discarding the seasoned foreign-policy advisers and aides who would act as a brake on his worst impulses. As he becomes progressively steeped in the presidency's immense powers, Trump seems to be in the midst of a kind of awakening: discovering new ways that he can use the machinery of government to advance a partisan, personal agenda uncoupled from the larger public interest.
His call to Ukraine's president, in which he reportedly pushed for that country's government to investigate his political rival Joe Biden, may be the purest example. And as I wrote last week, it poses perhaps the gravest threat to Trump's presidency to date. After months spent resisting the growing ranks of pro-impeachment lawmakers in her caucus, House Speaker Nancy Pelosi announced today that she's authorizing a formal impeachment inquiry to begin. "The president must be held accountable," she said. "No one is above the law."
Instances of Trump using the office to serve himself are coming with more frequency. In recent weeks, he's brazenly promoted his commercial interests and targeted California, a stronghold of anti-Trump sentiment.
"What frightened me in his first couple of years was his ignorance," John Dean, who was White House counsel under former President Richard Nixon and who famously warned his boss that the Watergate scandal amounted to a "cancer on the presidency," told me. "What frightens me now is, he is learning how things work and how they can be abused."
Trump is no longer a neophyte on the world stage. He's been to multiple summit meetings, he's developed personal relationships with a raft of foreign leaders, and he seems surer of both his message and his methods. Earlier today, Trump gave a speech at the United Nations General Assembly, a body that symbolizes a multinational approach to common problems, and derided the whole project. "The future does not belong to globalists," he said, speaking in a flat monotone throughout the nearly 40-minute address. "The future belongs to patriots … Globalism exerted a religious pull over past leaders, causing them to ignore their own national interests. But as far as America is concerned, those days are over."
At an early point in his presidency, a strong, internationally minded faction inside the White House might have edited out that line or tempered it, lest he leave the impression that America is abandoning the post–World War II architecture of trade pacts and alliances that it helped create. "Hey, I'm a globalist and I'm a nationalist," Trump told me in an interview in 2017.
No more, it seems. Surrounded by aides inclined to reinforce his gut instincts, Trump is acting more on his own, defining the agenda on his terms. And it's getting him into more and more trouble, as the impeachment threat shows. It's not clear what, if any, White House protocols were followed during Trump's call to Ukrainian President Volodymyr Zelensky in July, when he reportedly invoked Biden, the front-runner for the Democratic nomination who could face off with Trump in November 2020. But when Trump told Zelensky an alleged eight times that he wanted Biden and his son Hunter investigated, either none of the aides listening on the White House's end tried to object or, if they did, Trump ignored them.
Trump took a step to quell the furor this afternoon, tweeting that he'll release a transcript of the call with Zelensky. So far, his administration has refused to turn over a whistle-blower complaint involving Ukraine that's already opened up a new front in House Democrats' oversight effort. The call itself was bad enough, legal experts have told me. Federal law prohibits anyone from soliciting something of value from a foreign national in the context of an election—a lesson from 2016 Trump clearly didn't learn.
"In the face of this revelation, if the House did not proceed to impeachment, it would do lasting harm to democratic norms," Claire Finkelstein, the director of the Center for Ethics and the Rule of Law at the University of Pennsylvania Law School, told me. "The suggestion that a president could use his position to engage in campaigning and digging up dirt on political adversaries is a shocking demonstration of his moral unfitness for office."
But another dimension to the story underscores the extent to which Trump is learning more about the tools at his command and how to deploy them for his own ends. New reporting last night suggests that Trump personally directed aides to withhold nearly $400 million in aid to Ukraine in the days before he pressured Zelensky.
The revelation raises a new set of questions: Did Trump use congressionally approved taxpayer money as leverage to force Zelensky's cooperation? Talking with reporters at the United Nations this morning, Trump seemed to confirm that he indeed ordered the aid withheld, though not as any sort of quid pro quo. Rather, Trump said, he didn't believe it was fair that the U.S. should keep forking over money to Ukraine. He said: "I'll withhold again, and I'll continue to withhold until such time as Europe and other nations contribute to Ukraine."
Leaving the aid issue aside, Trump's actions might still amount to an ethical breach, legal experts told me. "Perhaps the best way to look at this is as a president using his authority to try to extract outcomes from another government for political purposes," said Erin Chlopak, the former acting associate general counsel of the Federal Election Commission. "It is very clearly a significant abuse of power."
Trump's bid to dig up dirt on the Bidens seems an attempt to help himself politically. But he's also upping the ante in terms of using the office for personal gain. As a member of the G7 organization of advanced economies, the U.S. next year gets to host its annual summit. Trump, at his news conference last month at the end of the last G7, in France, proposed a location: his Doral golf club in Miami. Before a worldwide audience that U.S. presidents singularly command, Trump gave a lavish description of his club's amenities that will be forever preserved in official White House transcripts. The property, he said, has "very luxurious rooms with magnificent views.
"We have incredible conference rooms, incredible restaurants," he added.
Bringing the G7 to his club would, of course, be a financial boon and a public-relations bonanza. No one peddling a timeshare could be so lucky. "There's never been a cost to him for saying whatever he wants. So he keeps playing it closer and closer to the edge," said a former senior administration official, who also spoke on the condition of anonymity. "Or over the edge."
"So much of the presidency, so much of democracy, is based on good faith," Dean told me.
As he approaches the final year of his term, Trump is also weaponizing the regulatory tools a chief executive controls. As my colleague Ronald Brownstein recently reported, he is using the government to "constrain" and "even punish" blue states with whom he's at odds. Last week, he tweeted that the Environmental Protection Agency would revoke a federal waiver that for decades has allowed California to set its own, tough auto-emission standards. Trump's action capped an escalating feud with state officials, who have angered him over such moves as trying to force him to disclose his tax returns.
Trump has never appeared much interested in representing the entire country. He's organized his presidency, and both his campaigns, around the needs of his political base. But as his first term wears on, he seems more focused on marshaling presidential powers to serve a constituency of one: himself.