Why Steve Bullock Refuses to Drop Out
Members of the Clinton diaspora are pleading with the Montana governor to stay in the race, even if the rest of the country doesn't know who he is.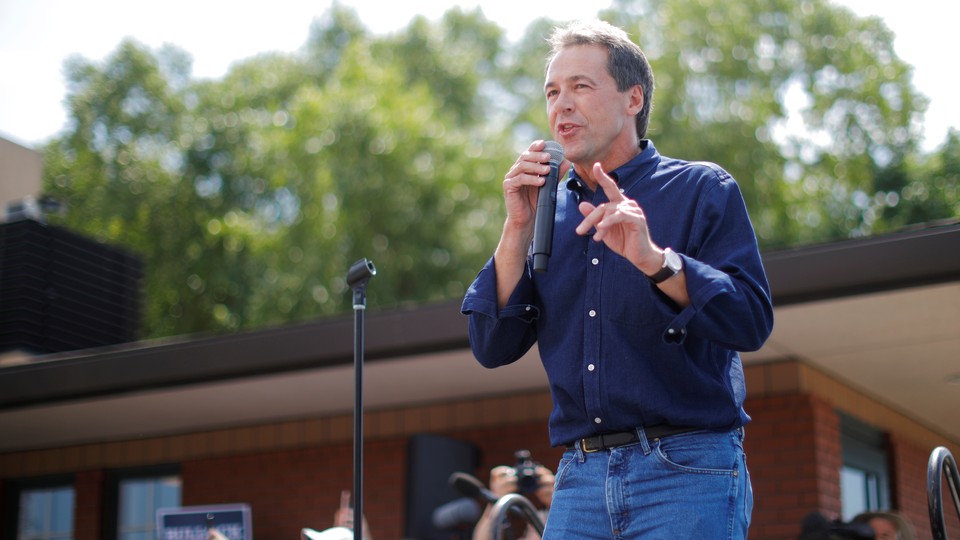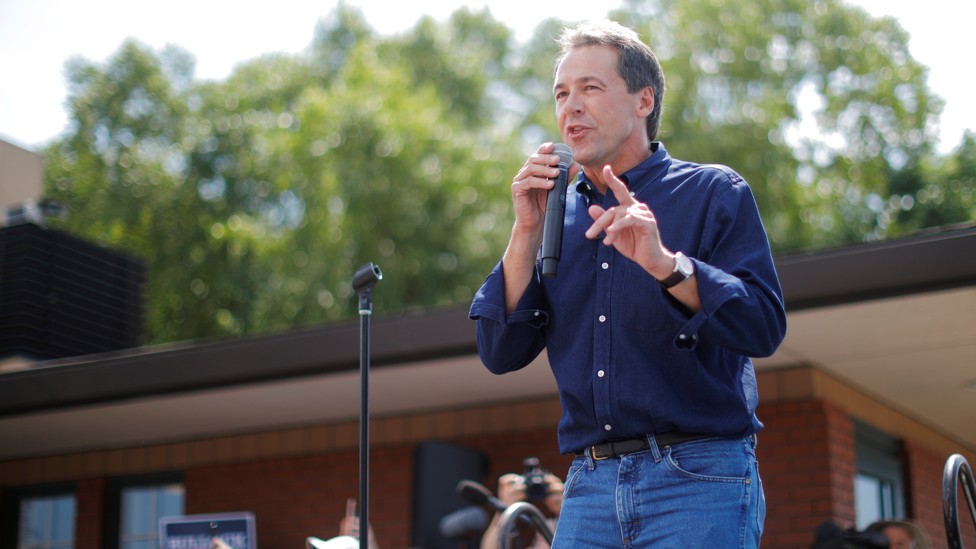 Updated at 2:55 p.m. ET on September 19, 2019
Former Vice President Joe Biden markets himself as the candidate who can actually make government work. Montana Governor Steve Bullock takes that pitch a step further, thinking about what happens if people lose any more faith in the system. I recently asked Bullock if he's scared of where that leads. Is it anarchy? Is it The Purge?
"Is it anarchy?" Bullock replied. "Or is it fascism?"
Bullock told me he worries that "if we reelect Donald Trump, America's at a breaking point." He likes to point out that he's the only Democrat in this year's (giant) field who won a state that Trump carried in 2016. He was reelected by Montana voters on the same night they overwhelmingly pulled the lever for Trump. The feeling of those voters, according to Bullock, was, "Finally, somebody is going to clean up Washington D.C.," referring to Trump. He continued: "We've seen what's happened, and they haven't seen an economy where Trump's actually helping them out along the way," Bullock said. "Folks that are just saying, 'I'm not getting ahead'—we can't allow that despair to happen. We on the Democratic side can't make all these promises that we can't or won't necessarily be able to deliver on, because I'm not sure that advances us, either." (Our interview can be heard on the latest episode of the Radio Atlantic podcast.)
The Democratic Party, and America as a whole, have changed so much over the past 30 years that comparing candidates from different eras can seem moot. But there's a distinctly Bill Clinton–esque sensibility to many Democratic Party veterans urging Bullock to stick with his presidential campaign, despite his failing to make the September debate stage and remaining, at best, in the margin of error of most polls. They see another popular, moderate governor of a small, conservative-leaning state who started his campaign late and is being written off, and they don't just feel nostalgic—they feel a little déjà vu. They insist they are not being delusional.
Paul Begala, the former Clinton strategist and current CNN pundit, earlier this week went on Twitter to encourage people to donate to Bullock's campaign. Minyon Moore, one of the top political aides in the Clinton White House and now one of the most respected African American female operatives in the party, told me she didn't know Bullock before they recently had dinner, but she was impressed by both his understanding of public policy and his campaign's outreach, and encouraged him to stay with it. "They've been doing a lot of quiet meetings," Moore said. "Unfortunately, time is not waiting for anybody, but I think he has an important voice that probably hasn't been heard as much as it should be heard." Mickey Kantor, the former Clinton Commerce secretary, told me this week that Bullock is "a terrific talent," with "a résumé we would have prayed for in a Democratic candidate for president."
Their support isn't on account of any personal ties between Clinton and Bullock. (According to people who know the two men's schedules, the candidate and the former president have met only once, last November in Clinton's Harlem office, but the meeting lasted for more than an hour, which, according to sources, is considerably longer than conversations Clinton has had with other candidates.) It's also not because most of the people promoting Bullock have known him for a long time, with the exception of former Clinton spokesman Matt McKenna, who is informally advising him. Most of the people I spoke to for this story didn't realize they were part of a larger Bullock fan club within the Clinton alumni association.
Bullock's support, of course, extends beyond the Clinton orbit. Led by Iowa Attorney General Tom Miller, the longest-serving statewide-elected Democrat, a committed Bullock contingent of power players in the first caucus state are insisting that they're not going anywhere, and are determined not to be embarrassed by getting on a horse that never got beyond a trot.
There are differences between the two men: Clinton built himself up in national politics for years before his 1992 run in a way Bullock has not. But their similarities range from the biographical—both are former state attorneys general—to the political process-related: Both started their race late. (Bullock declared in May, the second-to-last Democrat to enter, and Clinton didn't announce until October 1991, just four months before primary voting started.) "I think there is a governing and a win-over-tough-votes similarity with then-Governor Clinton," says Nick Baldick, who arrived at Clinton headquarters in November 1991 and is now a senior adviser to Bullock's campaign.
One of the most popular themes among Democratic presidential candidates over the past few months has been calling on people to think not just about Donald Trump, but about how America reached the point where Trump's win was possible. That's a regular part of the stump speech for, among others: Senator Elizabeth Warren of Massachusetts; South Bend, Indiana, Mayor Pete Buttigieg; and Senator Cory Booker of New Jersey.
Bullock doesn't invoke Clinton on the stump or in private, though he does enjoy talking about the larger history of come-from-behind candidacies. "I don't think it's stubbornness when you're four months into this, where you really want to make sure that at some point, not only can you beat him, but government can work again," Bullock said.
Clinton was the last Democratic nominee who won in many states that are now far out of reach for the party—West Virginia, Tennessee, and Georgia, to name a few—and the only Democrat in 100 years to beat an incumbent Republican, who didn't have the Great Depression or the Watergate scandal to thank for it. He was also the last Democratic president who regularly got Republican votes for any significant legislation he supported (almost everything that Barack Obama accomplished legislatively happened within the first two years of his presidency, when Democrats controlled both the House and Senate). Bullock likes to note that he passed, among other things, dark-money restrictions and a major Medicaid expansion with a heavily Republican state legislature.
"What's going on is people understood how Bill Clinton could get things done, understood how to work with both sides," Kantor, who had breakfast recently with Bullock, told me. "I think that comes from having to work with a Republican legislature."
"Is this cycle different from other cycles? Could it be that it's impossible to make a comeback if you're not on the debate stage, given this set of rules? Maybe, maybe even probably," said Matt Bennett, the vice president of the Clinton-inspired Third Way think tank and a veteran of the Clinton campaigns. "Then again, if you look at the people who became the nominee, a whole bunch of them were way, way back in fields that were smaller than this one." Both in person and over the phone, Bennett has urged Bullock to keep at it, especially after the August dropouts of Washington Governor Jay Inslee and former Colorado Governor John Hickenlooper. "He's the only governor still in the race, he found a way to win in a red state—he's the only person who could say that," Bennett said.
Clinton, himself, will not endorse or campaign for anyone in the primary, his spokesman, Angel Ureña, told me, pointing out that this is standard practice for him in presidential races that haven't included his wife. He's been largely benched politically since his wife's 2016 loss and the onset of the #MeToo movement. An NBC/Wall Street Journal poll this week showed that just 29 percent of Democrats had a "very positive" view of him and 35 percent had a "somewhat positive view of him," compared with 69 percent who had a "very positive" and 21 percent who had a "somewhat positive" view of Obama.
Not all Clinton alums are on board with Bullock. Jerry Crawford, who ran operations in Iowa for Clinton in 1992 and 1996, is backing Senator Cory Booker of New Jersey, and is also holding on to the Clinton-infused hope that there is still time for the race to be shaken up. Many old Clinton allies are firmly in the corner of the Democratic establishment that is locked on to former Vice President Biden—perhaps most prominently represented by Ed Rendell, the former Pennsylvania governor and DNC chair during Clinton's tenure. More are scattered across a few other campaigns.
"Were it not for the new debate rules, Bullock would be looked at as a promising candidate who was in fine position to take off in the fall, which is when candidates who win Iowa start to take off," said Jennifer Palmieri, an aide in the Clinton White House and Hillary Clinton's 2016 communications director, who has offered advice to Bullock, along with other Democratic candidates. "I think it's dumb to drop out when those debates have not proven to matter."
They have mattered in drying up fundraising and other support, as Inslee and Senator Kirsten Gillibrand of New York learned: Both dropped out before summer's end. Bullock's campaign spokeswoman, though, told me that with the third-quarter fundraising deadline coming up at the end of the month, the campaign feels it will have the funds necessary to go on.
"I get asked this question a lot, 'Why am I supporting him?', and particularly at this point in the game, 'Why am I still supporting him?'" says Anne Andrew, who's spent her career in environmental work and was Obama's first ambassador to Costa Rica. Her husband, Joe Andrew, was a DNC chair during Clinton's presidency, but she says she sees the electoral argument. "There's a level of certainty and a level of historic, demonstrated success with Steve," she said, referring to his wins and record in Montana.
Jimmy Carter came out of nowhere to win the Iowa caucuses in 1976, but he told me in an interview last year that he doubts he could have done that in the current world of massive fundraising. Senator Michael Bennet of Colorado, who's among those tied with Bullock for not much at all in the polls, but is also running on an argument of not rushing out of the race to satisfy the base, received the endorsement of Gary Hart two weeks ago in New Hampshire. Hart, the former Colorado senator and presidential candidate, wistfully recalled coming from behind and almost toppling a former vice president in the 1984 Democratic primaries.
Bullock, trying not to be history himself, is hanging on to history: "At least in the past," he told me, "there's been a premium for people that have actually had to run things and make government work."
---
This story has been updated to clarify Jennifer Palmieri's connection to Governor Steve Bullock and other 2020 candidates.