A Step Toward Blowing Up the Presidential-Voting System
Maine's adoption of ranked-choice voting for the 2020 general election could upend a close race for the White House.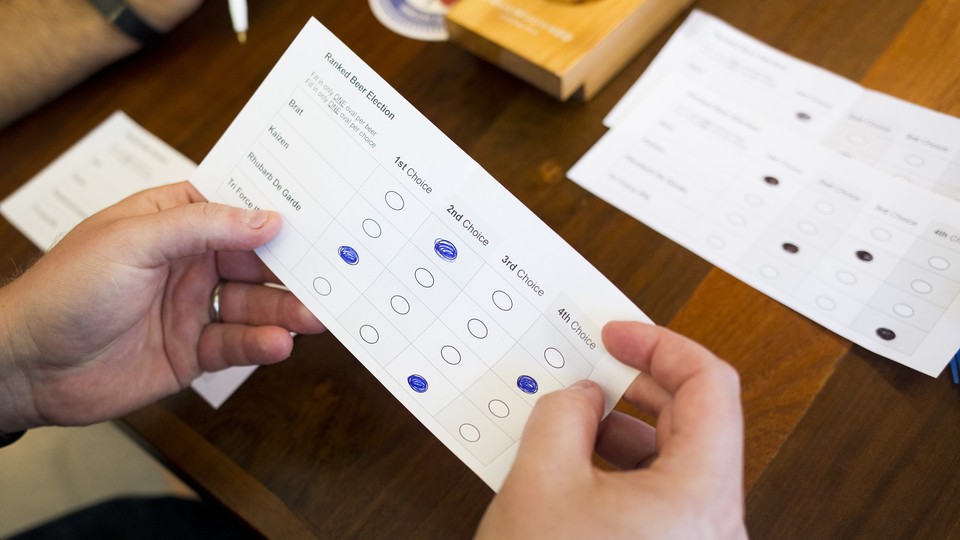 The 2016 presidential election pitted the two most disliked candidates in the history of public polling against each other. In the race between Donald Trump and Hillary Clinton, millions of Americans found themselves forced to vote for a major-party nominee they plainly couldn't stand or to risk electing the candidate they hated even more by casting their ballot for a third-party contender.
For the first time next November, a slice of the American electorate will have a way out of that lesser-of-two-evils scenario.
With a law set to take effect in 2020, Maine will become the first state to adopt ranked-choice voting for a presidential election—a method in which people list candidates by order of preference rather than bubbling in just one circle. Maine controls only four electoral votes and splits them in half by congressional district, but the change could have huge consequences if the national presidential race to 270 electoral votes is close.
In 2016, Clinton carried Maine by just three points, but she won just less than 48 percent of the vote in the state—a plurality but not a majority. If ranked-choice voting had been in place at the time, it's possible the state could have gone to Trump. The format works like an instant runoff: If no candidate receives more than 50 percent of the first-choice votes, the candidate with the least support is eliminated. Whomever that person's voters picked as their second choice is then added to the tallies, and the process repeats until one candidate reaches a majority.
Maine's adoption of ranked-choice voting at the presidential level is the latest boon for an election-reform movement that has gained popularity across the country in recent years. Its proponents hail the method as a way to engage and empower more voters in a highly polarized political environment, while cutting costs in states and municipalities that currently hold runoff elections to ensure that winners secure a majority of the vote. The format played a big role in San Francisco's high-profile mayoral race last year, and voters in New York City will decide in a ballot referendum this November whether to implement ranked-choice voting in future citywide elections.
Democratic-primary voters will also get a taste of the format in at least three states and possibly more next year. Kansas, Alaska, and Hawaii all plan to use ranked-choice voting in their primary or caucus, and Wyoming Democrats are considering it as well, says Rob Richie, the president and co-founder of FairVote, an advocacy group that has pushed for ranked-choice voting across the country.
"I'm actually thrilled," Richie told me. He believes that by 2024, ranked-choice voting will be "normalized" as a reform in far more primary states. "There's sort of that sense that we're a cycle away from this," he said.
The early-voting states of Iowa and Nevada also planned to incorporate ranked-choice voting into phone-in balloting aimed at increasing access for Democratic voters, but those plans are in doubt after the Democratic National Committee nixed the "virtual caucuses" because of cybersecurity concerns.
Maine used the system in its statewide primary elections last year and for its two congressional races during the November 2018 midterms. It proved determinative in one of those elections, as Democrats gained a U.S. House seat when the ranked-choice system helped Jared Golden defeat the incumbent, GOP Representative Bruce Poliquin. The Republican was narrowly leading Golden in first-place ballots on Election Night, but the tabulation of second- and third-choice preferences from supporters of two independent candidates put the Democrat over the top. Poliquin sued to challenge the results, but federal courts upheld them.
The state's Democratic-controlled legislature passed a bill to adopt ranked-choice voting for both the primary elections in March and the general election, and newly elected Governor Janet Mills, a Democrat, decided to allow the measure to become law without either signing or vetoing it. That move delayed the law's implementation until the middle of next year, meaning that ranked-choice voting likely won't be in place for the Democratic primary. In a statement, Mills said that she supported ranked-choice voting as a reform but that there were "serious concerns" about the logistics and cost of implementation, particularly since the legislature did not appropriate any money to pay for it. Adding to the challenge is the fact that Maine is moving to a primary for the first time, after using caucuses to pick presidential nominees in the past.
"We are disappointed that Maine voters won't be able to use ranked-choice voting for the March primary," David Farmer, a spokesman for the Committee for Ranked Choice Voting, told me. "Given the unprecedentedly large field on the Democratic side, the primary was a perfect example of the type of election where ranked-choice voting would be useful and where voters have told us they want it."
Kansas is also moving to a primary from a caucus for the first time, and Democratic officials there turned to ranked-choice voting in part to maintain a piece of the unusual experience of caucusing, Vicki Hiatt, the state party chairwoman, told me. Caucusing is a public form of voting in which supporters will switch their allegiance from a candidate who does not reach the threshold of viability, which is usually 15 percent in a precinct or caucus site. "Ranked-choice voting seemed the most logical answer," Hiatt said.
Ranked-choice voting also helps solve a dilemma unique to long primary campaigns. The Kansas primary isn't until May 2, when the field of candidates will almost surely be much smaller than it is now. But the filing deadline for candidates is in February, meaning that, like in other late-voting states, many Democratic contenders who quit the race in the interim will likely still have their name on the ballot. In 2016, Richie told me, more than 700,000 votes were cast in the Republican and Democratic primaries for candidates who had already withdrawn from the race—a wrinkle exacerbated by the rise of early voting. If voters are ranking their candidates, it's more likely that their second or third choice will be counted in that scenario. "That was a factor," Hiatt said.
The appeal of ranked-choice voting, according to its proponents, is that it allows for more guilt-free voting, which they argue will lead to increased turnout. People can go with a long-shot candidate in a primary or a third-party candidate in the general election whom they like the most without fearing that a vote for that person will actually help the candidate they like the least. Ranked-choice voting might have come in particularly handy in 2016: Liberals who loathed Clinton could have ranked the Green Party nominee, Jill Stein, first without worrying that it would help Trump, while conservatives or libertarians could have done the same with Gary Johnson, the Libertarian Party nominee. "This empowers the voter a bit more," Hiatt said.
Critics of the format say it is overly complicated and confusing, and its supporters told me that they need to do more work to educate citizens about ranked-choice voting. Democratic National Committee Chairman Tom Perez has praised the idea, but the national party is not actively encouraging states to adopt it. "If anything, there's been a little resistance," Hiatt said, referring to the DNC's Rules and Bylaws Committee, which must approve procedures for selecting delegates in 2020. (A DNC official, speaking on the condition of anonymity, said the committee's rules "do not take a position on ranked-choice voting.")
The other complication with ranked-choice voting is that the results can take much longer to count. San Francisco voters did not find out whom they elected as mayor in June for more than a week, and the campaign of the eventual winner, London Breed, said that the confusion and voter error caused by the city's ranked-choice-voting system was partly to blame. Because of Maine's ballot-counting rules, the results of ranked-choice elections can take days to determine, raising the possibility that the eyes of the nation could turn north to find out who wins the election in November.
In Maine, it was Democrats who pushed for ranked-choice voting and Republicans who opposed the change. The idea quickly gained momentum after the state's bombastic former governor, Paul LePage, won two elections without ever receiving a majority of the vote. The conservative governor called ranked-choice voting "the most horrific thing in the world," but Maine voters approved it twice by referendum, overruling a legislature then controlled by Republicans.
In 2016, however, Trump might have prevailed in the state had the system been in place. Johnson, the main alternative on the right, earned 5 percent of the vote in Maine, while Stein received less than 2 percent. "There's nothing about ranked-choice voting that inherently favors one party or one type of candidate over another," Farmer said. He told me that it was "a fool's errand" to try to simulate results for elections that did not take place with ranked-choice voting. But the example is lesson enough for Democrats that in 2020, the system they champion as a much-needed election reform could just as easily be their undoing.