Nancy Pelosi Has Had Enough
The speaker of the House announced the launch of a long-awaited formal impeachment inquiry against President Trump.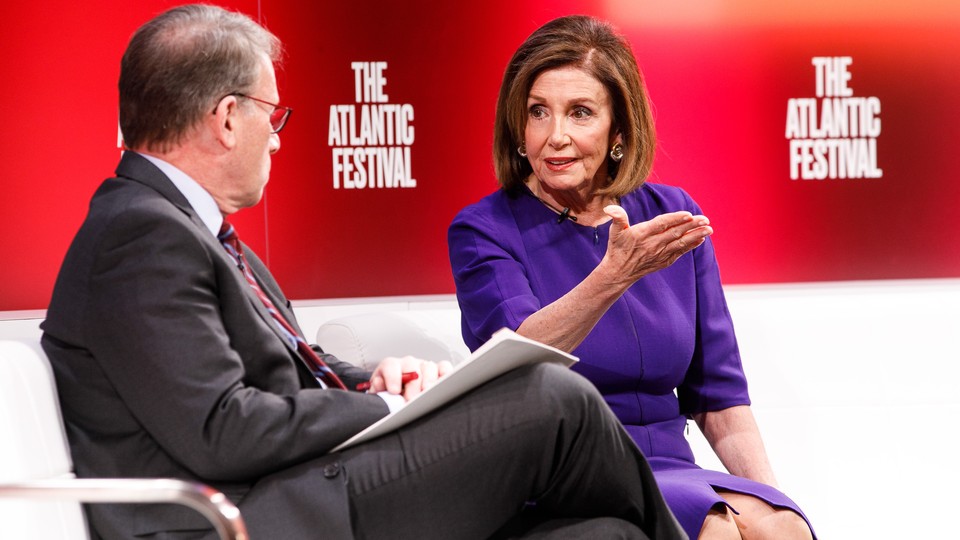 Updated on September 24 at 5:35 p.m. ET
Nancy Pelosi has spent the first nine months of her second stint as House speaker politely but firmly resisting pressure to impeach President Donald Trump.
That ended today.
Pelosi announced in a live televised address that the House would open a formal impeachment inquiry that would encompass the many investigations its committees have been pursuing.  "The actions taken by the president have seriously violated the Constitution," Pelosi said as she read from a prepared statement.
While the inquiry will involve numerous alleged offenses by Trump, what moved Pelosi—and many in her caucus—was the president's acknowledgment that he asked Ukraine's president to launch an investigation into his political rival, former Vice President Joe Biden, who is running to challenge Trump next year.
"The president has admitted to asking the president of Ukraine to take actions which would benefit him politically," Pelosi said. "The actions of the Trump presidency revealed dishonorable facts of betrayal of his oath of office, and betrayal of our national security, and betrayal of the integrity of our elections. Therefore, today I'm announcing the House of Representatives is moving forward with an official impeachment inquiry."
She said that six House committees would make recommendations to the House Judiciary Committee in the weeks ahead. The Judiciary Committee has already opened what its chairman, Representative Jerry Nadler of New York, has called an impeachment investigation, but until today, Pelosi has refused to describe it precisely that way. Her declaration today puts her full backing behind a process that could lead to the first effort to remove a president from office in more than two decades.
Still, the speaker gave no timetable for when the House would decide whether to vote on articles of impeachment, which, if passed, would go to the Senate for a trial.
"The president must be held accountable," Pelosi said. "No one is above the law."
Earlier this afternoon, in an interview with The Atlantic's editor in chief, Jeffrey Goldberg, Pelosi had strongly hinted this is the action she would take.
"If we have to honor our oath of office to support and defend the Constitution of the United States from all enemies, foreign and domestic, that's what we'll have to do," Pelosi told Goldberg. "But we have to have the facts. That's why I've said, soon as we have the facts, we're ready."
Then she added: "Now we have the facts. We're ready … for later today."
The speaker was reluctant to announce an official impeachment probe before a series of meetings she planned to have with fellow Democrats at the Capitol this afternoon. But Pelosi signaled that she would join more than two-thirds of her caucus in backing an impeachment investigation that could lead to a formal effort to remove Trump from office.
She said that Trump was "making lawlessness a virtue in our country," and accused the director of national intelligence of "breaking the law at the direction of the president" by withholding a whistle-blower complaint that reportedly implicates Trump in asking the president of Ukraine to launch an investigation into former Vice President Joe Biden's dealings in the country.
"If that is the case—that the president of the United States would ask a foreign government to assist him in a political way—that would be wrong," Pelosi said.
Would it be impeachable?, Goldberg asked.
Pelosi would not answer directly. "I'll be making an announcement at 5 p.m. today. Not here, not now," she said.
In the hours before Pelosi's appearance, support for impeachment among House Democrats surged to more than two-thirds of the caucus, including a key group of vulnerable freshman members and veteran leaders such as Representative John Lewis of Georgia, the civil-rights icon. "We cannot delay. We must not wait. Now is the time to act," Lewis said in a speech on the House floor earlier today.
All eyes were on Pelosi, who joked as she joined Goldberg onstage that she had been "in hiding" from reporters seeking to see if her position on impeachment had changed. During the interview, Trump tweeted from New York, where he was delivering a speech to the United Nations, that he would release a declassified, unredacted transcript of his call with Ukrainian President Volodymyr Zelensky. Trump has acknowledged that he pressed Zelensky to launch an investigation into the Biden family's "corruption" and that he sought to withhold aid to Ukraine, but he has said that it was not a quid pro quo.
Pelosi, however, made clear that might not matter. "There is no requirement there be a quid pro quo in the conversation" for it to have been wrong, the speaker declared.
Democrats want more than a transcript of a single call. During her statement to the nation, Pelosi ordered the acting director of national intelligence, Joseph Maguire, to turn over a report from a whistleblower on the president's actions when he testifies before the House Intelligence Committee on Thursday. "He will have to choose whether to break the law or honor his responsibility to the Constitution," she said. Shortly before Pelosi spoke, in a rare display of bipartisanship, the Senate passed by unanimous consent a resolution calling on the DNI to give the report to Congress. The House is expected to pass a similar non-binding measure later this week.
In the interview with Goldberg, Pelosi suggested that the fast-erupting scandal of Trump's call with the Ukrainian leader would be easier for the public to digest than former Special Counsel Robert Mueller's two-year investigation into Russian election interference and possible obstruction of justice by the president. "This one is the most understandable by the public," she said.
Pelosi has been keenly attuned to public sentiment on impeachment, and polls have consistently shown that despite widespread disapproval of Trump's performance in office, most voters don't yet back his forced removal. She concluded the interview by citing one of her favorite quotes from Abraham Lincoln. "Public sentiment is everything," she quoted the former president as saying. "With it, you can accomplish practically anything. Without it, practically nothing."