The Atlantic Politics Daily: Trump at the Modi-eo
The Indian prime minister will hold a rally in Houston this weekend with guest star President Donald Trump. Plus: the DHS plan to go after domestic terrorism.
---
Today in Politics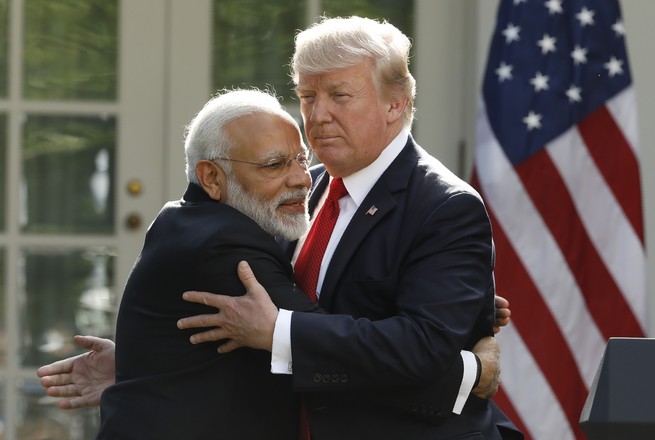 India's Prime Minister Narendra Modi hugs President Donald Trump after giving a joint statement from the Rose Garden on June 26, 2017. (Kevin Lamarque / Reuters)
This weekend, Donald Trump will do what he does best: Fire up a crowd at a MAGA (or KAG) rally. But this one is different. Most of the expected 50,000 rallygoers won't make the trek to see the president of the United States, they'll be there for someone else entirely: Indian Prime Minister Narendra Modi.
The massive pep rally in downtown Houston, officially christened "Howdy Modi," is set to be a spectacle, with a U.S. president playing second fiddle to a foreign leader … in the U.S. What's happening here?
A tale of two leaders and their bases:
Trump and Modi haven't always had the warmest of relationships: Early last year, the president received blowback for mocking the prime minister's Indian accent in a cringe-worthy voice.
But lately, the two politicians have become chummy, laughing and clasping hands at a G7 summit in France last month. That may have something to do with all the similarities the two leaders share: They're both fiery populists who gravitate toward us-versus-them messages.
Modi has made Hindu identity (and demonizing Muslims) a core part of his appeal. As Jonah Blank wrote in The Atlantic, Modi's pitch has distinctly Trumpian themes: "We're being outbred by minorities. We're being laughed at by the world. We're overrun with immigrants—and you know what kind. We're second-class citizens in our own nation. Make India Great Again."
Why Houston? And why now?
Part of the reason that Modi is being ferried out to Houston may be a ploy to get coal-wary India to buy Texas oil. But President Trump's decision to tag along is a testament to the growing clout of the Indian diaspora, especially in Texas. (Though the storms and flooding in the Houston area this week may dull the visibility of that clout on Sunday.)
Texas used to be ruby red for Republicans, but that's quickly changing—in part because of demographic shifts. As my colleague Ronald Brownstein has written, since 2010, the number of Asians who moved to the state nearly matched the number of white people who did so. Some 120,000 Indian Americans live in the Houston area, part of the reason it's become the most diverse major city in the nation.
But the president has a lot of work to do to get Indian Americans aboard the Trump Train: Only something like 16 percent of Indian Americans voted for Trump in 2016, and the president's immigration policies haven't exactly helped to move that needle. So while Trump may be looking forward to gloating in front of an audience of 50,000, it's not clear how many MAGA hats he'll see in Modi's crowd.
---
What Else We're Watching
(Carlos Barria / Reuters)
Exclusive: The DHS is finally going after white supremacists. Kathy Gilsinan obtained the Department of Homeland Security's new counterterrorism strategy, which is targeting the rise of domestic extremism, including white supremacy, with new money for prevention programs that have already seen funding and personnel cuts during the Trump presidency.
Yang matters. The tech executive might not pay much attention to social issues, but his emphasis on economic distress as the root of America's problems harkens back to another businessman-turned-politician: Ross Perot. "Few politicians grasp how disruptive [automation] will be," Peter Beinart argues.
He's just a Bill; he won't be sitting here on Capitol Hill. After failing to qualify for the September debate and barely cracking more than 1 percent in national polls, New York City Mayor Bill de Blasio announced he was dropping out of the Democratic presidential primary. Keep track of who's still in the race here.
Some states are already blowing up their voting systems. To avoid situations where voters have to choose between the "lesser of two evils," some states are looking to a ranked-choice voting system, where voters list candidates by order of preference and the least popular choices are eliminated if no one reaches a majority. That losers' votes get redistributed based on who their voters ranked next. Maine will be the first to switch in 2020.
Washington therapists have their work cut out for them. Therapy, Olga Khazan writes, is the ultimate outlet for people in a competitive city where many jobs require maximum confidentiality. As one of our national-security writers puts it: "No one moves to Washington to find themselves."
---
Snapshot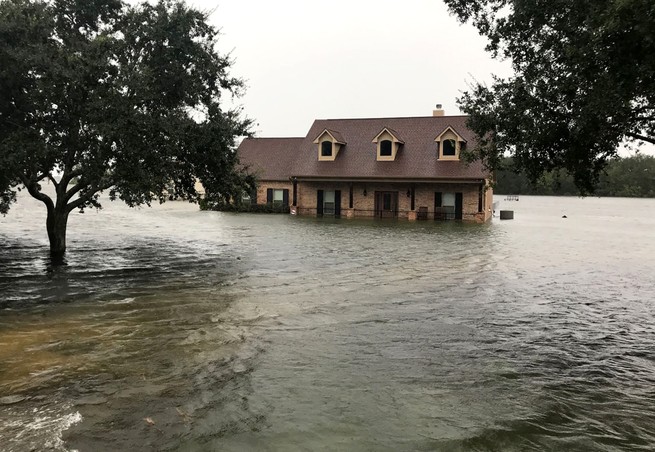 (Brian Hawthorne/Chambers County Sheriff's Office via AP)
Floodwaters surround a home in Winnie, Texas, in the heavy flooding of tropical depression Imelda.
---
Weekend Read
(Klara Auerbach / The Atlantic)
Heather Cox Richardson explores the fraught, political question of adding new states:
The number of states in the union has been fixed at 50 for so long, few Americans realize that throughout most of our history, the addition of new states from time to time was a normal part of political life. New states were supposed to join the union when they reached a certain population, but in the late 19th century, population mattered a great deal less than partisanship. While McConnell is right to suspect that admitting Puerto Rico and the District of Columbia now would shift the balance in Congress toward the Democrats, the Republican Party has historically taken far more effective advantage of the addition of new states.
---
Our Reporters Are Also Reading
‣ Hundreds of Thousands of Protesters Join the Global Climate Strike (Doug Stanglin and Grace Hauck, USA Today)
‣ Young Black Voters to Their Biden-Supporting Parents: 'Is This Your King?' (Astead W. Herndon, The New York Times) (Paywall)
‣ India Prime Minister Modi Faces a Federal Lawsuit in Houston for Alleged Human-Rights Abuses (Gabrielle Banks, The Houston Chronicle)
‣ Why GM Workers Are Striking (Elaine Cromie, NPR)
---
About us: The Atlantic's politics newsletter is a daily effort from our politics desk. It's written by our associate politics editor, Saahil Desai, and our politics fellow, Christian Paz. It was edited by Shan Wang.

We have many other free email newsletters on a variety of other topics. Browse the full list.