Corey Lewandowski Tried to Make a Mockery of the House
At his recent hearing, the president's former campaign manager had a much larger audience in mind than just congressional Democrats.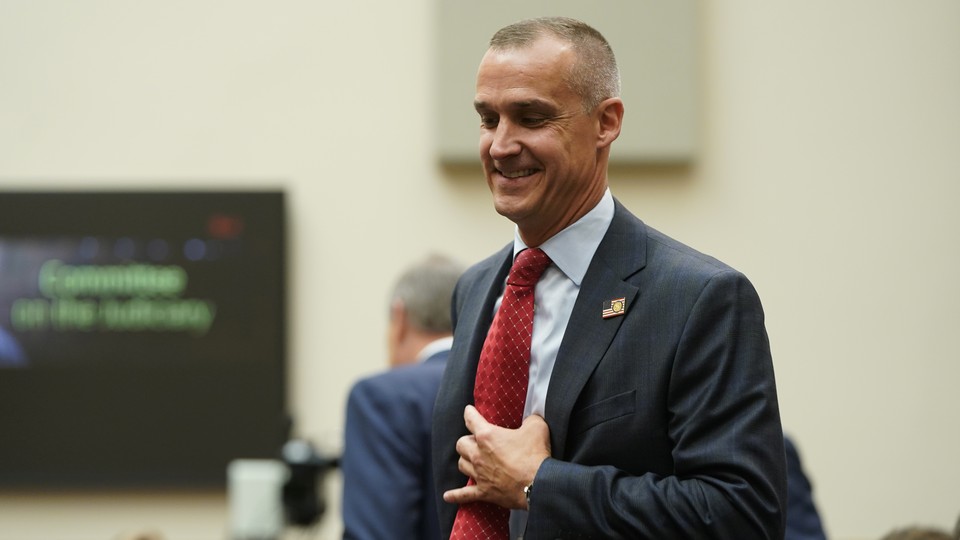 Updated at 7 p.m. ET on September 17, 2019.
From the moment Corey Lewandowski filibustered the first question he received from a member of the House Judiciary Committee today, his goals for the afternoon were readily apparent.
Lewandowski, President Donald Trump's close ally and erstwhile campaign manager, wanted to make a mockery of a congressional hearing; to frustrate and embarrass his Democratic interlocutors; to demonstrate his loyalty to the president; and to boost his likely bid for a Senate seat in New Hampshire.
Within about five minutes, Lewandowski had accomplished his objective: Committee Chairman Jerry Nadler was rolling his eyes and chastising Lewandowski for refusing to answer his questions, Republicans were accusing Nadler of breaking committee rules to hound the witness, and the proceeding had descended into a cacophony of cross talk and gavel-banging.
The display was especially disappointing for Democrats, who had at least a sliver of hope that Lewandowski's testimony would be more fruitful. They had brought him in—the first witness in the House Judiciary Committee's newly minted impeachment investigation—to ask him about one of the juicier episodes described in the Mueller report: that Trump had twice asked Lewandowski to relay messages to then–Attorney General Jeff Sessions instructing him to publicly clear the president, even though he had recused himself from overseeing Special Counsel Robert Mueller's investigation.
The Democrats' initial victory had been getting Lewandowski to show up in the first place. For months, current and former Trump-administration officials whom they had called as public witnesses in their investigation of the president had refused to comply with subpoenas at the demand of the White House. Those included Rick Dearborn, a former deputy chief of staff, and Rob Porter, the former staff secretary, who had been called to testify alongside Lewandowski today.
Lewandowski, however, had never served in the Trump administration, so the White House's ability to block his testimony was more limited. Still, on the eve of his appearance, White House Counsel Pat Cipollone informed Nadler that he was instructing Lewandowski not to talk about anything that was not already covered in the public Mueller report.
The demand infuriated Democrats, but their options to contest it were limited, partly by their own choosing. They are challenging the Trump administration's assertions of executive privilege and refusal to comply with subpoenas in court, but that legal process could drag out for months. The party's other recourse is impeaching Trump for obstructing Congress, but even though the Judiciary Committee is now formally investigating whether to recommend articles of impeachment, the Democratic leadership is reluctant to move more quickly or aggressively toward a vote. Republicans, both in Congress and in the White House, know this and are taking advantage.
Lewandowski had given Democrats a preview of his tone during the hearing on Twitter, when he tweeted early this morning that he was "excited about the opportunity to remind the American people today there was no collusion [and] no obstruction." In his opening statement, he adopted Trump's talking points about the "fake Russian collusion" narrative and criticized "Trump haters" bent on taking down a duly elected president. At one point, he said that as Trump's campaign manager, he received hundreds of thousands of emails. "Unlike Hillary Clinton, I don't think I ever deleted any of those," Lewandowski joked.
When Nadler began his questioning by simply asking Lewandowski whether, as stated in the Mueller report, he had met with Trump in the Oval Office in July 2017, Lewandowski made clear that he was going to follow Cipollone's instruction to a T. Before answering the question, he demanded that Nadler furnish him with a physical copy of the Mueller report and a precise citation he could reference.
To prevent Lewandowski from running out Nadler's five minutes of allotted question time, the chairman ordered the clerk to stop the clock, which drew protests from Republicans, who demanded that he had to restart it. "No, I don't when he is filibustering me," an exasperated Nadler replied.
"Filibustering is across the hall in the Senate," joked the committee's top Republican, Representative Doug Collins of Georgia, who seemed to be enjoying the spectacle and is himself eyeing a promotion to the Senate.
Republicans ultimately accused Nadler of breaking his own rules and tried to force an adjournment of the hearing. The bid failed, but the hearing went downhill from there.
When he wasn't stalling for time by demanding that Democrats refer to specific passages in Mueller's 448-page report, Lewandowski was sidestepping questions by deferring to the White House's other ask, that he not divulge private conversations with the president. "This is clearly just part of the president's continued attempt to cover up his actions," Nadler lamented, "his obstructing our congressional investigation by preventing you from telling the American people the truth about his misconduct. He will not succeed, and we will not be deterred."
The chairman's colleagues were similarly frustrated. When Representative Sheila Jackson Lee of Texas started talking over Lewandowski's deflections to the White House, he told her: "I'd be happy to answer your question, or you can have a conversation by yourself."
Jackson Lee snapped back: "This is House Judiciary, not a house party."
Democrats tried a different tack, hoping to bait Lewandowski into candor by accusing him of "chickening out" on Trump's 2017 requests that he transmit a message to Sessions.
"You chickened out?" Representative Hank Johnson of Georgia asked him.
"I went on vacation," Lewandowski replied, drawing laughs from the hearing room. He explained that between his first and second meetings with the president, he took his family to the beach. At one point, Representative David Cicilline of Rhode Island asked Nadler to hold Lewandowski in contempt of Congress.
The best Democratic members could do was elicit confirmation from Lewandowski that he believed that the incidents involving him in the Mueller report were rendered accurately.
If anyone really got to Lewandowski, it was Barry Berke, the attorney Democrats hired to consult on their investigation and the staff member they designated to question the witness after all the lawmakers were done. Republicans had objected to staff members having the opportunity to question Lewandowski, and judging by Berke's effectiveness, it was clear why they would be concerned. Berke caught Lewandowski in a lie when he played a clip of the former campaign manager saying on MSNBC that he did not recall the president asking him to get involved with Sessions or the Department of Justice. "I have no obligation to be honest with the media, because they are just as dishonest as anybody else," Lewandowski replied, drawing gasps in the hearing room.
Under questioning from members, however, Lewandowski littered his replies with none-too-subtle praise of the president and critiques of his opponents (including, notably, "the Obama-Biden administration"). Democrats soon realized what his play was.
"This is not a Republican-primary campaign," Representative Hakeem Jeffries of New York admonished him. "This is not the campaign trail yet. This is the House Judiciary Committee. Act like you know the difference."
It would be easy to surmise that Lewandowski was performing for an audience of one. (And true to form, Trump tweeted his thanks to his former campaign manager before the hearing was even an hour old.) Yet in this case, Lewandowski probably did hope to have a bigger viewership up in New Hampshire, where he is hoping to run as an unapologetic Trump ally and surely wants the president's endorsement.
So it wasn't, as Jeffries suggested, that he didn't know the difference between a congressional hearing and a campaign stop. Lewandowski does know the difference; this afternoon, however, he didn't much care.