Will Joe Biden Lose His Lead?
The septuagenarian former vice president maintains a comfortable lead in the polls as Democrats head into the third debate.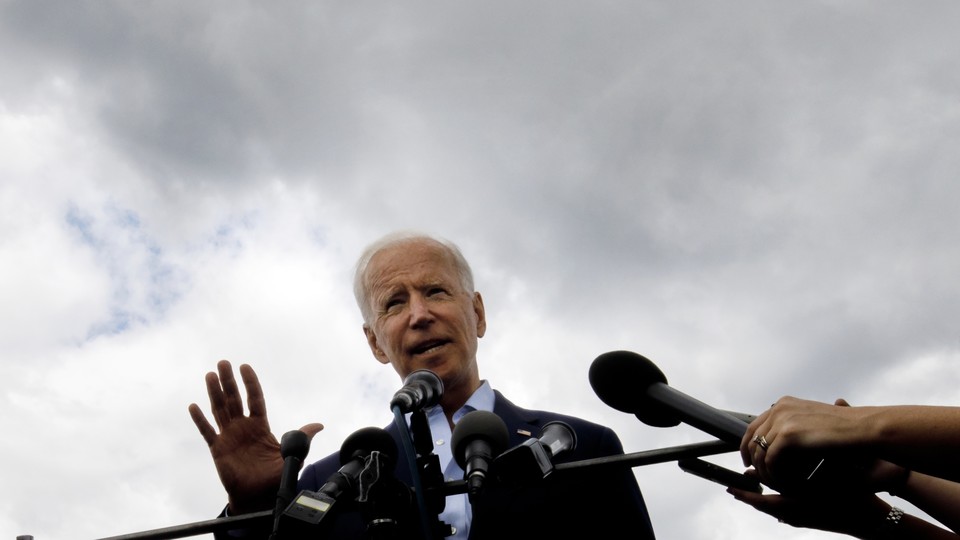 Like so much else in American politics these days, Joe Biden's current standing in the Democratic primary has a lot to do with Donald Trump.
The former vice president has Trump to thank for terrifying Democratic voters and making so many of them care about "electability"—a word that was once too wonky even for insider political shows. He has Trump to thank for making his political liabilities seem small in comparison with the president's. Biden's supporters, and even occasionally his campaign aides, fall back on this argument in defense: It's not as bad as Trump. On the trail, Biden often misspeaks and gets facts wrong, but Trump's lies as president are almost without precedent. And while a number of women have stepped forward to say Biden's touching or invasion of personal space made them feel uncomfortable, two dozen women have accused Trump of sexual assault, and in the spring, the writer E. Jean Carroll accused him of thrusting himself on her in a Bergdorf Goodman dressing room.
Last election, Trump led nearly every poll before he clinched the nomination, and hardly anyone believed he'd actually end up as the Republican Party candidate. Attacks from all sides bounced off him. As with Trump in the fall of 2015, a huge field of primary contenders are waiting for Biden to collapse.
As 10 candidates head to Houston for the party's third primary debate, tomorrow night, aides on multiple other campaigns tell me they hadn't anticipated Biden's resiliency, and many admit they don't know quite what to do about it. They never counted on it being so hard for the race to move away from a 76-year-old who's lost two other presidential campaigns, with a long record full of potential hazards and a history of putting his foot in his mouth.
But many Democratic voters don't just have PTSD from 2016—they have a daily, constantly refreshed panic about 2020. To these voters, it's understandable why the prospect of Uncle Joe, wrapping his arm around America and saying it's going to be all right, resonates deeper now than it did when Biden and top aides started privately laying out a potential campaign pitch more than two years ago, still early into Trump's first term.
"It's a huge help for him that he's running against someone so controversial," Elizabeth Thayer, a 28-year-old from Litchfield, New Hampshire, told me last Saturday. She was waiting to see South Bend, Indiana, Mayor Pete Buttigieg at a picnic in a park in Manchester.
Biden has expressed annoyance over the past few months that people keep expecting his campaign to collapse. "You all said I was going to fail from the beginning. You said, 'Biden is going to start off, and he's going to plummet,'" he said on his second trip to Iowa in June, pointing at me. (As I told him then, I hadn't said that, though it's true I'd reported that other people had said it.)
His campaign isn't coy about how much he owes to Trump. In a conference call with reporters last week, a person who, according to the ground rules set for listening, could be identified only as a "senior campaign official" said, "We think voters are really in a serious mood," adding, "the fear about [Trump] being reelected is deep, and it's defined." This person insisted that the campaign's research shows that voters are inclined to choose Biden for his character and sense of stability, not just because he's a guy who can beat Trump. "Probably the most common word used to define Trump these days is erratic," the senior campaign official said. "Four years ago, the most common word to describe Trump was disruptor … It's a totally different calculation. It's actually a very complicated and detailed assessment that voters have."
Senator Elizabeth Warren of Massachusetts, in her Saturday-afternoon address to the New Hampshire Democratic Party convention in Manchester, made a clear dig at Biden. "There is a lot at stake, and people are scared. But we can't choose a candidate we don't believe in because we're scared," she said. "I am not afraid, and for Democrats to win, you can't be afraid, either." The hundreds of volunteers Warren's campaign bused in to cheer for her as she took the stage chanted, "Win with Warren!"
As Trump and Senator Bernie Sanders of Vermont showed in 2016, crowd size and enthusiasm matter. So far, Biden's reception on the trail is far behind what Trump's was last cycle. Trump appealed to people because there had never been anything in modern American presidential politics quite like him; Biden is appealing because he's just like everything that's come before. There are no helicopters or planes with Biden's name on them. Voters feel connected to Biden, if not necessarily fascinated by him. His crowds continue to be modest, subdued, and older, and he tends to repeat almost the same exact lines at every stop—"This is a battle for the soul of the nation" and "America is an idea," to name two. He recounts the story he's been telling since running with Barack Obama (and for years before that) about how his father had a saying: "Show me your budget, and I'll tell you what your values are."
I asked Mary Beth Walz, a New Hampshire state representative, to compare Biden and Warren. "Elizabeth Warren talks about her past to talk about why she would do what she wants to do," Walz said. "He talks about the past to reminisce."
On Saturday afternoon, after most of the candidates had spoken at the convention, I asked Ralph Fuell, a 70-year-old delegate from Warner, New Hampshire, whether he thought Biden's resilience could be attributed to how scared people are. "That's probably half of it," Fuell said. The rest, he added, is being well known.
"He's familiar," said Laryssa Rod from Somerville, Massachusetts. Rod had also been at the convention and was wearing a T-shirt that read Literally Anybody Else. "Everybody's terrified that Trump's going to get reelected," she added. Rod said she's a big Warren supporter, though she was waiting to see Buttigieg at the picnic, too.
In the meantime, Biden's rivals are holding on to a more hopeful history, like the one former Senator Gary Hart of Colorado laid out over the weekend in New Hampshire, thinking back on his 1984 Democratic-primary run against Walter Mondale, which started with a New Hampshire–primary win and went on to include victories in two dozen other states before he ultimately lost the nomination. (Three years later, viewed as the front-runner, Hart was brought down by reports of an extramarital affair.)
"I was running against a former vice president in New Hampshire and elsewhere," Hart told reporters in Manchester, as he endorsed the long-shot candidacy of Senator Michael Bennet of Colorado, which is premised on Biden collapsing. "People at that time were looking for new leadership. And I think they are doing that today." Hart's history is correct, though Mondale did still go on to win the nomination … and then rack up the biggest Electoral College loss ever to Ronald Reagan, losing everywhere except Minnesota and Washington, D.C.
The real worry among many Democrats isn't that Biden is like Trump—it's that he's like Hillary Clinton, and pretty much every other safe choice who observers thought would obviously win. Democrats have nominated outgoing or former vice presidents three times since World War II—Mondale, Hubert Humphrey, and Al Gore—and each time, those candidates lost.
Not so subtly over the past few days, Buttigieg has started to point out the appeal of young outsiders.
"Every time our party has gone for the most familiar, most famous, most established name out of Washington—every single time we've done that, we've come up short," he said at the picnic he hosted on Saturday. "On the other hand, when Democrats put forward somebody who speaks with a new language, who is not so tied up in the old way of doing things, who maybe hasn't spent quite so much time marinating in Washington, and speaks for a new generation, that's when we win."