Impeachment Will Take Trump to a New Frontier of Haterdom
Victimhood is at the core of the president's identity—and it's likely to shape his approach to the coming battle.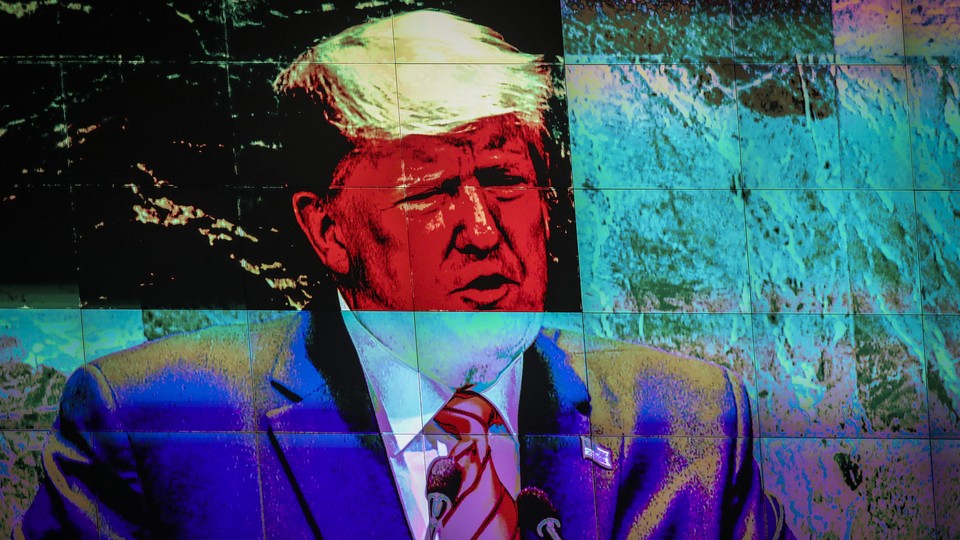 As the most dire political crisis of his presidency unfolded this week, Donald Trump seemed to wallow even more than usual in his own victimhood.
On Twitter—the premier platform for presidential wallowing—he ranted (again, and again, and again, and again) that the House Democrats pursuing an impeachment inquiry were engaging in a "witch hunt," a "scam," a campaign of "harassment." Since 7 a.m. ET this morning, he's attacked CNN (for misunderstanding his use of punctuation), a pair of reporters at The New York Times and The New Yorker (for treating him unfairly), and Representative Adam Schiff of California (for allegedly lying about him). At another point this week, Trump declared, "There has been no President in the history of our Country who has been treated so badly as I have."
Some amateur history buffs, including my colleague Peter Nicholas, chose to quibble with the accuracy of this claim, noting that perhaps the four U.S. presidents who have been assassinated in office might beg to differ. But the sentiment Trump was expressing runs to the core of his identity—and it's likely to shape his approach to the coming impeachment battle.
In the story Trump tells himself, he is a man continually besieged by a cabal of jealous insiders determined to destroy him. This conspiracy of saboteurs has taken different forms over the course of his career. When he was an outer-borough real-estate scion trying to make it in Manhattan, the bad guys were the city's sneering blue bloods, who didn't invite him to their parties and rolled their eyes at his theatrics. Then it was the bankers who refused to lend him money, and the media snobs who made fun of his short fingers, and the party hacks who refused to support his presidential-primary bid, and the "deep-state" bureaucrats who tried to subvert his administration.
These "haters," as he likes to call them, loom large in Trump's imagination. Every failure he suffers is their fault; every success he enjoys is in spite of them. And nothing—not even his initiation into America's most exclusive fraternity—can seem to ease his fear that there exists an even more elusive inner sanctum where his enemies are plotting to keep him shut out.
This odd form of presidential status anxiety gnaws at Trump even in the best of times. As I've written before, he tends to lash out most dramatically in moments of triumph, when he feels he's being denied the respect and acclaim he's owed. After formally accepting the Republican nomination in 2016, he embarked on a bizarre and bitter feud with Khizr and Ghazala Khan, Gold Star parents who had criticized Trump's treatment of Muslim Americans. After being sworn in as president, he descended into a seething obsession over the size of his inauguration crowd. ("You just won the biggest trophy in the world—who cares how many people were standing there to watch you get it?" one former Obama-administration official said to me at the time.) And as he approached his 100th day in office, Trump sent White House officials scrambling to manufacture a last-minute legislative achievement he could cite.
As his presidency has progressed, the victories have become fewer and farther between while the din of disapproval has grown louder. Still, for Trump, the threat of impeachment represents a new frontier in haterdom—and it seems likely to deepen his sense of personal grievance. If history is any guide, Americans can expect even more volatile behavior from a president already prone to volatility.
But that volatility doesn't necessarily mean he'll lose in 2020. Much of Trump's political success has come from his ability to translate a lifetime of personal snubs and slights into something that sounds like populism on the stump. He has a knack for turning his own hurt feelings at the hands of "the elites" into base-rallying war cries that resonate with the MAGA faithful. Already, it appears his campaign is experimenting with ways to capitalize on Trump's impeachment-related insecurities.
On Tuesday evening, Trump tweeted a slickly packaged video featuring an array of prominent Democrats talking about impeachment. At the end of the ad, the screen fades to black as an all-caps (and apostrophe-free) message appears: WHILE DEMOCRATS "SOLE FOCUS" IS FIGHTING TRUMP, PRESIDENT TRUMP IS FIGHTING FOR YOU.