How Impeachment Is Testing Trump's Focus
The president's first address to the UN was full of fire and fury. Now, as he faces an impeachment inquiry, that tone is gone.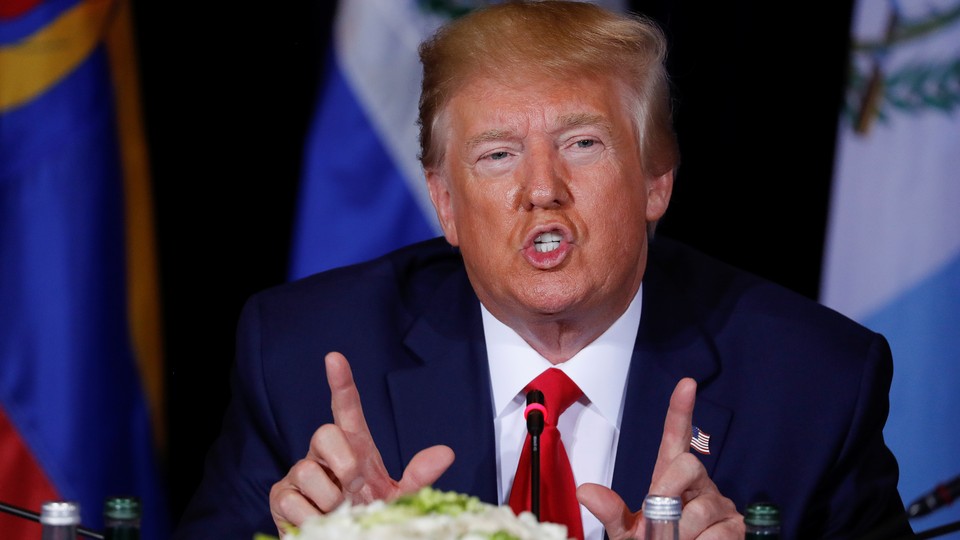 Updated at 7:12 p.m. ET on September 25, 2019.
Two years ago, an unpredictable and untested new president gave his first speech at the United Nations General Assembly and left the impression that he might just start World War III.
So incensed was President Donald Trump over North Korean missile tests that he threatened nuclear annihilation unless its leader, Kim Jong Un, pulled back. Mocking Kim, Trump said in his address: "Rocket Man is on a suicide mission for himself and his regime." The bellicose tone is now gone, as Trump's presidency enters a new phase defined by a slow-rolling House impeachment inquiry that has suddenly gained traction.
In his third appearance at UNGA, Trump is a diminished president whose political survival is in question and whose attention is fixated elsewhere. House Speaker Nancy Pelosi's announcement yesterday that she supports an impeachment inquiry has overshadowed the UN conclave and has left Trump rattled. At a news conference this afternoon, he tried to shame reporters into asking questions about the economy and global affairs instead of about the events that have consumed Washington. Yet over and over, he returned to the threat jeopardizing his presidency.
"I thought we won. I thought it was dead. It was dead," he said, recalling Special Counsel Robert Mueller's investigation, which closed without Trump facing any charges that he had obstructed justice or colluded with Russia in the 2016 election.
But a new peril of his own making has emerged. As Trump led a meeting today devoted to conditions in Venezuela, the White House released internal notes of his phone call with his Ukrainian counterpart in July in which he called for an investigation into the 2020 Democratic presidential front-runner, Joe Biden.
The notes show that Trump brought up Biden unprompted. He then made reference to what he and his outside lawyer Rudy Giuliani have sought to spotlight in the run-up to the 2020 election: Biden's efforts to oust a Ukrainian prosecutor, and his son Hunter Biden's work with a Ukrainian energy company. Biden had wanted the prosecutor dismissed as part of a broader push against corruption in Ukraine, and no evidence has emerged of any wrongdoing on the part of the Bidens.
"Biden went around bragging that he stopped the prosecution so if you can look into it … It sounds horrible to me," Trump said in his conversation with Ukrainian President Volodymyr Zelensky. "I will have Mr. Giuliani give you a call and I am also going to have Attorney General [William] Barr call and we will get to the bottom of it."
Democrats recoiled at the conversation. Representative Adam Schiff of California, the chairman of the House Intelligence Committee, tweeted that Trump sounded like a "mob boss" sending a message that was unmistakably "a shakedown."
At the news conference, Trump said he had done nothing wrong and that he'd applied "no pressure" to Zelensky. Trotting out lines he used to discredit the Mueller investigation, he called the new probe "a hoax." Earlier in the day, Trump sat side by side with Zelensky at a bilateral meeting. What was supposed to be a routine photo opportunity turned into a joint news conference of sorts. Speaking in English, the Ukrainian leader, a onetime comedian and actor, said that he hadn't felt pressured by Trump to look into the Biden family.
"It was normal; we spoke about many things," Zelensky said. "So I think, and you read, that nobody pushed me."
Trump jumped in: "In other words, no pressure." Yet seconds later, he signaled that he still wanted Zelensky to probe the Biden family. "I want him to do whatever he can," Trump told reporters.
Republicans are largely standing by Trump, as my colleague Elaina Plott has reported. If the House votes to impeach him, the Republican-controlled Senate would conduct a trial, with a two-thirds vote needed to convict. Only minor fissures in the GOP ranks have emerged so far. Republican Senator Mitt Romney of Utah, in an appearance today at The Atlantic Festival in Washington, D.C., said he had read the White House's rough notes on the Trump-Zelensky call and found them "deeply troubling." Yet another Republican senator I talked with today, who spoke on the condition of anonymity to discuss private conversations, told me that his GOP colleagues are "giddy" and see "nothing incriminating" in the notes.
Governance has never seemed to much absorb Trump. He appears to measure the joys of the office in crowd sizes, stock-market spikes, and anything that smacks of a victory over political adversaries. But the impeachment inquiry will test whether he can maintain some sustained focus on the task at hand. His performance thus far at UNGA suggests he'll have a tough time of it. Yesterday morning, he phoned Pelosi to talk about gun-safety measures, but the talk quickly moved from guns to a whistle-blower complaint arising from Trump's conversation with Zelensky, a person familiar with the matter told me, speaking on the condition of anonymity to talk more freely about sensitive conversations. The administration had initially refused to give Congress the complaint, but Trump relented and released it this afternoon. Democratic lawmakers who saw it later told reporters that it was serious and unnerving.
Throughout the UN meetings themselves, Trump struggled to keep his attention on his foreign-policy agenda. During a break in the conference yesterday, the president went home to his apartment in Trump Tower for what his aides called "executive time" and sent out a series of tweets complaining about his treatment. Resurrecting the sense of grievance he nursed throughout the Mueller investigation, he tweeted: "PRESIDENTIAL HARASSMENT!"
He's been back at it all day. Trump tweeted this morning that no president in history "has been treated so badly as I have." (Four presidents were assassinated in office, and three others faced impeachment.) And amid meetings with leaders of France, Germany, and Japan, he happily tweeted that various TV-news correspondents had read the call notes and didn't see a quid pro quo—an offer of military or economic aid in exchange for an inquiry into Biden. (That's not necessarily the issue. Federal law prohibits anyone from soliciting something of value from a foreign national in the context of an election, legal experts have told me. They've also raised questions about whether Trump's conduct amounts to extortion or, more broadly, an abuse of power.)
As the impeachment fight plays out, Trump might find his stature shrinking in the eyes of foreign leaders. His party lost control of the House in the 2018 midterm elections, and polls show him losing to top 2020 Democratic candidates. In his address yesterday, Trump sounded like a president the world didn't need to fear. There was more conciliation than fire and fury. In June, Iran downed a U.S. drone, and American officials blame Tehran for orchestrating the attack on Saudi Arabian oil facilities.
Trump's message: intense sanctions, but decidedly less venom than he once directed toward Kim.
"America knows that while anyone can make war, only the most courageous can seek peace," he said. America "has never believed in permanent enemies. We want partners, not adversaries." But at home, as he looks toward the Democratic-controlled House, his legislative agenda stalled, he sees enemies, not partners.
For a president to wage war, he needs to build international coalitions and rally the citizenry. It's a task that calls on him to draw upon reserves of credibility. Trump may no longer be able to pull it off. His preoccupation at this point is saving himself.