The Impeachment Summer That Wasn't
Despite impeachment efforts from progressive activists, most of the Democrats who flipped GOP seats in 2018 aren't ready to go there.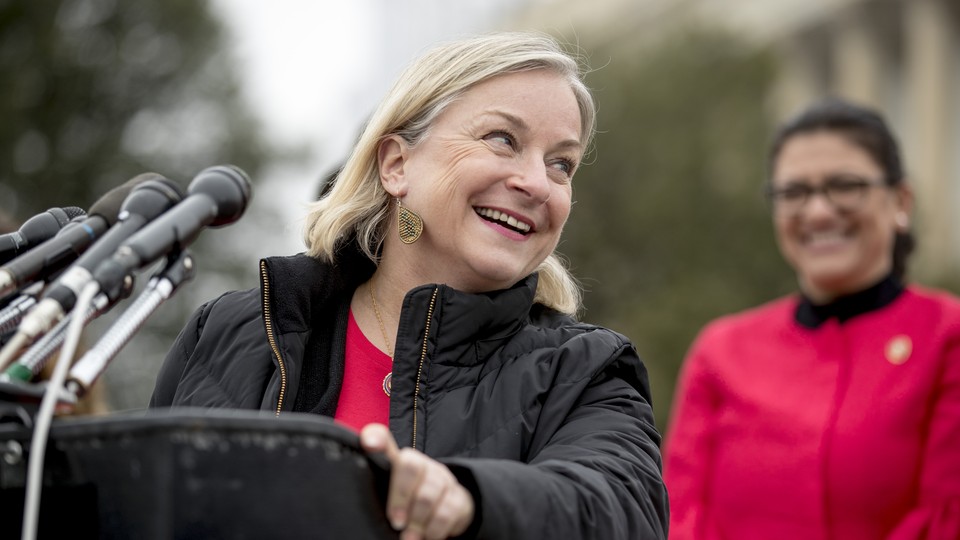 SCHNECKSVILLE, Pa.—Representative Susan Wild isn't ready to impeach the president, and until she is, impeachment probably isn't happening.
Wild is a 62-year-old lawyer who won her first race for Congress in November to capture a district in Pennsylvania's Lehigh Valley that Republicans had held for the past 20 years. Last Wednesday, a couple hundred of the citizens who sent her to Washington gathered at a local community college to hear their representative tell them why she doesn't want to oust Donald Trump from the White House—at least not yet.
Wild has held town-hall-style meetings about once a month since she took office, but her staff was expecting this to be the largest—about 300 people had RSVP'd to the event.
It's not that Wild is a particularly powerful rookie lawmaker. She's a low-key moderate who, unlike some of her more outspoken, famous freshman colleagues, hasn't really made a name for herself yet in the Capitol. She isn't a member of the party leadership. She doesn't sit on the House Judiciary Committee, which says it is now formally investigating whether to recommend articles of impeachment against President Trump. The only vote Wild controls is her own.
But Democrats begging for an effort to remove Trump from office will have to get members like Wild—a so-called majority maker—on board with the plan. Though she won her 2018 race by 10 points, her reconfigured district is one of the most closely divided in the country; voters in the territory Wild represents supported Hillary Clinton over Trump by just a single point in 2016.
On the question of impeachment, Wild simply doesn't think Democrats have made a good-enough case—at least so far.
"I'm just not there yet," she told her constituents at the town-hall meeting last Wednesday night. Wild was a litigator before she came to Congress, and she described her position as a lawyer considering whether to bring a prosecution.
"You don't want to try a case where the facts are not all lined up and you're not ready with the evidence you're going to introduce," she said. "I don't believe we are there at this point in time, and that's why I have not come out to say that I think we should be moving forward with impeachment."
Progressive activist groups had big plans for the August recess, hoping that grassroots pressure from constituents would push fence-sitting House Democrats to come out for impeachment and prod Speaker Nancy Pelosi to move against Trump this fall. A trio of organizations—Indivisible, Need to Impeach, and Stand Up America—had jointly set up a website, ImpeachmentAugust.org, to help activists find town halls and district meet-ups where they could lobby their members of Congress. "It is the right thing to do, and our members agree," Meagan Hatcher-Mays, Indivisible's director of democracy policy, told me in a recent interview. "That's why [midterm voters] flipped the House. They flipped the House because they wanted Donald Trump to be held accountable.
"Impeachment is really that final level of accountability," she said. "There's really no more information-gathering you need to do to know that the time has arrived to do it."
As the recess began, impeachment-backers had some reason for optimism. Despite former Special Counsel Robert Mueller's underwhelming performance during his congressional testimony in July, support for impeachment had been steadily building among Democrats this summer. On August 8, House Judiciary Committee Chairman Jerry Nadler publicly acknowledged for the first time that his panel's investigation of Trump constituted "formal impeachment proceedings." By the beginning of August, a majority of the Democratic caucus had come out for at least starting the impeachment process, including several committee chairmen and two members of the party's leadership team: Assistant Speaker Ben Ray Luján of New Mexico and Vice Chairwoman Katherine Clark of Massachusetts. They scored another big get when Representative Lauren Underwood of Illinois announced her support for launching an impeachment inquiry. Like Wild, Underwood represents a suburban district that had previously been long held by Republicans, and she's considered even more at risk of losing her seat next year.
Yet a large gap remains between the 134 House Democrats—plus one independent, the ex-Republican Representative Justin Amash of Michigan—who support an impeachment inquiry and the 218 votes needed to actually pass articles of impeachment and prompt a trial in the Republican-controlled Senate. Dozens more Democrats will have to declare their support to force Pelosi's hand, and the path to a majority likely runs through purple districts like Wild's.
Wild's town hall at a community college was the kind of event that Impeachment August was created for—a large, public forum where activists could show, with signs, speeches, and sheer passion, how urgently they wanted their representative to try to get Trump out of office. This was Wild's only town hall of the August recess, and she was expecting impeachment to come up.
Rather than having attendees line up behind microphones, Wild's staff had asked constituents to write their questions on notecards for a moderator—Ann Bieber, the college's president—to read aloud. This format allows a member of Congress to address more topics over the course of an hour-long event, but it also minimizes the opportunity for angry constituents to harangue their representative and create a viral moment that an opponent would use in a campaign ad.
Wild didn't have to wait long—an impeachment question came flying her way before she even got a chance to introduce herself. "Why have you not come out for—" Bieber began to ask, reading from the first notecard, before Wild cut her off. The crowd chuckled, knowing that the next word was going to be impeachment.
Wild made some introductory remarks, noting bills she had introduced and her work on the Education and Labor Committee. Then she asked Bieber to read the first question again.
"Why have you not come out for impeachment?"
"All right," Wild replied. "I'm glad that question was asked. I would have addressed it even if it hadn't been, but I was fairly certain that it would be raised." The crowd laughed again.
Wild noted that she received messages every day from constituents on both sides of the issue. "Any of you who ever heard me on the campaign trail heard me say that I'm not one to jump on a bandwagon on any issue," she said. She added that while she wasn't supporting impeachment now, she hadn't ruled out "either coming out for it or voting for it if I am satisfied that the evidence is there." The crowd applauded politely. No one booed, held up signs, or stood up in protest. Over the next hour, Wild answered 27 other questions, including multiple inquiries about gun laws, education, health care, and the environment. Impeachment never resurfaced. "I was kind of surprised there wasn't more of a protest," Wild told a group of reporters after the event.
The audience was mostly an older crowd, nearly entirely white, and while it included some Republicans, generally supportive of Wild. In interviews, attendees expressed the same mix of views on impeachment that the congresswoman told reporters she had been hearing all summer. Sara Whildin, a 72-year-old librarian, told me she had come to the town hall to see whether Wild would come out for impeachment. "From my point of view, she's been slow to move in that direction," she told me. "I do think there's a principle to uphold here."
Others weren't so sure. "I think the investigation is the right way to go," Steve Meholic, 69, a retired tech salesman, told me. As for impeachment, he said: "I think it's too late—unless he's reelected."
Keri Burrows, a 68-year-old adjunct professor, was similarly ambivalent. "I think we're getting to the point where it's a valid option," she told me. But Burrows, a Democrat, said it wasn't Trump's actions in the Russia investigation that most bothered her—it was the administration's treatment of children at the border. "It's more that he's a disgusting excuse for a human being," she said, "which is not really grounds for impeachment."
Impeachment has come up at town-hall events throughout the country, and activists from Indivisible and other groups have demonstrated at the offices of holdout lawmakers. When Wild's staff counted the approximately 80 questions that constituents at her Schnecksville meeting had submitted, it found that 10 were about impeachment—more than any other subject.
About 125 miles east of Schnecksville, in Forked River, New Jersey, a suburb just inland from the Jersey Shore, another freshman Democrat, Representative Andy Kim, held his own town hall on the next night. Kim had already held two other such events in August, and at one of them, a group of constituents began shouting at the 37-year-old lawmaker to back impeachment.
That town hall, however, had taken place in the more liberal area of Kim's district, closer to Philadelphia. On this Thursday evening, he had gathered residents in the cafeteria of a middle school primarily to discuss the decommissioning of a nearby nuclear plant. Outside the school, a small group of demonstrators held up signs. But they weren't urging Kim to support impeachment—they were there to pressure him to back Medicare for All.
"Medicare for All is way more important than impeachment," Tom Cannavo, a 59-year-old retiree, told me.
Kim defeated Republican Representative Tom MacArthur by just four percentage points last year, and like Wild, he's not yet supporting impeachment. Though the Forked River event was devoted to discussion about the nuclear plant, a few attendees were frustrated that other issues didn't come up.
"I would like to hear him say he's getting on the impeachment train," Chris, a woman in her mid-50s who declined to give her last name, told me. "I know I won't hear it, but I would like to."
She told me Kim is "between a rock and a hard place" because most of his constituents don't support impeachment. "I don't fault him for his position. I understand it completely," Chris said. "It's not gonna change my vote."
Both Kim and Representative Mikie Sherrill, another New Jersey Democrat who won last year in a formerly GOP district, have faced questions at town halls about impeachment. More frequently, however, constituents have asked them about gun laws, particularly following two mass shootings in El Paso, Texas, and Dayton, Ohio. "Gun safety has been by far the top issue I've heard about this August," Kim told reporters after the town hall in Forked River.
It's also a push the Democratic leadership is embracing, backed by polling that shows strong majorities support legislation to close loopholes in the background-check system.
The party's impeachment investigation is proceeding on a far slower track, and that, too, is reflected by public opinion. Just 41 percent of voters backed even launching an inquiry in a Monmouth survey last month, and fewer still supported removing Trump from office.
Progressive activists were hoping a month's worth of demonstrations might change that trajectory and move a critical mass of Democrats to the impeachment column. What they got instead was a muddle—a mix of voices and opinions that underscored the lack of consensus around an issue that has vexed the House Democratic majority like few others. And rather than challenge the reluctance of majority makers like Wild, Kim, and Sherrill to join the drive to oust the president, the absence of a clear mandate from their constituents likely reinforced their desire to sit it out.