The Risks of Impeachment Are Overblown
The release of an internal whistle-blower complaint about President Trump's relationship with Ukraine immediately appeared to harden House Democrats' determination.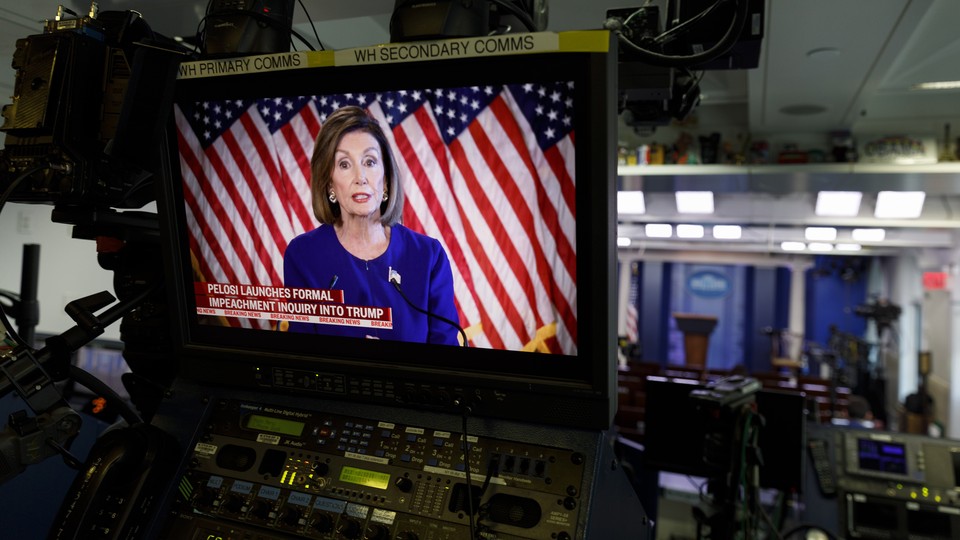 For months, the biggest hurdle for Democrats pushing the House to open impeachment proceedings against Donald Trump was the party leadership's concern that such a process would politically endanger the members at the far edge of their majority, especially the 31 representing districts that voted for the president in 2016.
But there's considerable evidence—both in contemporary polling and the experience of former President Bill Clinton's impeachment—that impeaching Trump might not be nearly as risky as it's been portrayed for them.
In 1998, Clinton's impeachment hit Washington, D.C., like a nuclear weapon, obliterating all other political concerns for months. But its blast radius, measured in its impact on voters beyond the capital, proved surprisingly modest in both the 1998 and 2000 elections. That precedent suggests that even a House vote to remove him might not radically change the 2020 political equation for either side.
The movement of some Trump-district Democrats toward impeachment—particularly the four first-term congresswomen who joined three other members on Monday in a stinging Washington Post op-ed supporting an investigation—triggered the avalanche inside the party that convinced Speaker Nancy Pelosi to endorse an inquiry on Tuesday. The shift followed the revelations that Trump pressured Ukrainian President Volodymyr Zelensky to investigate former Vice President Joe Biden, a leading contender for the 2020 Democratic nomination, over his son's business dealings in the country. This morning's release of the internal whistle-blower complaint that ignited the controversy—with its charges that White House officials tried to hide evidence and that administration officials signaled to Ukraine that interaction with Trump was conditional on the country opening an investigation into Biden—immediately appeared to harden the determination of House Democrats to move toward impeachment.
Despite the cascade of new revelations damaging to Trump, some Democratic strategists focused on holding the House still privately worry that impeachment could endanger too many of the members from districts that divide closely between the parties or lean Republican. That's been the dominant perspective at the Democratic Congressional Campaign Committee, which is chaired by Representative Cheri Bustos, who herself represents an Illinois district Trump won in 2016. Yet other party strategists now see a pathway to expanding support for impeachment, which a majority of Americans have consistently opposed in polls, or at least neutralizing any recoil against it.
"If voters see this as being about significant abuses of power and serious attempts to undermine the rule of law, then I don't worry particularly about a backlash against Democrats who vote for impeachment," says the longtime Democratic pollster Geoff Garin. "If it is seen purely as a partisan exercise, the answer may be different. But I have a good level of confidence that it will not be seen that way, that the moderates in the Trump districts who eventually support impeachment will be seen as having done so for serious and sober reasons."
Much of the Democratic concern about the impact on more vulnerable members is rooted in misperceptions about what happened after the House Republicans impeached Bill Clinton on two counts. As I've written before, the GOP did pay a price for that decision. In the November 1998 election, a month after the GOP majority first voted to authorize the impeachment inquiry, Democrats gained five seats in the House. That was the first time a president's party had won House seats in the sixth year of his term since Andrew Jackson's administration in 1834.
But those gains weren't enough to cost Republicans control of the House. The GOP won a majority of the nationwide popular vote that year. Just 17 seats changed hands between the parties, at the time the smallest shift ever in a midterm election, according to a study by Gary Jacobson, a UC San Diego political scientist who specializes in Congress. With the economy humming, only six incumbents in the two major parties were defeated, and the average margin of victory for incumbents in both parties increased substantially. "The voters," Jacobson wrote at the time, "delivered a ringing endorsement of the political status quo."
All of this came at a point when impeachment faced about as much resistance in public polls as it had before the Ukraine revelations, and with Clinton's job approval rating about 20 percentage points higher than Trump's is today.
Despite their losses in November 1998, Republicans barreled ahead and impeached Clinton on a virtually party-line vote that December, though the idea remained deeply unpopular in the polls.
Yet in 2000, with the economy remaining strong, congressional incumbents in both parties enjoyed another good year. Once again, only six incumbents were defeated in the general election and only 17 seats changed hands between the parties. Republicans again won the national popular vote and narrowly maintained control of the House. And, if anything, disappointment over Clinton's behavior provided a tailwind for the GOP's 2000 presidential nominee, George W. Bush, who centered his winning campaign on a promise "to restore honor and dignity" to the Oval Office.
Even more relevant to today's political calculations than these overall results may be the experience of House Republicans who represented districts that voted for Clinton in 1996, the equivalent of today's Trump-district Democrats. In an era when voters split their ballots more often, there were many more of these split-district members: Ninety-one of the House Republicans in office in 1998 represented seats that backed Clinton two years earlier. In a three-way race involving GOP nominee Bob Dole and the independent Ross Perot, Clinton had won a majority of the vote in 30 of those seats and a plurality in 61 more.
In the march to impeachment in the 1990s, many analysts (myself included) questioned whether enough of those Republicans would vote to, in effect, nullify the decision their constituents had made two years earlier in electing Clinton. But when the House considered impeachment in December 1998, almost all of them voted for at least one of the two articles of impeachment that the chamber approved. (Just four House Republicans, each of them representing districts that voted for Clinton, opposed both articles.)
And then, after effectively voting to cancel out their constituents' presidential votes, almost all of the Clinton-district Republicans who sought reelection won it in both 1998 and 2000.
There were exceptions: Clinton-district Republicans constituted four of the five GOP incumbents defeated in 1998, according to results provided to me by the Brookings Institution's Vital Statistics on American Politics project. Two years later, in the 2000 election, all four of the GOP incumbents who lost represented Clinton-winning districts, according to the project's data. (One of them was elected in 1998, and thus did not vote on impeachment.)
But, taken together, that means that over two election cycles, voters ousted just seven of the 91 Republicans from Clinton-supporting districts who had voted on impeachment. (A few others retired over those two cycles.) Jacobson says Clinton's impeachment, while unpopular, still probably hurt Democrats somewhat more than Republicans in 2000, though it didn't have a big impact either way. "You can argue at the presidential level it was an issue, in the sense there was some Clinton baggage—Clinton fatigue, as people talked about it," he says. "But it did not reverberate down the ticket at all."
Former Virginia Representative Tom Davis, who chaired the National Republican Congressional Committee during both the 1998 and 2000 elections, says he believes a backlash against impeachment cost only three Republicans their seats, all in 2000: Jay Dickey, who represented the district in Arkansas that included Clinton's hometown of Hope; Brian Bilbray, who lost to Democrat Susan Davis in a San Diego, California–area seat; and James Rogan, who helped manage the House's impeachment case during the Senate trial. Rogan lost one of the country's most expensive and closely watched races to a young Democrat named Adam Schiff—who is, coincidentally, now one of the leading members investigating Trump as chair of the House Intelligence Committee. With those exceptions, Davis says, "there was no punishment" for impeachment.
Yet Davis thinks Democrats in Trump-leaning districts could face more risk, simply because politics has grown more polarized and tribal in the two decades since Clinton's impeachment. "The parties are more ideologically sorted than they were before," says Davis, now a lobbyist in Washington. "Second, Trump is a personality cult, so I think his people take this a little more personally. And the third thing is [closer] proximity to the next election" than the December 1998 impeachment vote was.
The other big difference is that, unlike Clinton, Trump will be on the ballot in 2020 (absent the unlikely event of enough Senate Republicans voting to remove him from office if the House does eventually impeach him.) "There is no escaping Trump," says Sarah Binder, a senior fellow in governance studies at Brookings. "He is the 800-pound elephant … There is no escaping his relevance to this election. It just seems that might be quite different than what happened in 2000 once you had Clinton departing from the scene."
Yet Binder is one of many analysts who think Trump-district Democrats could face only modest risks even if the House does impeach him. That's partly because she thinks the Ukraine allegations are easier for voters to comprehend than the complex, carefully hedged report on Russian interference in the 2016 election produced by Special Counsel Robert Mueller. "These folks in these districts—they have a little bit of wind in their back because the Ukraine issue seems a little more tangible, a little more understandable," she says.
Other analysts point to Trump's uncertain position even in the Democratic-held districts that he carried. Trump was hardly a colossus in those 31 seats in 2016: He exceeded 51 percent of the vote in only six of them, and reached 50 or 51 percent in just seven more. He beat Hillary Clinton while drawing less than half of the total vote in the other 18 of those seats.
That distinction hasn't escaped the Democratic members in those districts: By the time Pelosi made her announcement on Tuesday afternoon, 10 of the 18 Democrats from districts where Trump won with less than half of the vote had endorsed an impeachment inquiry. By comparison, at that point, only four of the members from the 13 Democratic-held seats where Trump did reach a majority had joined the call for impeachment proceedings, according to the tracker maintained by Politico.
After starting in such an equivocal position in many of these districts, Trump's position appears to have eroded since 2016. A recent round of polls conducted for a consortium of Democratic groups placed Trump's approval rating below 45 percent in several of the Democratic districts he won, and above 50 percent in only one: the Oklahoma City seat of Representative Kendra Horn, according to figures provided to me.
The upcoming debate could create risks for Republicans too, in the states and House districts trending away from Trump, such as the concentration of suburban seats in Texas that Democrats are targeting. If impeachment reaches the Senate, Republican incumbents such as Susan Collins of Maine, Martha McSally of Arizona, and Cory Gardner of Colorado may be unlikely to vote to convict the president—which will bind them to him more tightly in states where his position is equivocal at best.
Privately, some Democratic strategists still worry that impeachment, by hardening partisan lines, may doom some of the Democrats in the most Trump-friendly districts—such as Horn or South Carolina's Joe Cunningham—even if they were to vote against it on the House floor. (Trump carried 53 percent of the vote in both districts last time.)
But few party strategists now worry that impeachment could create a widespread threat, partly because they believe the electoral balance in Trump districts is continuing to evolve away from the president.
"It may not be completely accurate to think of them as Trump districts any longer," says Garin, the Democratic pollster.
Nothing has made that conviction more apparent than the House Democrats from Trump districts who rushed this week to embrace the impeachment inquiry that they had long resisted.