Texas Is Changing—Quickly
The wave of House Republican retirements from the Lone Star State is exciting Democrats who want their party to compete more aggressively there.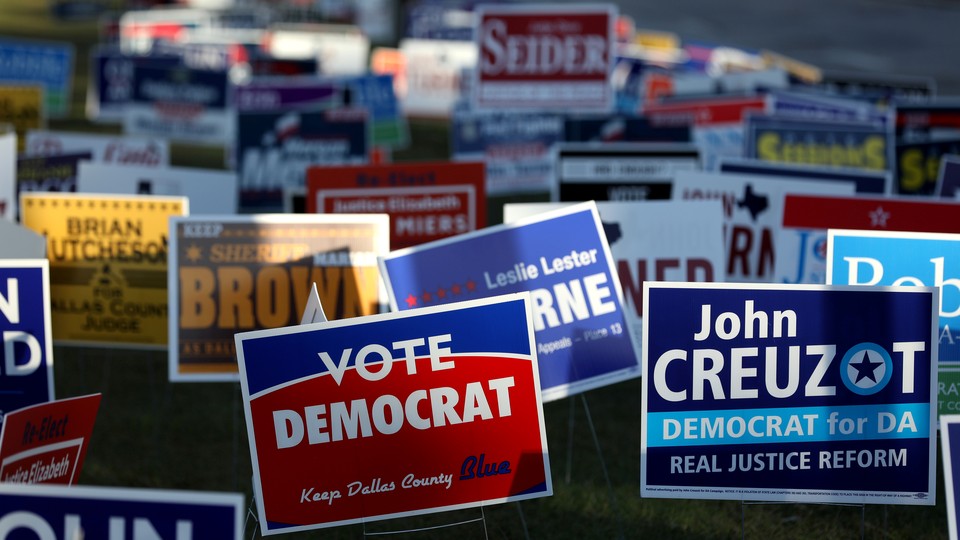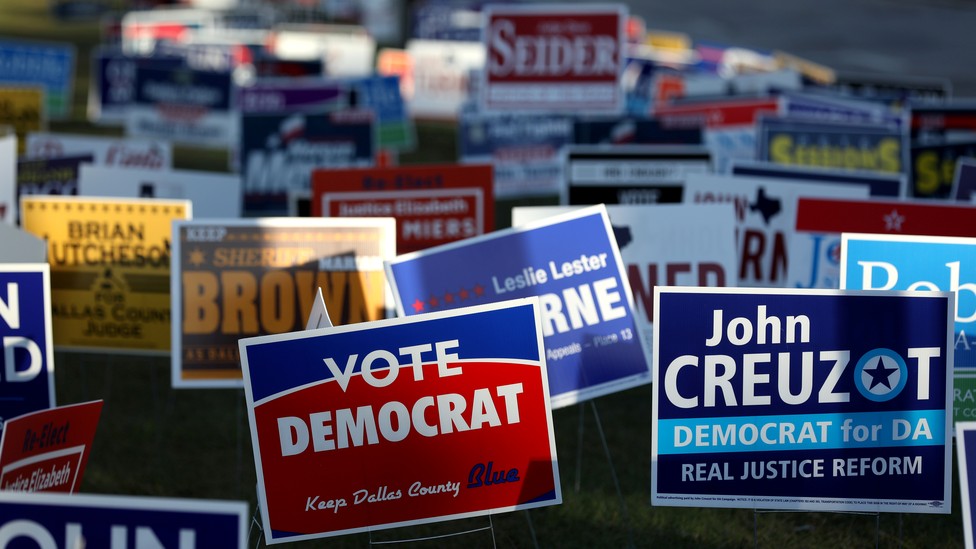 Updated on September 6 at 5:04 p.m. ET
Back in the fall of 1992, Bill Clinton, the Democratic presidential nominee, pressed his campaign manager to schedule a two-day bus tour for him across Texas, a state he believed was within his reach. The campaign manager resisted the idea: He said Texas was too hard to win, too expensive to compete in, and too much of a diversion from other states more likely to go for Clinton. The candidate got his way, but his top aides ultimately blocked a full-scale investment in the state.
Twenty-seven years later, that Clinton campaign manager, the veteran Democratic strategist James Carville, has a very different view about whether the party's next presidential nominee is going to mount a serious effort in Texas.
"I think of course they will," Carville told me on Wednesday after news broke about the latest Texas Republican to announce his retirement from the U.S. House. "They'd be crazy not to. You have to look at how fast the white vote in Texas is shifting. That's the story."
Not all Democrats agree, of course, that the party's presidential ticket should devote the time, money, and organizing effort required for the uphill quest to recapture Texas, a state no Democratic presidential nominee has carried since Jimmy Carter won 51 percent of the vote there in 1976. "It is just too expensive," said a senior adviser to one of the top Democratic presidential contenders, who requested anonymity to discuss internal strategy. "You would keep Arizona and Georgia in play first."
But the fact that Democrats are debating at all whether to contest Texas at the presidential level is a measure of how quickly politics are changing in the nation's second-largest Electoral College prize. Regardless of whether the Democratic nominee invests in Texas, the party is mobilizing a serious effort to win back the state House of Representatives, where Republicans now hold a nine-seat advantage; contest five or more Republican-held seats in the U.S. House; and challenge Republican Senator John Cornyn more formidably than it did in 2014. The continuing wave of congressional retirements among Texas Republicans—a "Texodus" that reached five in number on Wednesday with the announcement from Representative Bill Flores of Waco—has added to the sense that the state is becoming competitive once again after an extraordinary two decades of complete Republican control.
"Republicans seem to think the last cycle was an aberration," says Bill Miller, an Austin-based lobbyist who has run campaigns for politicians in both parties, referring to Democrats' improved performance across the board in Texas in 2018. "It wasn't an aberration. It was a cycle that indicated that change is coming and you will have to fight for dominance. It's not going to be handed to you. That's the lesson, the takeaway."
The fundamental force that has shaken the GOP's hold on Texas is that for the first time in decades, voters there are behaving in patterns familiar from other states. Democrats are showing gains in the state's diverse, well-educated metropolitan areas, even as Republicans retain a crushing lead in small-town, exurban, and rural areas, as well as some suburbs.
The significant Republican advantage outside of major cities has so far proved decisive in state elections. But the explosive gains for Democrats inside the metropolitan areas—driven by the twin forces exerting influence in other areas of the country, growing diversity and improved performance among college-educated white voters—have put the party within range for the first time in years. And while the state overall still clearly tilts toward the GOP, the places driving its population growth are those where Democrats are gaining, according to state demographers.
A one-party "yellow dog" Democratic state from the Civil War into the 1970s, Texas was closely contested between the parties through the 1980s and early 1990s. But in 1994, the young George W. Bush beat the tart-tongued Democratic Governor Ann Richards in her reelection campaign. His victory marked a decisive partisan shift: Democrats haven't won any statewide races in the Lone Star State since that year. They held on to the state House until 2002—one of Bush's selling points in his first presidential race was his ability to work with Democrats in the legislature—and since then Republicans have controlled every lever of state government. "It's been a full generation," Miller says.
That dominance was self-perpetuating as Democrats lost any dependable funding base and could not organize serious challenges in many races. "We didn't have any communication going to large chunk of voters during these years … and that snowballed on us," says Glenn Smith, a veteran Democratic strategist in the state. "As our volume on advertising and communication to Texas voters fell, we fell further and further behind in sort of a vicious circle downward."
Democrats tried an array of approaches to overcome the GOP advantage: In 2002, for instance, they assembled a "dream team" composed of the party's first Latino gubernatorial nominee, Tony Sanchez*; an African American nominee for U.S. Senate, Ron Kirk; and a prominent white Democrat for the powerful position of lieutenant governor, John Sharp. Republicans swept all three races. In 2014, Democrats tried to splinter women from the GOP coalition by nominating for governor the state senator Wendy Davis, who became a national celebrity by mounting a 12-hour filibuster against a restrictive Republican-backed abortion bill in the state legislature. The Republican Greg Abbott beat her by 20 percentage points (and later easily won reelection in 2018).
Notwithstanding Abbott's big wins, the first cracks in the GOP's Texas fortress emerged earlier this decade. In 2012, Barack Obama still lost the state by 16 percentage points and 1.2 million votes. But he carried four of the state's five largest counties: Harris (including Houston), Dallas, Travis (including Austin), and Bexar (including San Antonio). Within the big five, he lost only Tarrant County (including Fort Worth). Across those five counties overall, Obama amassed a 131,000-vote advantage. Democrats suddenly had a platform in the state's largest urban centers from which to challenge Republican hegemony.
Two years later, in 2014, Davis carried those five counties by a narrower combined margin, just 98,000 votes. But in 2016, like population centers almost everywhere, metropolitan Texas recoiled from Donald Trump's brusque racial nationalism: Clinton posted a 562,000-vote advantage across the big five counties. Like Obama, she lost Tarrant, but she substantially improved on his victory margin in the other four. Obama, for instance, carried Harris County by just 1,000 votes; Clinton won it by 162,000.
The Democrat Beto O'Rourke pushed this advantage even further in his narrow 2018 Senate loss to the Republican Ted Cruz, winning all five of the larger counties. Between them, he had a combined margin of 790,000 votes—six times what Obama won in the same places just six years before.
Richard Murray and Renée Cross of the Hobby School of Public Affairs at the University of Houston track these political trends with a broader measure of metropolitan Texas: the 27 counties in the state's four largest metro areas, Houston, Austin, San Antonio, and Dallas/Fort Worth. They've found the same evolution over time. Across those four regions, the GOP share of the vote in presidential races dropped from 60 percent, with Bush in the 2000 race, to just below 50 percent, with Trump in 2016. Clinton became the first Democratic presidential nominee to carry the combined vote in those four population centers since favorite son Lyndon B. Johnson in 1964. The GOP erosion in metro Texas continued in 2018: Cruz, according to Murray and Cross, became the first top-of-the-ticket candidate to lose all four since Barry Goldwater in that 1964 race.
For many observers of Texas politics, the most striking developments have come in the Dallas area. "If you think about the history, Texas went from being a Democratic state to a Republican state first and foremost in the Dallas suburbs," says Joshua Blank, the research director of the Texas Politics Project at the University of Texas at Austin. "That was an era in which white middle- and upper-middle-class voters were choosing to leave the cities and move to these places that were very homogenous and like-minded, and that's where Republicans started to build power."
Now, though, the suburban growth "is not people trying to get away from the cities," Blank says. "It's younger Texans trying to be close to the cities. Fundamentally, that's a different kind of mind-set, and that's a mind-set that tends to align more with Democratic candidates and the Democratic Party." O'Rourke still lost the two giant suburban counties north of Dallas—Collin and Denton—but by less than 50,000 votes (compared with over 170,000 votes for Obama).
James Dickey, the chair of the state Republican Party, is also intently watching the Dallas area. He notes that Republicans won nine state House seats—the exact number Democrats need to capture the chamber—by five percentage points or less, and that seven of them are in the Dallas/Fort Worth metro area. "The question is whether that is a trend, or a [temporary] dip," he told me. "The answer is: That depends on us. Will we do the work necessary to make sure to win back the geographic areas that we had as recently as 2014?"
Democrats' gains in metro Texas have been helped by two currents. The first is growing diversity. Since 2010, census figures show, the state has added 1.9 million new Latino residents, 541,000 African Americans, and 473,000 Asians, along with just 484,000 whites. That translates to nonwhites accounting for six of every seven residents the state has added over nearly the past decade. The demographer William Frey of the Brookings Institution shared figures with me that show whites accounting for only about one-third of the state population younger than 30. Many of the suburban counties that once delivered reliable Republican majorities have changed substantially. "These are not the suburbs of the 1960s and 1970s," Blank says. "These suburbs are significantly more diverse; they are significantly younger." Since 2010, the number of eligible Latino voters has increased by at least 10 percent in five of the six suburban U.S. House districts Democrats are targeting next year, while the African and Asian American populations have grown even faster in most of them.
Both in 2016 and 2018, exit polls show that nonwhites cast 43 percent of the statewide vote. But the march toward a majority nonwhite electorate has been significantly slowed by lackluster turnout, particularly among Latinos. The Democratic firm Latino Decisions recently reported that while turnout from eligible Latinos in Texas soared from 1.1 million in 2014 to 1.9 million in 2018, the number of nonvoters dwarfed those who participated: 1.7 million Latinos who were registered to vote did not turn out, and 2 million more who are eligible have not yet registered. That huge gap threatens to again dilute the community's impact in 2020, and despite all of Trump's provocations, many Democrats are skeptical that the party knows how to significantly increase Latino engagement in Texas—a state with few unions that can organize these voters (as they do in Nevada) and with restrictive laws that hobble voter-registration drives.
More rapid change has come among white-collar whites. Republicans for years predominated among these voters in Texas, even as the bloc in other parts of the country moved toward the Democrats. In 2016, Clinton won only 31 percent of whites in Texas holding at least a four-year college degree, virtually unchanged from the meager 28 percent Davis attracted in the 2014 governor's race, according to exit polls.
But in 2018, amid the backlash to Trump among college-educated whites almost everywhere, O'Rourke's share spiked to 44 percent. That closely tracked Trump's erosion with those voters: November's exit poll put the president's approval rating among college-educated whites at 53 percent, a notable decline from his 62 percent share of their vote in 2016. Polling this June from the University of Texas and the Texas Tribune hinted at potential further erosion: It showed that college-educated whites in the state split exactly in half on whether they approved of Trump's job performance and whether they now leaned toward reelecting him or backing a Democrat in 2020, according to results provided to me by Blank.
If there's stronger turnout in 2020 among Latinos, Asians, and African Americans, even something close to a split among college-educated whites might be enough to allow a Democratic presidential candidate to withstand a towering Trump margin among nonurban, evangelical, and blue-collar white Texans.
The big question for Democrats is whether that prospect justifies the enormous resource investment that Texas would require. Carville, the skeptic in 1992, believes the balance of factors now tilt toward yes. That's in part because he thinks the amount of money available to the nominee and any super PACs supporting that person will be unprecedented in 2020.
"The problem is the dollars," Carville says. "If somebody says in a staff meeting, 'If you guys go ahead and do this, you are going to spend X million on a state where you have 35 percent chance to win, where we could take that money and crank it up in, say, North Carolina,' I understand the attraction [of that argument]. But there's going to be so much money in this cycle, and given the role of soft money and everything else, the actual campaign doesn't have to spend that much.
"The [Chuck] Schumer people are going to be like, 'Fuck, we have a chance at a Senate seat,'" Carville added, referring to the Senate minority leader. "The House people want to compete. I think the pressure on the Democrats to play in Texas is going to be enormous."
The longtime Democratic strategist Tad Devine, who coordinated Electoral College targeting for the party nominees Michael Dukakis in 1988 and Al Gore in 2000, largely agrees.
"I think a Democrat has to take a close and real look at Texas in the general election for targeting purposes," he told me in an email. Just forcing Republicans to spend time and money defending a state they have long considered "part of their base" would be valuable, he said. "And that calculus becomes even more important when you talk about mega states." While, like most Democrats, Devine still considers Texas a reach in 2020, he added: "I also think with Trump you cannot rely on historical models. A number of states which should be considered safe Republican states may come into play because he is singularly a candidate who could lose almost everywhere."
On the other side, skeptics argue that while the shifting tide may carry Democrats within range in Texas, the extensive resources in campaign time and money that would be required to actually surpass Trump there would be better spent in other states the party is more likely to win in the end. That's a version of the argument Carville made to Clinton in 1992: Texas is never likely to be among the first 270 Electoral College votes a Democrat wins on Election Night; if a Democrat wins Texas, he or she has almost certainly already clinched the election.
"We'll keep an eye on it, but it's too expensive and looks to still be a steep climb in a winner-take-all race," said one strategist from a top Democratic super PAC who requested anonymity to discuss its internal calculations. "Our goal is hitting 270, and there are states that are much more winnable where we are focusing our resources."
The investment required to tip Texas may dissuade the Democratic presidential nominee from fully engaging there, especially after Clinton was fiercely criticized in 2016 for paying too little attention to the core states of Michigan and Wisconsin, both of which slipped to Trump by narrow margins. But at every other level—the state House, Congress, the U.S. Senate—Texas is guaranteed a more competitive two-party election than it has seen probably since 1990, when Richards won the governorship. Texas may still lean Republican, but as the "Texodus" suggests, the GOP's advantage no longer looks impregnable.
---
*A previous version of this story misidentified the Democratic Party's first Latino gubernatorial nominee in Texas.