Fox News Has the Power Over Trump
The president's recent attacks on the network barely registered inside its headquarters.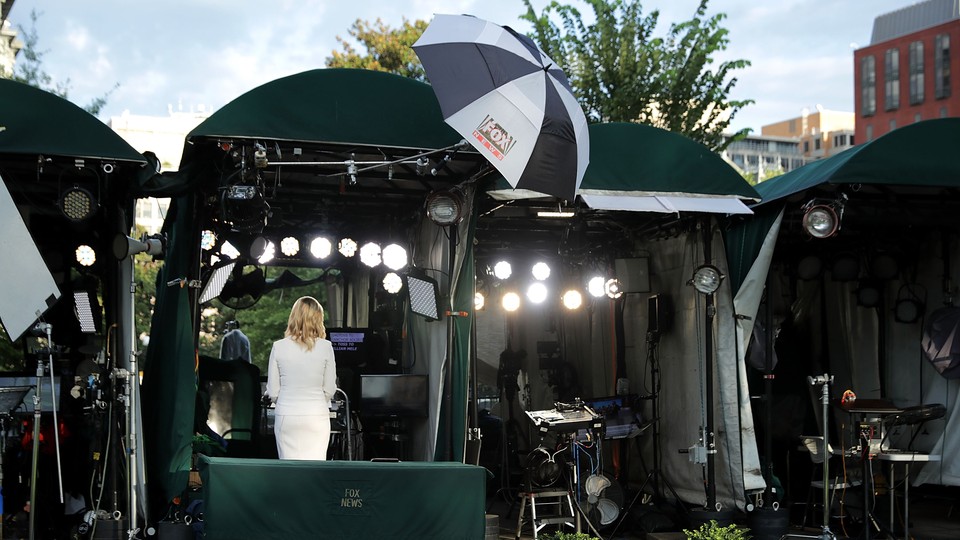 If you're a Fox News staffer who happened to be off Twitter one Wednesday morning last month, it may well have escaped your notice that the president of the United States was excoriating your employer.
At about 10 a.m. ET on August 28, Donald Trump lashed out at his go-to cable network for "heavily promoting Democrats," his response to a segment that featured the Democratic National Committee's communications director. He took to Twitter again a few minutes later, accusing Fox of "letting millions of GREAT people down!"
"We have to start looking for a new news outlet," he wrote. "Fox isn't working for us anymore!"
Those tweets prompted discussion for days in newspapers and on other television networks, with reporters and analysts probing the president's building frustrations with Fox and his use of "us" and "we" when criticizing its coverage—providing easy fodder for those who charge the network with being a propaganda arm of the Trump administration. Yet within the walls of Fox News' headquarters, the reaction to Trump's outbursts was something like a collective shrug, according to multiple Fox employees and others with professional ties to the network. "You'd think there'd be some drama, but there's been no channel-wide initiative or anything to address the attacks," said one staffer, who like others we talked with for this story requested anonymity because they were not authorized to speak with the press. "There's honestly been no acknowledgment of them."
That reaction, or lack thereof, underscores a growing understanding among Fox News executives, the staffers and those with ties to the network said: When it comes to their relationship with the president, the executives have the leverage. It is perhaps a singular dynamic—a private entity comfortable in the knowledge that the leader of the free world needs its favor more than it needs his. Much of this stems from the network's peerlessness in the world of right-wing programming. Fox speaks directly to Trump's base, a core constituency that the president must keep intact if he is to win reelection. And while other outlets may be somewhat more reliably pro-Trump, such as the cable channels One America News Network and Newsmax, none comes close to matching Fox's massive reach.
But the current dynamic also seems to reflect the leadership of Roger Ailes's successor as Fox News CEO, Suzanne Scott, who has worked for the network since its founding and took over in 2018. Whereas Ailes, who was tapped by Rupert Murdoch to be Fox's first chief executive, operated as a network-wide choreographer, with his stamp on seemingly every segment, Scott's approach has been much more decentralized. Each show acts as an "island" of sorts, as the Fox News staffer put it. The result is a daily show lineup in which the divide between the news and opinion wings is clearer than ever—a division that Scott may be more inclined to foster rather than eradicate on orders from the president. (A spokesperson for Fox News declined to comment or make Scott available for this story.)
"I don't get the sense from talking to Suzanne that she's at all concerned about it. She just seemed to shrug," one person who has spoken recently with Scott told us, referring to Trump's attacks. "They're not scared of One America News. They know there's nowhere else for their audience to go."
August 28 was not the first time Trump made known his frustrations with Fox's coverage. He has, among other criticisms, attacked the network's widely respected polling division for producing surveys that show him trailing top Democratic 2020 challengers in head-to-head matchups; called the political analyst Juan Williams "pathetic," "nasty," and "wrong" for criticizing his trade policies with China; and lobbed insults at anchors and hosts including Chris Wallace and Shepard Smith for discussing news unfavorable to him.
According to Rudy Giuliani, Trump's personal lawyer and confidant, the president's dissatisfaction with Fox relates to a criticism he has with his own Republican Party. "It's like Republicans in the House and Senate—the Democrats are always sticking together, and we always have a couple of people breaking away," Giuliani told us. Trump and his allies don't understand why when, say, Representative Alexandria Ocasio-Cortez of New York "does something crazy, [Democrats] all defend her," Giuliani said. But when Republicans "have that guy from Iowa"—referring to Representative Steve King, who is notorious for his racist comments—"we condemn him."
"I think a lot of Republicans feel that [Democrats are] more loyal than we are," Giuliani said. "When they hear Shepard Smith or [the anchor Neil] Cavuto, they say, 'Well, why are they monolithic one way and we're not?'"
The comparison between congressional Republicans who buck Trump and news anchors who report information that may reflect negatively on him is, of course, a false one. That Trump sees the two groups as similar is crucial to understanding his hot-and-cold treatment of Fox.
On occasions when he's unhappy with the network's coverage, Trump will pick up the phone and call Scott to complain, a Trump-administration aide and a second Fox News employee told us. But the conversations, the Fox staffer said, don't tend to go well.
"I'm not sure she tells him what he wants to hear," this person said. "If you think about Suzanne, it's like, I'm running the network. The president is not running the network. And if you're Donald Trump, it's like, Damn if you are—I'm running the network. And, to be candid, there have been times when the network probably gave Trump too much of the idea that he was running the network."
Fox continues to showcase a pro-Trump lineup in its primetime hours: Sean Hannity, Tucker Carlson, and Laura Ingraham, who often expand on the president's talking points during their shows. But under Scott, the network has ushered in a slightly more diverse set of voices. Donna Brazile, the former DNC chairwoman, is now a Fox News contributor. In 2017, the year before Scott took over as CEO, she and another senior executive, Jay Wallace, recruited Marie Harf, a former State Department spokeswoman during Barack Obama's administration, for a job as a political commentator. In giving Harf an on-air role, the Fox executives told her that they wanted different views reflected in their broadcasts, a person familiar with the matter told us. (Harf left the network to join Representative Seth Moulton's now-defunct presidential campaign.)
The person who's spoken with Scott recently told us that if the CEO is sensitive about anything, it's the criticisms of the network as propaganda—not Trump's complaints. Scott started at Fox at the network's inception in 1996, working as an executive assistant to the head of programming; led the launch of Greta Van Susteren's primetime show On the Record in 2002; and went on to become network executive producer and executive vice president of programming.* Before becoming the network's first female CEO, she oversaw some of Fox's most popular opinion shows, including Fox & Friends, The Five, and Hannity. But what limited public profile she had was largely negative: After Ailes was publicly accused of sexual harassment and abuse at the company in 2016, she was alleged to have helped cover up the misbehavior. She and Fox have since moved to dismiss the suit, and she has claimed that she had "no clue on what was going on" in Ailes's office.
As CEO, Scott was tasked with navigating the fallout at the network from the #MeToo movement, which swept up some of Fox's most public-facing figures. Now she finds herself confronting periodic calls for advertiser boycotts because of commentators' frequently inflammatory rhetoric. "She's more concerned about monitoring outside critiques than Ailes was," the person who has spoken with Scott said. Recent decisions, such as hiring Brazile and hosting town halls with Democratic presidential candidates, are in part Scott's response "to the trauma from the #MeToo stuff," this person continued. "She's just trying to do stuff to make it a modern workplace."
Still, these changes don't mean that Fox is undertaking a wholesale reinvention or scrubbing the basic formula that first magnetized its conservative Republican viewers. This obvious truth prompts some within Fox to wave off Trump's criticisms as disingenuous, if not whiny. "Mr. President, we're giving you a fair shake! Fucking take it!" the second Fox employee told us. "Suzanne is … bringing in new voices and diversifying Fox, and if you're Donald Trump, you no-likey. He's like, What am I seeing here? This looks more like CNN. It's not! It's nowhere close to CNN!"
Indeed, while the network employs some well-respected reporters, its identity is rooted in the commentary coming from its star opinionators. Carl Cameron, a former chief political correspondent at Fox who left the network in 2017 after more than 20 years, told us: "The opinion makers, the entertainment side of Fox News is absolutely promoting [Trump]. They are defending him, they are buying into his nonsense, and when it's just too ridiculous to even untangle and make sense of it, they simply ignore it."
For Trump, Scott's ascension may have been unwelcome. Trump thought enough of Bill Shine, a former senior network executive, that the president hired him to run the White House communications shop in 2018. (Shine has been accused in civil lawsuits of helping to cover up for Ailes. He has denied those allegations, and has not been accused of sexual harassment himself. He resigned from the White House in March, after about eight months on the job.) After Ailes left the network, he helped Trump prepare for the 2016 presidential debates with Hillary Clinton. (Ailes died the next year.)
Those allies long gone, Trump's now got Scott, whose politics are a mystery even to some of the people working for her. "In private," however, "she has said she's horrified by some of the things that he says and does," the second Fox News employee told us.
At this point, the president is likely the one with more to lose. As Trumpworld sees it, Fox is an essential corrective to a cable-news ecosystem that masquerades as objective while plotting to sink his presidency. He needs Fox to counter the media criticism coming his way, and if the network wobbles, it's trouble. Trump barely won in 2016, and any defections inside his base could potentially doom his prospects.
"The other networks push an openly anti-Trump agenda on every show, every minute, every hour of every day," one administration official told us, when we asked for comment on Trump's recent attacks. "He expects Fox to ask tough questions of Democrats when they come on the network, because they don't get asked tough questions anywhere else."
That's a debatable point, of course. Cable-news anchors—not to mention late-night comedians—pay plenty of attention to the former vice president and Democratic presidential candidate Joe Biden's gaffes. In 2016, they gave ample coverage to Clinton's email scandal. What's more, Trump digs holes for himself virtually every day. No liberal host at MSNBC told Trump to peddle the fiction that Hurricane Dorian was a threat to Alabama, for example.
Ferreting out Trump's true motivations is never easy. Does he act on impulse, or is there some coherent strategy at work? One former White House aide offered a theory: What if he isn't as mad at Fox as he lets on? What if he's giving Fox political cover of sorts—insulating the network from the charge that it's doing Trump's bidding?
"He's smart and strategic, and it's always possible he's preempting the state-TV, propaganda criticism of Fox by putting some distance between the two of them," this person told us. "It's always possible."
If the president is upset by Fox's programming, there is one solution—an alternative he seems hell-bent never to try.
"The best thing he could do is turn off the TV," says Bill Press, a liberal TV-talk-show veteran and the host of The Bill Press Pod. "And I say that as someone who made a living on television! It's not good for you. It's not healthy. Nobody should be watching as much television as Donald Trump watches."
---
*A previous version of this story misidentified Suzanne Scott's first job at Fox News.