Why Ex–Sanders Supporters Are Backing Warren
The senator from Massachusetts, they argue, is proffering a gentler version of progressivism that is simple to understand and compelling enough to attract a broad swath of voters.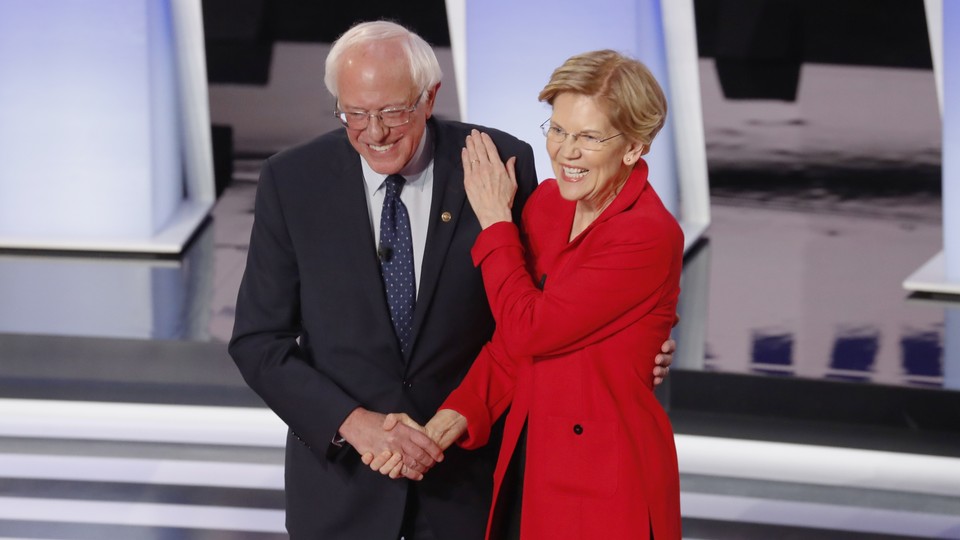 Updated on September 18 at 3:10 p.m. ET
In 2016, Bernie Sanders described the Working Families Party (WFP), a grassroots progressive organization, as "the closest thing there is" to his "vision of democratic socialism." The group endorsed him in his primary race against Hillary Clinton, and it's grown more powerful in the past three years, as it has sought to build a multiracial populist movement nationwide. But this time around, with Sanders taking another shot for the White House, the group is throwing its weight behind someone else: Elizabeth Warren. The group's surprising decision could be an early indicator of how progressives—including those who backed Sanders in the past—are planning to organize and vote next year.
"The political conditions are different" in this election, Maurice Mitchell, the national director of the WFP, told me earlier this week, after the group announced that Warren defeated Sanders in a vote of WFP members and leadership, earning 61 percent compared to Sanders's 36 percent. Unlike in 2016, there is more than one progressive candidate in the race to choose from, Mitchell said. Warren "has a track record of finding that nexus between visionary structural change and also the tools to operationalize it."
Mitchell's reasoning echoed the sentiments of other progressive voters I've spoken with recently. They have affection for Sanders and appreciate what he's done for the movement, as roughly one dozen voters explained to me this week. But Warren, they argued, is proffering a kinder, gentler version of progressivism—one that is rooted in her experience, simple to understand, and compelling enough to attract a broad swath of voters.
"She's everything Bernie is—but a bit more electable," said Joe Piluso, a 71-year-old former Sanders supporter and former social-services worker living in San Diego.
In the 2020 presidential primary, Sanders and Warren have set their sights on combatting income inequality, and both are supported by small-dollar donors and grassroots organizing. They're closely aligned at the policy level: Both have campaigned on progressive policies such as free college, the Green New Deal, and some version of Medicare for All. But the two senators have taken very different tacks when it comes to working with the Democratic establishment. Sanders, who's always operated as an insurgent figure, still refuses to join the Democratic Party, while Warren has more closely toed the party line. Sanders is a self-described democratic socialist, while Warren insists that she is "capitalist to my bones."
For many of the voters I spoke with for this story, their preference for Warren boils down to one core conclusion: She's likable. I heard the same thing in July at Netroots Nation, an annual convention for progressive activists, where the cardigan-wearing former public-school teacher was the clear 2020 favorite. "I really feel like she would throw herself in front of a bus for us," one attendee told me at the time. "There's nobody who's more earnest."
Barbara Helmick, the director of programs at DC Vote, an organization advocating for Washington, D.C., statehood, told me this week that she feels a connection to Warren. "There's a level of warmth and confidence and just such true passion that it really inspires me in a way that none of the other candidates do," Helmick said. Sanders, by contrast, has developed a reputation as the prickly grandfather of the progressive movement, constantly finger-wagging and shouting himself hoarse. "He's very strong and didactic and opinionated," said Linda Day, a 78-year-old retiree from Houston. But while she supported Sanders in 2016, she now views him as a "polarizing figure."
Voters argued that Warren is a more skilled communicator. She "has such a sharp ability to break complex policy positions into really understandable terms," Helmick said. Sanders's message isn't as accessible, Piluso echoed. And Warren's supporters view her as more of a collaborator, someone who can work with other lawmakers to accomplish progressive goals. In our conversations, many voters cited her work helping to establish the Consumer Financial Protection Bureau, an agency that Warren proposed creating in 2007, as evidence of her effectiveness. "What I like about Warren is her plans are basically Bernie's," Day said, "but I think she's the person to get it done." As a "bona fide member" of the Democratic establishment, Warren is in a better position than Sanders "to fundamentally shift the party's consensus on what's truly desirable and possible in terms of policy, and to get other Democrats on board with enacting real reforms," Kelly Baker, a 41-year-old writer from Memphis, Tennessee, wrote to me in an email.
So far, Warren and Sanders have occupied the No. 2 and 3 spots in public polling in the Democratic primary, trailing the front-runner, former Vice President Joe Biden. Almost every survey measuring the 2020 candidates' prospects against Donald Trump has shown that Sanders would beat the president in a head-to-head matchup. While Warren's supporters are, perhaps unsurprisingly, confident in her ability to win, voters more broadly view her as vulnerable, as my colleague Russell Berman recently reported. In an August Quinnipiac University poll, 32 percent of Democratic respondents said that Warren had the best policy ideas in the primary race—nearly twice the share who said that of Biden or Sanders. But asked who would get their vote next November, the majority of respondents chose the former vice president.
Still, Warren has made significant gains recently in perceived electability, with the share of voters who think she could defeat Trump increasing from 39 percent to 55 percent in the past three months, according to polling by CBS/YouGov. One possible reason: The voters I spoke with see Warren, with her folksy style and ability to explain complicated subjects, as uniquely suited to attracting more moderate Democrats and independents in 2020. Eleanor, a 68-year-old retiree from Queens, New York, told me that she was a Republican until Trump's election in 2016. Now she wants to vote for a Democrat, but she won't vote for any candidates who call themselves socialists. "I think that's a wrong-headed label," said Eleanor, who, for personal privacy, requested that I use only her first name. "I like that [Warren] says she's a capitalist and wants to correct capitalism."
Of course, not every progressive believes that Warren is the real deal. Many Sanders fans see the senator from Massachusetts as a more corporate, hollow version of their preferred candidate. She may be fighting for change, but she's not calling for a political revolution the way he is, several Sanders supporters in the Democratic Socialists of America told me in July. That Warren was a registered Republican until 1996—and raised millions of dollars from political mega-donors for her Senate run in 2018—has also led some left-leaning voters to question her progressive bona fides.
For the WFP's part, Warren's candidacy has been a long time coming. Though the group endorsed Sanders in 2016, it only did so after an unsuccessful push to draft Warren into the race. "Warren has always been a dream candidate for progressives," says Heather McGhee, the former president of the progressive think tank Demos. She views the WFP, with its wide-ranging network of grassroots activists, as a bellwether for the organizing base of the left. If she's right, Sanders and his supporters could be faced with disappointing news this spring.
"I think Bernie is Moses," said Day, the former Sanders supporter, with a chuckle. "He's led progressives to the promised land, but I don't see him crossing over and being president."