The Atlantic Politics Daily: Where Have All the Press Secretaries Gone?
Sean Spicer makes his debut on Dancing With the Stars. Plus: the Latinos who are on board the Trump Train.
---
Today in Politics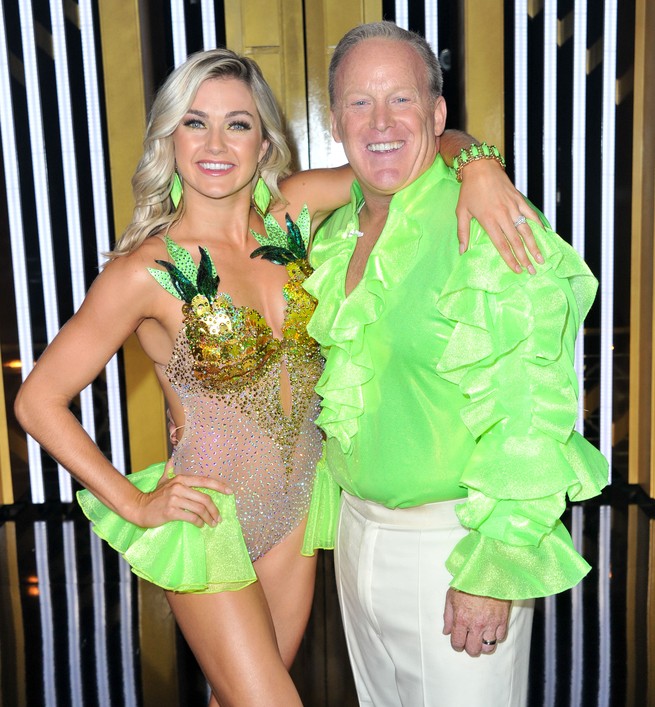 Lindsay Arnold and former Press Secretary Sean Spicer attend the Dancing With the Stars Season 28 show in Los Angeles. (Allen Berezovsky / Getty)
Where have all the press secretaries gone?
They join large corporations like Amazon. They become pundits and consultants. They consider running for office. And they try to work on their new public image.
Politics (and life after politics) in 2019 is a different beast. So there I was, one of The Atlantic's White House reporters, up late on a weeknight watching former White House Press Secretary Sean Spicer make his debut on ABC's Dancing With the Stars, live from Hollywood.
Spicer was introduced to the ABC audience wearing a neon-green ruffled V-neck top and ivory wide-legged pants. In an introductory shot, Donald Trump's first White House press secretary said that while his time in the administration was "very tumultuous," it gave Americans "a very one-dimensional look" at who he was "as a person."
For her part, Lindsay Arnold—Spicer's partner, a renowned Latin and ballroom dancer—said she was "looking forward to forming [her] own opinion" about the ex-official. "His dance ability is at a pretty preschool level," Arnold admitted during scenes from the duo's practice sessions, "and he definitely isn't natural at it."
At about 9:45 p.m., Spicer took the stage. For approximately two minutes, in a series of stumbles reminiscent of when he lied to the American people about the size of the crowd at Trump's inauguration, he danced an ostensible version of the salsa. To the tune of "Spice Up Your Life" by the Spice Girls, Spicer engaged in twists and turns as though, in the opinion of one judge, his hips were "set in cement." He ended the routine smiling, on his knees, with confetti raining down upon him.
The judges were largely critical of the performance, but praised him for a "strangely entertaining" showing, and for bringing "fun" to the ballroom. Final scores from the judges? 4, 4, and 4 … or second-to-last out of the 12 pairs. Sure, it could be worse, but next week Spicer's future on the show will hinge not just on judges, but on what the show's viewers think of him. The popular vote may be less forgiving.
Press secretaries these days should have plenty of time to figure out their post–White House careers—even if it's not shimmying on national television. The daily news briefing, a key part of the job, isn't as essential as it once was. With the tweeter-in-chief in the Oval Office, the Trump administration hasn't held a briefing in more than six months.
*
---
Snapshot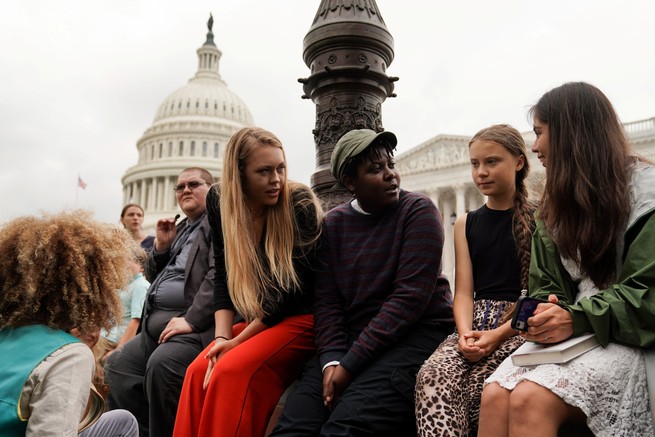 A group of protesters gathers around the climate activist Greta Thunberg in front of the U.S. Capitol after a news conference with members of Congress. (Sarah Silbiger / Reuters)
*
---
What Else We're Watching
"We don't talk about Bernie." (Andrew Harnik / AP)
Democratic socialists in Iowa want something beyond Bernie. The Democratic primary battle really begins in Iowa, but democratic socialists there have turned their focus to grassroots projects and tenants'-rights work rather than campaigning for one of the movement's most visible faces, Bernie Sanders, Elaine Godfrey reports.
Reminder: Latinos aren't a monolith. The crowd that assembled at Trump's rally in New Mexico last night was "similarly dissimilar," Richard Parker reports from Rio Rancho. Members were Libertarians, Democrats, and Republicans. They were evangelicals, suburbanites, and yes, Latinos. But the Trump campaign's bet that he might help flip the state will be a tough one to win.
Elizabeth Warren's fans aren't naive. Russell Berman spoke with some of the thousands of Warren supporters gathered in New York City's Washington Square Park last night. They told him they know "it's a system and she's only a part of it." But they're still optimistic for the "big, structural change" Warren is proposing.
What happens when water boils. After an apparent Iranian attack on a crucial Saudi oil facility, countries unrelated to the simmering U.S.-Iran conflict are feeling the effects of escalation through skyrocketing oil prices, Kathy Gilsinan writes. Meanwhile, none of the parties involved has airtight credibility.
"Use your common sense." The two New York Times reporters who investigated the background of Supreme Court Justice Brett Kavanaugh and the allegations against him summarize their conclusions. "Ultimately, we combined our notebooks with our common sense and came to believe an utterly human narrative: that [Christine Blasey] Ford and [Deborah] Ramirez were mistreated by Kavanaugh when he was a teenager, and that Kavanaugh over the next 35 years became a better person," Kate Kelly and Robin Pogrebin write.
*
---
The Atlantic Political Index
The growth of left-leaning metros in southern red states is something both parties should watch, Derek Thompson argues: It's a question of density, not districting.
Clinton carried Manhattan and Brooklyn by approximately 1 million ballots—more than Donald Trump's margins of victory in the states of Florida, Arizona, Georgia, North Carolina, Michigan, Wisconsin, and Pennsylvania combined.
*
---
Featured Read
Why shouldn't top candidates for president have to face harsh attacks? Adam Serwer argues:
During the Democratic primary debate at the Felt Forum in New York City, in April 1988, Al Gore pointed out that Michael Dukakis had a big problem.

The senator from Tennessee mentioned that the Massachusetts governor, who had leapt to the front of the Democratic primary field, had sustained a furlough program that involved "weekend passes for convicted criminals," one of whom had committed rape and assault while furloughed.

I thought of that moment in the Democratic debate in 1988 last week, after former Obama Housing and Urban Development Secretary Julián Castro was pilloried for suggesting that former Vice President Joe Biden, the front-runner for the nomination, was struggling to recall the details of his own health plan, asking Biden, "Are you forgetting what you said just two minutes ago?"
*
---
Our Reporters Are Also Reading

‣ First Look: Harris Asks for Kavanaugh Investigation (Alexi McCammond, Axios)
‣ Young People Are Going to Save Us From Office Life (Claire Cain Miller and Sanam Yar, The New York Times)
---
About us: The Atlantic's politics newsletter is a daily effort from our politics desk. It's written by our associate politics editor, Saahil Desai, and our politics fellow, Christian Paz. It was edited by Shan Wang.

We have many other free email newsletters on a variety of other topics. Browse the full list.