The Atlantic Politics Daily: Welcome to the Electability Primary
Are Democratic voters backing the 2020 candidate they themselves like best, or backing the candidate they think their fellow voters would support? Plus: a debate 3.0 preview
---
Today in Politics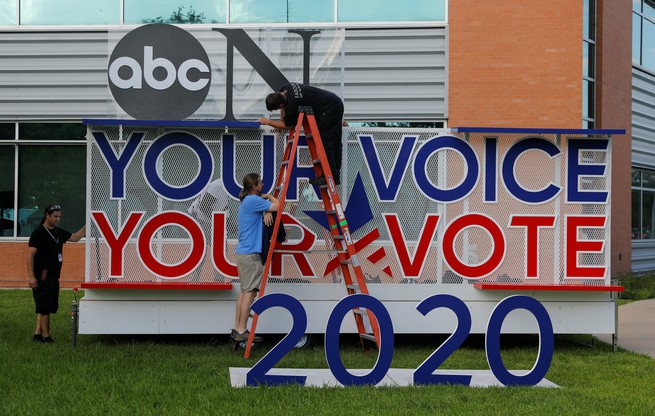 (Mike Blake / Reuters)
Welcome to the electability primary.
As pundits would have you think, Democratic voters this cycle are turning Poli Sci 101 on its head. They're not all supporting the 2020 candidate they themselves like best; instead, they're backing the candidate they think their fellow voters would support.
That's made "electability" into a hyper-focus of 2020 coverage, and rendering it a hackneyed cable-news buzzword that launched a thousand hot takes.
The term's popularity is simple to explain; its meaning, less so. Hungry to oust Donald Trump at all costs, shell-shocked Democrats are boosting the candidates they think have the best shot at beating him come November 2020.
On the electability question, so far voters see a resounding first choice: former Vice President Joe Biden. Who loses out? Mostly Senator Elizabeth Warren of Massachusetts, who trails Biden even though Democratic voters seem to most prefer her policy positions.
"Elizabeth Warren might be a little too liberal on some things," one voter told my colleague Russell Berman. "More okay for me, less for the country."
Beltway chatter would have you believe that electability is all about voters' pining for an old-school moderate (or more cynically, a much older white man with a long political resume), but is that really how Democrats are deciding whether a candidate is electable?
Political insiders are getting it all wrong here, argues Ronald Brownstein—voters are hashing out decisions based on a candidate's personal qualities (honesty, integrity, compassion, strength, competence) more than anything else. Sure, Biden is the electability pack leader for now, but that doesn't mean that Warren and other 2020 hopefuls have no chance of dethroning him from that spot.
---
*
🏛️ AND THEN THERE WeRE 10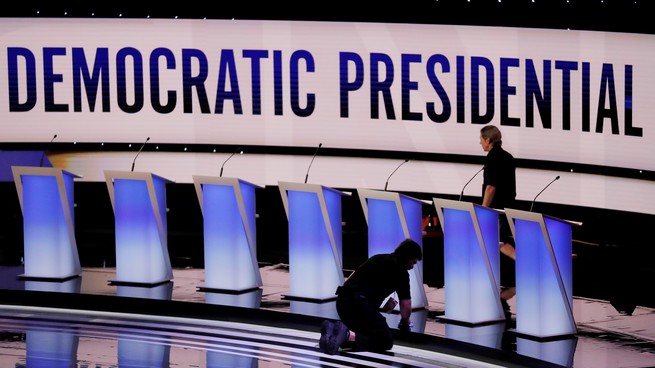 (Lucas Jackson / Reuters)
Gerontocracy 2020: What lessons can Malaysia's 94-year-old prime minister provide to the array of 70-somethings running for president? Follow a terrible incumbent, practice mindfulness, and doom any successors, Jonah Blank writes.
How El Paso Changed Beto: The former representative from Texas told Edward-Isaac Dovere that the shooting in his hometown forced him to radically rethink his approach to the presidential election. And while much of his campaign seemed like a "rolling existential crisis" before the August 3 mass shooting, his team still hopes voters will see the Beto 2020 train headed in a different direction now.
A Foreign Policy for the Left: While discussion of foreign affairs has not dominated the Democratic primary, the two candidates who have discussed their doctrines, Bernie Sanders and Elizabeth Warren, are still lacking: "However, when you drill down, the two presidential candidates are difficult to pin down on whether they oppose military intervention on principle or, if not, under what conditions they might support it."
---
*
🇺🇸WHAT ELSE WE'RE WATCHING
Impeachment? Let us count the ways: Even though congressional Democrats don't seem to agree on whether Trump should be impeached, the ones who have backed a probe can't seem to choose which of his apparent offenses should be the focus of investigation, Russell Berman and Elaine Godfrey report.
Memory, all alone in the spotlight: While the 1994 federal crime bill is now a nightmare for Joe Biden, the progressive wing of the Democratic Party has forgotten the overwhelming support it had when Bill Clinton signed it into law, writes Todd S. Purdum. That liberals like Cory Booker rightly point out the harm it caused communities of color, but forget that the bill was backed by many black leaders at the time, is a testament to how short the American political memory is.
*
---
SNAPSHOT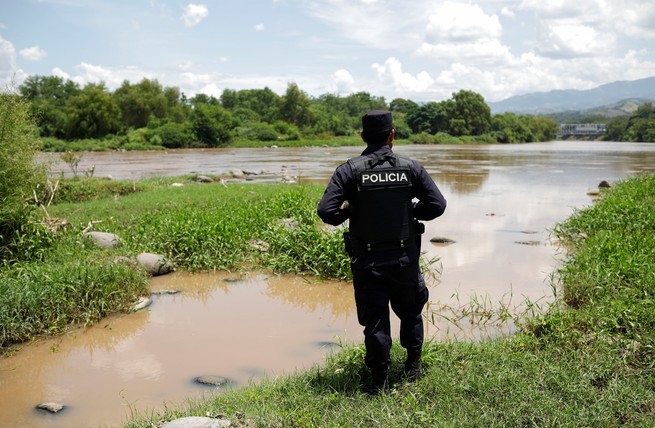 (Jose Cabezas/ Reuters)
The Supreme Court ruled that the Trump administration can begin requiring migrants arriving in the U.S. to first seek asylum in another country on their way. The rule would affect migrants at the U.S. southwestern border from countries such as Honduras and El Salvador (but not Mexico).
*
The Atlantic Political index
Andrew Yang eats a turkey leg. (Scott Morgan / Reuters)
Who's that one candidate who can't stop talking about automation? Andrew Yang was once widely considered something of a "novelty candidate," but is now onto his third major Democratic debate.
He's centered his candidacy on giving away money to all Americans, but he has a whopping 150 policy proposals on his website, from "empowering MMA fighters" to "the penny makes no cents."
---
*
FEATURED READ
(Oliver Munday)
Did the president skip Gen X? Peter Beinart writes:
For almost 60 years, two generations have held the American presidency. The Greatest Generation—born in the early 20th century—first won the White House in 1960, when John F. Kennedy was 43. Baby Boomers—born after World War II—took over in 1992, when Bill Clinton was 46. By this precedent, Generation X was ripe for a president in 2016. Three of the early Republican front-runners—Marco Rubio, Ted Cruz, and Scott Walker—would have entered the Oval Office in their 40s. But each faltered, and America replaced Barack Obama, a young Boomer, with Donald Trump, an older Boomer. Rather than choose a generational successor, America elected a candidate 15 years older than the president he replaced, the largest such jump in American history.

Now Gen Xers have another shot.
---
*
📱OUR REPORTERS ARE ALSO READING
‣ Why Do So Many Republican Voters Support Trump? A Theory. (Jonah Goldberg, National Review)
‣ If You're Polling in the Low Single Digits, You're Probably Toast (Nate Silver, FiveThirtyEight)
‣ 'Why Are You Pissing in Our Face?': Inside Warren's War With the Obama Team (Alex Thompson, Politico Magazine)
‣ The Trump Administration Rolls Back Major Obama-Era Clean Water Regulation (Coral Davenport and Lisa Friedman, The New York Times) (Paywall)
---
About us: The Atlantic's politics newsletter is a daily effort from our politics desk. It's written by our associate politics editor, Saahil Desai, and our politics fellow, Christian Paz. It was edited by Shan Wang.

We have many other free email newsletters on a variety of other topics. Browse the full list.