The Atlantic Politics Daily: The Battle of the Dans
In some ways, the last election of 2018 has become the first election of 2020. Plus: President Trump and John Bolton rarely agreed.
---
Today in Politics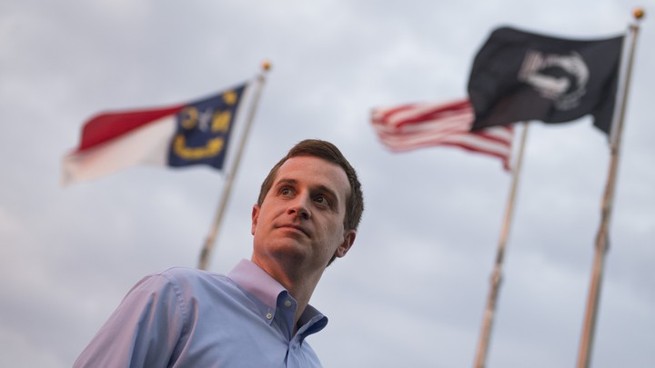 (TOM WILLIAMS / GETTY)
The Battle of the Dans
In November 2018, Democrats surfed a Blue Wave to flip 40 House seats, grabbing control of the majority. 10 months later, those 2018 midterm elections are still, improbably, ongoing.
What happened here? Things got, uhh, really complicated in North Carolina last year. The Republican Mark Harris technically eked out the win, but then came a wacky swirl of events: revelations of an alleged scheme to rig absentee ballots in Harris's favor, a sinister political operative at the center, and ultimately, the call for a do-over election—the state's first.
The setting: the Ninth Congressional District, which spans a swath of the state near Charlotte.
The players: Dan Bishop, a Republican state senator. And the Democrat Dan McCready, who came up a sliver short (900 votes) last fall of winning North Carolina's more traditionally GOP-friendly Ninth, and is campaigning for the 27th straight month (when he started, his daughter hadn't been born—she's now 2).
In some ways, the last election of 2018 has become the first election of 2020.
How Tuesday shakes out will answer a key question for Democrats and Republicans hungry to notch a win and shape a victorious narrative as other 2020 elections loom: Has the Blue Wave already crested, or will it swell into a tsunami?
President Donald Trump himself made a jaunt to the district, in a ploy to shore up support for Bishop, the Republican candidate who replaced Harris on the ticket. The Battle of the Dans is nominally over control of one congressional district, but for D.C. apparatchiks frantic for any sign of who has the advantage in 2020, it's become a lot more than that.
*
FEATURED Read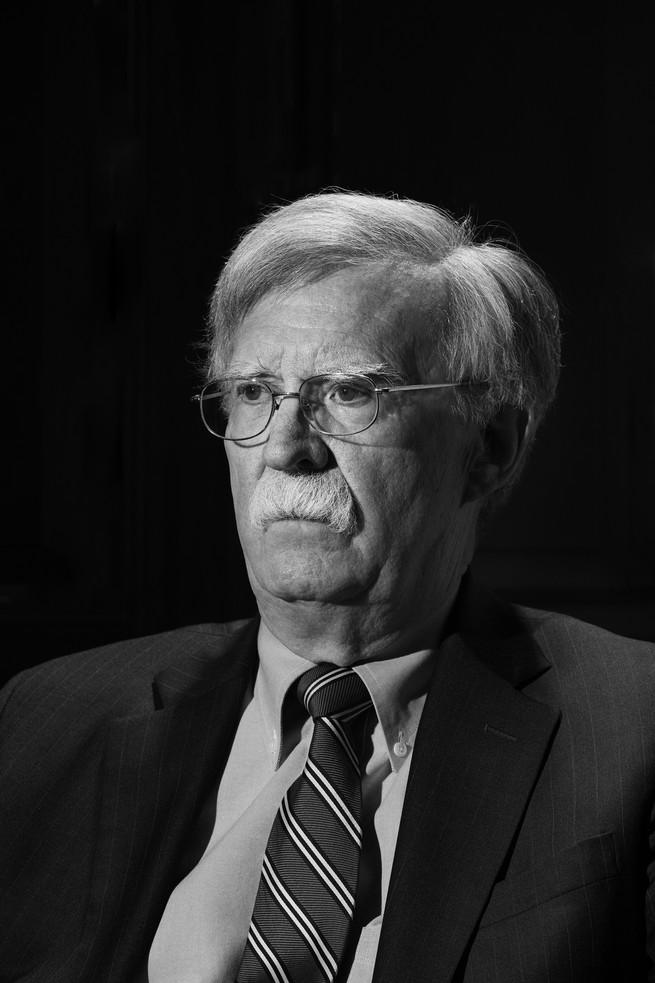 "Will John Bolton Bring on Armageddon—Or Stave It Off?" by Graeme Wood, from our April 2019 issue. (Philip Montgomery)
President Trump has fired his third national security adviser, John Bolton, a hawkish longtime politico with whom he constantly disagreed, despite having first taken to him on the basis of his Fox News appearances. Graeme Wood writes:
"He is incredibly smart and capable," a Bolton acquaintance told me. "He could have risen faster if he had just been less of a dick."

It's difficult to exaggerate how hard it is to earn a reputation as a dick in Washington. It's like being known as a real nerd by fellow scientists at the Jet Propulsion Laboratory, or as the resident prude by sisters at a nunnery. In Washington, boorishness can be a virtue, if the boor in question is on your side and gets things done … But Bolton is almost universally known for being off-putting and ill-tempered. "One of the world's cheapest people," says an ex-colleague. "An extremely unpleasant person," says another.

Because Bolton's other signature quality is intelligence, former colleagues wonder how he abides his boss.
→ Read the rest of our April 2019 profile of Bolton's unusual ascent within the Trump administration.
---
*
SNAPSHOT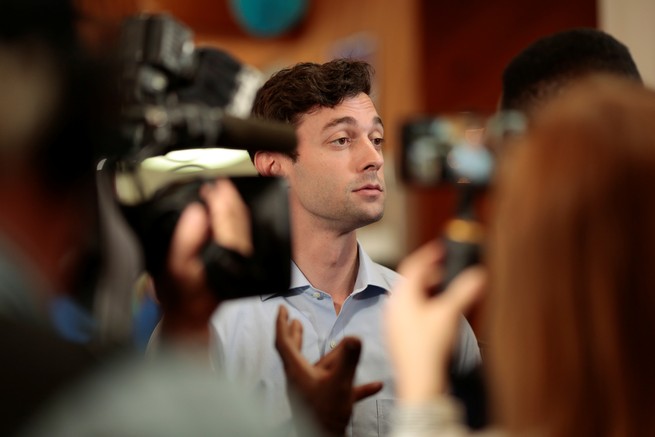 (Christopher Aluka Berry / Reuters)
Jon Ossoff, the Democrat from Georgia who narrowly lost one of the most expensive House races in American history, announced he would enter the primary race to challenge Republican Senator David Perdue.
---
*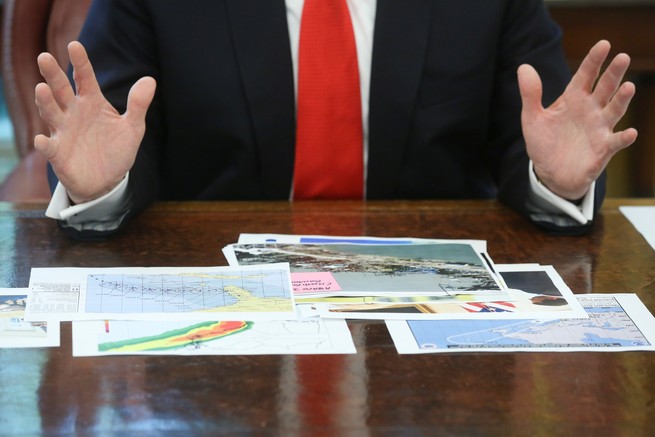 (Jonathan Ernst / Reuters)
Après NOAA, la déluge: After President Trump's week-long insistence that Hurricane Dorian could have affected Alabama and Georgia, Commerce Secretary Wilbur Ross reportedly threatened National Oceanic and Atmospheric Administration officials with firings unless they confirmed the president's initial claims. The escalation was an unprecedented step that could delegitimize one of the most reliable and free agencies in the federal government—the National Weather Service, Robinson Meyer writes. The incident should worry all Americans.
*
🌎 Foreign Policy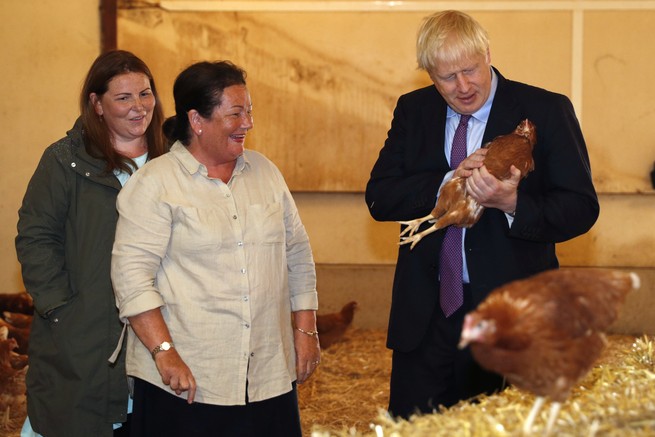 (Adrian Dennis / Reuters)
Why did the chlorinated chicken cross the road?: Britain would very much like American chlorinated hens to stay home to roost, despite the White House's hopes that a new U.S.-U.K. trade deal includes chicken purchases. While Europeans consider chlorine-washing taboo now, the U.S. could look to Norway's "Project Japan" (how Norway ended up selling raw salmon to Japan) as a way to sway public perceptions of this fowl-paux, Yasmeen Serhan writes.
A trade war cometh before the fall: While Trump's trade war with China has been met with some criticism, the slow escalation of tariffs will inevitably lead to larger public outcry, Chad P. Bown argues. (Nearly everything Americans buy from China will be subject to tariffs by December 15.)
---
*
The Atlantic Political index
A woman pays tribute at a memorial for people killed during a mass shooting in El Paso, Texas. (John Locher / AP)
Will 2020 be the gun-control election? Some polling seems to suggest it could be:
Some 93 percent of Americans now support requiring background checks for every gun purchase; 82 percent support requiring a license to purchase a firearm; and 80 percent are in favor of so-called red-flag laws
→ Read Elaine Godfrey's piece on how Democrats are looking to run on gun violence in 2020.
---
*
📱OUR REPORTERS ARE ALSO READING:
‣ Is Beto O'Rourke's new carefree campaign a sign that he has abandoned all hope of rescuing his candidacy? (Michael Kruse, Politico)
‣ The case for changing the voting age to 0 (Kelsey Piper, Vox)
‣ Why we need John Bolton (Rich Lowry, National Review)
---
About us: The Atlantic's politics newsletter is a daily effort from our politics desk. It's written by our associate politics editor, Saahil Desai, and our politics fellow, Christian Paz. It was edited by Shan Wang.

We have many other free email newsletters on a variety of other topics. Browse the full list.