Why Beto O'Rourke Argues He Has a New Case to Make to Voters
The former congressman says the recent mass shooting in El Paso changed his thinking on the presidential race. But he still needs to convince the electorate.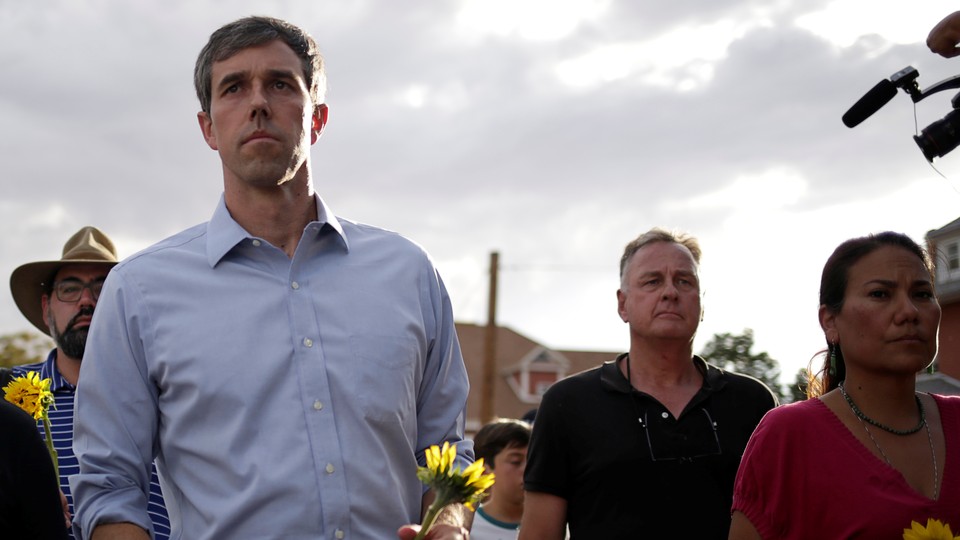 When Beto O'Rourke takes the stage on the campaign trail, it's to his favorite song, "Clampdown," by The Clash, whose dark intro builds to the line What are we gonna do now?
Many Americans are angry, frightened, and frustrated these days. Yet the Democratic presidential campaign remains largely a procession of speeches and photo ops. Tonight, in O'Rourke's home state of Texas, 10 candidates will appear on the debate stage and again smack one another with heavily rehearsed answers, as if there's much relevant or revelatory to be found in this performance art.
Much of O'Rourke's presidential campaign can seem like a rolling existential crisis, playing itself out via livestreams and the journal entries he posts on Medium. Now, O'Rourke says, he's actually had an existential crisis—and he thinks the rest of the country should be having one too. For O'Rourke and his aides, his campaign can be divided into two phases: before the August 3 mass shooting that targeted Latino immigrants in his hometown of El Paso, and after. In the days that followed the violence, he told me in a recent interview, he was in such a dark place that he wondered how to go on, and even whether he should.
O'Rourke says the shooting has given him a new kind of mission. But his challenge now is jamming his epiphany into the presidential race: explaining how El Paso changed him and why voters should care enough about that change to give him a second look, while sticking to his promise to campaign in forgotten parts of the country without insulting the picky and provincial residents in early-voting states. In the process, he needs to move the polls that have had him solidly in the low single digits since his initial post-campaign-launch burst in March. In a national CNN poll released yesterday, he crept up to 5 percent, but he's still far behind the leading candidates in the race.
"At a really deep, fundamental level, [the shooting] made me wonder what I'm doing, and what I'd ever been doing, or what we were doing," O'Rourke told me last week as we rode the Bolt Bus from New York to Boston, in an interview that can be heard in full on the Radio Atlantic podcast. "And this is probably not making sense, but—how could this happen? How could I have allowed this to happen, as a part of this country, as someone who held public office, as an El Pasoan?"
(Listen to the conversation in full on the Radio Atlantic podcast below.)
Subscribe to Radio Atlantic: Apple Podcasts | Spotify | Stitcher (How to Listen)
On the trail, I've heard him tell a story that captures how he says he's changed. In the spring of 2018, he was walking in El Paso in a local companion event to the national March for Our Lives, organized by students from Marjory Stoneman Douglas High School. He was in Congress then, and running for Senate, a race he would go on to lose in November. Henry, his younger son, asked him why counterprotesters nearby were holding assault rifles. Hadn't the whole day been about getting rid of those weapons? Henry asked.
"I said, 'Ah, don't worry about that. These are very nice people and they're just trying to make a point. You know, under Texas law, they can do it, but don't worry about it. Don't give them any attention,'" O'Rourke told me last week, repeating the story. "What I should have said is 'No, you're right, Henry: That is absolutely wrong, and there's nothing funny about that. And you're right to point this out and be disturbed by it, and you should be angry, and it should make you a little bit afraid, and it's a very natural reaction.'"
In this new phase of his candidacy, O'Rourke says he wants to live out the consequences of Donald Trump's presidency. His campaign has been incorporating specific stops into his schedule: one of the towns in Mississippi where Immigration and Customs Enforcement recently raided food-processing plants; a community-leader roundtable in Charlottesville, Virginia, the site of the 2017 white-supremacist march; an LGBTQ synagogue in Manhattan; a mosque in New Hampshire. These stops, he says, make more sense than eating corn dogs and making speeches at the Iowa State Fair, which is what the other candidates did the weekend after the shooting. (O'Rourke had been slated to appear in Iowa as well, before canceling after the shooting.)
"To quote Shakespeare—or Geddy Lee from Rush—I mean, we're all actors on that stage, and no one more so than perhaps somebody running for president. But I couldn't go do that," O'Rourke told me, referring to the Iowa trip. "I have to, as much as I can, be as honest as I can. I have to go do the things that I think are important."
Kick over the wall 'cause government's to fall
How can you refuse it?
Let fury have the hour, anger can be power
Do you know that you can use it?
We spent the bus ride talking about the El Paso shooting and what it meant to him, because these days, O'Rourke is always talking about the El Paso shooting and what it meant to him.
Why exactly were we having this conversation on a Bolt Bus? He'd been in Manhattan for CNN's Climate Forum last week and was on his way to New Hampshire's state Democratic Party convention. But why a bus, given that it meant five hours on the road, with a stop in New Haven and another at a roadside Burger King, where we tried the new no-meat Whopper? Well, he likes to keep moving, he told me, and he figured it would be as fast as a flight once he took into account the drive to the airport and time spent waiting there. (Short of major traffic on the way to LaGuardia or JFK, this probably wouldn't have been quite true.) He was also saving the campaign money, he said, at $23 a ticket for him and five staffers. Plus, the bus trip would have a lighter carbon footprint than a flight. And he always likes to meet people on the road, such as the cashier at the Burger King, who told him he'd been in one of her dreams months ago.
Even when there's so much collective anger among Democrats to reflect, reflecting Democrats' collective anger doesn't make for much of a presidential campaign. At least, it never has before. It's one thing to go viral for saying "This is fucked up" after the second mass shooting in Texas in August. It's another to convince Americans that you have the power to change the country. As one woman shouted at O'Rourke during a campaign stop in a Boston bar last Thursday night: "What's your vision? What are you going to do about it?"
Later, standing in the brewery room behind the bar, O'Rourke told reporters that he welcomed his heckler: "People speaking honestly, hearing what they have to honestly say even before I finished my opening, folks engaging in the conversation, wanting to hear answers—I love that."
Yet he has had trouble articulating why he is running for president. (That is, beyond his sense that he was "born to be in it," a quote that Vanity Fair put on its March cover at the launch of his campaign and that haunted him for months after, despite his saying almost immediately post-publication that his words had been misconstrued.)
In the hospital rooms and memorial services in El Paso, O'Rourke thinks he's found his real reason to run. On his trip to New Hampshire, I watched him try to express his new mind-set during his speech at the state convention in Manchester. In front of waves of black-and-white BETO signs, he tried to explain the shooting's root causes, linking it to a larger legacy of injustice and hate—arguing that with so much trouble in America's history, "sooner or later it was going to find us." He concluded with a call for an overhaul of the immigration system, reparations for African Americans, and mandatory government buybacks of assault weapons. Many in the crowd seemed to lock in as he was speaking. Among them was Wendy Abbott, the Democratic chair in the town of Milton, who seemed to be listening intently for her next chance to clap.
"His passion, his compassion—it just hits," Abbott told me. In recent months, she'd moved away from considering him someone she could vote for, but he'd brought her around. Former Vice President Joe Biden has a rationale for running, Abbott said. So does Senator Elizabeth Warren of Massachusetts, and other candidates too. "I think he has found his," she said.
Ralph Fuell, a retired human-resources manager from Warren, told me he saw a change too: "He's more fiery now than the last time I heard him."
Still, O'Rourke's speech didn't sound like the kind of catering that many super-engaged early-state voters have come to expect; he wasn't talking up local issues, or spending much time on the Democratic feel-goodery that some in the audience told me they were looking for. "New Hampshire hasn't had one of these mass shootings, so we feel immune to it," state Representative Mary Beth Walz told me after watching him speak. "We're not. But people feel that way."
Rival candidates and campaign aides, as well as a number of Democratic voters I spoke with at the convention, told me they see O'Rourke's new approach as desperate and a little flimsy. He had this sudden revelation on guns and the impact of the Trump presidency just because of what happened in his hometown? He didn't see before what's upsetting him so much now? On Saturday afternoon in Manchester, Senator Cory Booker of New Jersey raised those questions himself to reporters, noting, without naming names, that when he proposed a gun-licensing plan months before El Paso, "I was attacked by some people in the Democratic primary for saying I was going too far. Now they're coming on board." O'Rourke disagreed with Booker at the time—and now he's made licensing part of his response to the shooting.*
O'Rourke acknowledged to me that he doesn't have a great answer for why he didn't have this level of alarm before. "I could not help but be changed by El Paso. I don't know that I'm alone in that," he told me. "But, yeah, I think it's a totally legitimate point."
In Manchester, I caught up with Representative Chris Pappas, a 39-year-old freshman Democrat in the U.S. House who disagrees with Trump on just about everything.
"I feel like we have a number of candidates who are speaking pretty authentically and effectively with the voters of New Hampshire, the voters of the country. Everyone has their own style, their own approach," said Pappas, who is staying neutral in the race for now. "In New Hampshire we like to ensure that we can really have an honest conversation eye to eye with these candidates. He's among those who are doing that in a nice way."
But, Pappas said, O'Rourke isn't the only one alarmed about the country: "If you talk to most folks here, they have long understood what's happening around us, the gravity of the situation we face, and the price of inaction."
Where O'Rourke's campaign goes next depends on how many voters are seeing what he sees, and how many are looking for someone willing to talk about it like he does. He's been mocked, especially by those tsk-tsking all his cursing. But if the response to him at the bar in Boston, or the next night at a New Hampshire college, is any indication, he's still resonating with the younger voters who helped make him a phenomenon in last year's Texas Senate race.
Then again, O'Rourke went unrecognized while standing on the sidewalk in Manhattan, waiting for the bus. A few hours later, when he did a livestream from the bus, talking about climate change and answering questions about whether he prefers the Beatles or the Rolling Stones for road music, most of the other riders did not seem to realize that they were three or four rows away from a presidential-campaign event. For all the cable-news coverage and tweets from political obsessives, most of the country hasn't tuned in yet to the 2020 campaign.
To those ready to write him off, his going unnoticed would seem like proof of where his campaign stands these days.
O'Rourke says he's not concerned about that. He is "unique among the candidates," he told me toward the end of our conversation on the bus, being "from the place that this president directs so much fear and hatred and racism" toward. "We don't have to apologize or be defensive or be on the back foot about this."
You don't owe nothing, boy, get running.
---
*A previous version of this story misidentified the proposal from Cory Booker that Beto O'Rourke once opposed.