The U.S. Is About to Do Something Big on Hong Kong
Protests there have demonstrated the enduring appeal of American values and power. But can Washington live up to that promise?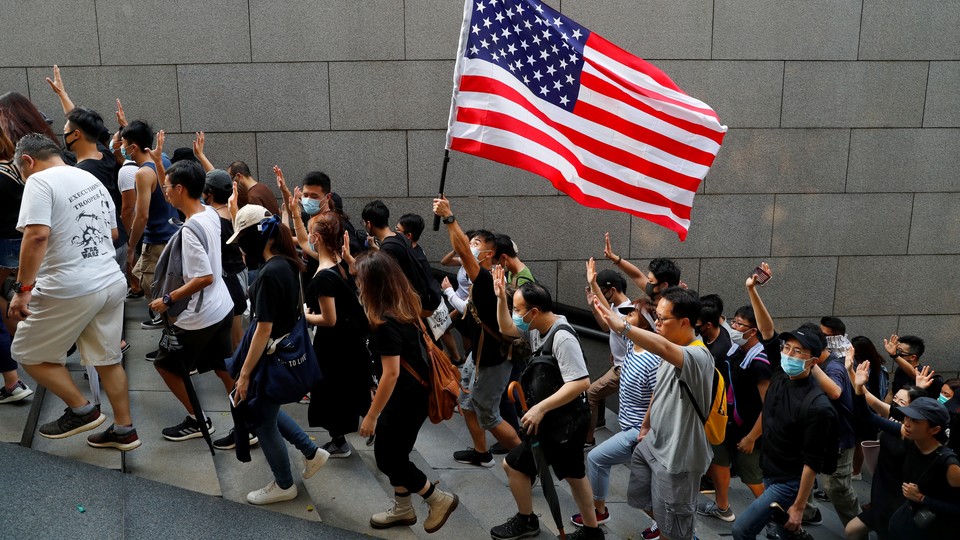 Hong Kong's pro-democracy protest movement, the David to China's Goliath, is calling out to the land of the free for help—and help may be on the way. The question is whether it will be substantial enough and fast enough, and have the support of the president of the United States.
For months now, a small but zealous contingent of American flag-waving protesters has been a fixture of the huge demonstrations in Hong Kong, including today, when dozens of people again carried the U.S. flag during a rally held in defiance of a police ban. As the struggle to resist China's tightening grip on the semiautonomous region has intensified, protesters have appealed to the United States in larger numbers and with greater urgency. Last weekend, tens of thousands of protesters marched near the U.S. consulate in the territory, singing "The Star-Spangled Banner" and carrying signs that urged President Donald Trump to "liberate Hong Kong." Perhaps more realistically, they also issued a practical plea: for Congress to pass the Hong Kong Human Rights and Democracy Act, which would grant the United States further means to defend the territory's freedoms and autonomy.
Faced with Trump's scattershot approach to the ferment in Hong Kong, which doesn't rank as a high-priority issue for his administration, activists are placing their faith in legislation that ultimately will only be as effective as the executive branch's willingness to implement it.
Nevertheless, Republican Senator Marco Rubio, one of the sponsors of the bill in the Senate, is optimistic that the U.S. government will deliver on its promise. That scene near the consulate a week ago was a vivid reminder that America is still a potent "symbol of democracy and freedom" around the world, he told The Atlantic. The protesters "see a country where people vehemently disagree on public policy and say horrible things about each other, but no one goes to jail for it," he noted.
By contrast, this past week, Hong Kong police announced that they've arrested nearly 1,400 people between the ages of 12 and 76 since the protests erupted this spring over proposed legislation that would have enabled suspected criminals to be extradited to the lawless judicial jungle of mainland China. Carrie Lam, the Beijing-appointed chief executive of Hong Kong, has since pledged to withdraw the law—an astounding victory for leaderless protesters going up against a powerful authoritarian state, but one that has yet to placate activists.
Rubio said he expects the Hong Kong Human Rights and Democracy Act to easily pass in Congress and be signed into law by the president. The legislation, which has bipartisan support in the Senate and the House of Representatives, has emerged as the primary vehicle through which the U.S. government is hoping to deter China from carrying out a Tiananmen Square–like crackdown against peaceful protesters and pressure it into upholding the city's special status within China. (So far Senate Majority Leader Mitch McConnell, whose wife's family has extensive business dealings in China, hasn't specifically endorsed the legislation, even as he's advocated for legislative measures to preserve Hong Kong's autonomy. A spokesperson for Rubio, speaking on the condition of anonymity to discuss deliberations in the Senate, said the senator's office did not view McConnell's failure to reference the act in a recent op-ed on Hong Kong as a slight.)
Among other things, the bill would require the secretary of state to annually certify to Congress that Hong Kong, which operates its own immigration system, judiciary, and currency, is sufficiently autonomous to maintain the favorable treatment on trade and commerce that it receives from the United States. (Hong Kong, for example, isn't subject to Trump's tariffs on the rest of China.) It would also empower the U.S. government to impose sanctions on Chinese or Hong Kong officials deemed to be undermining that autonomy or committing human-rights abuses.
In theory, this would equip the United States with plenty of economic and diplomatic leverage to influence Chinese behavior, but in practice it would be difficult to execute. For one thing, America's legislative machinery moves at a slower pace than the Hong Kong protests, which threaten to come to a head in a few weeks when China marks the 70th anniversary of its founding. Rubio said he could envision the Senate passing the act, perhaps by unanimous consent, in mid-October when it returns from a break, and the House passing its version in short order as well. That's fast by congressional standards, but the Chinese and Hong Kong authorities could in the meantime take any number of actions—including measures short of a large-scale military clampdown, such as declaring a state of emergency. It's unclear how the U.S. would respond if that were to happen.
There's also the distinct chance that the campaign in Washington could go the way of other recent issues, such as punitive measures against Russia and Saudi Arabia, that also had strong bipartisan backing in Congress only to be hollowed out when they reached the executive branch.
Rubio said he has personally spoken with Trump about the bill and has not encountered resistance. "The White House has indicated that they would sign it," he noted.
Yet as Trump's former consul general to Hong Kong and Macau has observed, Hong Kong is a "second-tier" matter in the administration relative to, say, trade with China and addressing the nuclear threats from North Korea and Iran. Trump has mostly been silent on Hong Kong. When he has mentioned it, he has explicitly linked the issues of trade and Hong Kong (even as his advisers dismiss any connection), warning the Chinese government that violent suppression of the protests would jeopardize trade talks and arguing that this threat is precisely what has restrained Beijing so far. At times Trump has appeared to take China's side, such as when he described the demonstrations as "riots." Occasionally he has said he's in favor of Hong Kong's freedom. More often he's suggested that the Chinese leader, Xi Jinping, meet with protesters, an idea Xi hasn't shown the faintest indication of entertaining.
Rubio said he didn't believe Trump would veto the legislation to placate the Chinese as trade talks resume, noting that he thinks the bill will pass with a veto-proof majority. (The Trump administration has made such moves in the past, such as when it reportedly postponed a tough speech on China by Vice President Mike Pence ahead of trade talks between Trump and Xi at the G20 summit in June.)
"I think the bigger concern is in its implementation," Rubio said. "You can pass the bill, but it still requires the administration to implement it. It still requires them to conduct the annual review and it still requires them to impose sanctions on individuals, for example, police officials responsible for repression. They could theoretically sign the bill—them or a future administration —and yet not implement it."
Rubio added that he has made the argument to Trump "that if the Chinese are prepared to break the commitments they made on Hong Kong [as part of a 1984 agreement with Britain on transferring control of the territory to China], how could we trust them to keep any commitments they make on trade or any other matter?"
In Hong Kong, meanwhile, the bill is being championed by pro-democracy lawmakers and activists who have recently made trips to Washington to lobby for its passage, angering both pro-establishment figures in the territory and officials in Beijing.
China's oversight of Hong Kong has taken a "serious deviation from the original intent of 'one country, two systems,'" Dennis Kwok, a member of the city's Legislative Council, told The Atlantic, referring to the framework under which Hong Kong has operated since 1997, when the territory was handed back to China. In August, Kwok and other Hong Kong lawmakers traveled to meet with U.S. counterparts in Montana, where the nonprofit that organized the delegation has an office.
The Chinese government, Kwok charged, wants to have it "both ways," exerting ever-increasing control over Hong Kong while still benefiting economically from the unique status afforded to the city by the United States under a 1992 law known as the Hong Kong Policy Act. While Hong Kongers don't want the act to be scrapped at the moment, if "suppression of human rights and democracy is a persistent factor, then why should people treat Hong Kong differently?" he asked.
Kwok said he understood that the American legislative process is "far from simple," but was heartened by what he heard during his U.S. tour, which included meetings with officials from Senate Minority Leader Chuck Schumer's office in New York and an address to the Oregon Republican Party convention in the small city of Pendleton. Across this eclectic set of interactions, Kwok said, there was a uniform message that people want to see Hong Kong "continue to be an open, successful, prosperous, international city, but they are worried about the stuff that is going on here."
Another pro-democracy lawmaker, James To, went to Washington in May. His schedule freed up unexpectedly, he joked, because he was ousted by a pro-Beijing faction from his position overseeing the Legislative Council's bill committee. He met with House Speaker Nancy Pelosi and Secretary of State Mike Pompeo, and returned to the United States last month with Kwok. The message he hoped to convey to U.S. officials is blunt: The "Hong Kong people are in a very dangerous situation," he told The Atlantic. (Rubio said his office speaks with Hong Kong activists "all the time" to hear "what they think we can do to be most impactful and effective at supporting them." He might meet with the prominent activist Joshua Wong during Wong's upcoming trip to the United States.)
The stream of visitors to Washington and the way they've been received has irked Hong Kong's pro-Beijing camp. Regina Ip, a pro-Beijing lawmaker and a member of Lam's cabinet who also made the recent trip to Montana, was frustrated with what she saw as a new tactic by government critics to draw on overseas support. "This time there is really high-profile involvement of U.S. officials," she said in an interview before Lam withdrew the extradition bill. "I won't use the word interference because I don't have hard evidence, but definitely the pressure on us is much greater."
The domestic and international push for passage of the Human Rights and Democracy Act has only deepened this sentiment. Lam has said that the U.S. Congress should not be allowed to become "a stakeholder" in Hong Kong's affairs and warned people not to lobby for the legislation. Officials in Beijing have spoken with even more force and a conspiratorial tone about covert U.S. meddling, demanding that the United States withdraw its "black hands" from Hong Kong while blaming U.S. politicians for pushing protesters to be "reckless" and "beautifying the violent criminal offenses as [a] fight for human rights and freedom."
Kwok, the pro-democracy lawmaker, dismissed Lam's comments as "standard communist rhetoric." Lam must understand that "Hong Kong works because it is an international city ... That means everyone, especially Western nations, have a stake in Hong Kong," he said.
As Rubio sees it, the stakes are towering. The Chinese Communist Party considers Hong Kong "the front line of its battle against Western liberal democracies," he said, and the United States needs to confront the authoritarian model China is promoting if it wishes to avoid becoming "an island surrounded by nations that have left the democratic order." He acknowledged that the Chinese government may so value Hong Kong that it is prepared to assert authority over it at great expense, but argued that it's still incumbent upon the United States to clarify what those costs will be. "The fact that we can't ultimately control the outcome [in Hong Kong] entirely should not prevent us from doing something," he maintained.
Rubio said that a red line for Congress would be a violent crackdown by Chinese forces on the protests or a loss of Hong Kong's autonomy, which he described as already "tenuous."
Asked whether he has a sense of the White House's red line on Hong Kong, he responded, "No, I don't."