The Atlantic Politics Daily: For Those Too Young to Remember 9/11
Something like a quarter of Americans today weren't even born on 9/11. Plus: The Trump administration considers a national ban on flavored e-cigarettes.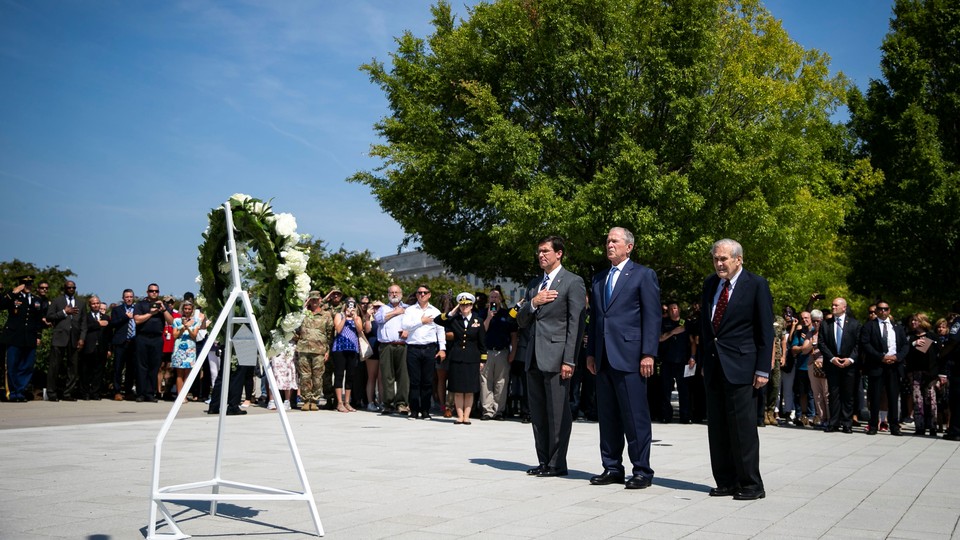 ---
Today in Politics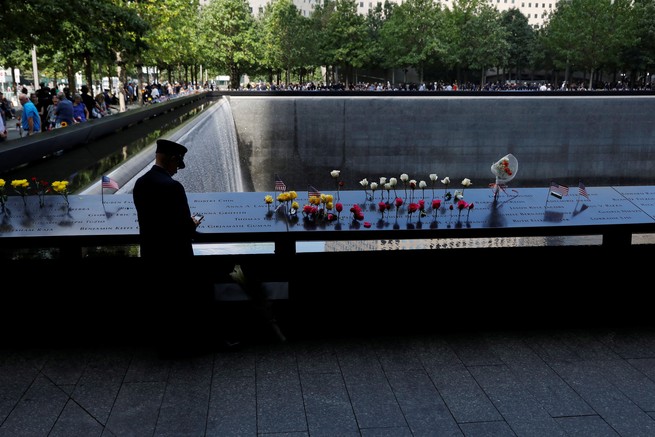 (Brendan McDermid / Reuters)
Eighteen years later, the 9/11 terrorist attacks can feel like a distant blur—and that's for those of us who remember the panic and confusion of that day; something like a quarter of Americans today weren't even born yet.
That may be why for many Americans, the faraway war in Afghanistan seems to take place out of sight, out of mind, its longevity sporadically bursting into public consciousness, most recently with President Donald Trump inviting (and then uninviting) Taliban leaders to Camp David.
Here are some things to remember about the ongoing military response to 9/11, 18 years later:
‣ The Department of Defense estimates that 775,000 U.S. service members have deployed to Afghanistan at least once since 2001. (That's larger than the population of Seattle.)
‣ Since 9/11, America has poured nearly $5 trillion into its post-9/11 wars, factoring in interest.
‣ Americans born on 9/11—and thus turning 18 today—can enlist in the military without parental consent (and then possibly be deployed to Afghanistan).
‣ Let's talk about families affected: A quarter of military spouses were unemployed in 2017—a rate that's roughly six times the national average.
Finally, a gutting reminder of private devastation: What's it like for those who lost a spouse on 9/11 to raise kids without a partner? Read Ellen S. Bakalian's essay about raising her daughters, now 18 and 20, here.
*
SNAPSHOT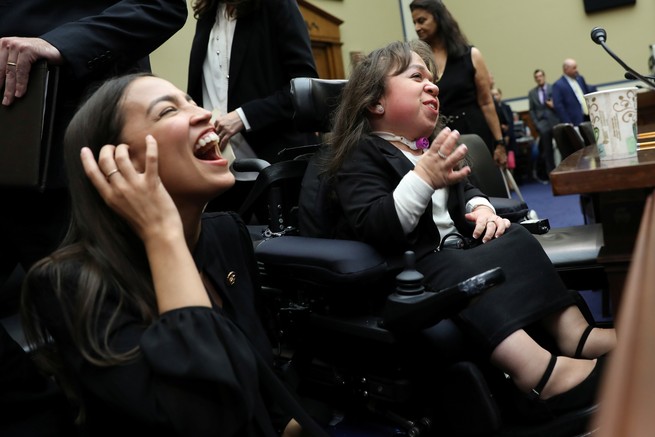 (Jonathan Ernst / Reuters)
Representative Alexandria Ocasio-Cortez speaks with Maria Isabel Bueso after her testimony about her ongoing medical care in the U.S. at a House Oversight and Reform Civil Rights and Civil Liberties Subcommittee hearing.
---
*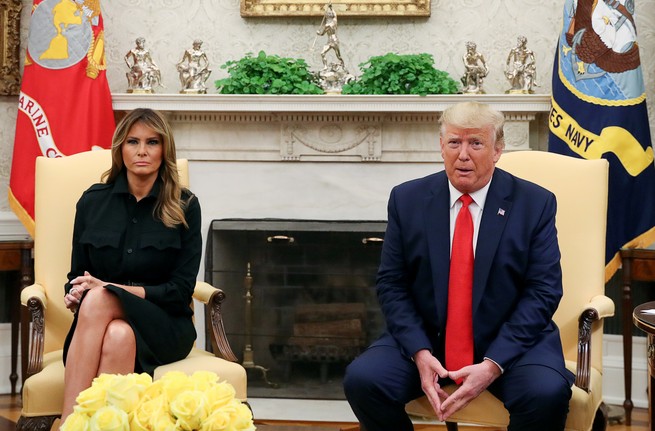 (Leah Millis / Reuters)
Banning flavors, for the youth: In response to weeks of alarming news about illnesses and deaths linked to e-cigarettes, the president announced the FDA will issue "very strong" recommendations to cut down on nicotine consumption, including a total ban on flavored e-cigarettes. It's the most sweeping anti-vaping measure of the year, because the popularity of products like Juul's packets have erased a 20-year decline in youth tobacco usage, Amanda Mull writes.
What started as Sharpiegate … has turned into something more worrisome, Quinta Jurecic argues: "The saga of Dorian is a snapshot of Trump's refusal to accept the reality of a world that looks any different from what he wants to be true, and a demonstration of how such an instinct in a leader is incompatible with the requirements of democracy."
---
*
🇺🇸 2020 Watch
(Michael Dwyer / AP)
It's Biden's debate to lose: Tales of Joe Biden's demise may or may not be greatly exaggerated, but he continues to hold a comfortable lead in the Democratic primary as the candidates head into the third debate, Edward-Isaac Dovere writes. So why is he still flying high? "Many Democratic voters don't just have PTSD from 2016—they have a daily, constantly refreshed panic about 2020."
---
*
👓 JOHN BOLTIN'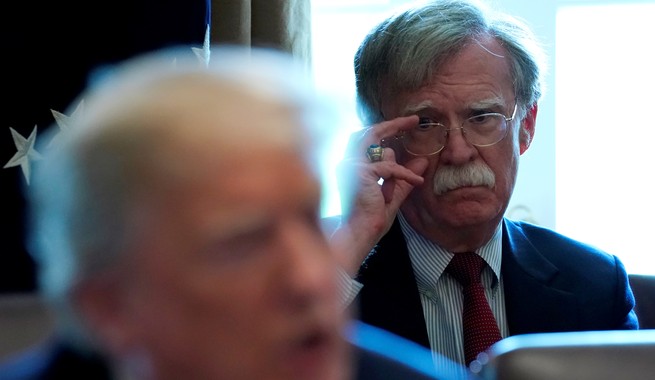 (Kevin Lamarque / Reuters)
Bolton's days were numbered from the start: People who work for the president know what the plan is: They can stick around as long as Trump needs them, and when he doesn't, they can be fired by tweet, Peter Nicholas writes. The only way to survive is to be a yes-man, and Bolton was not.
+ And presidents dogged by unpopular wars aren't keen on hawkish advisers, Peter Beinart argues. There's a useful example from 37 years ago, during President Ronald Reagan's administration.
---
*
The Atlantic Political index
Donald Trump and Dan Bishop at a rally in Fayetteville, North Carolina, on September 10.  (Chris Seward / AP)
The special election for North Carolina's Ninth Congressional District was finally resolved last night, with the Republican Dan Bishop besting the Democrat Dan McCready by roughly 4,000 votes.
The final margin of victory is likely to be close to 2 percent, well below President Trump's double-digit advantage in 2016, but ahead of the 2018 results. What changed?
→ Read David A. Graham's analysis of the unusual election, in which about $20 million was spent.
---
*
FEATURED READ
(John Cuneo)
Juanita Broaddrick doesn't believe all women. Amanda Fitzsimmons writes in her portrait of the woman who alleged Bill Clinton raped her in 1978:
Twitter augments the snarkier side of almost everyone's personality, but the gulf between Broaddrick's social-media persona and her actual one is especially wide. In the days after Broaddrick denigrated E. Jean Carroll, the woman who accused Trump of rape in her new book, tweeting that she looked like the Jeopardy host Alex Trebek, I called her to request an interview. To hear Broaddrick's genial, alto drawl was jarring, as was the contrast between the vitriolic @atensnut (Broaddrick is a huge tennis fan) and the woman who later greeted me with a bear hug when we met in the lobby of a Days Inn near her home. I'd mentioned on the phone that I'd forgotten my toothbrush, and, though it was a Sunday morning, she'd come over to transport me to the nearest drugstore. She hadn't been planning on church that day anyway, she assured me. Even the story of how she'd launched her Twitter activism—her grandson had helped; she'd barely known how the thing worked—was endearing.
---
*
📱OUR REPORTERS ARE ALSO READING
‣ The Myths of the 'Genius' Behind Trump's Reelection Campaign (Peter Elkind and Doris Burke, Propublica)
‣ We Tracked Down the Kid Vice President Dan Quayle Made Misspell 'Potato' (Erika Neddenien, BuzzFeed News)
‣ In an Age of Policy Boldness, Think Tanks Have Become Timid (Jeet Heer, The Nation)
‣ Alaska's Universal Basic Income Problem (Robyn Sundlee, Vox)
---
About us: The Atlantic's politics newsletter is a daily effort from our politics desk. It's written by our associate politics editor, Saahil Desai, and our politics fellow, Christian Paz. It was edited by Shan Wang.

We have many other free email newsletters on a variety of other topics. Browse the full list.