The Democratic Debates Aren't Pleasing Anyone
The candidates hate them. The campaigns hate them. The press hates them. For once in American politics, there's a consensus.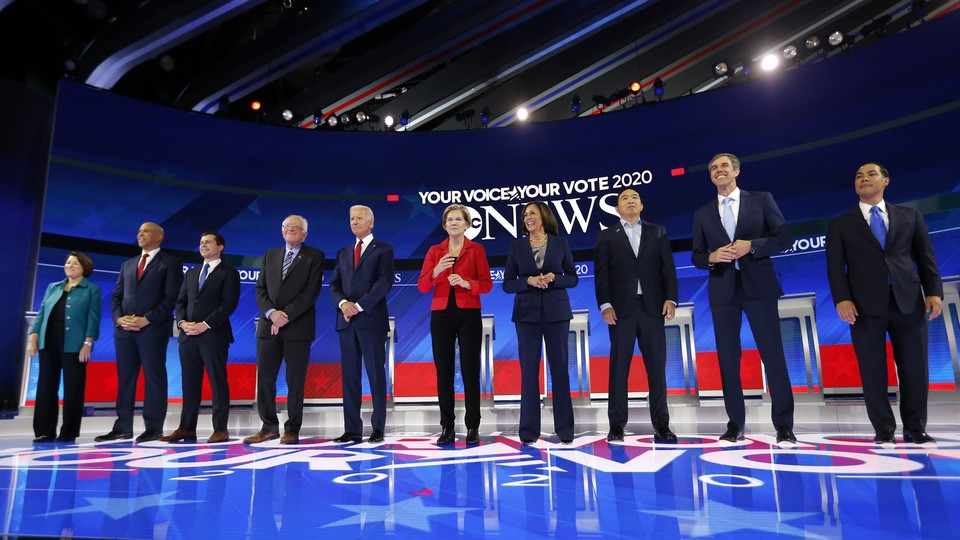 Just as the final question was being asked at the most recent Democratic debate, a 2020 campaign manager walked through the spin room, full of reporters trying to figure out what smart analysis to summon, and worked up all the fake excitement of a parent en route to a children's birthday party: "Just 35 days until the next debate!"
That was one week ago. But for all the news coverage, the debate has more or less already been forgotten—even by those who were paying the closest attention in the first place. The campaigns and the press have moved on. And any voters who actually watched all three hours don't have much more than a few one-liners and minor clashes to point to as significant moments.
The debates haven't been used "to educate the public and illuminate contrasts between the candidates. And they've been too superficial in their construct as to not allow the candidates to delve into differences of opinions that they may have," Faiz Shakir, Senator Bernie Sanders's campaign manager, told me as we boarded a plane in Houston last week. "You'll end up having a conversation about climate change where maybe 60 percent of the candidates comment, and to the extent that they commented, it would be their two talking points, and not a conversation that gave voters a better understanding of the differences between them."
This isn't just the complaint of one policy-minded campaign staffer. In dozens of conversations I've had with 2020 candidates, campaign aides, reporters, and political operatives, there's been a consensus: Pretty much everyone says they hate the Democratic presidential debates. The candidates hate them. The campaigns hate them. The reporters hate them. The staff of the Democratic National Committee, which is responsible for putting them on, hates them too. On top of all that, viewership is dropping: from 18 million in June to 14 million in September.
Their reasons range from the logistical to the philosophical. The debates suck up time: Candidates and their top aides spend weeks practicing one-liners and potential comebacks. They suck up money: Campaign aides estimate that each team spends at least $20,000 on flights, hotels, and other expenses to bring the candidate, advisers, and prominent supporters to each site—and some spend much, much more. Campaigns don't see the debates as having much payoff in connecting with the voters who will shape the party's nomination process most: DNC rules dictate that debates can't yet be held in any of the early-voting states. And they don't cover all the subjects campaigns want to discuss: Several topics, such as health care, have been picked over repeatedly, while others, including the economy, haven't been touched on much at all.
"The candidates and the campaigns probably only agree on two things in this race: First, we have to beat Trump. And second, debates with 10 people every month are a complete waste of time," said an aide who helped prep one of the candidates onstage for the three debates, and who, like others I talked with for this story, spoke on the condition of anonymity out of concern for the professional consequences of sharing their grievances.
Months before much of the country has tuned in to the election, the debates have already exhausted the people most involved in the process. Yet next month, the Tuesday after Columbus Day, everyone will do it again. This time in Ohio. And it's likely, since more than 10 candidates have qualified so far, to go back to being a two-night exercise, so pencil it in for Wednesday too.
"Debates suck," said one Democratic operative who's attended each debate. "I mean, it's fun to hang out and drink with friends in a city that's not D.C. Sucks otherwise on all levels."
Has any element in a debate so far counted as a good use of candidates' time or as a worthwhile discussion? I posed that question to an aide who's been prepping one of the leading candidates. "Absolutely not," the aide said. "It's so much on the performance art of this, and we've lost the substantive debates we should have."
Within minutes of the end of last week's debate, commentators declared that it hadn't fundamentally altered the dynamics of the race—as if 150 unevenly distributed minutes onstage were ever really going to overturn months of campaigning. The only debate moment that's really registered this year was when Senator Kamala Harris took on former Vice President Joe Biden in June over his record on mandatory busing, but that shook up the polls for only a few weeks.
Political reporters are a professionally unimpressed bunch, but the debate spin rooms contain rows of glazed-over eyes; the press seems more aware than usual that a show is being put on for them. "Such a silly microcosm of absurdity" was how one reporter described last week's debate to me.
Who has qualified for the debates has done more to shape the race than anything that's actually happened onstage. Candidates have been counted out, or have dropped out, because they don't have the poll numbers or level of donor support to get them an invitation. "These debates have become these gating moments that have actually made a difference in polling," said John Davis, the campaign manager for former Representative John Delaney of Maryland, who didn't make the stage last week.
"Unquestionably, that art form is part of our political process. But I don't think there's any reason to think it should be the dominant part of our political process," Senator Michael Bennet echoed in an interview a few weeks ago. "And I certainly don't think it should be determining who is a viable candidate in this race."
It's natural for Bennet to say that. His campaign has struggled to keep the political world believing in his chances, as he wasn't able to clear the donor and polling thresholds that the DNC set for the most recent debate. But he has a point: If debates actually determined the winners of elections, Hillary Clinton's mopping the floor with Donald Trump three times in 2016 would have led to her landslide victory.
Multiple aides at the DNC told me that they never wanted to be in the position of shaping the race like this. They asked, rhetorically, what the organization is supposed to do when so many experienced politicians have proved less capable of winning voter support than a newcomer like Andrew Yang. They are just as desperate as every other Democrat to beat Trump, and just as surprised and overwhelmed by the number of candidates running for president. But they feel powerless to do anything about it. Plus, they're frightened by the often legitimate attacks on how DNC leadership favored Clinton in the 2016 primary, and are searching for a way to satisfy voters' Sanders-inspired skepticism of the Democratic establishment—all within an organization still recovering from the controversial tenure of its previous chair, Debbie Wasserman Schultz, and left in a financial hole by Obama and Clinton.
The qualifying criteria have frustrated candidates all year long. The polling thresholds are tricky for campaigns to navigate, because the DNC accepts only certain polls and has no control over whether private organizations administer and release them before the qualifying deadlines. And for many candidates, the donor thresholds are creating a distorted situation where a campaign is investing so much money in online advertising that it is paying $60 or more for each $1 donation landed.
"We're all having to endure a process that is a giant public-relations overcorrection," said an aide to one of the 10 candidates who appeared in the most recent debate.
On Monday, I asked DNC Chair Tom Perez if he feels that the debates have presented the kind of substantive conversations he wanted. He pointed out that viewership remains high, that the moderators have been diverse and have asked a variety of questions, and that they have stuck to the requirement to ask about policy issues. "We haven't seen any discussion of hand size," he said, deploying a joke he's made after each debate, a reference to an infamous moment during one of the 2016 Republican-primary debates.
"There's so many candidates, I don't know how you can make a decision about who to vote for if you don't get to kick the tires," he said, insisting that the process will produce a "battle tested" candidate—just like the 2008 debates did with Obama, he added.
The debates call to mind a quote about democracy that's often attributed to Winston Churchill: It's the worst system, except for all the others. Perez is aware of the complaints. At one meeting—say, with major donors and other prominent supporters—he'll hear gripes that the process is moving too quickly to shrink the field, he said. At the next, he'll hear that it's moving too slowly, and isn't shrinking the field fast enough. "There's a level of anxiety around the nation that is understandable," Perez said, reflecting on those mixed reactions.
The real blow to the field is likely to come sometime next month, when the DNC announces new, higher thresholds for the November debate and beyond. (The October qualifications are the same as those for September, and already one additional candidate, Tom Steyer, has met them.) Even raising the thresholds just slightly will likely shrink the stage drastically. Five to seven candidates would likely be onstage, with 10 or more who didn't qualify still running around Iowa and New Hampshire campaigning.
Perez told me that he's not worried about that. He pointed out that the end of the next fundraising quarter is coming up in two weeks, and he expects this, among other practicalities, to force some of the candidates to make tough assessments about their ability to go on—assessments that have little to do with whether they're getting a golden ticket to the debate stage.
"Candidates will have to make their own choices," Perez said, noting that winning what is expected to be an extended primary fight will require a large and well-funded operation across many states. "Candidates will have to ask themselves: Do I have all the tools in place to be in it for the long haul?" But first they'll have to ask themselves if they can deal with more debates.