The Contradictory Americana on Display at the Iowa State Fair
Democrats went through the performative motions of the American electoral system this weekend—even though that system may be severely broken.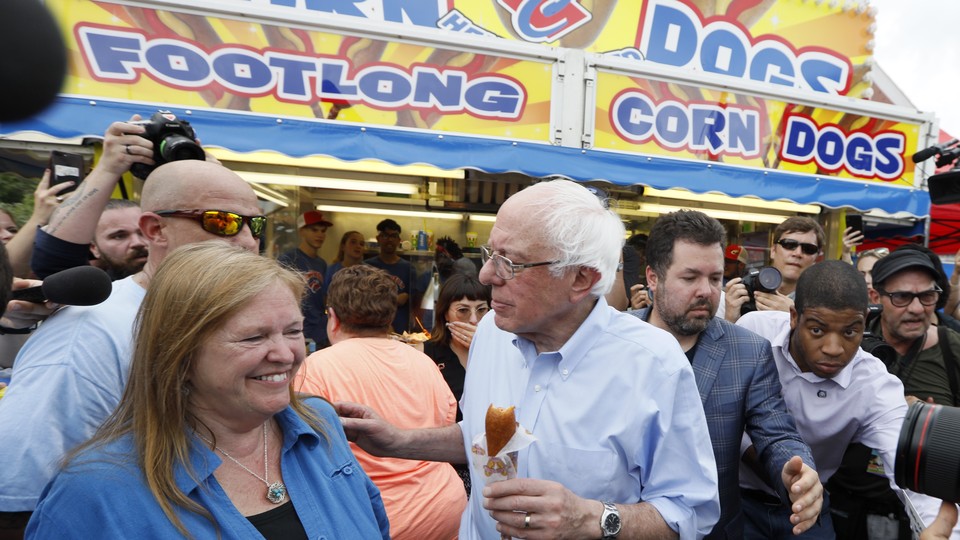 DES MOINES, Iowa—Children are being shot, another apocalyptic climate report just hit, but the 2020 Democratic candidates still made time for fried Oreos at the Iowa State Fair.
And fried cheese curds, fried PB&J, and giant turkey legs. Senator Kamala Harris of California bought a six-pack of pork chops on a stick. Former Vice President Joe Biden walked into the fair saying, "I tell ya what. I'm an ice-cream man." His staff led him to the Wonder Bar stand, where he ordered a vanilla ice-cream bar with chocolate dip and chocolate sprinkles. Senator Kirsten Gillibrand of New York got a cone with two scoops of strawberry at the Iowa Dairy Barn booth, then stopped to smell the award-winning roses. Senator Cory Booker of New Jersey took a ride on the Ferris wheel. Senators Michael Bennet of Colorado and Bernie Sanders of Vermont both chowed down on corn dogs. (Bennet followed his with an intense turn on the bumper cars and a flight on the hang-glider ride with his daughters.)
The 2020 election is like no other, with the country and the world hanging in the balance, but the 2020 primary campaign rolls on—and it's mostly business as usual. So while President Donald Trump spent his weekend reportedly mocking Asian accents at a fundraiser in the Hamptons and retweeting a conspiracy theory implicating Bill and Hillary Clinton in the death of Jeffrey Epstein, the rival Democrats who gathered in Iowa appeared to exist in their own dimension.
At the fair this weekend, the 20 candidates took turns speaking on the Des Moines Register soapbox. On Friday night, they all hauled 100 miles up the highway to Clear Lake for an event called the Wing Ding. The dinner, which featured five-minute presidential speeches, took place inside the Surf Ballroom, the last venue that Buddy Holly, the Big Bopper, and Ritchie Valens played in 1959 before their plane crashed in a field a few miles away. On Friday, a couple of hundred Democratic activists picked through sloppy joes and baked beans, waiting to be wowed. (The candidates did come together to hold hands in a brief moment of silence for the latest shooting victims, and performed for the cameras in the plaza next to the large record-themed memorial to the dead musicians.)
"It's harder to smile these days," former Housing Secretary Julián Castro told me. "It's harder to smile because of everything that has happened. There's a darkness that this president has created for a lot of people, and what happened the other day in El Paso was just one more example of the times that we're living in and the lack of leadership that we have that's supposed to try to make it better." Castro was headed to meet his family at the cow-milking barn ($3 a pull, though he didn't go for it himself).
Gillibrand also came to the fair with her family, and preempted her stump speech on the soapbox by introducing her son, Henry, who in turn introduced the giant blue stuffed sloth, Blueberry, he'd won at a Frisbee game. A little later, Henry, who had a special Director of Fun T-shirt printed for him by the campaign, made another cameo during an appearance she recorded for CBS. Gillibrand's husband, Jonathan, drove the family around the state in an RV. Former Colorado Governor John Hickenlooper is using one too. Harris pulled into Iowa on a bus wrapped in a three-color logo of her last name. It basically functioned as a rolling interview studio, shuttling her over four days from the Missouri River to the Mississippi, mostly for the sake of claiming the gimmick.
Gillibrand handed her dripping ice-cream cone to an aide as she and I spoke. "There's an ever-present anxiety, because [Trump has] put us at such risk in so many ways that people really do fear the future," she told me. It can be hard to focus on fair games a few hours after speaking at a quickly organized presidential forum on gun violence. "You do have to separate it," she said.
Then she was off to see the butter cow, which was accompanied this year by a butter Big Bird, a butter Oscar the Grouch, and a butter Cookie Monster, watching a butter TV.
The only major candidate who didn't come to Iowa this weekend was former Texas Representative Beto O'Rourke, who scrapped his trip to continue visiting the families of shooting victims in the El Paso area, where he lives. A piece of black tape covered his name on the official posted schedule for the speeches at the fair. He sent a video message that played on-screen at the Wing Ding dinner: "I'm sad that I can't be with you in person," but "I hope to see you in the very near future." Meanwhile, O'Rourke shaped the weekend from a distance: After he cursed and called Trump a white supremacist earlier in the week, many reporters spent their time at the fair asking other candidates whether they agreed with his use of the term, the latest instance of the yes-or-no question that has become a Twitter-friendly staple of the campaign trail.
Senator Elizabeth Warren of Massachusetts drew more people to her speech on the soapbox than most of the other candidates combined. South Bend, Indiana, Mayor Pete Buttigieg received a hugely enthusiastic reception at the Wing Ding from the moment he walked out, and it continued through a speech that called for a fresh start with serious answers. Biden, meanwhile, sounded tired and ran long, not realizing that "We Take Care of Our Own," the Bruce Springsteen song his campaign has cribbed from the old Obama playlist, was playing to nudge him offstage. (He tried to shout over the track.)
On Thursday afternoon, I watched Montana Governor Steve Bullock ride a potato sack down a three-story slide with his three children. Eventually, Bullock made his way to the pork pavilion, where he was handed an apron embroidered with his name and put in charge of grilling the pork burgers. While the governor waited to be told the patties had crisped enough to flip, he talked about his family roots in Iowa, then asked the chef, Spanky, how much of a hit his farm had taken from Trump's tariff wars. (He also wanted to know where the name Spanky came from.) While waiting in line to see the butter cow, Bullock told me that the fair was "a nice break," but that he is concerned that the race so far isn't caught up enough with what's happening in the country. "We can't have these debates that are disconnected from people's lives," he told me.
Washington Governor Jay Inslee, whose campaign is based on his belief that Americans aren't adequately focused on climate change as an immediate, existential threat, was in an upbeat mood with the reprieve of the weekend. We caught up as he worked the crowd after the Wing Ding. "I know these people have a lot of passion for the things that count," Inslee told me. "It's not just fried chicken and pork on a stick. These people care a whole bunch, maybe more than ever." He compared this moment to the political awakening for many Americans during the Vietnam War. His fellow candidates are acting alarmed enough, Inslee said, but "it's more important that the voters be alarmed than the politicians, and the voters are very, very alarmed, appropriately so."
Representative Tim Ryan of Ohio walked around the fair with his wife and son, introducing the boy to other candidates and feeding him fair food. Ryan had just arrived in Iowa after days of speaking out after the Dayton shooting, some 200 miles from his district. He was part of a caravan protesting for background checks that had driven through Ohio and into Louisville, Kentucky, to call on Senate Majority Leader Mitch McConnell to order the Senate back into session for legislation.
"There's a general sense of insecurity, and yes, it's guns, but it's also health care, and it's also the economy," Ryan told me, carrying his son on his shoulders. But that doesn't change the campaigning that happens? I asked. No, Ryan said. "Then they win."
This is the sort of weekend that can make people outside Iowa ask why so much of our electoral process happens inside Iowa, a mostly white state of 3 million with four representatives in Congress. Democratic National Committee Chair Tom Perez told me that maybe the candidates stuffing their faces and checking out the animals were actually a message, like when Barack Obama came to the fair in 2007, with the country then deep in two wars and an economic crisis mounting.
"This president wants us to be in a crouch; he wants us to be fearful every moment of every day," Perez told me. He was starting to tell me about how one of the cattle ranchers had said he's now getting half as much for his beef because of the tariffs.
Then a goat on the loose ran by, and Perez got distracted. He was laughing too hard to finish his thought.