The New Stephen Miller
In Ken Cuccinelli, President Trump's biggest immigration hard-liner has found the consummate ideological ally.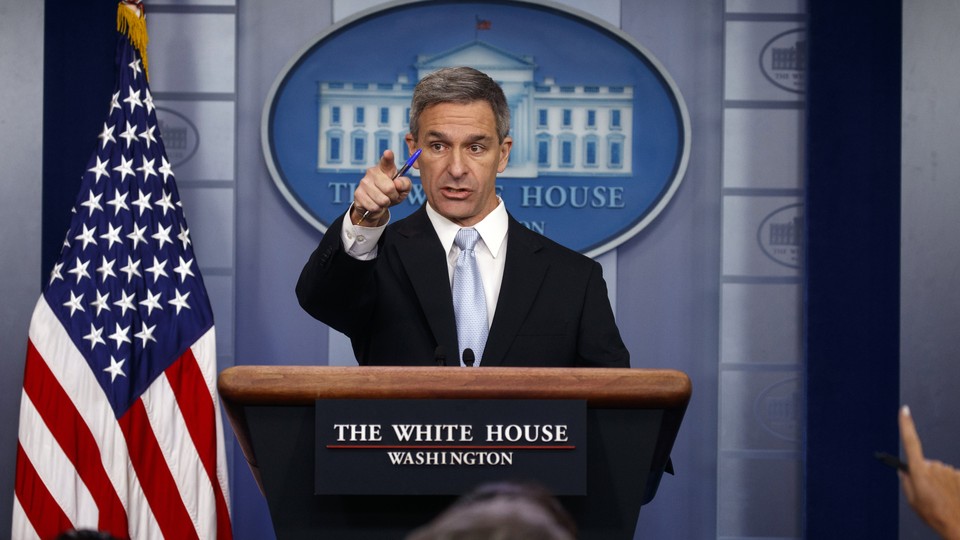 When President Donald Trump's administration on Monday rolled out its so-called public-charge rule, which would allow the government to deny permanent residence to legal immigrants receiving public assistance, whispers of Stephen Miller were immediate.
Miller, the 33-year-old Trump adviser, has created many of the White House's most controversial immigration policies over the past two and half years, and sure enough, when Acting Citizenship and Immigration Services Director Ken Cuccinelli announced the plan, which is scheduled to take effect in 60 days, reports detailing Miller's handiwork were not far behind. It was as though Cuccinelli, in briefing journalists on the rule, had served as little more than a suited vessel for Miller's worldview. But to shift focus away from Cuccinelli is to ignore the very real convictions he brings to bear in this administration.
A former senior White House official, who spoke on the condition of anonymity in order to be frank, told me that one of the chief challenges in staffing this administration has been finding people whose fervor for hard-line immigration policies matches that of the president, and whose résumé includes even one line of government experience. Miller has thus found himself on an island at times in his attempt to execute his more extreme visions for the nation's immigration system. (A screaming match on the topic of, say, the proposed Mexican border wall is not unusual, said the source, who was party to one such exchange.)
Enter Cuccinelli. The former Virginia attorney general joined the Trump administration in late May. His background includes trying to eliminate birthright citizenship, questioning whether Barack Obama was born in the United States, and proposing to make speaking Spanish on the job a fireable offense. Accordingly, Senate Majority Leader Mitch McConnell advised the president against nominating Cuccinelli to any post that required Senate confirmation. To some, Cuccinelli's arrival meant that Miller had, at long last, found the consummate ideological ally. (A representative for Cuccinelli declined my request for a phone interview with the director.)
Cuccinelli may well have been created in a Trump-branded petri dish. He's spent decades advocating for far-right positions on a variety of social issues, and the 50-year-old practicing Catholic enjoys widespread support among conservative evangelicals. Cuccinelli used his 2013 loss to Terry McAuliffe in the Virginia gubernatorial race to reinvent himself as a conservative pundit, and for the past few years has offered a reliably pro-Trump perspective across cable networks (a bonus for anyone seeking this president's favor). As someone who built much of his popularity on polarizing immigration policies and incendiary rhetoric, Cuccinelli was as natural a choice as any for an administration hoping to make progress on the president's signature issue ahead of the 2020 election.
This week, Cuccinelli has gone on a media blitz of sorts to defend the administration's crackdown on legal immigration. The new public-charge rule specifically allows the government to deny permanent residency to legal immigrants it deems a financial burden, based on an individual's current or likely reliance on programs such as food stamps or Medicaid. In an interview with NPR yesterday, Cuccinelli went so far as to suggest a rewrite of the Emma Lazarus poem inscribed on the base of the Statue of Liberty. "Would you also agree that … 'Give me your tired, your poor' are also part of the American ethos?" the host Rachel Martin asked Cuccinelli. "They certainly are," he replied. "Give me your tired and your poor who can stand on their own two feet, and who will not become a public charge."
Cuccinelli began his career as a state senator in Virginia, where he served from 2002 to 2010. In 2008, he introduced legislation that would have allowed employers to fire those who didn't speak English in the workplace. Under his plan, those fired would have subsequently been ineligible for unemployment benefits. At the time, state Senate Majority Leader Richard Saslaw called it "the most mean-spirited piece of legislation I have seen in my 30 years down here."
In 2009, Cuccinelli ran a successful campaign for Virginia attorney general, serving under Governor Bob McDonnell. Much of the controversy surrounding Cuccinelli's four-year tenure touched on health care—he was the nation's first attorney general to file a lawsuit against the Affordable Care Act—and LGBTQ rights, including his defense of a state law prohibiting sodomy, which was struck down in 2013, and his attempt to remove sexual orientation and gender identity as protected classes within state universities' nondiscrimination policies.
Cuccinelli was just as active on the issue of immigration. In 2010, he issued an opinion that authorized law-enforcement officers to check the immigration status of anyone they stopped for any reason, a move that followed a similar practice in Arizona. That same year, he said it didn't "seem beyond the realm of possibility" that Obama was born in Kenya—a statement he later walked back.
All of which was enough to splinter support across the Republican Party when he decided to run for governor in 2013. As The Washington Post's Marc Fisher noted in the spring, the U.S. Chamber of Commerce, which was a major backer of McDonnell, refused to give Cuccinelli a dime toward his campaign. After then–Lieutenant Governor Bill Bolling withdrew from the race, he also declined to back Cuccinelli, arguing that it was crucial for the party to "reconnect with a more diverse voter base." Cuccinelli, upon winning the GOP nomination, lost the general election to McAuliffe by two and a half percentage points.
Cuccinelli continued to remain active in the party. He advised Ted Cruz's campaign in the 2016 presidential race. He went so far as to lead the senator from Texas's effort to unbind delegates ahead of the party's convention, and yelled "Shame! Shame!" on the floor to protest Trump's nomination. But like so many other anti-Trump Republicans, Cuccinelli quickly fell in line, and has spent much of the past two and a half years praising the president.
The public-charge rule is in many ways the result of this administration's inability to enact its desired "merit-based" immigration laws through Congress. With Trump's first term nearing its conclusion and Congress impossibly gridlocked, many more such crackdowns on immigration—both legal and illegal—are likely to originate in the executive branch. If the latest rollout is any indication, it could be that Cuccinelli, as much as Miller or anyone else, is eager to bring those ideas to life.