The Atlantic Politics & Policy Daily: Mile Eight in a Marathon
The candidates ganged up on Joe Biden and argued over immigration at last night's debate. But did it change the political dynamic of the 2020 race?
What We're Following Today
It's Thursday, August 1.
‣ President Donald Trump said he will impose a new round of tariffs on $300 billion in Chinese products starting next month, upping tensions between the two countries.
‣ The Senate approved a two-year budget deal that will lift the debt ceiling. Now it heads to the president's desk.
What Happened Last Night?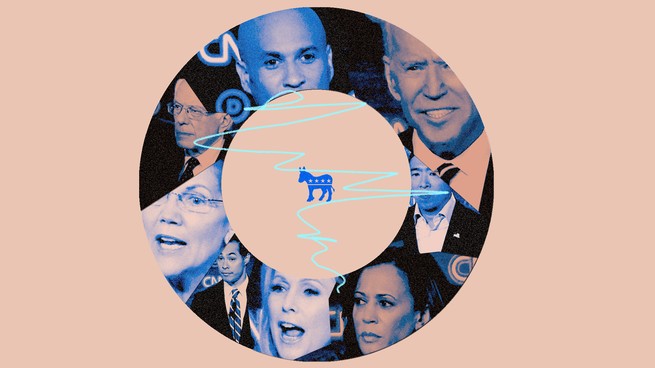 The Issues on the Table:
‣ While it took an hour and a half for the Democrats in Tuesday night's debate to meaningfully discuss race, the second batch of candidates got there in just a few minutes.
‣ The Democrats onstage disagreed on how to approach the most fundamental question about American immigration.
‣ They blasted health-insurance companies—but ignored the role of doctors and hospitals in the high costs of health care.
‣ And Andrew Yang deployed a hyper-conservative argument about climate change, suggesting both that humanity is "too late" to stop it, and that the best solution to avoid sea-level rise is to simply move to higher ground.
They Piled Up on Biden: Senator Cory Booker of New Jersey criticized the former vice president's authorship of the 1994 crime bill, and Senator Kirsten Gillibrand of New York tried to paint Biden as sexist and out of step with the modern Democratic Party.
Despite these attacks, Biden showed up to this debate much better prepared than he was in June. And it could be that his rivals actually helped him more than hurt him, Ronald Brownstein writes, because "his rivals may have simultaneously painted themselves more deeply into an ideological corner that constrains their capacity to grow among more centrist Democratic voters."
The Big Takeaway?: Well, not a lot changed, Edward-Isaac Dovere writes. Some of the 2020 Democrats demonstrated more energy than at the last candidate forum, but the debate didn't do much to shift the dynamics of the race. We'll see who shows up in six weeks.
---
Snapshot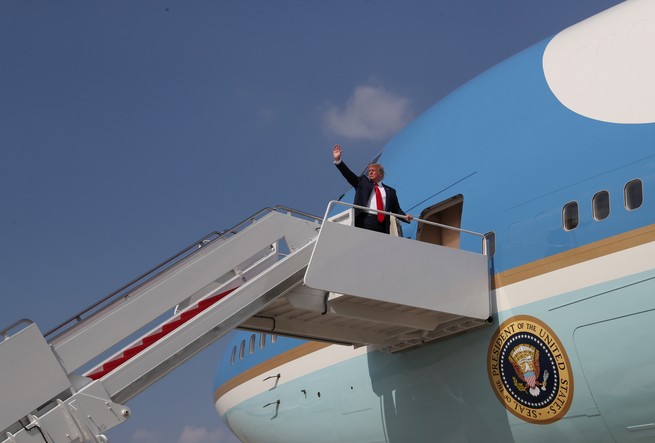 (Leah Millis  / Reuters)
President Trump boards Air Force One as he leaves Joint Base Andrews, outside of Washington, D.C., for a rally in Cincinnati on Thursday.
---
Ideas From The Atlantic
Europeans Don't Necessarily Share American Values (Shadi Hamid)
"In the absence of a shared understanding of American culture, whose conception of it would we privilege? Many national conservatives are either illiberal or anti-liberal. If the United States is a liberal country … then should we make it more difficult for supporters of right-wing populist parties, such as Italy's League or Austria's Freedom Party, to immigrate to the United States?" → Read on.
Trump Is in an Abusive Relationship With America (Ibram X. Kendi)
"Trump has shattered America in two: those who love him, whom he can abuse, and those who hate him, whom he can fight. How is that love?" → Read on.
Conservatives Are Wrong About What's Driving Immigration (Annie Lowrey
"The 'welfare magnet hypothesis' ... is a deeply intuitive one: If you provide migrants with generous benefits, more of them will come. But it does not seem to be true. Migrants do not seem to be swayed by the generosity of benefits, or at least not heavily swayed by them; the prevalence of social networks and the availability of jobs are far more important factors." → Read on.
But What About China? (Peter Beinart)
"Washington is now pursuing roughly the same grand strategy that ended in war with Japan in 1941: preventing any single Asian power from dominating the Western Pacific. China is challenging that effort. And unless the world's two superpowers accommodate each other, that challenge could lead to war." → Read on.
---
What Else We're Reading
Majority of House Democrats now support impeachment inquiry (Kyle Cheney, Politico)
Only 7 candidates have qualified for the next Democratic debate (Maggie Astor, The New York Times) (Paywall)
How do you host a debate in Detroit without asking about labor rights? (Sarah Jones, New York) (Paywall)
You'll get your Equifax money. It just might take a while. (Lily Hay Newman, Wired) (Paywall)
---
About us: This newsletter is a daily effort from The Atlantic's politics writer Elaine Godfrey, with help from Christian Paz. It's edited by Shan Wang.

Were you forwarded this email? Sign yourself up here. We have many other free email newsletters on a variety of other topics. Browse the full list.