The Baggage Trump Brought to Dayton
The city is hovering between grief and recovery. The president didn't unite it.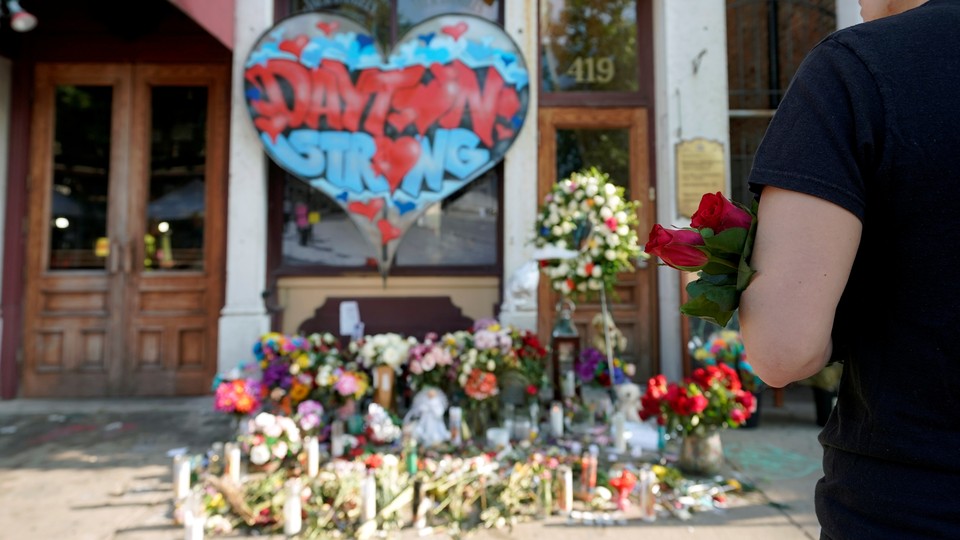 DAYTON, Ohio—Fifteen minutes after Air Force One touched down here this morning, a fight nearly broke out on the same city block where a gunman shot and killed nine people on Sunday. A middle-aged white man waving a large blue Trump 2020 flag traded angry insults with a cluster of people chanting, "Vote him out!"
"We don't want you here!" one woman shouted.
"God bless Trump!" he proclaimed.
"If you support Trump, you're a racist!" someone else yelled.
"You're an idiot!" the Trump supporter snapped back.
The confrontation unfolded in front of Ned Peppers Bar, where the 24-year-old gunman was shot by police before he could enter and possibly kill dozens more people who had rushed inside to escape his gunfire. In the days after the shooting, the block in the city's hip Oregon District had become a gathering spot for people looking to grieve and console one another. All along the brick sidewalk, children had drawn hearts with blue and pink chalk. People have been posting sticky notes on storefronts. "Kindness will win," read one. "Stamp out hate," read another.
With the White House divulging no details about President Donald Trump's itinerary in advance, scores of people descended on the crime scene this morning on the off chance that he would show up, intending to protest or thank him. But Trump stayed away. Instead he went to a local hospital where he met with some of the shooting victims. It was an unusual trip by the president's standards: He was barely visible. He made no public appearances. White House pool reporters, who were barred from accompanying Trump within the hospital, didn't see him until he returned to Air Force One. After two and a half hours in the city, he took an afternoon flight to El Paso, the site of the weekend's other, even deadlier mass shooting.
Dayton seemed split over whether it wanted the president to come at all. Normally, presidential visits following a national tragedy are widely welcomed, and they follow a familiar pattern: The president arrives, shakes hands with local leaders, and delivers a consoling message.
But in Dayton, it was clear before Trump's arrival that he brought so much baggage to the task, it would be nearly impossible for him to pull it off. The danger was that he would redirect attention away from the community he was supposed to comfort. Which is what happened: Trump is the most polarizing president of modern times, and the visit wound up aggravating tensions rather than unifying a stricken city.
Early this morning, former Ohio Governor John Kasich, a Republican, spoke with reporters near the bar. Asked about Trump's appearance, he sounded wary. Trump had delivered a scripted speech in the White House's Diplomatic Reception Room on Monday denouncing bigotry and emphasizing mental illness and violent video games as root causes of gun violence. Then, after the teleprompter was packed away, he reverted to partisan attacks. Last night, he spent time on Twitter mocking the poll numbers of the Democratic presidential candidate and Trump critic Beto O'Rourke, whose former congressional district includes El Paso. This morning, he complained about The New York Times' headline writing.
I asked Kasich about Trump's behavior following the speech. "Look, as a leader, sometimes you have to have a stiff upper lip," said Kasich, whose term ended earlier this year. "You can't be a sensitive, thin-skinned operator … You've got to be bigger than other people, and not take the bait."
Within just a few hours, Trump's appearance in Dayton predictably devolved into a bitter dispute. After Trump toured the hospital with Mayor Nan Whaley and Senator Sherrod Brown, the two Democrats held a televised news conference and spoke critically about him. "A lot of the time, his talk can be very divisive, and that's the last thing we need in Dayton," Whaley said. Watching TV en route to El Paso, Trump tweeted insults at both. "Their news conference after I left for El Paso was a fraud," Trump wrote.
Feelings on the street were raw. During another Kasich press interview, Luong Vo, 69, sat behind him on a bicycle, holding a sign that read save Our City. Like others in the Rust Belt, Dayton has struggled. Since 1980, its population has fallen to 141,000, a 27 percent decrease. Dayton recorded 577 deaths from opioid overdoses in 2017, one of the highest in the nation per capita. Ken Dillingham, the pastor of LifeWay church, told me that church staff carry the medication Narcan in case of an overdose.
As Kasich walked off, Vo stopped him and, in anguished tones, told him that the city is in crisis. Kasich put a hand on his shoulder. "There are more jobs down here, more businesses," said the ex-governor, who lost to Trump in the 2016 Republican presidential primary. "Politicians are destroying the city," Vo said.
"I understand. I'm frustrated with politicians too," Kasich replied. "Glad I'm not one now." At that, he left for a TV appearance.
The night before Trump's arrival, I walked through the Oregon District, which seemed to be hovering between grief and recovery. I watched a young woman rest both hands over her heart and cry silently as she stared at a makeshift memorial outside the bar consisting of candles and flowers. A young man put an arm around her. A trio of women walked up and down the street with therapy dogs in tow. Pointing to her seven-year-old Rottweiler, Josey, Hollee Russell told me: "She seems to pick out the ones who need her the most." On the next block, people stood on the outdoor patio of a bar, drinking and smiling, getting on with life.
Though they were unified in wanting the city to heal, the people I spoke with were divided over whether Trump's visit would help make that happen. Trump carried Ohio in the 2016 general election, but he defeated Hillary Clinton in Montgomery County, which contains Dayton, by less than 1 percentage point. It wasn't hard to see why the race here was so close.
"I'm glad he's coming. It's comforting for those who live nearby and do support him and are Dayton residents," said 40-year-old Amanda Cummins. "This is my neighborhood. I'm devastated by this. Mentally, it's affecting a lot of us."
Nearby, I spoke with Ron and Robb Sloan Anderson, Dayton residents who have made a point of visiting the Oregon District to eat dinner and show support for local businesses in the wake of the shootings. "As for Trump's visit, we don't want it. He can stay in D.C. I say send him home," Robb said. "He's racist, he's homophobic, he's xenophobic, he's a womanizer. We all know that."
Behind them was a mother, 36-year-old Sasha Hobbs, and her two sons. One of the boys, a 6-year-old, held a sign that read Free hugs.
After each hug, the boy would rush to his mother and proudly report the new tally: "120 hugs! … 121 hugs! … 122!"
"It teaches my kids compassion," she explained, when I went over to talk with her. "I'm all about teaching my kids to grow up and be good people."
And Trump? Did she want him to come?
"I'm on the fence," she said.
On that point so, it seemed, was Dayton.
Christian Paz contributed reporting.