Sometimes Winning Gets Old
Rallies allow Trump to return to a time when his presidency was nothing more than an aspiration, uncomplicated by the demands of the job.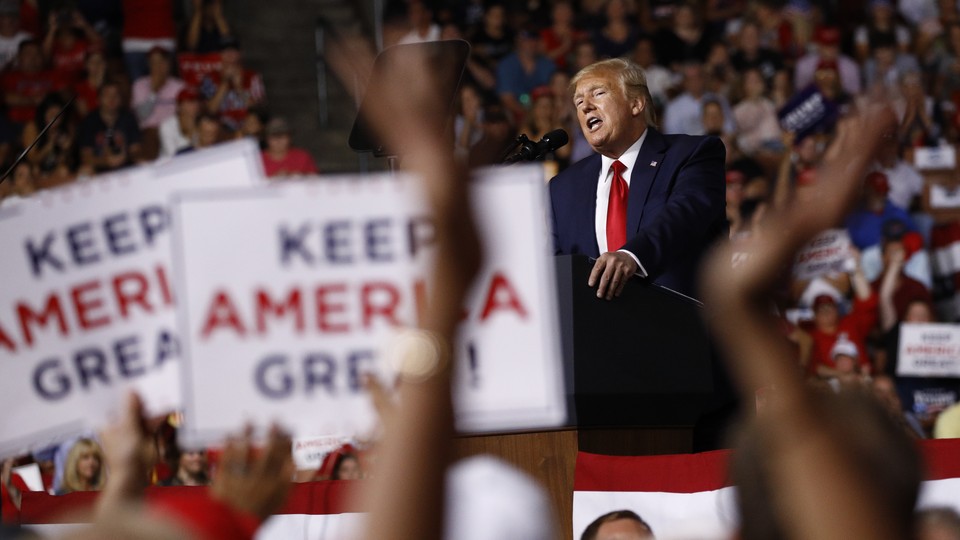 MANCHESTER, N.H.—During a rally in the nation's first primary state last night, President Donald Trump delivered two hours' worth of musings on his favorite topics, including, in the order mused: the 2016 election, "fake polls," the "fake news media," crowd size, "fake witch hunts," the success of "Make America Great Again" as a slogan, China tariffs, farmers, "Sleepy Joe" Biden, "Pocahontas," personnel matters at The New York Times, socialism, communism, the Green New Deal, the military, Barack Obama, jobs, the stock market, the unemployment rate, law enforcement, Democrats calling people Nazis, the Border Patrol, faith, the American flag, freedom, "America First," receiving the nonexistent honor of Michigan's "Man of the Year," Mexico, winning Pennsylvania, winning North Carolina, winning South Carolina, winning Florida, Hillary Clinton's emails, ethanol, Rudy Giuliani, Corey Lewandowski, NAFTA, tax cuts, coal, oil, the effect of windmills on property values, steel and aluminum, Representative Ilhan Omar of Minnesota, China's currency manipulation, the Wall Street Journal editorial board, globalism, violent crime, how guns are shot, the Second Amendment, the opioid epidemic, the progress of a border wall, drug smuggling, sanctuary cities, illegal immigrants, voter-ID laws, "the Democrat Party," Obamacare, late-term abortion, Neil Gorsuch, Brett Kavanaugh, astronauts, Mars, Jeff Bezos, Elon Musk, rockets, the Iran nuclear deal, moving the U.S. embassy to Jerusalem, the American dream, eradicating AIDS, curing childhood cancer, and, again, winning.
Trump has long used his rallies as a therapeutic escape of sorts, where he can loosen up and stream his own greatest-hits playlist without interruption from the outside world. For Trump, to hold court under the bright lights of a jam-packed stadium somewhere, anywhere, is to shut out the inconveniences that come with the reality of running a country. In the past few weeks alone, those inconveniences have included questions about whether he views nonwhites as sufficiently American, a series of mass shootings, fears of an economic recession, and the future of democracy in the Eastern Hemisphere. Rallies allow both Trump and his supporters to leave these questions at the door—and, in the process, to be transported back to a time when the Trump presidency was nothing more than a glittering aspiration.
Indeed, the tension between past and present has come to define these outings more and more. It's not that rally-goers are dissatisfied with the present: Everyone I've ever spoken to at a Trump rally, whether in Manchester or Cincinnati or Orlando or Nashville, believes that the president has done exactly "what he said he'd do," as they often put it. Sometimes that belief is based in fact: Richard Toussaint, 50, of Somersworth, New Hampshire, for example, is among those who love Trump for the booming economy and job growth. "I believe the economy's doing fantastic. The economy's almost doing too good," Toussaint told me last night in the arena at Southern New Hampshire University. "Back when he said, in 2016, 'You're gonna be tired of winning'—I believe that. Because in manufacturing now, we have a hard time getting anyone to work, because … everybody's working."
Other times, it's not: Corrine Cavanaugh, a 52-year-old Boston woman wearing bejeweled, heart-shaped American-flag earrings, told me that the "[border] wall is stopping so much from happening."
"Human trafficking, immigration, everything," she explained. "The people in Congress are losing their money because they're, like, human trafficking." In fact, only about 50 miles of Trump's wall—just over 2 percent of the whole border—has been constructed to date; this year has seen record numbers of migrants at the southern border; and there is no evidence that members of Congress are trafficking people across it.
Trump also seems to believe—or, at least, tries to project—that the free world under his leadership is hunky-dory. The tension at his rallies, then, between past and present is something perhaps more fundamental to human nature: the thrill of the chase versus the waning high of the catch. At no time has that seemed more pronounced than at last night's event, especially when Trump used two moments in his speech to seek the crowd's affirmation of his reelection slogan, "Keep America Great."
"So, if you don't mind, you know, the other candidates go—they spend millions and millions of dollars on this question that I'm going to ask you. They spend millions. You remember the first slogan from our opponents? That's right, neither do I—neither does anyone," Trump said. "So we have to do this: We have to make a decision. You give up the greatest slogan in the history of politics in our country, 'Make America Great Again,' right? So do we give up 'Make America Great Again' for a new slogan? Because, look, our country is doing great.
"But do we give up 'Make America Great Again' for"—he paused, and then emphasized—"Keep America Great?" The arena erupted in cheers. Trump immediately walked over to the edge of the stage and motioned for someone to hand him their hat. He took it—it was his signature red with "Keep America Great" in white letters—and lifted it to show the crowd. Everyone cheered some more.
And yet Trump was apparently unconvinced. Minutes later, he asked the arena for more input. "Just applaud like crazy for the one you want to use for this campaign, and there's a possibility we'll use both," he said. "Are you ready? Who's in favor of the campaign theme being 'Make America Great Again'?" Whoops and hollers and cheers.
"Who's in favor of our theme being 'Keep America Great'?" More whoops and hollers and cheers.
"I was going to keep it, actually," Trump assured his audience as the noise died down. "Thank you. Thank you. So that's really been the reaction. I've done this before big crowds, and it really is 'Keep America Great'" that wins.
Even so, Trump went on to deliver an address that was pure MAGA, and his supporters responded with their own favorites from that era. How else to describe the chant midway through to "Build the wall!"—a wall that Trump and rally-goers alike insisted had already been built? A chant that reflected the present, the reality—the minimal progress on a wall beyond replacing fencing whose funding, in some cases, was appropriated during the Obama years and whose future will depend on money repurposed under a national emergency, the call for which was decidedly un-emergency-like in that it came after two years of failed attempts to secure funding through Congress—would likely not have the same ring. Instead, rally-goers could remind themselves what it once felt like to nurse visions of a big, beautiful barrier, uncomplicated by the troubles of bringing it to life.
The president ended his speech by promising that "we are going to keep on working, we are going to keep on fighting, and we are going to keep on winning, winning, winning." He eased into the last three words—winning, winning, winning—slowing down his cadence so that the crowd knew to join him. But by that point, it was past 9 p.m. in Manchester. Many in the arena's pit had been standing since that morning, much of the audience had thinned out, and their incantations were probably not as definitive and loud and sure as Trump may have hoped.
At a certain point, perhaps winning does, in fact, get tiring.