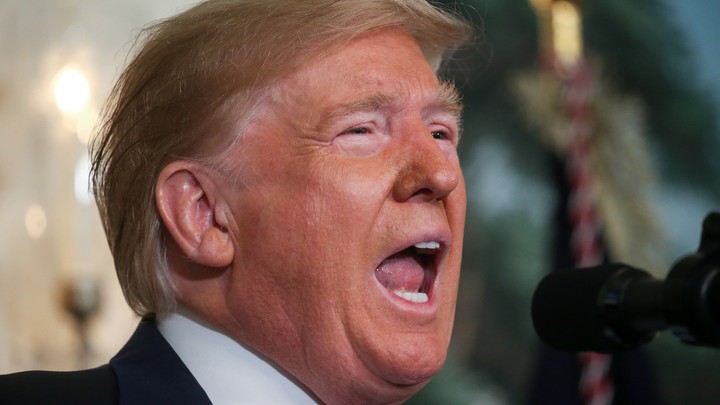 Updated on August 5, 2019 at 4:38 p.m. ET

In a moment when Donald Trump's presumed task was to comfort and unify Americans, he instead risked causing confusion: His speech about the weekend's pair of mass shootings undercut his own proposal for confronting gun violence that he'd tweeted just three hours before.
Consistency has rarely been this president's strong suit, especially in the aftermath of tragedy. He often leaves Americans scrambling to understand which of his various statements reflect his sincere beliefs about the event in question. Should they look to his tweets as a framework for understanding how he thinks the White House should respond? Or should his more formal remarks serve as a North Star?
It has been less than 48 hours since the latest mass shooting in America, and already voters have heard Trump contradict himself on how the country should move forward. What he does next, then, could help clarify whether this administration will take any action at all to try to curb mass shootings. Given the hodgepodge of ideas Trump has tossed out in just the past eight hours, the question now is which one he decides to stick to—or whether he simply moves on.
"He's willing to have a presidential moment and read a carefully crafted speech that hits high notes. He did so in Las Vegas after the mass shooting, for example," a former White House official told us, referring to Trump's remarks after the 2017 massacre at a music festival, where he spoke about the "comfort of our common humanity" in times of tragedy. "But many in the media won't focus on the speech text, and he'll find something he doesn't like in the coverage, and then things will devolve quickly from there," the official added. "If past is prelude, that sort of scenario plays out yet again."
Read: No one knows Trump's next move
The president started his morning with a call to action, tweeting that Americans could not let the shooting victims "die in vain" and urging Republicans and Democrats to "come together" to pass "strong background checks." The message mirrored his state of mind following the 2018 shooting at a high school in Parkland, Florida: Then, as this morning, his impulse was to seize on gun-control measures, defying Republican orthodoxy.
After Parkland, Trump met with a bipartisan group of lawmakers at the White House and seemed to embrace legislation from Democratic Senator Dianne Feinstein of California to ban assault weapons. With TV cameras rolling, Trump chided lawmakers for being "petrified" of the National Rifle Association. Yet he later pulled back, throwing his support behind an NRA-supported proposal to arm schoolteachers.
Trump changed course today in a similar fashion, largely reverting to the party line on gun violence. In a 10 a.m. ET speech from the White House, he told Americans to "stop the glorification of violence in our society," including "the gruesome and grisly video games that are now commonplace." He blamed the internet as a source of radicalization. And he tasked Congress with reforming mental-health laws "to better identify mentally disturbed individuals who may commit acts of violence," help them get treatment, and, "when necessary," place them in involuntary confinement. "Mental illness and hatred pulls the trigger," he concluded, "not the gun." (Though he did reference the white-supremacist ideology of the El Paso shooter, he did not acknowledge how the alleged killer's language, in his manifesto, echoed his own.) Background checks, the subject of his morning tweet, went unmentioned. By the afternoon, the NRA had released a statement "welcom[ing] the President's call to address the root causes of the horrific acts of violence that have occurred in our country."
In an especially odd moment, as Trump was wrapping up his remarks, he bungled the location of the weekend's second mass shooting, asking God to "bless the memory of those who perished in Toledo"—not Dayton. But such a mistake was perhaps inevitable with the president speaking words that were so clearly not his, as our colleague David Graham described earlier today. Trump giving public remarks that diverge from the message he's sent out with his own thumbs isn't a new phenomenon: He has shown repeatedly that the words he reads off a teleprompter—written by staff members who may have another agenda—are not necessarily what he genuinely believes.  
"I'm sure they'd been working on this speech, and he was tweeting on his own," said a second former senior White House official, who, like others we interviewed for this story, spoke on the condition of anonymity in order to be candid.
Two years ago, Trump appeared in the same space, the White House's Diplomatic Reception Room, and gave a speech about the white-supremacist rally in Charlottesville, Virginia, that left one counterprotester dead. He seemed to say the right things, denouncing racism and calling white supremacists "repugnant to everything we hold dear as Americans." But what he actually believed sprang into view the following day, when he gave an impromptu news conference at Trump Tower in New York City. From the lobby of his building, in one of the most infamous and polarizing moments of his presidency, he said there were "very fine people on both sides" of the confrontation.
Read: White-nationalist terrorism must be stopped
A test of Trump's interest in curbing mass shootings will be which script he follows in the coming days and weeks. Mass shootings have "become a major national problem right now that needs real answers," Doris Kearns Goodwin, the presidential biographer, told us. "It's not just a question of rhetoric. It's much more about actions—which, in this partisan environment, will be very difficult. Something more than rhetoric is necessary."
According to a third former senior White House official, Trump's instinct to promote stricter gun measures stems from genuine feelings of distress and helplessness. "It actually does affect him more than people would probably expect," the official told us. Consider his unscripted comments as he gathered with lawmakers after Parkland. Referring specifically to tighter gun-control laws, he urged the group: "We have to do something about it. We have to act."
But then consider those words in light of a speech he delivered at the NRA convention in April, in which he assured the gun lobby that he is "a champion" of the Second Amendment. "It's not going anywhere," he said. "It's under assault, but not when we're here. Not even close."
Two of the former officials suggested that, after mass shootings, Trump falls prey to the same amnesia that so many other Americans do: He feels an urgency to act in the immediate aftermath of a shooting, but then finds that urgency muted as time goes on and the next day's headlines roll in. (Since his speech this morning, Trump has tweeted about "historic currency manipulation" in China four times.)
The first former official argued that Trump undercuts his own message because he becomes preoccupied by the same grievances that dictate so much of his presidency. "I found he was often willing to be led by higher purposes and more noble impulses, if urged by those around him: healing, unity, moral clarity," this person said. But it rarely lasted. "That orientation was quickly discarded if he was criticized or didn't get the credit he thought he deserved, or something [else] served as a distraction."
We want to hear what you think about this article. Submit a letter to the editor or write to letters@theatlantic.com.
Elaina Plott
is a former staff writer at
The Atlantic,
where she covered the White House.
Peter Nicholas
is a staff writer at
The Atlantic,
where he covers the White House.