Never Trumpers Want a GOP Alternative. Most Republicans Don't.
Former Representative Joe Walsh is running against a president who, polls show, is no more vulnerable to a primary challenge than his recent predecessors were.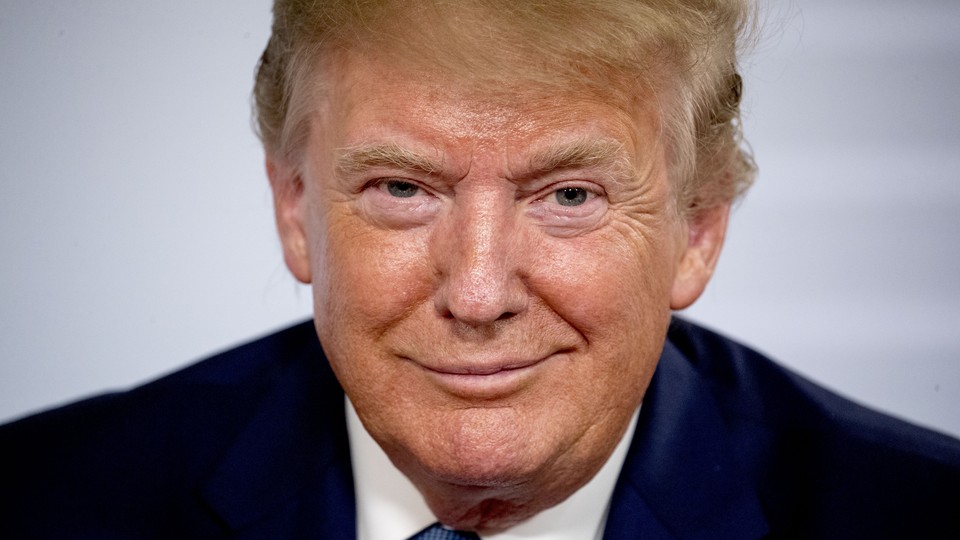 In 2012, an unknown candidate named Keith Judd registered a stunning 41 percent of the vote against then-President Barack Obama in the West Virginia Democratic primary. Neither man had even campaigned in the state leading up to the election, although Judd, at least, had a good excuse: He was incarcerated in a Texas prison at the time, serving a 17-year sentence for extortion.
This year, President Donald Trump has two announced primary challengers for the Republican nomination, and neither is a felon. Both, in fact, are former Republican elected officials: ex–Massachusetts Governor Bill Weld and former Representative Joe Walsh of Illinois. But if either man earns even close to 41 percent against Trump in a single Republican primary next year, the result would be equally shocking.
Trump has caused plenty of angst for the GOP in his two and a half years in office. He's all but reversed the party's traditional support for free trade and its hostility to Russia, cozied up to dictators such as North Korea's Kim Jong Un, attacked Republican elder statesmen, launched racist Twitter tirades, and presided over the loss of the party's majority in the House.
Yet for all of Trump's turbulence, even the president's toughest Republican critics concede he is in virtually no danger of losing the party's nomination for reelection—and certainly not to Weld or Walsh, the conservative ally turned foe who launched his bid over the weekend. Indeed, Trump is barely more vulnerable than his recent predecessors—none of whom drew serious primary challengers to their reelection.
"His numbers with Republicans are as solid as any recent Republican president—probably even more solid," said Ryan Williams, a GOP strategist who worked for Mitt Romney's presidential campaign in 2012. In poll after poll, an overwhelming majority of Republican voters—well over 80 percent—approve of Trump's performance in office, even as nearly all Democrats and most independents give him a thumbs-down. "He's unbeatable in a primary," Williams told me.
That reality has not stopped the remaining Never Trump Republicans in Washington from pining for someone—anyone, really—to challenge him. Walsh is far from a household name, but when he jumped into the fray on Sunday, he drew encouragement from Bill Kristol, the conservative commentator who has not wavered in his opposition to Trump. Elected in the Tea Party wave of 2010, Walsh served two years in the House, where he was known for criticizing Obama in harsh terms (including the lie that he's an African-born Muslim) and using the kind of inflammatory, occasionally racist rhetoric that Trump would use to stir up the GOP base years later. Walsh cheered Trump's run in 2016, but turned against him after he took office; the former congressman has spent the first days of his campaign trying to repent for his support of the president and his own history of racist tweets.
Walsh has been a talk-radio host for the past several years. He's more conservative than Weld, a moderate who ran for governor of New York in 2006 after holding the job in Massachusetts for seven years. Weld later opposed Trump when he ran as the Libertarian Party's vice-presidential nominee in 2016. Two other former Republican officeholders, ex-Governor John Kasich of Ohio and former South Carolina Governor (and Representative) Mark Sanford, have also considered campaigns themselves.
But none of them has the stature of, say, the late Senator Ted Kennedy of Massachusetts, whose serious challenge of President Jimmy Carter for the Democratic nomination in 1980 likely helped sow Carter's defeat to Ronald Reagan that fall. "There's no A-league Republicans looking," said Mike Murphy, the longtime GOP strategist who advised Romney, the late Senator John McCain of Arizona, and former Florida Governor Jeb Bush, among many other candidates.
Murphy, now co-director of the University of Southern California's Dornsife Center for the Political Future, has given $500 to Weld's campaign, but he said he agrees that the chances of anyone defeating Trump in a primary are "very slim." Murphy told me that Trump's support among Republicans is softer than the top-line approval numbers would suggest, pointing to USC polling that showed that as much as 25 percent of GOP respondents would prefer an alternative candidate. A major figure—such as Trump's former UN ambassador, Nikki Haley—could pull as much as one-third of the vote in primaries, Murphy argued.
But even that wouldn't mean much, he noted, because the Republican primaries operate largely under winner-take-all rules. "There is more discontent with Trump, though it's under the surface, than there was with Reagan," Murphy said. But, he added, "there's no realistic way to take advantage of that disgruntlement with these minor candidates."
Another advantage Trump has is that he already defeated an entire generation of Republican stars when he prevailed in a 2016 field that included Bush, then–Wisconsin Governor Scott Walker, and Senators Ted Cruz of Texas and Marco Rubio of Florida.
It also included Kasich, who has flirted with another try in 2020 and is planning a visit to New Hampshire next month. But the former Ohio governor said recently he's in the camp of those who don't think Trump can be beat in a primary. "When I run, I run to win," Kasich said last week on CNN. "I don't run to do damage. I'm not a stalking horse for anybody. So at this point, I don't see a path. That doesn't mean there isn't a path in the future."
That leaves Sanford, who is mulling a primary challenge a year after a Trump-backed candidate defeated him in a congressional primary in South Carolina. The fiscal conservative had made an unlikely political comeback in 2013, when he returned to the House four years after he was tarnished by scandal. In 2009, as the South Carolina governor, Sanford disappeared while carrying on an extramarital affair in Argentina, an episode that turned him into a national punch line.
Perhaps Sanford would pose more of a challenge to Trump than would Weld, a fellow former governor. Or maybe the fiery Walsh will manage to get under the president's skin. Unlike Keith Judd, all three of them have the freedom—not merely from prison, but from the constraints of a demanding political day job—to campaign aggressively for the Republican nomination. But if the president remains vulnerable to defeat in his bid for reelection, the true threat isn't coming from within his own party.