The Atlantic Politics & Policy Daily: Marianne Williamson Smells Like Rosewater
The Democratic candidates descend on the Iowa State Fair while the country unravels—and why Marianne Williamson isn't trying to appeal to voters' rational side. Plus, why the Epstein conspiracy theories are the new normal.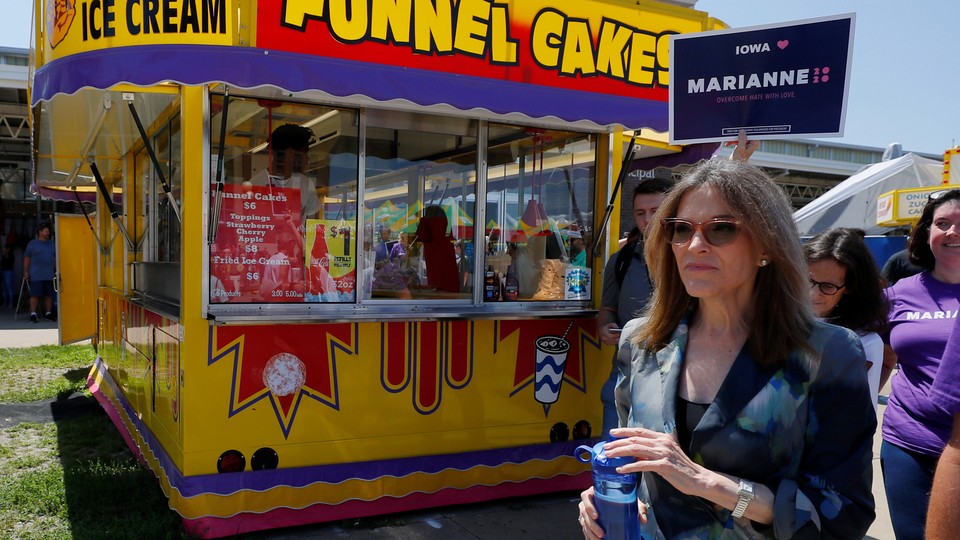 What We're Following Today
It's Monday, August 12.
‣ The Trump administration tightened a rule that would make obtaining green cards more difficult for legal immigrants who use public benefits such as Medicaid, food stamps, or subsidized housing. The change would allow the federal government to favor wealthy immigrants when deciding who gets legal permanent status.
‣ The White House said it would change the way it enforces the Endangered Species Act, a key conservation law, to expand mining and oil and gas drilling in protected areas, shrink protected habitats, and allow regulators to disregard the consequences of climate change in deciding whether a species is in need of protection.
Here's what else we're watching.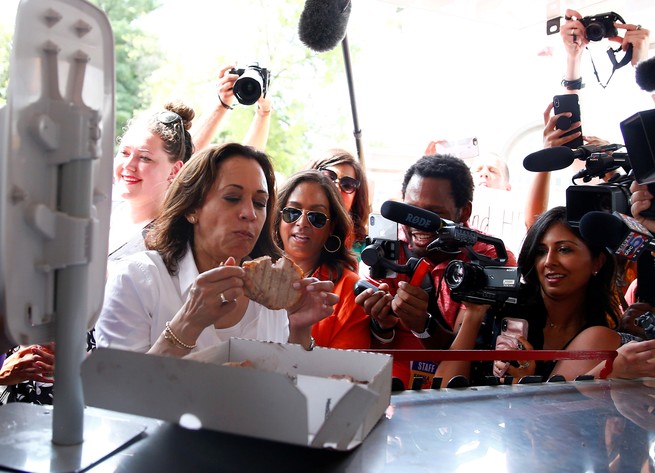 (Eric Thayer / Reuters)
Americana on Display: The 2020 Democratic presidential contenders descended on the Iowa State Fair last week. But even with mass shootings and apocalyptic climate reports, the Democrats seemed to be more than happy to go through the motions of political campaigning, Edward-Isaac Dovere writes: "This is the sort of weekend that can make people outside Iowa ask why so much of our electoral process happens inside Iowa, a mostly white state of 3 million with four representatives in Congress."
The Official Account: Today, Attorney General William Barr criticized "serious irregularities" at the Manhattan jail where Jeffrey Epstein was found dead from an apparent suicide. The online swamps of conspiracy theorists reacted seemingly in minutes, with #EpsteinMurder and #ClintonCrimeFamily trending all weekend. (They received a boost via a retweet from the president.) The spread of these theories highlights a new normal for America, McKay Coppins writes: Trust in the traditional political and media gatekeepers is nonexistent. "No matter what facts emerge in the coming weeks or months, some observers will forever remain unconvinced."
'I Don't Know Her': If time travelers from the 1990s had dropped in on the Democratic debates, they'd hardly have recognized the politicians onstage, Todd S. Purdum writes: "Medicare for All? Decriminalization of illegal border crossings? Free health care for undocumented immigrants? Free college and forgiveness of existing student-loan debt? Once-radical notions like these are now at the heart of the major party's dialogue." That shift to the left mirrors a new disdain for the era of Bill Clinton and Barack Obama that is shocking the old guard.
Harnessing Love: The 67-year-old self-help guru Marianne Williamson says plans and wonkiness won't be the way to beat Donald Trump—but that doesn't mean she doesn't know what she's doing. Williamson's debate performances have garnered attention, Elaine Godfrey writes, and her message is resonating with voters concerned with gun violence, health care, and climate change: "While it is true that sometimes Americans are slow to wake up," Williamson told Godfrey, "once we do wake up, we slam it like nobody's business!"
+ Williamson has centered her campaign on a "revolution of the heart, and spirit" that is speaking to voters' souls, Natalia Mehlman Petrzela argues: "Marianne Williamson is not qualified to be president. But her ideas deserve to be taken seriously, even if she doesn't collect the roughly 12,500 additional donations she needs to participate in the third debate."
---
Snapshot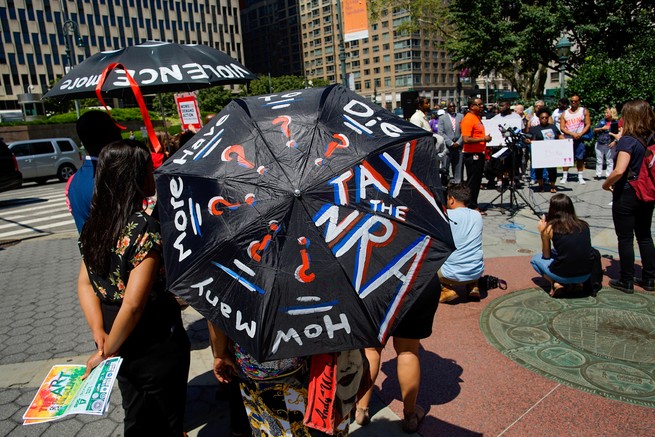 (Eduardo Munoz / Reuters)
People protest to stop the flow of illegal guns in Manhattan.
---
Ideas From The Atlantic
Trump Is Too Thin-Skinned to Protect the United States (David A. Graham)
"White racist violence is a real political liability for Trump. A large majority of Americans say that white nationalism is either an important or a critical threat, and a majority also say that Trump's actions and behaviors have encouraged white supremacists … For Trump, even acknowledging the problem is anathema." → Read on.
Epstein's Death Has a Simpler Explanation (Lindsay M. Hayes)
"Suicide has been a lingering problem in detention facilities, and systemic factors—such as inattention, understaffing, or inadequate training—generally offer a simpler explanation for a prisoner's death than nefarious intent." → Read on.
Democrats Should Just Stick to What's Popular (Yascha Mounk)
"To appeal to the majority of Americans, Democrats need to offer a principled alternative: a set of policies that promises to fix capitalism by ensuring that everyone truly plays by the same rules—and a narrative that emphasizes the virtues of free enterprise while attacking crony capitalism. By sticking to progressive policies that are actually capable of winning broad support, Democrats will maximize their chances of defeating Trump and redressing some of the deepest injustices in the country." → Read on.
---
What Else We're Reading
Sentries, not 'squad': Moderate Dems ones to watch for 2020 (Laurie Kellman, AP)
Gloria Allred vows to track down Epstein's co-conspirators (Tina Nguyen, Vanity Fair) (🔒Paywall)
Hate has flourished in 2 years since 'Unite The Right' rally in Charlottesville (Andy Campbell, HuffPost)
The day Jeffrey Epstein told me he had dirt on powerful people (James B. Stewart, The New York Times) (🔒Paywall)
---
About us: This newsletter is a daily effort from The Atlantic's politics writer Elaine Godfrey, with help from Christian Paz. It's edited by Shan Wang.

Were you forwarded this email? Sign yourself up here. We have many other free email newsletters on a variety of other topics. Browse the full list.