Trump's Phone Calls With Wayne LaPierre Reveal NRA's Influence
Days after considering the implementation of universal background checks, President Donald Trump has sidelined the issue.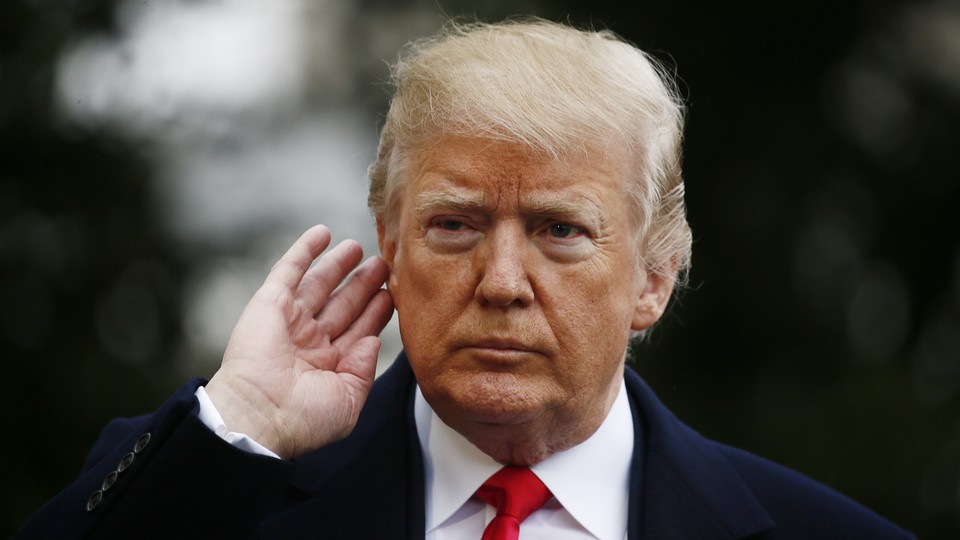 Three days after a pair of mass shootings in Ohio and Texas that left 31 people dead, President Donald Trump was preoccupied with visions of a Rose Garden ceremony.
His daughter and senior adviser, Ivanka Trump, had proposed the idea of a televised Rose Garden appearance as a way to nudge her father toward supporting universal background checks. The president had recently suggested he was open to the gun-control measure, tweeting, "Republicans and Democrats must come together and get strong background checks, perhaps marrying this legislation with desperately needed immigration reform." To be sure, this was similar to how he'd responded to other mass shootings during his 31-month presidency, and each time, the push for action fizzled. But the prospect of a Rose Garden ceremony, his daughter thought, where Trump could sign a document and call it "historic" and "unprecedented"—and receive positive media attention—might be the best chance of yielding real change.
For a moment, it looked like it just might work. "He loved it. He was all spun up about it," said a former senior White House official who, like others interviewed for this story, spoke with me on the condition of anonymity in order to share private conversations. On August 7, the president picked up the phone to discuss the idea with Wayne LaPierre, chief executive of the National Rifle Association. "It's going to be great, Wayne," Trump said, according to both a former senior White House official and an NRA official briefed on the call. "They will love us." And if they—meaning the roughly 5 million people who make up the NRA's active membership, and some of Trump's electoral base—didn't, Trump reportedly assured LaPierre, "I'll give you cover." (The White House did not return a request for comment for this story.)
"Wayne's listening to that and thinking, Uh, no, Mr. President, we give you cover," the former senior White House official said in describing the conversation. The president reportedly asked LaPierre whether the NRA was willing to give in at all on background checks. LaPierre's response, the sources said, was unequivocal: "No." With that, "the Rose Garden fantasy," as the NRA official described it to me, was scrapped as quickly as it had been dreamed up.
Earlier this afternoon, according to a person briefed on the call, the president told LaPierre in another phone call that universal background checks were off the table. "He was cementing his stance that we already have background checks and that he's not waffling on this anymore," the source told me. "He doesn't want to pursue it." In the call, the source added, Trump said he wanted to focus now on "increasing funding" for mental-health care and directing attorneys general across the country to start prosecuting "gun crime" through federal firearms charges from the Justice Department.
The NRA has been consumed by internal strife in recent months, including attempted coups from within, investigations into questionable spending by top executives, and a messy battle with its former advertising agency—all of which the group's officials calmly refer to as "family issues." Accordingly, many have speculated that the gun lobby's clout is not what it once was, that its so-called family issues have caused the NRA's grip on the GOP to soften. But as the conversations between Trump and LaPierre show, the NRA continues to influence gun policy, or lack thereof, in the Republican Party. Even with its leadership in disarray, the group has once more ensured that modest gun-control efforts are a nonstarter, turning a president who once boasted that he wasn't "afraid" of the NRA into one of its most reliable advocates.
Other factors indicate that Trump likely will not pursue the issue of background checks. According to a White House official, while there was some chatter after the El Paso and Dayton shootings that the White House's Office of Legal Counsel might look into executive action on background checks, nothing ever came of it. The official told me that apart from one Justice Department staffer being brought in to look into federal firearms charges, gun policy remains largely untouched. Added to that is the fact that few, if any, White House staffers have a particular interest or background in gun policy (the official told me the special assistant currently assigned to these issues mainly focuses on education policy).
Nothing with this president is ever certain, but the position Trump communicated in his call to LaPierre—who was once an ardent advocate of universal background checks—mirrors the one he expressed to reporters on Sunday. "People don't realize, we have very strong background checks right now. You go in to buy a gun, you have to sign up. There are a lot of background checks that have been approved over the years, so I'll have to see what it is," Trump said on the tarmac before departing his golf club in Bedminster, New Jersey, for Washington.
At the time, his words seemed to indicate a softening of sorts, as though Trump had completed the transition from wanting to seriously consider universal background checks to being dead set against them. But sources close to this president told me that Trump's eventual siding with the NRA was never in question. "Trump always knew where he had to end up," a GOP operative in constant contact with the White House told me.
The gun lobby certainly made sure of it. Over the past two weeks, even after quickly batting down Trump's Rose Garden fantasy, NRA officials continued to flood the White House and Congress alike with calls. They communicated with White House staffers, if not the president himself, up to several times a day. According to the NRA official, there was even talk of LaPierre joining Trump last week in Bedminster.
This is not to say it was easy for the NRA to change Trump's mind. Following the El Paso and Dayton shootings, Ivanka Trump made several calls to GOP lawmakers in an effort to mobilize support for both universal background checks and so-called red-flag laws, which would allow law enforcement or family members to keep guns from individuals deemed to be dangerous by a court order. But if her influence was in any way an obstacle for the gun group, it was short-lived: By the middle of last week, she and her family had decamped for a vacation in Wyoming, seemingly putting the issue on the back burner, and last night she appeared at House Minority Leader Kevin McCarthy's donor retreat in Jackson Hole. According to Axios, Ivanka told the audience in Wyoming that the White House is still focused on background checks. Less than 24 hours later, her father reportedly assured LaPierre of the opposite. (A spokesperson for Ivanka Trump did not return a request for comment.)
Three NRA officials told me they've focused their efforts in the past week on walking Trump through nearly 40 mass shootings in which the gunmen obtained their firearms legally. "Once he understood" that universal background checks would not have prevented many of these massacres, according to the first former senior White House official, "the temperature changed." They were heartened, then, to hear Trump tell the crowd at his rally in Manchester, New Hampshire, last Thursday that gun violence was mainly a "mental-illness problem" and that "it is not the gun that pulls the trigger; it is the person holding the gun."
The only worry now, the former senior White House official told me, is that once Congress returns from recess and talk of gun-control legislation restarts, Trump will change his mind yet again. White House and NRA officials alike fear a repeat of a moment that took place after the Parkland, Florida, massacre in February 2018, when Trump convened a bipartisan group of lawmakers and suggested, on television, an assault-weapons ban as part of a gun-reform package. (No such plan was brought to fruition.)
However, an NRA spokesman, Andrew Arulanandam, told me that any new move from the White House would come with a price. "To those who know our members and understand the issue, they realize that if they support any ban, registration scheme, or other draconian gun-control measures, our members will demand accountability," he said. "And our members have long memories."
Christian Paz contributed reporting.